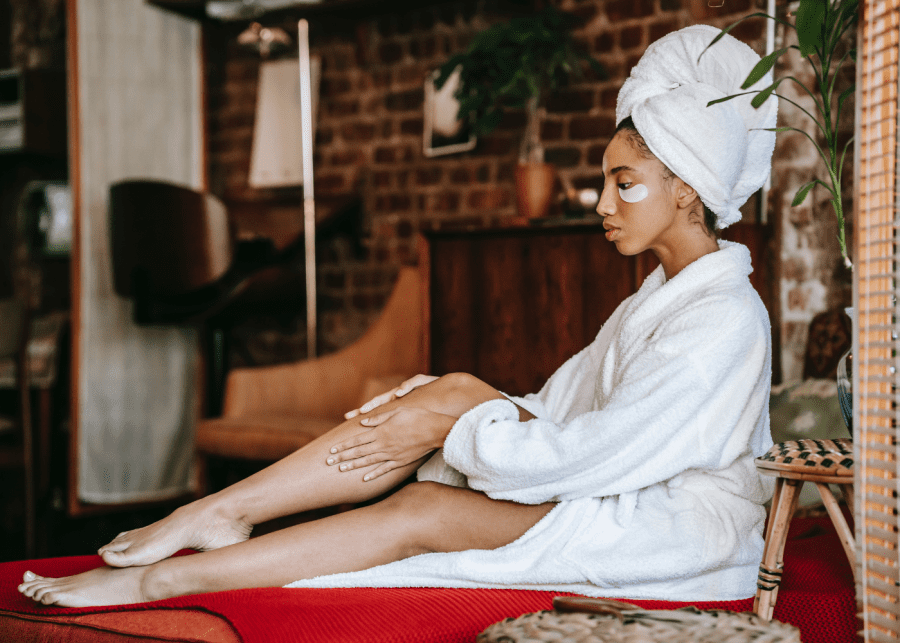 Photography: Sora Shimazaki vai Pexels
The perfect way to destress? A treat-yourself day with your very own home spa.
Nothing beats a good day at the spa. With aromatherapy, massages, and treatments galore, you'll be unwinding and relaxing in no time. But alas, sometimes you might not have the time (or budget) to hit up those gorgeous spas you've been reading about. Or maybe you'd just prefer to relax in the comfort of your own home. We feel you. That's why we've come up with a checklist of all the things you need for an at-home spa day.
How to have your own at-home spa
1. Stock up your bath essentials
People underestimate how powerful a shower or bath can be to wash away your stress. When you're squeaky clean and refreshed, it does wonders for your relaxation. The warm water can help reduce tension in your muscles, while a cold one improves circulation and improves hormone regulation. Get a bath bomb or bath salts to enhance your soak in the tub if you have the luxury of having one at home. And to add some extra fun in, grab a snack or book that'll up the relaxation factor.
2. Show your body, skin, and hair some love
To mimic that true spa experience, you can't skip out on full-body care. Start by grabbing your favourite body scrub or a dry brush to scrub off all that dead skin. After shaving, douse yourself in lotion to moisturise. Treat yourself to an at-home facial by cleansing, exfoliating, and ending off with a face mask. If you have any beauty tools like face massagers and guashas, it's time to whip them out too! Show your locks some love with a hair mask before applying all your skincare products. Don't forget about your lips too. You'll be glowing by the end of everything and on your way to zen heaven.
3. Fill the room with a relaxing scent
If there's one thing you need that can help with relaxing is a well-scented space. Aromatherapy can help with sleep and it never hurts to have your room smelling nice and sweet. To quote Miley Cyrus, buy yourself flowers. They'll add pops of colour and vibrance to liven up any boring room. We love lighting candles at night too. They smell amazing and set the perfect tone for a night of relaxing. If candles aren't your thing, you can always get a diffuser with essential oils or room sprays that work just as well.
4. Doll up with a mani-pedi
Contrary to popular belief, you can enjoy a mani-pedi session without adding any loud colours to your nails. Nailcare is as simple as soaking, trimming, and filing your nails down to keep them healthy and prevent breaking. And if you want a new look, you don't have to go to a nail salon to get picture perfect nails. Just buy some nail polish or nail wraps and you'll have a fuss-free manicure at a fraction of the cost. It's also a great way to bond if you ever have friends over for a group relaxation session.
5. Splurge on an at-home massage
An essential part of the spa experience is the massage. Deep tissue, ayurvedic, Thai, shiatsu – the options are endless. Each massage also targets different parts of your body to undo those pesky knots. If you don't have time to head out to a spa you cancall up a mobile beauty service that'll send a masseuse straight to your doorstep. You get the serene experience of a rubdown without the hassle of rushing out for your appointment.
Now you know what to prep for your at-home spa day. Happy relaxing!