Photography: Amina Filkins via Pexels
Yes, we want flowers any time, any day. Whatever your special occasion, here are the best florists in Singapore for gorgeous bouquets and floral arrangements.
We don't need an excuse like Valentine's Day or Mother's Day to get a bunch of flowers. Playing with fresh blooms and gazing at a gorgeous bunch is one serious hit of happiness we can do with any day. For fellow flower addicts and lovely people picking up a bouquet to make someone's day (high five, you!), we've picked out the best florists in Singapore with spectacular style. Plus, online delivery services with beautiful flowers and studios you can drop in on to collect your pretty petals.
Best florists in Singapore
1. Floristique
From birthdays to weddings, Floristique offers bouquets for any occasion, with an impressive catalogue of beautiful blooms. This store is brought to life by Wendy Han, who fulfilled her childhood dream of becoming a florist. The result? Her dream bouquets coming to life with a variety of arrangements for any preference and budget. For its high quality, the flowers are reasonably priced, too – bouquets start from just $19.90!
Plus, it's committed to sustainability. Its full EV delivery fleet helps to reduce carbon emissions, making it an eco-friendly option for those looking to send flowers. Floristique also sources its flowers ethically, ensuring they come from sustainable farms with responsible farming methods. Beautiful flowers that are also sustainable? That's sure to put a smile on your loved one's face!
Floristique, shop online
2. Fav Florist
Show someone your love with a premium bouquet. At Fav Florist, each arrangement is beautifully arranged and ethically sourced. Your loved one will enjoy the beauty of freshly cut, farm fresh flowers that are handcrafted into a design of your choice.
Giving fresh bouquets a miss? There are also flowers in glass domes and amazing preserved flowers to choose from. Plus, Fav Florist offers free flower delivery across Singapore, with a one-hour express delivery option for urgent requests. With value-for-money prices from $21.90, this is the one-stop shop for your flower needs. Psst: add to your surprise with artisanal cakes, balloons and more to complete your gift!
Fav Florist, available online
3. FNP SG
Will we ever get tired of receiving flowers? Probably not. There's something mood-boosting about being surprised with a handful of blooms. That's why you should bookmark FNP SG for all your gifting needs. It's one of Singapore's leading online florists, with a range of premium flowers like roses, lilies, sunflowers, carnations and more. Whether you're looking for a classic bouquet of fresh flowers, a romantic rose in a glass dome, or even a teddy bear made out of artificial blooms, you can find them all here. Plus, expect affordable prices and free same-day delivery islandwide. It's one of the best flower delivery options in Singapore for any last-minute requests.
But if you think flowers are all it offers, think again. The store also has birthday cakes in classic flavours like chocolate and vanilla. Want something special? Get cake designs inspired by The Avengers, Barbie and beyond. For someone who enjoys a drink, cart out boozy bundles like a beer hamper. One thing's for sure: this is a one stop shop for all the gifts you need!
FNP SG, shop online
4. Well Live Florist
Looking for gorgeous bouquets? Well Live Florist has got your back with amazing picks and free same-day delivery. Better yet, its dedicated support team promises to assist you through the ordering process if you have any inquiries, and they're happy to attend to special requests too.
Its extensive flower collection includes Spring Blossoms (from $148), a beautiful pastel-toned arrangement; and Christabel (from $128), a romantic bouquet of handpicked roses. There's also the vibrant Happiness in the Moment flower box ($168) that comes with preserved roses, pink hydrangeas and more mood-boosting delights. Plus, you can add gift card message to personalise your gift too!
Well Live Florist, available online
5. Any Day Florist
Same-day islandwide delivery for free? We're sold. Any Day Florist has you covered for urgent situations when you need a bouquet in a hurry. Simply place your order by 3pm and you can get those blooms delivered on the same day. Sign up as a member to accumulate points: you'll get 1 point for every dollar spent, alongside 15 points upon signing up. You can redeem $2 off for 40 points, $5 off for 100 points and $10 off for 200 points. First-time buyers get 10% off too.
Plus, this florist promises the freshest picks – there's even a money back guarantee (within 24 hours) if you receive blooms that are not up to standard! From roses to sunflowers to carnations, get browsing for the flowers of your choice. For quicker delivery, you can opt for express delivery at $15, where you can even track the driver's location. Get your blooms any time, any day from Any Day Florist.
Any Day Florist, available online
6. Wonderland Botanicals
Contemporary bouquets are the stars of the show at Wonderland Botanicals. We love the artfully arranged bouquets, including a wide range of styles from sweet pastels to the bold & stylish, or check out their "Bloom of the Month" – a unique variety that's featured and launched every month. If you're skipping the flowers and prefer greenery, sprigs like the eucalyptus, monstera and other foliage are available as bouquets too.
To add a spot of colour to your abode, the one-time vase arrangements are a gorgeous addition to any interior – they're amazing housewarming gifts for a loved one. If you want to keep your home blossoming with fresh flowers, try the floral subscription service that sends flowers to your doorstep on the reg. Psst: there's complimentary standard delivery with each online purchase!
Wonderland Botanicals, available online
7. Beato Fiore
Looking for flowers to celebrate your big day, a romantic date night or a promotion? Beato Fiore doesn't disappoint. Check out its featured bouquets for popular arrangements of the season. Or, pop down to its hot deals section for discounted blooms that are just as beautiful (and easier on the wallet). Beato also offers an omakase service for customised bouquets. Just tell them your recipient's traits and preferred mood, and they'll whip up an appropriate floral gift for them.
Beato Fiore, shop online
8. Rainbowly
Edible bouquets? Yes, please! Enjoy a unique concept of bouquets with Rainbowly. It's known as the first and only fruit arrangement purveyors in Singapore. Think edible gift boxes, elegant chocolate-covered strawberry bouquets and towers, watermelon cakes with fresh fruit, and of course, traditional flower bouquets. Not only are these IG-worthy, they're also guaranteed to stand out from the usual cookie-cutter gifts.
Rainbowly, shop online or at Thomson V Two, 11 Sin Ming Road, Singapore 575629 (by appointment only)
9. Blooming Poet
Inspired by art, literature and poetry, Blooming Poet makes our hearts flutter with gorgeous floral arrangements. Select from a daily curated collection of flowers and seasonal foliage or the bloom boxes for a modern take on bouquets. The team even offers an eco-friendly wrapping option! The flower arrangements from the Gunny Sack collective is wrapped with rustic packaging that's kind to the planet. Trivia: the upcycled sacks were previously used to store and transport cacao or chocolate beans from Ecuador. Sweet!
Blooming Poet, shop online
10. The Daily Blooms
Wanna get your hands on a bouquet of flowers in a box? Get your Instagrammable gift from The Daily Blooms. For that special someone, up the ante with a fresh flower musical box that'll knock their socks off. The box is even detachable so they can keep it forever. We love how this florist in Singapore makes flower gifting affordable. Also, there's free (and fast) shipping islandwide with a minimum purchase of $35.
The Daily Blooms, shop online or at #03-01H, Kong Beng Industrial Building, 41 Jalan Pemimpin, Singapore 577186

11. Flowers & Kisses
Flowers & Kisses sells stylish bouquets at affordable prices. It boasts fresh flowers handpicked daily and made-to-order bouquets to suit any occasion. A rainbow-hued baby's breath bouquet? Check. A romantic bunch of 99 roses? You got it. Looking to gift a booze lover? There's even a beer bouquet with baby's breath and three cans of beer. Enjoy free islandwide delivery (except to Jurong Island and Army Camps) or self-collection on your orders, and even a same-day delivery option for urgent picks.
Flowers & Kisses, shop online or at #02-02B, 12 New Industrial Road, Singapore 536205
12. One Hour Florist
Need a bouquet in a jiffy? One Hour Florist has you covered. This top-rated florist delivers bespoke bouquets to your door in just an hour! (delivery is free, too.) Started by a group of flower lovers, the folks behind this store have 10 to 20 years of experience as florists – no wonder they can put together beautiful bouquets so quickly. You can also select teddy bears and balloons to elevate your blooms.
One Hour Florist, shop online and at #03-11, Halcyon Building, 39A Jalan Pemimpin, Singapore 577183
13. Little Flower Hut
Need flowers in a hurry? It's Little Flower Hut to the rescue! This 24/7 florist doesn't only provide round-the-clock service, it also has express delivery within 60 minutes of your order. Alternatively, take advantage of the free same-day delivery service – just place your order before 5pm! We like the wide range of blooms available: with over 1,000 flowers and gift hampers, you'll find something for any special occasion. Whether you want to send 99 roses to your partner or a fruit basket to your relatives, this florist has all you need. Plus, your bouquets and hampers are customisable – choose from balloons, stuffed toys, chocolates and more to complete your gift.
Little Flower Hut, shop online and at 25 Jalan Chegar, Singapore 578483
14. Wonderland Botanicals
These florists assemble floral arrangements with a nod to nature and the seasons. Think a modern-day high street florist that focuses on aesthetics, the freshest seasonal picks and lush foliage that'll brighten anyone's day. Shop online by occasion, price or style; get a market bundle of single variety bouquets, dried flowers, a gift box or a floral stand – whatever you're looking for, there are plenty of options (including same-day delivery) for you to choose from.
Wonderland Botanicals, shop online and at #08-06A, Tan Boon Liat Building, 315 Outram Road, Singapore 169704
15. Mirage Flowers
Mirage Flowers brings you quality blooms without breaking the bank, featuring a range of bouquets under $50. These include popular blooms like roses, baby's breath and more. More elaborate arrangements are available, too. If you're intending to splash out, go for the customised gift set with a specially curated bouquet and a bottle of champagne! Mirage Flowers also has baby hampers, plants and floral jamming sessions for flower lovers.
Mirage Flowers, shop online and at Level 4, Parkroyal Collection, 6 Raffles Boulevard, Singapore 039594
16. Xpressflower
Gift shopping but have no clue what to get? You can count on Xpressflower to deliver joy-inducing blooms to your loved ones for any occasion. The team does deliveries 24 hours a day (including same-day delivery and three-hour express delivery if you're in a hurry). There's more than just flowers here, too. Expect a range of gifts including plushies, cakes from Twenty Grammes and ice cream from Udders.
Fun fact: Xpressflower is the only florist in Singapore with a Disney license, so go forth and shop the Disney-themed bouquets and products. Plus, the brand is a recognised Google Merchant with plenty of positive reviews. For a cafe, florist and furniture shop experience under one roof, visit its cafe at Paya Lebar, Knots Cafe and Living – you can pick up the blooms here while browsing the range of beautiful, handcrafted goods!
Xpressflower, shop online and at locations including Plaza Singapura and VivoCity
17. Humid House
Humid House is one of our favourite florists for unique arrangements. That aside, there are plenty of bright bunches waiting to be taken home. Behind these artfully arranged blooms is a team of designers with experience across fine art, floristry, horticulture and more – so it's no surprise that the brand boasts such eye-catching creations!
Humid House, shop online and at 94C Jalan Senang, Singapore 418470 (by appointment only)
18. Floral Garage
Floral Garage stocks crowd-favourite blooms like roses, baby's breath and lilies arranged in a vase, hand-carry purse or classic bouquet. Did you know you can also deliver an edible bouquet to your loved ones? This florist creates bouquets made of fruits and veggies for those who want to gift an immunity-boosting surprise. It offers free delivery and a contactless delivery option as well.
Floral Garage, shop online and at #06-01, LHK 3 Building, 8 New Industrial Road, Singapore 536200
19. Flower Addict
Call us totally greedy, but we don't want flowers just on special occasions. Fresh florals delivered every week that we can arrange ourselves? Yes, please. Flower Addict's subscription service serves gorgeous blooms and major happy vibes on tap. This company hits the sweet spot for the most stylish, affordable blooms and brilliant service. Got a special occasion and you've left the bouquet to the last minute? Its same-day delivery service will save your skin: add chocolates to the bunch and you'll be in the good books for a long time.
Flower Addict, shop online and at #09-08, 203B Henderson Road, Singapore 159546 (by appointment only)
20. Farm Florist
This online florist caters to a variety of preferences with its selection of bouquets and gift options. With flowers imported daily and kept in a cold room, you can be sure that the blooms here are fresh. If you're not sure what to get, we recommend placing an order for the Surprise Round Box or Surprise Bouquet. Just let them know the occasion you're shopping for and Farm Florists' experts will surprise you! There's also free delivery with no minimum spend.
Farm Florist, shop online and at #06-05A, 39A Jalan Pemimpin, Singapore 577183
21. The Floral Petal
Want your beautiful bouquet to last forever? Make The Floral Petal your go-to for lush, realistic-looking petals made of Italian crepe paper and cardstock. You don't even have to wait for blooms to be in season! These unique paper flowers are crafted with love and passion, and they're perfect for anyone with pollen allergies. The brand offers an exquisite range including uncommon varieties like cherry blossoms. Nothing is off-limits: you can customise everything, even your fave flowers in any colour. Best of all, your lovely bouquet will never wither. How's that for everlasting love?
The Floral Petal, shop online
22. Ask a French
One look at the Instagram feed and we're sold. Equal parts alluring and poetic, Ask a French's blooms are inspired by nature and classic still-life paintings. Just look at that repertoire of beautiful fresh and dried flower arrangements. (We're obsessed with the ones pictured above!) Fallen hard for the bouquets? Wait till you meet the creative mind behind them. Just book a flower arrangement workshop at the beautiful atelier in Joo Chiat.
Ask a French, shop online and at the atelier in Joo Chiat (by appointment only)
23. Flower Chimp
So you need a bouquet of flowers, pronto? Flower Chimp's your place. Touted as the largest online florist in Southeast Asia (it also delivers to Malaysia, the Phillippines and Indonesia), there are over 200 flower arrangements to choose from here. Forgot someone's birthday or your anniversary? We won't judge! Just make an order before 2pm and the blooms will be delivered on the same day.
Flower Chimp, shop online
24. The Wallflower Bud
Looking for a customised flower box filled with twinkling fairy lights and dazzling blooms? Or perhaps you'd like to subscribe to a weekly delivery of fresh petals for your home. Either way, The Wallflower Bud curates a delightful collection of bouquets for any occasion. Also, there's free delivery for every order. Neat!
The Wallflower Bud, shop online
25. Hello Flowers
This lovely social enterprise partners with various social service agencies and volunteer groups to provide on-the-job training and flexible employment opportunities to those who need it. Plus, it organises floral therapy workshops and kickstarted a floral repurposing initiative to give wedding flowers new life. Build your own bouquet, or browse through the endless rows of beautiful blooms to find your favourite. You can also get delivery in Singapore for your fave flowers.
Hello Flowers, shop online
26. Twig and Twine
From bouquets for gifting to floral venue decor, Twig and Twine does it all. This florist has blooms made to impress, with delicate arrangements and mood-boosting hues. Owner and floral stylist, Leli, also holds workshops to share her expertise – keep an eye on the social media pages for updates.
Twig and Twine, #01-06, Phoenix Park, 314 Tanglin Road, Singapore 469990
27. The Floral Atelier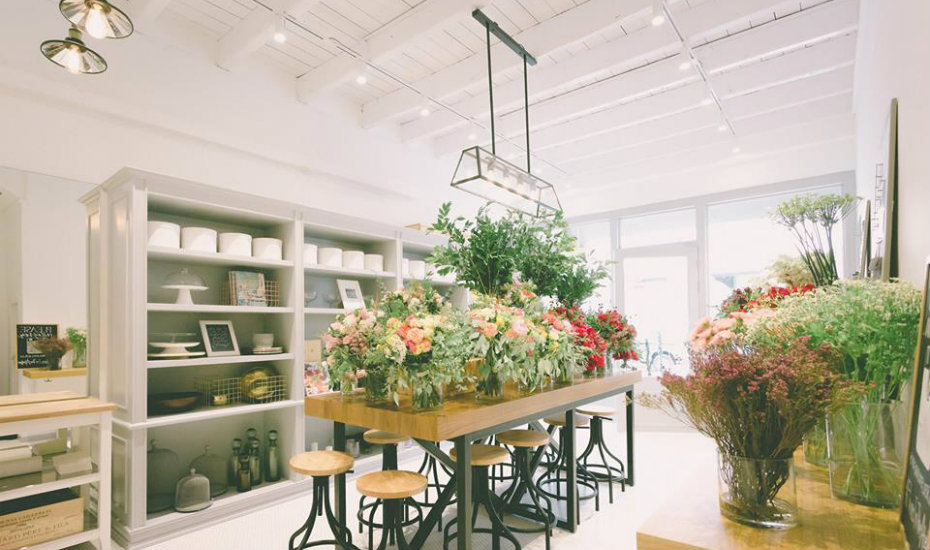 Romantic elegance is what The Floral Atelier specialises in, with signature bloom boxes that are timeless and stylish in a variety of rich hues and sweet pastels. If you'd like to surprise your partner, get them a lovely bloom-in-a-box, or go the extra mile with candy, champagne and scented candles added to the arrangement.
The Floral Atelier, shop online and at multiple locations including Delta House and Paragon
28. Petite Fleur
Backed by a team of experienced florists, Petite Fleur lets you shop easily by flower type and occasion. Besides an ever-evolving list of new and limited edition fresh bouquets, the store also boasts a comprehensive collection of dried and preserved blooms, glass dome arrangements, fragrance gift boxes and even "hot air balloon" floral items. Sweet!
Petite Fleur, shop online and at #03-18/19, Primax Building, 22 New Industrial Road, Singapore 536208
29. Fleurapy
Creating beautifully customised floral arrangements for every special occasion, this brand established by an enterprising white-collar professional-turned-florist offers up amazing works (including the indoor floor-to-ceiling terrarium for Park Bench Deli). For Pauline Ho, working with flowers isn't just her job, it's also a form of therapy. And we're loving the vibrant bouquets made out of divine florals.
Fleurapy, shop online and at #03-04, 217 Henderson Road, Singapore 159555
30. Triceratops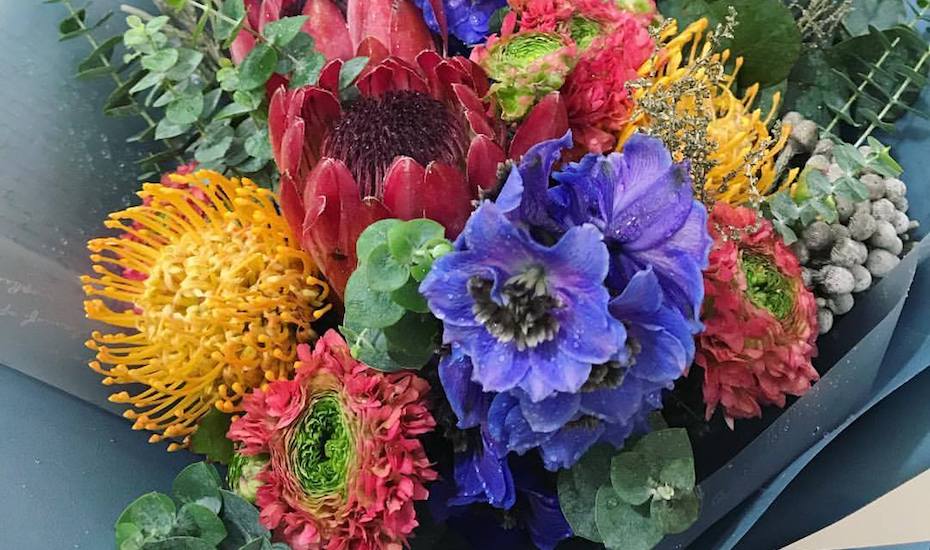 Triceratops wins for the most fun floristry website we've come across so far! Choose your budget, then the recipient's style and favourite colour, and away you go. Triceratops' founder, Ching, started arranging flowers the night before her wedding because she was dissatisfied with her florist's work. In the process, she discovered her natural talent for the art. Ching takes great pride in her ability to customise every creation for individual customers. Just check out the image gallery to see some of her amazing work.
Triceratops, shop online and at #07-10, 2 Kallang Avenue, Singapore 339407
31. Floral Magic
The name doesn't lie: The folks behind family-run Floral Magic are whizzes at whipping up lush floral and botanical bouquets with an enchanting touch. Their ideas are as fresh as their flowers, so be prepared to be dazzled by their fab creations. Even better, you get to learn directly under these pros at their hobbyist workshops.
Floral Magic, shop online and at 334 King George's Avenue, Singapore 208571
32. Sing See Soon
Ninety years in the biz must count for something! We're talking about Sing See Soon, one of the most in-demand and sought-after florists in Singapore. It supplies stunning floral creations to over 500 weddings a year, with bigwig clients like Marina Bay Sands, Four Seasons and Resorts World Sentosa in its Rolodex – colour us hugely impressed.
Sing See Soon, shop online and at locations including Simei and Punggol East
33. Far East Flora
Whether you're getting a single stalk or extravagant floral display, you can find almost everything you need from Far East Flora, including preserved petals and premium flowers. Aside from its regular delivery of flowers in Singapore, the veteran florist also ships internationally. And since it's one of the pioneers of the internet mail biz, you'll never have to worry about a lost bloom.
Far East Flora, shop online and at 565 Thomson Road, Singapore 298184
34. Poppy Flora Studio
Whoever said flowers are merely for the ladies? Shower your man with love and get him a stunning bouquet from Poppy Flora, one of Singapore's leading floral designers. The photos don't lie: This brand has an innate skill in creating arrangements that will impress anyone, including top international brands and hard-to-please fellas! Each bunch is an explosion of colour and texture, and you can learn more about the art of hand-tied bouquets, vase arrangements and table centrepieces at one of its workshops.
Poppy Flora Studio, shop online and at #01-04, 7 Ang Mo Kio Street 66, Singapore 567708
35. Charlotte Puxley
For us, Charlotte Puxley's wild style and mesmerising arrangements are the ultimate treats (just look at that scene above). Charlotte brought her signature boho bunches from London to Tiong Bahru, and is now one of Singapore's most coveted florists. Think English countryside meets the tropics with unexpected colour combinations, massive blooms, lush foliage and wild beauty. Oh, and just so you know, she was part of the team that created Kate Moss' wedding bouquet. Lush.
Charlotte Puxley, shop online and at #08-07, Tan Boon Liat Building, 315 Outram Road, Singapore 169074 (by appointment only)
36. Roses Only
If all you need is roses, look this way! The popular Australian brand made its way to our sunny island in 2013, and today it's a one-stop online florist that offers the world's finest roses in town. Be it white, red, yellow or even purple blooms, the store has a colourful assortment of roses fit for any occasion.
Roses Only, shop online
37. Bloomen.co
Bloomen.co offers fresh and vivid blooms that are designed to impress. Choose from a variety of artistic bouquets that come in various colour schemes. Think bold, pastel and even moody. Not sure what you want? No problem. Just click on "florists' pick" at checkout and be pleasantly surprised. If you want to pick up a few styling tricks of your own, sign up for its fun and informative floristry workshops.
Bloomen.co, shop online and at 17 Joan Road, Singapore 298900
Shop away at these top florists in Singapore!