Louis To with his family outside of their Cheung Chau island store
Just when you thought candy couldn't get any sweeter - meet Louis To, also known as Sugarman who creates animal figurines out of sugar.
Hong Kong is home to a flourishing local art and music scene, where many Hong Kong artists like photographer Michael Kistler and indie band My Little Airport work on their craft right here in the city. We sat down to chat with Louis To (affectionately nicknamed Sugarman) on the traditional candy making craft that has been practised by the Chinese people for over 600 years. Louis shapes candy and sugar into jade-like miniature animal sculptures that are sweet inside and out. We headed over to Cheung Chau to find out more.
Meet Louis To, AKA Sugarman
Making Candy with Sugarman Hong Kong

Louis To, AKA Sugarman, makes incredible candy figurines from his small shop on Cheung Chau island, Hong Kong. We talked with him about this 600-year-old Chinese art form. Full story here: https://bit.ly/2KMRcti

Posted by Honeycombers Hong Kong on Wednesday, May 23, 2018
How did you first get involved in the traditional craft of candy blowing?
When I was growing up in my hometown, I saw a lot of candy blowing, and I really liked going to watch them being made. I remember very vividly how they used to craft it and it's ingrained in my childhood memories. When I got older, I did a lot of art, and then I moved to Cheung Chau and I saw some people candy blowing. After my daughter had just been born, I realised that there weren't these types of artforms around anymore, the craft hadn't developed, rather it had gone backwards, and I wanted to try and change that.
I asked the people I saw doing the candy blowing what materials they were using but they wouldn't tell me, so I looked online to try and find out how it was done but didn't have much luck. The candy would either break apart or would harden very quickly making it difficult to shape. I tried for over half a year, testing different types of ingredients before I finally started to get the right measurements, though it still wasn't exactly right… Honestly, it was an incredibly painful process and I was still using my own home frying pan at the time [laughs]. I've gotten a lot of boils and burn scars on my hands and arms that can attest to that!
What really brings me happiness is knowing that my daughter can witness what I fondly used to see when I was a child. Right now, it's not great for her to play with such hot candies, but I do give her clay to mould with, which she enjoys to muck around with. And now, it's been over ten years since I first started candy blowing.
Do you consider candy blowing an artform?
Originally, candy blowing was considered a skill, but I guess on different levels it is an artform. When we make candy for the purpose of tasting it and eating it, it's just a piece of candy, but candy blowing itself isn't made for the simple purpose of just eating – and that's where the art comes in. There are times when a chef makes a dish that is so beautiful you almost don't want to eat it, that's similar to candy blowing, that's art.
So then, do you not encourage people to eat the candy you make?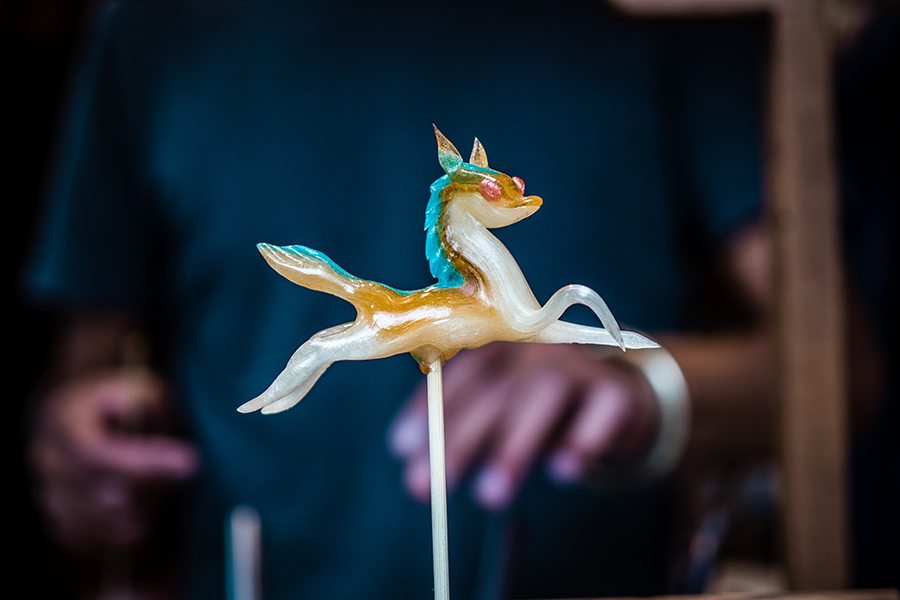 No, I definitely encourage them to eat it. My view is this, in the past I've done a lot of art pieces that now sit in art museums, but really, how many people go and see it? The relationship between the art and the audience isn't close enough. The candies that I create, I very much encourage audiences to eat, the more beautiful it is, the more I want them to eat it, because it means they get to physically experience the art, it enters their bloodstream, their DNA and it becomes ingrained in their memories; that to me is perfection.
What do you think about the state of the craft of candy blowing in Hong Kong now?
I think in the recent 8-10 years there's been a lot of talk about the preservation of tradition, but for me, it was just coincidence that I started doing candy blowing. There's a lot of people who ask me, is it because you want to preserve it and pass it onto the next generations, is that why you do it? But really, it's not what you think, it's honestly because of a very selfish reason – I want to do it.
Candy blowing is definitely not as popular as it once was, and also traditional candy blowing doesn't actually involve making animals or figurines out of sugar. Other than me, there aren't more than two people who are still practicing candy blowing in the whole of Hong Kong today. I also wouldn't put too much hope in more people getting involved, it's not an easy craft and you need to be able to endure a lot of hardship.
I've had people approach me and try to learn, but once they hold the hot instruments, they're immediately dazed and can't even move their hands. It's incredibly hot and you will instantly get boils on your hands. If someone wants to try, I'll definitely let them, but you're going to have to follow what I do. If your hands don't instantly get boils, it means that you've done a lot of difficult handcrafts. I wouldn't put too much hope in teaching anyone the skills, but I have taught some middle school children, my own daughter and even shared my methods with candy blowing masters.
Is there anything you want people to know about you or candy blowing?
I want to reach more people who, when they were younger witnessed candy blowing to tell me their stories. When I am on the street with my candies sometimes I don't accept money and instead I want you to tell me a story. If you can tell me these types of stories, I'll give you one of my candies or if you can show me an art skill, or we can have some kind of exchange, I'll happily offer you one for free. These candies to me are not about business, it's not about the money, to me, it's a life exchange, a way to engage with another – this is what I want most from doing this.
Sugarman Shop, 147 Sun Hing Back Street, Cheung Chau, Hong Kong, p. 9433 7950, 香港長洲新興後街147號