Red bean soup
If you're used to having sweet cakes for dessert, then these unique Cantonese desserts could be a nice surprise.
From Indian restaurants to live jazz bars, Hong Kong is known for its eclectic mix of arts, entertainment and food offerings. Speaking of food, there are an array of cake shops in Hong Kong that serve the most elegant and delicate desserts – but don't you want to try something different and local? Here are five traditional and contemporary Cantonese desserts (aka Tong sui) that bring back good memories for every household in the city.
Cantonese desserts we can't get enough of
1. Red bean soup
You thought it was supposed to be savoury, but we know how to make sweet red bean soup here in Hong Kong. Consisting of mainly red beans, water and sugar (usually with added extras like tangerine peel or lotus seeds), the Chinese red bean soup is a nutritious treat for those who are craving something sweet and soupy. Pro tip: You can ask for more/less red beans in your soup at the dessert place, depending on how chewy you want your soup to be.
Kai Kai, G/F, 29 Ning Po Street, Jordan, Hong Kong, p. 2384 3862, 佐敦寧波街29號地舖
2. Put Chai Ko
Finally, something solid and sweet for those who are on the hunt for traditional Cantonese desserts. Put Chai Ko, which is a type of steamed pudding cake, is made of rice flour, red beans and white or brown sugar. In the early to mid-80s, local hawkers will be selling them on the streets in their push carts. The palm-sized soft pudding cake is usually being held up by two bamboo sticks and we locals just enjoy eating it on the streets – sort of like a tradition!
Kwan Kee Store, Shop 10, 115-117 Fuk Wah Street, Sham Shui Po, Hong Kong, p. 2360 0328, 深水埗福華街115-117號北河商場地下10號舖 (北河街交界)
3. Black sesame soup
Popular throughout China, Taiwan, Hong Kong and Singapore, black sesame soup is one of Hong Kongers' all-time favourites. Made of black sesame seeds, rice, water and sugar, it's a satisfying sweet Chinese soup best eaten warm and served after meals. It might look a bit scary for those who have never tried it – what kind of dessert is black? – but it's absolutely delicious. And black sesame seeds are said to be good for your skin!
Kai Kai, G/F, 29 Ning Po Street, Jordan, Hong Kong, p. 2384 3862, 佐敦寧波街29號地舖
4. Dou hua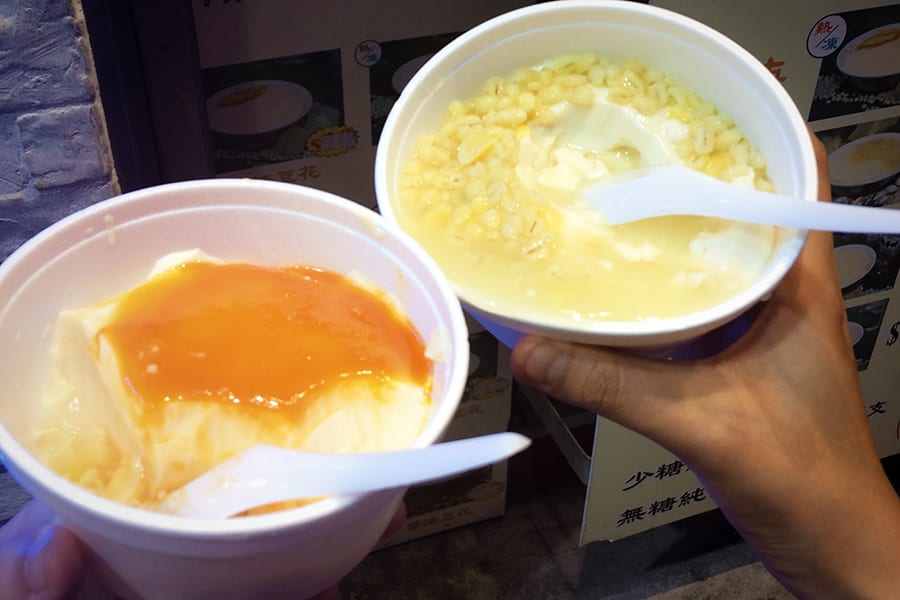 Dou hua is definitely one of the most popular Cantonese desserts. Also known as tofu pudding, dou hua is made with very soft tofu and usually served with granulated brown sugar or brown sugar syrup. These days there are more modern reinterpretation of dou hua, such as serving it with durian, mango and even sweet ginger syrup. Fun fact: In Macau, they like to serve it with milk.
Yi Dou Hua, G/F, 80 Bute Street, Mong Kok, Hong Kong, p. 3956 9422, 旺角弼街80號地舖一豆花
5. Mango sago
One of the most beloved contemporary Cantonese desserts has to be the golden yellow, sweet-looking mango sago. Made of fresh mango, tapioca pearls, coconut milk (and sometimes fresh milk too), the cold mango sago is everyone's summer favourite. For those who want to take things up a notch, put a vanilla ice-cream scoop on top of it to fancy it up.
Hui Lau Shan, 2/F, Shun Tak Centre, 168-200 Connaught Road, Central, Hong Kong, p. 25171138, 上環干諾道中168-200號信德中心2樓202號舖