Hong Kong-style French toast is usually doused in condensed milk or syrup - mmm...
Do you love breakfast as much as we do? Order these Hong Kong breakfast classics that will have you bright-eyed and bushy-tailed in the morning
While there are a wide range of Italian restaurants, Indian restaurants and Japanese restaurants in Hong Kong, you can't miss out on the city's best Cantonese eats. Savoury and scrumptious, here are the best local-style Hong Kong breakfasts that give us the energy to power through the day. 
Local-style Hong Kong breakfasts that we love
Hong Kong-style French toast
Hong Kong-style French toast is typically made with peanut butter and eaten along with condensed milk, syrup or honey. Find this sweet fried breakfast toast at your local cha chaan teng, and enjoy it for breakfast and afternoon tea along with a classic pantyhose milk tea.
Si Yik, 2 Stanley Market St, Stanley, Hong Kong, p. 2813 0503
Instant noodles with satay beef
When it comes to Hong Kong breakfasts, you can't beat instant noodles! Eat it the right way with instant noodles in soup topped with marinated satay beef. This classic breakfast dish is both warm and filling, and has been enjoyed by locals for decades.
Morden Cafe, G/F, 168 Connaught Road West, Western District, Hong Kong, p. 2540 3713, 干諾道西168號地下1號舖
Pineapple buns
These buns were named after their similarities in appearance to a fresh pineapple, so don't be upset when they don't actually taste like pineapple. Pineapple buns are sweet and filling, and can be found being served at cha chaan tengs and in local bakery stores. Top off your pineapple bun with some butter to add some extra flavour and creamy-ness to the texture.
Hoi On Cafe, G/F, 17 Connaught Road West, Sheung Wan, Hong Kong, p. 2540 6340, 上環干諾道西17號地下
Congee and fried dough sticks
Congee and fried dough sticks have been eaten together for centuries among the Chinese community. Originally invented to help with food shortages, and traditionally given to children, the elderly and the sick, nowadays it's consumed as a breakfast food. Congee can be eaten plain or combined with a number of toppings like shallots, fried peanuts beef, salted eggs and thousand year old eggs.
Mui Kee Congee, Shop 11-12, 4/F, Fa Yuen Street Market, Hong Kong, p. 2789 1098, 旺角花園街市政大廈4樓熟食中心11-12舖
Macaroni soup and ham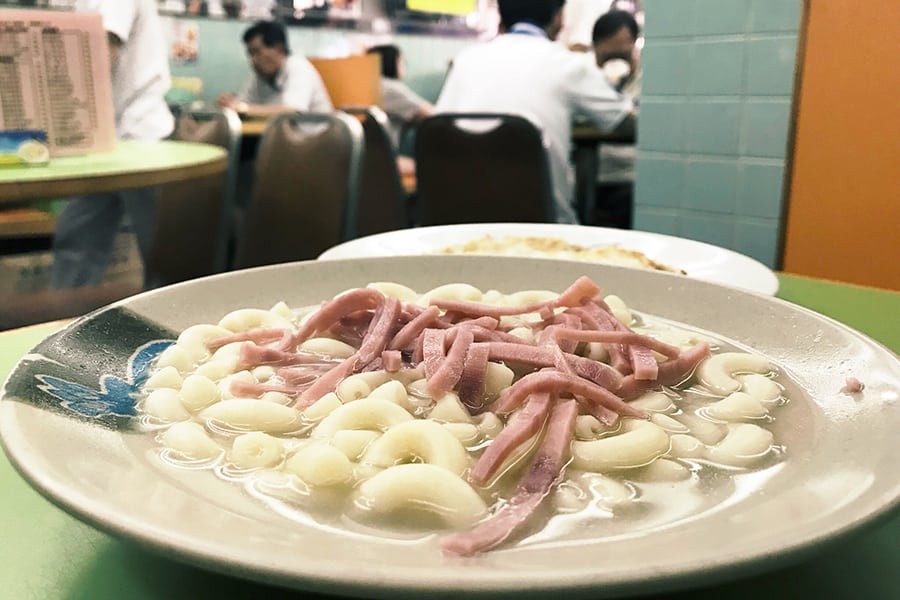 You've heard of macaroni and cheese, but have you tried it's Hong Kong counterpart – macaroni in soup with sliced ham? The dish is typically offered for breakfast where the macaroni is swimming in chicken broth and is enjoyed as a noodle soup. Depending on which local cha chaan teng you visit, it is topped off with a slice of ham, corn or cut up carrots. When it comes to Hong Kong breakfasts, this is a must-try!
Kam Wah Cafe, 47 Bute Street, Prince Edward, Hong Kong, p. 2392 6830, 太子弼街47號地下
Toast + Omelette
Butter toast (usually you can request for toasted or not) and an omelette is a classic Hong Kong breakfast dish. Depending on your local cafes' chef, your omelette is cooked in butter and can contain cut slices of ham. We recommend you enjoy it alongside your Hong Kong-style milk tea!
Lok Yuen, Shop 6, 3/F, Kowloon City Municipal Services Building, Nga Tsin Wai Road, Kowloon City, Hong Kong, p. 2382 3367, 九龍城九龍城市政大廈3樓6號舖