Incoming latte art! (Photography: @fahmipaping via Unsplash)
These Mong Kok cafés serve banging coffee, delightful desserts, healthy smoothies, and more
Some call it the dark side, but Kowloon is much more than just karaoke bars, street food and busy streets. It's here where Hong Kong's cafe scene extends far beyond Hong Kong Island. Whether it's taking a break from shopping the Hong Kong market circuit, or finding somewhere quiet to recharge after doing some hiking in Hong Kong, these Mong Kok cafes are our absolute faves.
Check out these Prince Edward and Mong Kok cafés
1. Eon Cafe and Bar
This chic cafe not only serves top notch coffee, it also serves some serious Insta-worthy ambiance. While it may not be flashy, Eon balances the minimalistic aesthetic with luxe gold accents throughout the cafe. Don't miss the hand drip coffee, but if caffeine is not your forte, then we recommend the dark chocolate drink (have it either iced or hot). Other specialties include tender scones and Basque burnt cheesecake.
Eon Cafe and Bar, G/F, 116 Argyle Street, Mong Kok, Hong Kong
2. Pause It
Famed for its colourful non-coffee lattes (such as black sesame and matcha) and whimsical latte art, Pause It is the perfect place to take a break—if only they could really make time stop! You taste the rainbow with drinks in a range of colours, such as the butterfly pea lime soda and honey passion fruit tea. But the signature charcoal latte hogs the limelight and instantly adds glamour to any ho hum afternoon. For those with an appetite, the all-day breakfast is delish and reasonably priced.
Pause It, G/F, 84 Shantung Street, Mong Kok, Hong Kong, p. 2348 2138
3. Feed Your Nerves
Conveniently located nearby Prince Edward Station, this small cafe is a popular choice in Mong Kok, but don't expect an early caffeine fix here, as these guys only get going after noon. However, when they do, the emphasis is on great drinks, coffee art and an artisanal feel. While the cafe lacks an English food menu, the drinks list is easy to manage, with specialty teas, summer-inspired fruit mocktails, and plenty of coffee options. The cafe's decor is homey, and the staff are friendly – it's totally worth the trip and it's definitely one of our favourite Mong Kok cafes.
Feed Your Nerves, 434 Portland Street, Mong Kok, Kowloon, Hong Kong, p. 2673 4722, 旺角砵蘭街434號地舖
4. Cafe Hayfever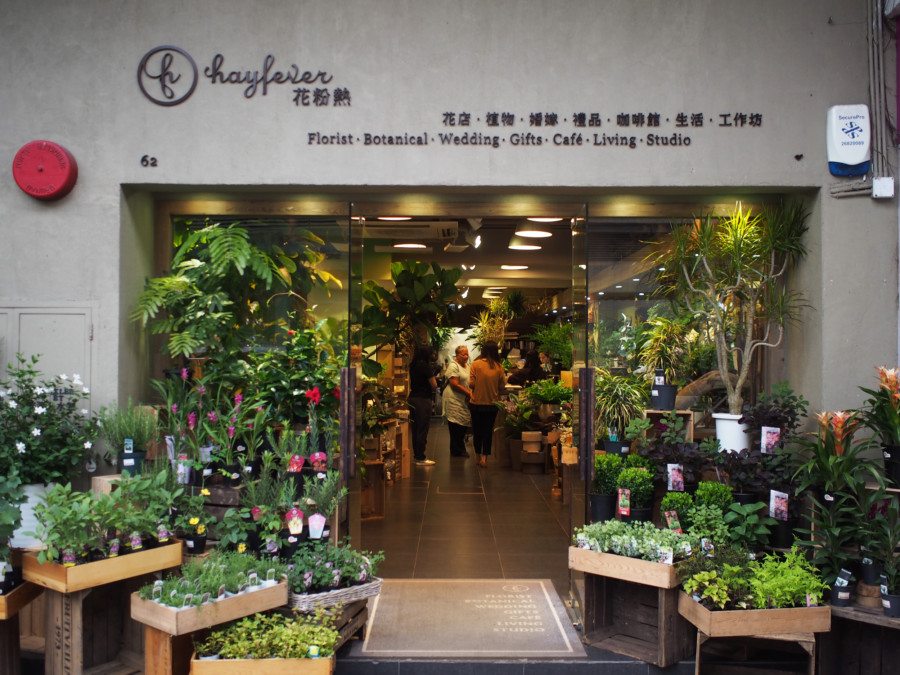 Nestled in the chaos of Mong Kok's Flower Market, Cafe Hayfever is both a coffee and flower lovers paradise. The menu is simple, and its slow-drip comes highly recommended, plus there's a selection of desserts to choose from and decent pie options for those with a bigger appetite. The second floor is self-service only but offers more space to stretch out than the flower-filled lower level, and the only really downside is the lack of WiFi.
This family-owned business, has grown from floristry success, to cafe franchise with a second branch in Hysan Place just opened.
Cafe Hayfever, G/F, 62-64 Flower Market Road, Mong Kok, Kowloon, Hong Kong, p. 2397 0638, 太子花墟道62-64號地下
5. Bound by Hillywood
"We're a bar, with really good coffee," says Bound founder Nathan Mintz. This bar stroke cafe is one truly trendy place, and it means serious business when it comes to coffee. The team puts thought and care into every roast, and you can literally smell the passion for coffee in the air.
Bound is a creative oasis, its interiors are something out of psychedelic dream with neon colours, art-filled walls and a killer soundtrack playing low. It's somewhere you go to relax, grab a coffee (or a beer) and hangout with friends or mingle with the friendly staff, making it one of fave Mong Kok cafes.
Bound by Hillywood, G/F, 32 Boundary Street, Prince Edward, Kowloon, Hong Kong, p. 2396 6488, 太子界限街32號地舖
6. Cafe Paradise
Looking for Mong Kok cafes that give bang for your buck? Portions at Cafe Paradise are big and prices are low, with a massive selection of hot and cold drinks – think smoothies and coffee with a selection of flavours. Its daily cake is so popular you'll be hard pressed getting some late in the day.
This one not only makes the list for its coffee, generous portions, great location and charm, but it also offers something a lot of the others don't: a full food menu serving pasta, steak, and all kinds of generous meals.
Cafe Paradise, Shop C, G/F, 23 Boundary Street, Prince Edward, Kowloon, Hong Kong, p. 3489 2212, 港鐵太子站 D出口
7. Rimi Cafe
Tucked away on the 20th floor of Dundas Square and away from the Mong Kok madness, you'll find the entrance jammed between Paisanos and CaliMex. The building itself is teeming with options for food, coffee and fun, but Rimi Cafe has it all.
Rimi Cafe has an extensive food menu, including a baked camembert – yes please! It also has a huge drinks menu that looks more like a dessert list than anything. The coffee is what you'd expect and with free WiFi and use of board games, it's a great place to retreat, hang out in or get some work done.
Rimi Cafe, 20/F, Dundas Square, 43H Dundas Street, Mong Kok, Kowloon, Hong Kong, p. 2771 2781, 登打士街43H號登打士廣場 20樓