Play your favourite board game with drinks and friends (Photography: Pavel Danilyuk via Pexels)
Take game night to the next level with these board game cafes in Hong Kong!
There's rarely an excuse to be bored when you live in Hong Kong. From bowling to trivia nights, you can always find something to do if you look hard enough. In fact, even the often in-house activity of board games has slowly made its way out into the wild. Specialty cafes now have racks and racks of Chinese and English tabletop games that can be played for hours on end. A perfect rainy day activity, these board game cafes in Hong Kong will test your mind and become your new playground.
Play with friends at these board game cafes in Hong Kong
1. Wheat & Wood
There are few better places to tuck into a rousing game of Settlers of Catan than at Wheat & Wood, one of the best board game cafes in Hong Kong located right in Kennedy Town. Come by Monday to Thursday for the incredible deal of $100 for unlimited play along with a free non-alcoholic drink. Weekend prices are understandably bumped up, but you'll still have that free drink along with getting your money's worth Friday to Sunday at $100 for the first two hours and $60 for each additional hour. Serving a mixture of alcoholic and non-alcoholic beverages as well as light bites, you'll be well equipped for a full day of making new friends (and enemies) over your favourite game.
Wheat & Wood, Shop 6, G/F, Brilliant Court, 28 Praya, Kennedy Town, Hong Kong, p. 2399 0433
2. Jolly Thinkers
With an inventory of over 300 types of games, a visit to one of Jolly Thinkers' locations is well worth the trip for any board game aficionado. At just $30 per hour, you can browse through the dizzying selection and decide what you're in the mood for – be it strategy, role-play, party, or war. Jolly Thinkers is the ideal place for you to discover your next favourite tabletop game, as the knowledgeable staff can recommend and teach you to play just about anything. Furthermore, after you successfully stake out your victory, you and your friends can bring the party home by purchasing games in-store or online!
Jolly Thinkers has locations across Hong Kong.
3. Sweet & Fun Cafe
Players on a budget can thank Sweet & Fun Cafe for its "no cover charge" policy, which makes it one of the most cost-effective board game cafes in Hong Kong. Simply pick out a game from the racks and settle into one of the cosy booths for a free-wheeling adventure. Wanna stretch your legs in between rounds? Work on your aim at one of the dart boards around the cafe. Although Sweet & Fun Cafe's pricing (or lack thereof) is attractive, be sure to order a drink or some food to support this local business and keep it going for many more years of gaming!
Sweet & Fun Cafe, 11/F, Dundas Square, 43H Dundas Street, Mong Kok, Hong Kong, p. 3482 3992
4. Odd Boardgame Bar & Cafe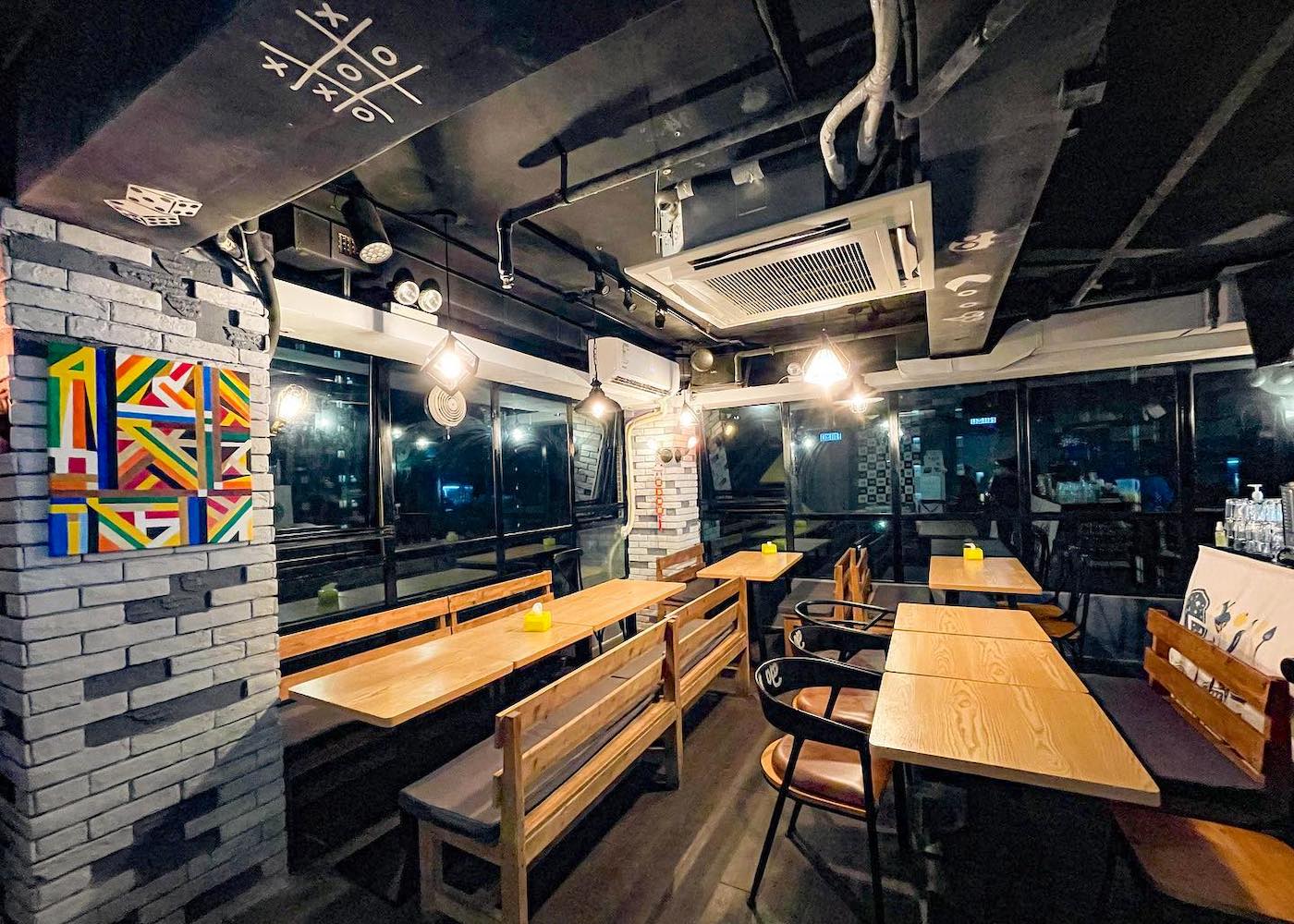 Inject some extra zeal into a round of Scrabble with a tipple at Odd Boardgame Bar & Cafe. With classic cocktails, colourful shots, and chilled wine, this certainly won't be your grandmother's board game night. For a minimum fee (usually the cost of one set meal), you'll get five unlimited hours of playing time. A comfort menu of burgers, pasta, and pizza will keep you fuelled for the competition as you face off against worthy opponents. Odd Boardgame Bar & Cafe has a reliable stock of games both old and new that'll appease everyone at the table for a night of excitement.
Odd Boardgame Bar & Cafe, 12/F, Hanway Commercial Centre, 36 Dundas Street, Mong Kok, Hong Kong, p. 9884 5776
5. Painkiller Boardgame Cafe
Of all the board game cafes in Hong Kong, Painkiller Boardgame Cafe prides itself on promoting tabletop games to enhance your strategy, logic, and communication skills as well as to relieve stress. Players of all ages are welcome to utilise the cafe's extensive selection to train their minds while having fun. If you find yourself drawn to a particular game, it can be purchased in the retail section or online store. A highlight of Painkiller Boardgame Cafe is its Italian coffee, with fresh beans ground to order. Make sure you grab a cup while you strategise.
Painkiller Boardgame Cafe, Room 1301, 13/F, Grandmark, 8A-10 Granville Road, Tsim Sha Tsui, Hong Kong, p. 3568 3227
6. AnyMoment Cafe
Let the stress of the outside world melt away as you enter the bright and airy hideaway of AnyMoment Cafe. Spend a minimum of $100 to throw yourself into a game of Pictionary, or to test your precision skills with some Jenga. Appetising snacks and drinks are available for recharging in between rounds. Take the chance to try out some of the available Chinese board games and you may just discover a new game night favourite! And if you're coming for a special occasion, consider renting out AnyMoment Cafe for your private party, so that you can enjoy unlimited play without interruption.
AnyMoment Cafe, 9/F, Hanway Commercial Centre, 36 Dundas Street, Mong Kok, Hong Kong, p. 6130 6631
7. Station 3 Cafe
One of the bigger board game cafes in Hong Kong, Station 3 Cafe is decorated in whites and greys, loosely inspired by underground train stations. The sizeable menu of risottos, pastas, cheesecakes, milkshakes, and coffees often takes the spotlight, making its in-house assortment of playable games less well known to the public. Rest assured, you'll find crowd favourites like Sushi Go Party and many other Chinese and English games to spread out on the tables.
Station 3 Cafe, Room 08-09, 25/F, Golden Era Plaza, 39 Sai Yee Street, Mong Kok, Hong Kong, p. 6681 1177