The new vegan menu at Arcane highlights seasonal produce like this gorgeous beetroot
Shane Osborn and his team at Arcane prove that vegan dining is so much more than just lettuce leaves and quinoa
Sure, we write about meaty goodness, like the best steakhouses in Hong Kong and where to get the tastiest burgers in town, but we've got to balance that out with some great vegan content too, right?! Well, how about combining amazing fine dining with dairy-free and meat-free goodness thanks to the new vegan menu at Arcane. We tried it, and you absolutely should too.
All the feels for the new vegan menu at Arcane
Regular readers of Honeycombers will know that I'm a little obsessed with Arcane. Shane Osborn and his wonderful team constantly wow me with their thoughtful dishes and menus that make being a vegetarian in Hong Kong that little bit easier. And now, they're taking it one step further with a vegan menu that dazzles and delights. Let me walk you through the new vegan menu at Arcane and re-live one of the tastiest meals I've had in forever.
Tell me about that food!
The chefs at Arcane have this magic touch when it comes to Japanese fruit tomatoes. Granted, the tender fruit-cum-vegetables are little drops of paradise pretty much any way you dress them, but for some reason, these guys make them sing. For the first course in our menu, we enjoyed them atop imam bayildi, a popular Turkish dish featuring eggplant, cumin, and lashings of olive oil. The whole thing was absolutely sublime, and the perfect jump off point for a meal that was both refreshing and filling.
Next up came crapaudine beetroot with aged balsamic and compressed watermelon. Sunflower seeds added some crunch to another dish that allowed the vegetables to talk their own language, while heightened by their accompaniments.
And then an absolute show stopper came upon us! A warm salad of daikoku shimeji, truffle, celeriac and charred cabbage with cashew butter. The blend of the wonderfully decadent truffle, with simple charred cabbage and moreish mushrooms was amazing enough by itself, but add that smudge of cashew butter, and this dish was taken up a notch in flavour and richness. Our meat-eating photographer picked this as his favourite of the meal by a country mile, and rightly so.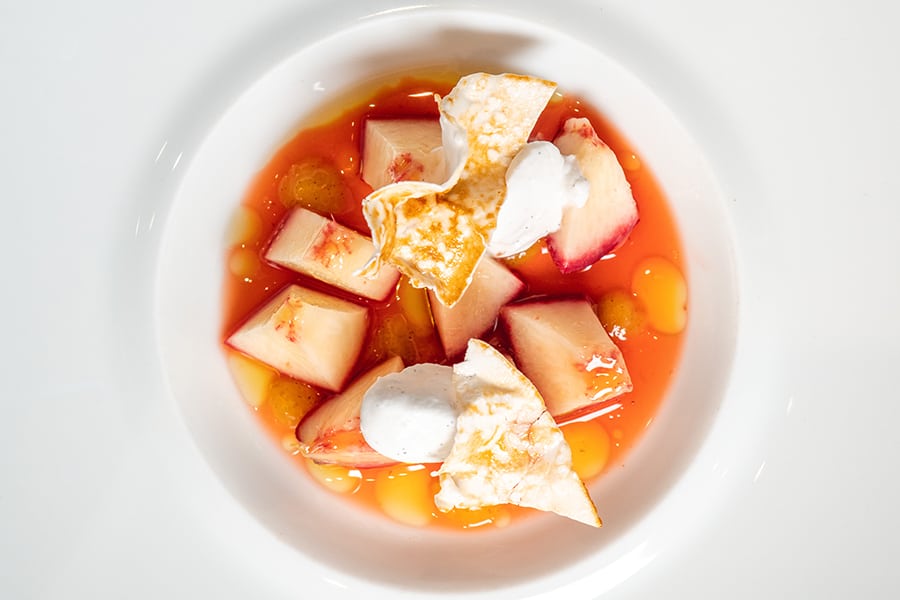 A light rigatoni with broccolini followed, complete with pine nuts, fried garlic and girolles – yum! And to complete the meal, we were treated to nectavigne with strawberry consomme, toasted meringue and apricot kernel chantilly. How does one make meringue vegan, I hear you say. Well, the truth was disclosed, and the answer… chickpea water. While the chantilly was made from coconut cream, a totally winning combination that was at once decadent and light.
The vegan menu at Arcane is a triumph, not just for the restaurant and for Osborn and his team, but for the Hong Kong food scene in general. Nobody needs to eat meat every day, and we all know that our planet certainly wants you to cut back on the beef, so why not do it style? We'll certainly be back for more.
Arcane, 3/F, 18 On Lan Street, Central, Hong Kong, p. 2728 0178, 中環安蘭街18號3樓
Excited for the vegan menu at Arcane and looking for other food inspo? Check out these tips on being vegan in Hong Kong, eat all the yummiest vegan ice cream or shop some of our favourite vegan fashion.