Get artsy! (Photography: @lauraadaiphoto via Unsplash)
Whether you're a student, a professional or simply an art enthusiast, you can find any art material you need at these art supply stores in Hong Kong
Living in Hong Kong, we're blessed with a variety of ways to enjoy art in the city, from visiting art galleries to joining creative classes and appreciating Hong Kong street art. And if that's still not enough, you can also try to be an artist yourself by making your own art and craft. Whether you're an art student, a professional or a budding artist who wants to unleash your creativity, these art supply stores in Hong Kong can help you get the necessary materials from paint and brushes to canvases, papers, cardboards, and other type of stationery.
Art supply stores in Hong Kong: Where to buy art supplies and materials
1. Artland
Whether you're an artist, a professional, a teacher or a student, you'll find something you need when it comes to art supplies at Artland. As one of the leading art supply stores in Hong Kong with over 60 years of experience, it is situated inside a vast four thousand square feet area, which offers a variety of products from books and stationery to canvas, cutting tools, crafts, sculpture, ceramic, and drawing and painting supplies. After shopping, don't forget to drop by their art gallery section, where you can enjoy new exhibitions every two weeks.
Artland, 3/F Lockhart Centre, 301-307 Lockhart Road, Wan Chai, Hong Kong, p. 2511 4845
2. CN Square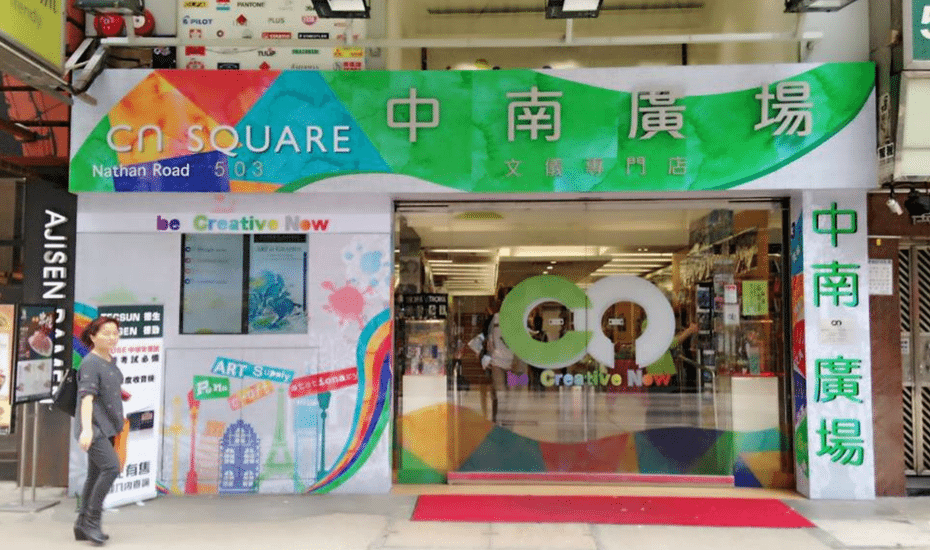 Established in 1973, CN Square, which was originally a general stationery shop in Mong Kok, is located in Yau Ma Tei with a total of three floors, making it the largest office and art supply retail store in Hong Kong. With a total area of over 10,000 square feet, CN Square offers more than 20,000 items ranging from office copy machines to paint brushes, professional drawing boards, and even the seasonal Christmas and New Year ornaments. After the success of its first store, they also open a new store in Fortress Hill.
CN Square has locations in North Point and Yau Ma Tei.
3. Artsman Company
Established in 1960, Artsman Company has become every art enthusiast's favourite art shop as it offers some of the most famous and high quality materials from around the world, including Maimeri art products from Italy, Saunders professional art paper from England, Marabu paint from German, and Drawell and Artrend brushes from Japan. Specialised in both retail and wholesale, the store also has some of the most complete collection of papers and canvases that are hard to get at other shops.
Artsman Company, Flat A, 2/F Kiu Hong Mansion, 3 Tin Lok Lane, Wan Chai, Hong Kong, p. 2573 8159

4. Art Supplies Professional
Located in Mong Kok, Art Supplies Professional stocks a variety of high quality art materials. Tailored for both beginners and professionals, the store offers anything from acrylic paints and brush pens to papers, canvases, and basic art tools.
Art Supplies Professional, Ground Floor, 75-77 Bute Street, Mong Kok, Kowloon, Hong Kong, p. 2390 2168, 九龍旺角弼街75-77號地舖
5. ArtShop
Located in Wan Chai, ArtShop offers a wide variety of high quality art supplies, ranging from acrylic, oil, and watercolour to brushes, canvases, easels, and Copic markers. In addition, the shop also sells some graphic products like foam board, Pantone, and lamination.
ArtShop, Upper 1/F, 36-40 Johnston Road, Wan Chai, Hong Kong, p. 2554 1689, 香港灣仔聯發街36-40號閣樓
6. Write The Future
Not only is spray paint widely used for graffiti art, but also for up-cycling and refurbishing furniture and decor. And what better place to shop over 500 ranges of colours than Write The Future? A favourite with street artists in Hong Kong, this art supply store stocks the leading graffiti spray paint brand, Molotow. You can also shop a whole range of markers; acrylic, paint, ink, and blackliners (and their respective refills). Write The Future also hosts spray paint and portrait painting workshops to get your creative juices flowing.
Write The Future, 2/F, Easy Pack Industrial Building, 140 Wai Yip Street, Kwun Tong, Hong Kong, p. 2622 2012
7. Colour EXP
It's so satisfying to walk from aisle to aisle and see an array of colours arranged by palettes, neatly stacked on shelves. Shop everything from watercolour paint, acrylic, oil paint, and gouache, you can look through their testers before buying (how thoughtful!). Other supplies in store include pine wood easels, fine-tip markers, retouching varnish, and more. Need to refuel before creating your next masterpiece? Colour EXP is more than just an arts supply store; there's a cafe to grab tasty bites and plenty of tables to sit and vibe.
Colour EXP, 8/F, Front Block, Ming Sang Industrial Building, 19–21 Hing Yip Street, Kwun Tong, Hong Kong, p.2511 4845