COLOURLIVING 係我哋最鍾意嘅家具店之一
From mid-century modern to vintage and everything in-between, we've found the best home stores in Hong Kong.
There's nothing quite like coming home after a long day at work (or happy hour) to a cosy home that is decked out in your signature style. If you are looking for new furniture pieces on which to snuggle up and watch the best television shows on, kitchen ware for creating healthy food or just some funky trinkets to make your apartment more Insta-friendly, then this guide to the best home stores in Hong Kong is for you!
Our favourite home stores in Hong Kong
1. COLOURLIVING
Located right across The Hari in Wan Chai, COLOURLIVING is a 2,000-square-feet space in the heart of the city, offering tasteful furniture items, interior furnishings, styling services, and more. Not only will you find a range of quality accessories and lighting, but COLOURLIVING is also an expert in tailoring spaces to individual needs and instilling character into your ideal home.
COLOURLIVING, 333 Lockhart Road, Wan Chai, Hong Kong, p. 2295 6263
2. Okooko by European Bedding
Whether you've just moved to HK, or if you're looking to spruce up your apartment, Okooko by European Bedding is our go-to for all things sleep- and bedroom-related. With a focus on sustainable sleep products (think organic mattresses and beautifully crafted eco-friendly bed frames), we love their selection of bamboo bed sheets, plus they have a range of organic pillows to support side- or back-sleepers—even specially-sized pillows for your toddler. Pop in and see the friendly team at their Central showroom and create a little sanctuary in your home.
Read our full story on Okooko by European Bedding.
Okooko by European Bedding, 13/F, The Plaza LKF, 21 D'Aguilar Street, Central, Hong Kong, 中環德己立街The Plaza LKF 13樓
3. iDecorate
The team at iDecorate is driven by a passion for finding beautifully crafted items, and it's definitely one of our favourite home stores in Hong Kong. Sourcing boutique, on-trend decor pieces from across the globe, this is where you need to head if you are looking for something a little different. From towels covered in donuts to golden pineapples and fun, text-based prints, iDecorate will help you pimp your apartment for every season.
Read our interview with the founders of iDecorate.
While the store is currently relocating, you can shop iDecorate online.
4. Loveramics
Loveramics crafts a wonderful selection of ceramics that are sure to brighten your home and make eating an absolute delight. We love their designs and look forward to seeing their new collections every season. Don't miss out on their excellent cookware that makes cooking in a Hong Kong kitchen a dream.
Read our interview with Founder of Loveramics William Lee.
Loveramics has branches in Causeway Bay and Central. 
5. A Beautiful Store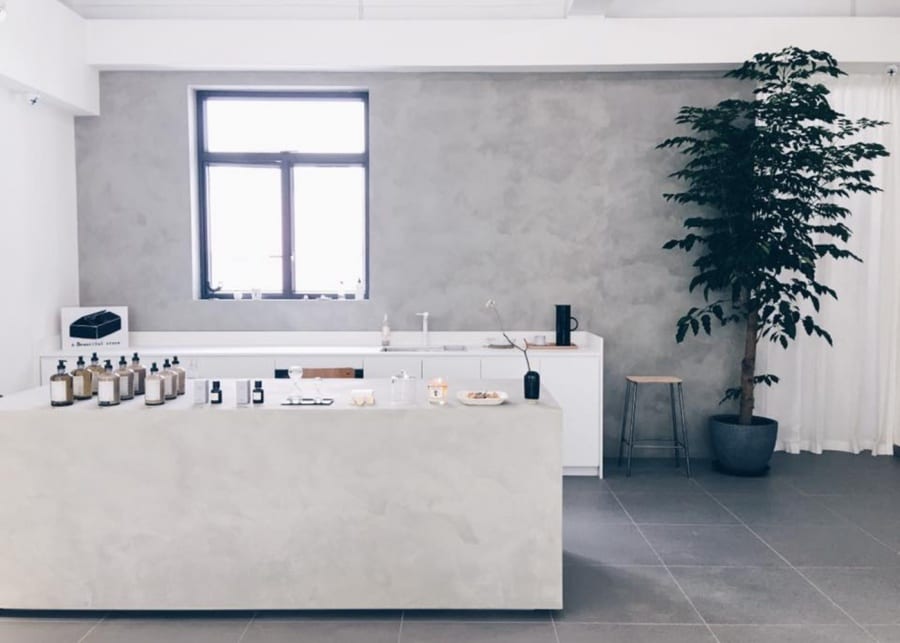 To say that we are obsessed with A Beautiful Store would be an understatement, as it's one of those home stores in Hong Kong that can not be missed! This wonderfully curated space in Prince Edward features stunning pieces from across the globe that will give a modern accent to any home, and we love that they ask customers to bring their own shopping bag to help the environment.
A Beautiful Store, 3/F, 194 Prince Edward Road West, Mong Kok, Hong Kong, 旺角太子道西194號3樓
6. BoConcept
Famed Danish store BoConcept crafts exceptional furniture in the latest Scandinavian designs. From sofas and chairs to elegant wall units and the perfect coffee table, BoConcept blends style and affordability effortlessly, making it one of our fave home stores in Hong Kong and across the globe!
BoConcept has several locations across Hong Kong.
7. Tree
When it comes to home stores in Hong Kong, local, eco-friendly brand Tree creates furniture from recycled wood to add character and warmth to your home. Utilising teak, oak, and walnut, the designs for each collection are inspired by different locations in Asia and beyond, with styles including both modern and vintage.
Tree has locations in Ap Lei Chau and Sha Tin.
8. Lala Curio
Lala Curio blends traditional techniques with modern methods to create pieces for the home that are truly one-of-a-kind. Hand-painted wallpaper, cloisonné tiles, and pillows crafted from vintage obis are just some of the unique items stocked. Simply browsing its collections is a little like stepping into Wonderland.
Shop Lala Curio online.
9. Indigo Living
'Live Beautifully' is the mantra used by Indigo Living, a unique home store that crafts elegant furniture from a range of materials; think leather armchairs with a vintage vibe and velvet sofas in soft pastel colours. Indigo Living also stocks home accessories from across the globe to add a bespoke touch to your home, making it one of the most diverse home stores in Hong Kong.
Indigo Living has multiple locations across Hong Kong.
10. Reddie
With Reddie, you can create your own bespoke furniture online. With designs that include vintage and modern aesthetics, all products are made by master-craftsmen in Central Java, Indonesia. The brand offers a range of brightly coloured options alongside warm wood and marble finishes – perfect for Insta-worthy pics!
Shop Reddie online.
11. Normann Copenhagen
Founded in 1999, Normann Copenhagen is a Danish design brand that offers a vast collection of furniture, lighting, textiles, and home accessories. Its Scandinavian designs are sleek, stylish, and meant to integrate well with this city's compact living spaces. In addition, Normann Copenhagen puts sustainability at the forefront of its products, so that they can be functional and durable.
Normann Copenhagen Hong Kong Showroom, Shop B, G/F, Lok Moon Mansion, 29-31 Queen's Road East, Wan Chai, Hong Kong, p. 3611 7114, 灣仔皇后大道東29-31號樂滿大廈地下B室
12. Homeless
A home store named Homeless may seem like an oxymoron, but this brand's name actually signifies that its items are all waiting for someone to take them home and, before then, they're homeless. Homeless's cleverness is self-evident in its range of products, which go from basic furniture pieces, to quirky designer deco – think neon lights, plushies, and other artisanal accessories. Going beyond a typical home store, Homeless is where you'll find fun, rare lifestyle items that'll inspire your next makeover.
Homeless has various locations across Hong Kong.
13. Francfranc
Describing its look as "casually stylish", Japanese homeware brand Francfranc was launched in 1992. Each season, it creates a range of unique stories, creating products to reflect each one. With something for every type of style, Francfranc is the perfect spot to pick up unique kitchen ware, humorous knick-knacks, and a range of linen. It also crafts furniture with a Scandinavian aesthetic, in sizes to suit small Hong Kong apartments.
Francfranc has multiple locations across Hong Kong.
H.D. Buttercup (closed)
H.D. Buttercup is the hottest destination for bold and imaginative pieces from across the globe. The Hong Kong outpost stocks a number of exclusive collections from designers based throughout Asia, and includes Mid-Century designs as well as vintage accent pieces. The showroom in Horizon Plaza is a home-lover's dream. This is one of those home stores in Hong Kong that can't be missed!
H.D. Buttercup, 2/F, Horizon Plaza, Ap Lei Chau, Hong Kong, p.2555 2997, 鴨脷洲利榮街2號新海怡廣場2樓