Treat her like the queen she is! (Photography: South_agency via Getty Images Signature)
Celebrating Christmas, a special occasion, or the birthday of your favourite woman? Shop our list of swoon-worthy gifts for her in Hong Kong.
We've all been there, haven't we? You've gifted her experience-based gifts that were a hit, but now it's time to try something new. You've braved the Christmas markets and scoured every festive stall, yet still, nothing quite caught your eye. Well, fret not! We've got your back. From fine jewellery to pampering treats, we've curated the ultimate gift guide for her in Hong Kong, packed full of presents that promise to impress.
Exceptional gifts for her in Hong Kong
1. Skincare products
Skincare products offer the recipient not only the promise of radiant skin, but also a moment of self-care in their daily routine. For the woman who appreciates both beauty and wellness, Odriem's offerings are a treat. Developed by skin management specialist Yuki Wong, this vegan, cruelty-free, and clean beauty brand presents salon-grade products, formulated with potent active ingredients to address varying skin concerns. Odriem's packaging is also as exciting as its formulas, transforming skincare from a daily chore into a joyous ritual.
Shop Odriem online and in Weirdo Beauty salons.
2. Phone cases
For the modern woman who sees her phone as not just a device, but an extension of her personal style, Casetify offers a range of phone cases fusing fashion with function. This brand delights with its fun, durable, and often customisable options, ensuring there's a design for every taste, and extra personal touch with added photos and names. The cases promise impressive 360-degree impact protection, providing a barrier against those heart-stopping moments when a phone slips from grasp. The offerings range from shimmering sequin cases and sleek mirror options, to artistic prints and sophisticated marble-look designs.
Casetify has multiple locations across Hong Kong.
3. Jewellery
Jewellery, with its timeless appeal and personal touch, makes for a perfect gift. When choosing pieces, we're drawn to those that combine quality, durability, and a commitment to eco-conscious practices. Enter Sachelle Collective, a brand integrating all these elements since day one. This label crafts fine, ethical jewellery with minimalist designs while championing re/upcycled materials and responsible packaging. We recommend Sachelle Collective for its admirable ethos, versatility, remarkably accessible prices despite the premium quality and green efforts.
Shop Sachelle Collective online.
4. Home decor
Giving the gift of home decor is more than just presenting a beautiful object; it's about offering a piece of art that transforms spaces. One brand that truly understands this is Casa Luna Decor. Founded on the belief that every home should mirror its owner's story, Casa Luna artfully blends elegance, simplicity, and bohemian styles to create unique living spaces. Its collections are filled with handcrafted, high-quality products, each one a tribute to artisanal techniques from around the globe. But what has truly enamoured us with Casa Luna is its ability to capture the essence of bohemian style at accessible prices. Each piece, be it an intricate cushion, a modern vase, or a handcrafted macramé, is a Pinterest-worthy addition to any home, promising to infuse spaces with a relaxed yet refined aesthetic.
Shop Casa Luna Decor online or at various stockists across Hong Kong.
5. Body care
If you're still on the hunt for a gift for her that whispers luxury, look no further than Rituals' divine body care offerings. There's nothing quite like pampering one's body temple, and Rituals makes it oh-so-enjoyable. Crafted in Amsterdam with the goal of transforming daily routines into mindful moments, each collection channels an Asian-inspired "ritual", like the Ayurveda range, based on ancient Indian wisdom. We find ourselves utterly obsessed with its foaming shower gels. There's simply no going back to regular shower gels now! Beyond the heavenly scents developed by the world's finest perfumers, Rituals' products are remarkably affordable.
Rituals has multiple locations across Hong Kong.
6. Timeless basics
When it comes to gifting her staples that withstand the test of time yet remain fashionably current, allow us to present American Vintage. Founded in Marseille but inspired by the relaxed American spirit, this brand excels at pared-back pieces with just a hint of subtle excitement. Its cotton basics, from t-shirts to knitwear, form the building blocks of any chic wardrobe. Yet, a sprinkling of checks, prints, and iridescent hues, as well as texture play with denim and jersey, add a current, rock-infused edge. We adore how American Vintage feels soft yet sturdy, and transcends seasons with vitality.
American Vintage has multiple locations across Hong Kong.
7. Wine preservation systems
In the world of wine, there's nothing quite as revolutionary as Coravin's wine preservation systems, a perfect gift for a wine lover. Born from a mission to change how the world experiences wine, Coravin has crafted an essential tool. The ingenious system allows for any wine, in any amount, to be poured without ever uncorking the bottle. A gentle needle passes through the cork, replacing extracted wine with argon gas and ensuring oxygen never touches the remaining wine. The cork then reseals itself, preserving the rest of the bottle for weeks, months, or even years.
Shop Coravin online or at various stockists across Hong Kong.
8. Crystal mini bags
For the ladies who love to make a style statement, take note! Sau Lee, the local fashion brand renowned for its fusion of Eastern and Western aesthetics, has now ventured into the realm of handbags. Debuting just in time for Christmas 2023, the Mini Sau Crystal bags blend the label's signature pipa knot buttons and feminine silhouettes with contemporary details like sparkling crystals and curved shapes. Available in a spectrum of irresistible hues, these mini bags are perfect for adding a dose of glamour to everything from evening gowns to everyday office attire. It makes for a gift for her that is equal parts sophisticated, unique, and destined to become a forever favourite.
Shop Sau Lee online.
9. Embellished shoes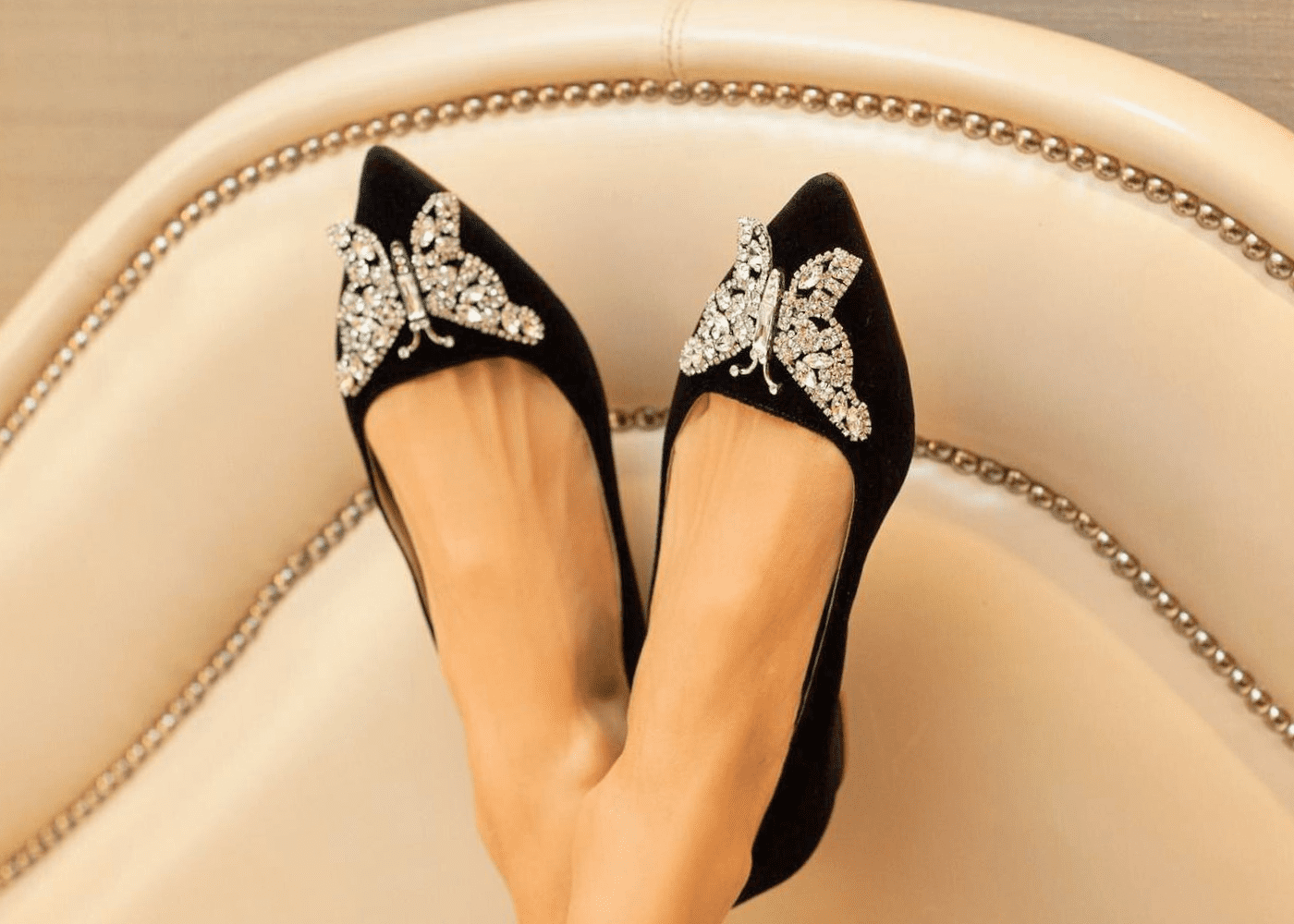 The gift of Aruna Seth's beautifully embellished shoes will be a cherished addition to the wardrobe of the women who step into every room with style and grace. Its signature styles, adored by royalty and celebrities alike, are famed for their feminine shapes that flatter the leg while ensuring comfort. The brand's iconic Farfalla butterfly collection encapsulates the essence of Aruna Seth's design philosophy, with each piece crafted by master artisans in Venice using refined materials and cutting-edge techniques. From the durability of the suede flats to the way each pair effortlessly elevates an outfit, Aruna Seth shoes are a testament to the brand's heritage and commitment to luxury footwear.
Shop Aruna Seth online.
10. Perfumes
If you're on the hunt for a gift that screams "wow", look no further than Gucci Guilty Elixir de Parfum Pour Femme. This isn't your everyday fragrance; it's a bold statement from Gucci Beauty, a celebration of love and a nod to the real, authentic you. Containing a burst of ambery floral scent, this perfume is a dance of sophisticated wisteria accord with alluring vanilla absolute and tonka beans. And let's not forget the packaging – a vibrant violet bottle, finished off with Gucci's signature interlocking G logo and a sleek silver cap. It's available in a 60ml size, just right for capturing the concentrated allure of this scent.
Gucci has multiple locations in Hong Kong.
11. Makeup
Are we the only ones who keep seeing Huda Beauty all over our social media feeds? Probably not, because this Dubai-based brand is shaking up the beauty world big time! Offering a stunning variety that ranges from diva-worthy false lashes to complexion products that make you glow like a goddess, Huda Beauty caters to every makeup lover's dream. But the magic of this brand goes beyond its high-quality cosmetics. The brand is on a mission to build a tribe of beauty lovers, united by the joy of self-expression through makeup. The brand's ethos of empowerment and education, combined with its dedication to quality, is truly transformative.
Shop Huda Beauty at Sephora.