On the hunt for really good hair salons in Hong Kong? It can be tough finding a great colourist or stylist in the city, but we've tried and tested all these joints, so you'll be in safe hands
We're all about the me-time! Treat yourself to a pampering massage at these hotel spas, or an indulgent spa facial or some nail love – because you're worth it. We decided to scour the city to bring you the best hair salons in Hong Kong. Whether you want to trim your hair or get it treated or styled for a special occasion, here (in no particular order) are our favourite hair salons that you and your tresses need to check out.
Where are all the good hair salons in Hong Kong?
1. Blonde Boudoir
A visit to Blonde Boudoir in SoHo will transform both your hair and your mood. Run by well-travelled German Felix (who has spent time taming the manes of ladies from St. Moritz to Sydney to Singapore), the team here can handle any kind of colour and cut. Moreover, they serve delicious coffee, cocktails, have a great selection of magazines, and excellent chat. What more could you want from a hair salon in Hong Kong?
Read our full review of Blonde Boudoir.
Blonde Boudoir, 46 Elgin Street, SoHo, Hong Kong, p. 6804 5737
2. O2 Hair Studio
Led by veteran hair stylist Rudy Prevost, O2 Hair Studio not only offers simple hair cuts and styling services for women, men, kids, and brides, but also vibrant hair colours, conditioning treatments, and Brazilian blowouts. Located in the heart of Hong Kong in Central, the salon has been around since 1997, providing professional hair treatments in a relaxed ambience. This is definitely one of our favourite hair salons in Hong Kong.
Read our full review of O2 Hair Studio.
O2 Hair Studio, 17 Wa In Fong, SoHo, Central, Hong Kong, p. 2529 6289,中環蘇豪華賢坊17號
3. La Provence Hair Salon
We are so in love with this little salon in DB. The owner Isaac has years of experience in cutting and colouring hair and makes the entire process a joy. He always has the latest magazines that we actually want to read and the vibe at the intimate salon is both friendly and colourful.
La Provence Hair Salon, Room 522, 5/f, Block C, DB Plaza, Discovery Bay, Hong Kong, p. 6621 2517
4. Aveda
Following the Ayurvedic principles, Aveda is a spa and hair studio that commits to using organic ingredients. With a mission to care for the world that we live in, the salon takes pride in using only environmentally sustainable products and offering natural treatments for not only hair care and hair styling but also skin and body treatments.
Read our full review of Aveda.
Aveda, The Loop, 1-3/F, 33, Wellington St, Central, Hong Kong, p. 2737 3026, 中環威靈頓街33號The Loop 1-3樓
5. Love Hair
Located in Central, Love Hair is a boutique hair salon that aims to minimise carbon footprint by recycling and utilising locally filtered water and using healthier, more natural products. The team is made up of stylists hailing all the way from England, New Zealand, Australia, and Hong Kong. We love the chilled out atmosphere and interior design at this hair salon.
Read our full review of Love Hair.
Love Hair, 1F, 99F Wellington Street, Central, Hong Kong, p. 2458 0190, 中環威靈頓街99號F 1樓
6. Salon Chandler
Founded by experienced stylist Shayne Chandler, Salon Chandler is a one-stop-shop for all of your hair care needs. Located in Lan Kwai Fong, they offer various services such as haircut, colouring, hair spa treatments, straightening, hair extensions, and Keratin treatments. This is one of our favourite hair salons in Hong Kong for indulgent pampering and a great head massage.
Read our full review of Salon Chandler.
Salon Chandler, 14/F, Tak Woo House, 17-19 D'Aguilar Street, Central, Hong Kong, p. 2537 3737, 中環德己立街17-19號德和大廈14樓
7. Shhh
Looking for a bespoke hair treatment in Hong Kong with personable service? Shhh is the place to be. This by-appointment-only salon offers a private sanctuary in the heart of Central and uses carefully curated products. Led by creative director Marvin Lin, the team consists of diverse experts from around the world whose clients include top celebrities and members of the royal families.
Read more about Shhh hair salon.
Shhh, G/F 94 Hollywood Road, Central, Hong Kong, p. 2915 1001, 上環荷李活道94號
8. Kimrobinson
Located at the prestigious Landmark Chater House in Central, Kimrobinson provides the utmost luxury inside their beautifully designed state-of-the-art hair studio. Their signature hair service is called the dry cut, where hair is cut while dry to allow the stylist to see its natural flow. Kimrobinson's other popular services include seamless layering, multi-shading, as well as restructure and retexture treatments that are ideal for stressed and over-styled hair.
Kimrobinson, 106 Chater House, 8 Connaught Road Central, Hong Kong, p. 2121 8484, 中環干諾道中8號遮打大廈106號室
9. Private i Salon
Established in 1996, Private i Salon has 12 branches across Hong Kong. They use professional salon products including Milbon & Lebel Cosmetics, which are some of the most popular hair care products in Japan. Aside from hair care, the salon also offers nail and make up services.
Private i Salon, Shop 201, 2/F, Central Building, 1-3 Pedder Street, Central, Hong Kong, p. 2522 1112, 中環畢打街1-3號中建大廈2樓201室
10. Essensuals by Toni & Guy
With cutting-edge products and talented teams that are professionally trained at the award-winning Toni & Guy Academy, this international hair salon has been around in Hong Kong since 2013. Combining high fashion and hairdressing, Toni & Guy has a total of two salons and one academy in the city.
Toni & Guy, 2/F, 2 On Lan Street, Central, Hong Kong, p. 2191 9819
11. Chicca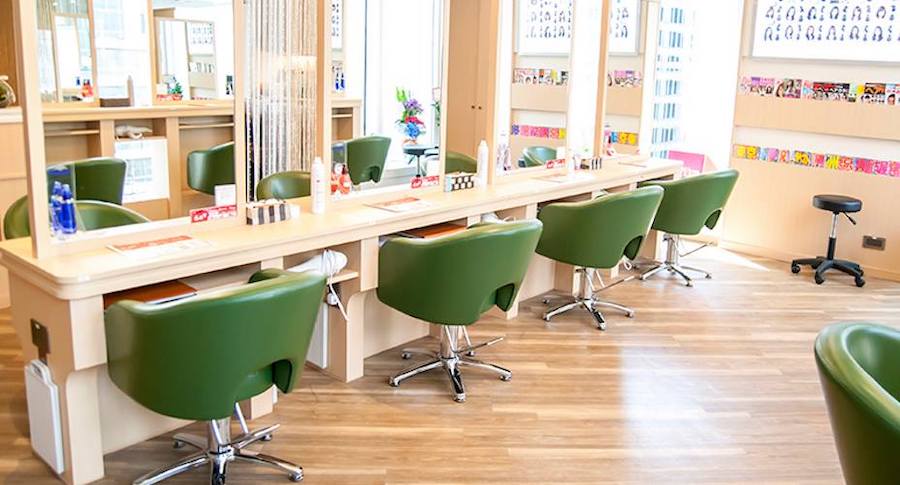 If you want your stylist to use the best Japanese hair treatments and dyes on you, Chicca is the place to be. A chain salon under Hair Do Group, Chicca has high customer loyalty due to its outstanding service and warm vibes. Most of its hair stylists are Japanese, so they can get you the trendiest Japanese hairstyle in no time. Customers can even request for style modifications within a week if they are not satisfied with their new look – and we think that's pretty fab.
Chicca has several branches in Central
12. Il Colpo Group
A leading luxury salon, Il Colpo Group has been supported by numerous celebrities since 1987. Not only do they have branches in Hong Kong but also in many Chinese provinces. Other than cutting-edge hair styling service, you can as well receive nail and spa treatments at their shops.
Il Colpo Group has several branches in Hong Kong
13. LaB Hair
Scalp care, bridal styling, paimore digital, highlights… Experience LaB Hair's quality care and you will be amazed by your new look. Helmed by professional Korean hair stylists, LaB Hair provides an array of services with a focus on improving hair quality. Regular haircut prices start from $300, making LaB Hair an excellent and affordable Korean hair salon in Hong Kong.
LaB Hair, 3/F, Coasia Building, 496-498 Lockhart Road, Causeway Bay, Hong Kong, p. 2363 1999
14. Red Hill Hair Salon
While Red Hill Hair Salon does an amazing job in a variety of hair styling services, their hair colouring service is definitely the highlight (lol!). With championships from international competitions like Goldwell Color Zoom, the team of award-winning stylists at Red Hill Hair Salon can get you any hair colour that you desire, plus they offer add-ons like NuWave and Kerasilk treatments. Explain your ideal outcome to their professional stylists and they will take care of everything.
Red Hill Hair Salon, LG 16-17, Kowloon City Plaza, 128 Carpenter Road, Kowloon City, Hong Kong
15. Indulgence
A jack of many trades, Indulgence is a one-stop shop for all things self-care. From a simple cut to balayage and Brazilian keratin treatment, all your hair care needs are taken care of in the best hands. Plus, since they double as a spa, you can treat yourself to a lush facials, mani-pedis, or a relaxing and rejuvenating body massage.
Indulgence, 22/F Silver Fortune Plaza 1 Wellington Street Central, Hong Kong, p. 2815 6600
16. Hair Culture
Since its opening in 1999, Hair Culture has expanded its goodness around Hong Kong and it's the go-to hair salon for many local celebrities. You can opt for a haircut from a stylist or the chief director himself (the prices go up every level). Services include hair treatments, colouring, and perms. You can also book in for professional make-up and nail services.
Hair Culture has multiple locations in Hong Kong.
Jean Louis David (now closed)
Developed by Jean Louis David Academy in Paris, this hair studio has over 1,200 salons in 24 countries and is on the forefront of the world's current fashion trends. Gathering the latest styles from seasonal international fashion shows, the salon frequently comes up with exciting new hair styles and colouring techniques that can be adapted for each client.
Jean Louis David, Manning House, 48 Queen's Road Central, Hong Kong, p. 2997 9828, 中環皇后大道中48號萬年大廈
The Strand (now closed)
One of the most popular hair salons in Hong Kong, The Strand knows hair!,. The services for ladies include haircuts and blowdries, colouring, hair extensions, hair straightening and smoothing. They also offer various conditioning hair treatments such as hair and scalp rituals, hair loss rituals, and even afrotherapy multi-textured afro hair. While the ladies get to pamper themselves, the men can also receive their own grooming experience at the salon's second floor that's dedicated for men.
Read our full review of The Strand.
The Strand, 18 Cochrane Street, Central, Hong Kong, p. 2850 7686, 香港中環閣麟街18號