Enjoy no pain and only gain at EstheClinic!
These beauty salons prove that laser hair removal in Hong Kong is totally worth the investment.
Before hitting those junk boat parties and beautiful beaches in Hong Kong, some of you may be wondering about laser hair removal – a type of permanent hair reduction using laser light that destroys the hair follicle, thereby allowing you to have smooth, silky skin. If you want to go hairless but can't handle the pain of waxing, here's where you can get high quality laser hair removal in Hong Kong.
Where to get laser hair removal in Hong Kong
1. EstheClinic
Find waxing painful and shaving too time-consuming? Head to EstheClinic for effective and pain-free laser hair removal in Hong Kong. An award-winning beauty clinic from France, EstheClinic is our go-to for non-invasive aesthetic treatments in the 852. Using innovative cosmeceutical procedures, along with clinically proven IPL (Intense Pulsed Light) technology, the permanent hair removal treatment at EstheClinic is painless, safe for all skin types, and gives immediate results.
Psst – get a 50% discount plus a free consultation session at EstheClinic!
EstheClinic has locations in Central and Sai Ying Pun.
2. Nude Beautique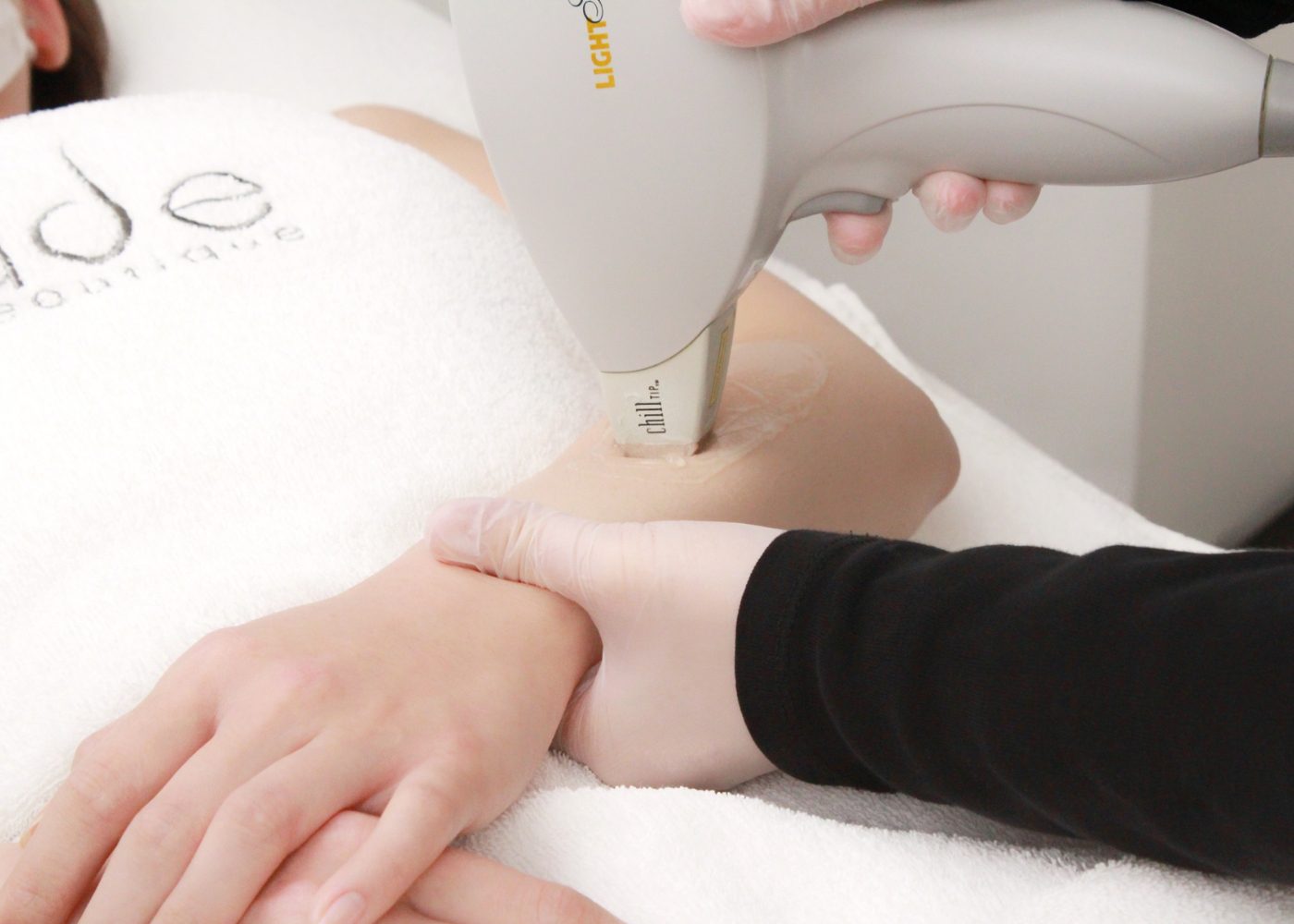 Wanna remove those pesky hairs? Look no further than Nude Beautique, where its medical-grade and FDA-approved laser hair removal can keep you smooth for longer. Using advanced laser systems from Lumenis and Candela, which work faster than IPL and other systems in the market, Nude Beautique has been known for delivering excellent results in hair removal within just five sessions. With top laser hair removal treatments in addition to the best waxing services in town, Nude Beautique is definitely the go-to for all your hair removal needs.
Nude Beautique has locations across Hong Kong.
3. The Skin Gym
Looking for the perfect destination to receive laser hair removal in Hong Kong? At Skin Gym, you can treat yourself to a variety of services from hair removal, massage, and infrared sauna, to skin, lashes, brows and nail treatments. Their main hair removal service is permanent hair reduction by IPL and laser hair removal, which covers a variety of body areas from standard bikini and Brazilian to various face and body areas like neck, shoulder, arm, nipple, chest, stomach, and legs.
The Skin Gym, The Centrium, 21/F, Room 6, 60 Wyndham Street, Central, Hong Kong, p. 2810 8088
4. Glow Spa & Salon
Specialising in total skin care and rejuvenation, Glow Spa offers progressive skin treatments including laser hair removal. Started with a consultation and patch test, the treatment includes six therapy sessions before you will achieve almost 100% hair reduction. Another perks of having their laser treatment is that you can have free touch-up sessions within 12 months after completing your package if you have any regrowth.
Glow Spa, 8/F, Silver Fortune Plaza, 1 Wellington Street, Central, Hong Kong, p. 2525 5198
5. Strip: Ministry of Waxing
While it is most famous for its waxing service, Strip also has other hair removal services such as laser and IPL. And much like their waxing treatment, the salon's laser hair removal covers a wide range of body areas from Brazilian and Boyzilian to upper and lower body, face, hand, and feet for both male and female.
Find out why we love Strip: Ministry of Waxing!
Strip: Ministry of Waxing, 7/F, 8 Lyndhurst Terrace, Central, Hong Kong, p. 3950 3950
6. Laser Kool
Who says women are the only ones needing styling and grooming? If most of beauty salons are targeting women, it is not the case for Laser Kool. Just like its name, Laser Kool is dedicated for laser hair removal and styling services, but exclusively for men. The staff are all males, so men don't have to be embarrassed when it comes to taking care of their unwanted hair in the more private parts. Calling it the unique laser manzilian, the treatment offers different styles for personalisation and covers various areas such as face, privates, legs, arms, chest and abdomen, and shoulder and back.
Laser Kool, 5F, Cameron Plaza, 23 Cameron Road, Tsim Sha Tsui, Hong Kong, p. 2369 5990
7. Honeypot Wax Boutique
Offering laser hair removal services in Hong Kong for the face and body, Honeypot Wax Boutique uses an 808nm diode for skin type versatility. One of the most efficient and versatile systems in the world, this technology also makes use of contact cooling to make the treatment more comfortable. The usual package consists of eight sessions, and by the sixth or seventh treatment, a switch from laser to IPL may be done for the finer hair.
Honeypot Wax Boutique has locations in Central and Causeway Bay
8. Lavar
Lavar is the specialist when it comes to laser hair removal in Hong Kong. From Brazilian to facial to body hair removal, you can get the GentleMax Pro treatment that treats a wide range of skin types and hair colours. Within the span of five to seven treatments, you can expect 90-98% hair reduction and get a one-year guarantee after the sessions. Within this year, hair growth will be monitored and re-treated if necessary.
Lavar, 22/F, Stanley 11, 11 Stanley Street, Central, Hong Kong, p. 2915 0918
[This article was originally published in March 2019 and updated in 2023 by Min Ji Park.]