There are delicious snacks at Curator Creative Café at M+, as well as various designs for the Artsy Print Coffees
Fancy a strong espresso or a creamy latte? You can't miss out on the best new cafes in Hong Kong opening in 2021.
We know you're all ears for the best new restaurants, sweetest deals and most delicious cakes in Hong Kong. If you are looking for the latest cafes with great drinks and vibe, make sure to check out the best new cafes in Hong Kong for 2021. Time to get caffeinated!
Best new cafes in Hong Kong: September 2021 edition
Curator Creative Café at M+
West Kowloon may be the ideal spot for a picnic, but did you know that the area has a multitude of cafes, too? Its newest addition is Curator Creative Café at M+, located next to The Other Shop, M+'s retail space. After strolling through the bookstore, florist shop, and gift shop, take a seat in Curator Creative Café at M+ to enjoy a range of savoury snacks – all of which are an elevated take on street food. These include the Glutinous Chicken with Mushroom and Black Truffle Sauce (our personal fave), Pork Siu Mai with Thai Pomelo Salad, Sakayaki Fish Balls, and more. Pair these with the Curator's signature Artsy Print Coffee, for which you can customise the design. Or, opt for the Rose Strawberry Cappuccino and Raw Coconut Latte.
Curator Creative Café at M+, Unit C, B1/F, Museum Plus (M+), West Kowloon Cultural District, 38 Museum Drive, Kowloon, Hong Kong, p. 6999 2008, 博物館道38號西九文化區M+ B1樓C號舖
Zizizi
A cafe slash… tattoo parlour?! That's right, Zizizi is a private tattoo studio in the heart of Hong Kong with its own coffee corner (also known as Zi Corner). The name Zizizi is inspired by the buzzing sound of a tattoo machine in operation; and while some people may associate tattoos with pain and discomfort, the sound is actually quite therapeutic for others, hence the concept of Zizizi. Also in contrast to the 'dingy' impression of tattoo parlours, Zizizi is bright, neat, and spacious – even the stairs leading up to the cafe are nicely decorated (so don't forget to take pics!) Popular items on the menu include the Lotus Biscoff Latte and Matcha Roll Cake.
Zizizi, 1/F, 22 Kimberley Street, Tsim Sha Tsui, Hong Kong, p. 9238 3173, 尖沙咀金巴利街22號1樓滋滋滋
Duet Cups
Through using matte stone and polished stainless steel in its interior design, Duet Cups expresses its focus on detail and the theme of duality. The cool tones, beautiful stone ornaments, and industrial chic vibes are all reasons for you to pop by Duet Cups. Moreover, there are a variety of brunch items, including ciabatta (with Thai pork neck or rendang beef), sourdoughs, and waffles. Complete your experience with the range of coffees, or give the special drinks a try, such as the espresso tonic and shakerato.
Duet Cups, Shop G28, G/F, Pebbles World (Site 3), The Whampoa, Hung Hom, Hong Kong, p. 3425 4945, 紅磡黃埔天地百寶坊(第3期)地下G28號舖
F1rst Crack Coffee
Cosy and zen, F1rst Crack Coffee is a space for you to recharge and find serenity in the SoHo neighbourhood. The name F1rst Crack was inspired by the exothermic reaction of the coffee bean-roasting process. Aside from hand drips (which are served in traditional sake cups), the cafe has signature drinks such as Yuzu Espresso Tonic, Honey Jasmine Latte, and the unique Sugarcane Cold Brew – perfect for humid, stuffy summer days. As for the food, F1rst Crack Coffee has partnered with The Vege Lab to offer delectable vegan cakes and tarts. On top of that, there are waffles with a selection of toppings for you to choose from.
F1rst Crack Coffee, G/F, 55 Graham Street, Central, Hong Kong, 中環嘉咸道55號地舖
Purple Cafe
Calling fans of all things purple (and BTS? IYKYK!) Purple Cafe is decorated top to bottom with purple lights, purple furniture, purple flowers… You get the gist. Not only is this cafe Instagram-worthy, but it's got a great range of food and beverages too. If you find it hard to choose (as always), order the dessert set so that you can try five desserts at once, whether it's the Pink Rose Cake, Golden Passion Fruit Cake, Blue Butterfly Cake, or others. In addition, savoury bites such as chicken wings and soft shell crab pizza are available. To wash it all down, have the coffee with gum tragacanth (a type of tree sap), which is somewhat similar to bird's nest – it's mildly sweet and apparently healthy, too!
Purple Cafe, G/F, 254 Tung Choi Street, Prince Edward, Hong Kong, p. 6992 5996, 太子通菜街254號地舖
Everyday Coffee
Black and yellow, black and yellow, black and yellow… Even Wiz Khalifa's been singing about this funky colour combo, so if you're not a fan of purple, head to Everyday Coffee instead. Opened at 8am on weekdays (and 10am during weekends), Everyday Coffee strives to provide quality coffee for those of you who grab-and-go on the way to work. We recommend the 1+1=3 – a brilliant combo of a macchiato or cappuccino, a shot of espresso, plus an extra glass of soda water to cleanse your palate. As for the food, the Sunny Mango Yoghurt is both yummy and creative due to its resemblance to a sunny side-up. Since the shop is still in its soft opening phase, we're looking forward to it expanding its menu soon – we hear there may be house-baked desserts in the future!
Everyday Coffee, Shop 2, G/F, 308 Des Voeux Road Central, Sheung Wan, Hong Kong, 上環德輔道中308號地下2號舖
Bestow
Dundas Street may be best known for its street food and huge crowds, but there's now a cute cafe added to the mix. Hoping to 'bestow' a tranquil space for guests to take a breather in the midst of the busy Yau Tsim Mong district, Bestow is a Japanese-inspired cafe with simplistic light-blue-and-white interiors. It makes and serves all its items with stunning apparatus and kitchenware imported from Japan; if you'd like to own any of them yourself, see if The Tabibito, the retail store attached to Bestow, has them in stock. Be sure to check out the cafe's house-made desserts, such as the blood orange mousse cake and yuzu matcha tart. Also, there are bagels, sourdoughs, and Japanese snacks on offer.
Bestow, 5/F, Dundas Square, 43H Dundas Street, Mong Kok, Hong Kong, 旺角登打士街43H號登打士廣場5樓
Sulwhasoo Amber House pop-up at Stain+
The Tai Ping Shan favourite, Stain+, has been renovated into a pop-up cafe, Amber House, for Sulwhasoo. This is to celebrate the Korean skincare brand's release of the summer edition of its bestselling item, the First Care Activating Serum. Designed by local design brand Bikuta Malamia, the bold and lively Amber House is your perfect Instagram hotspot for the month. Don't forget to try the time-limited Orange Latte, created by Stain+, inside the cafe.
In addition, there's an Instagram event happening too – simply upload a photo of yourself and a friend in front of the Amber House mural onto your Instagram on or before September 12; add the hashtags #SulwhasooHK, #FirstCareActivatingSerum, and #swsorangelatte. Then, you can redeem a First Care Activating Mask at any of the official stores and counters of Sulwhasoo (before September 30). Coffee and skincare – what's not to love?
Stain+, Shop A, G/F, Tai Cheung Building, 2-4 Tai Ping Shan Street, Sheung Wan, Hong Kong, p. 9557 5055, 上環太平山街2-4號太昌樓地下A號舖
Blue Bottle Coffee pop-up in Sha Tin
Blue Bottle Coffee is venturing into the New Territories! The cafe is popping up at New Town Plaza, presenting a myriad of pet- and kid-friendly activities in collaboration with multiple local brands. Expect to be camping with your furry friends, taking part in hand drip coffee workshops, learning to dye fabrics with natural coffee grounds (yay to sustainable art!), and even cycling your way around the Sha Tin neighbourhood on an exciting bike tour. Aside from premier Blue Bottle coffees, you'll be able to enjoy Blue Bottle mooncakes, as well as the pop-up-exclusive Waffle Parfait. Your doggos won't be left out either, as there'll be dog-friendly snacks at the venue.
The Blue Bottle Coffee Sha Tin pop-up is running from August 25 to November 21. Visit our event page for more details!
Blue Bottle Coffee, Food Kiosk, 3/F, New Town Plaza, Sha Tin, Hong Kong, 沙田新城市廣場3樓小食亭
Venchi revamped in Harbour City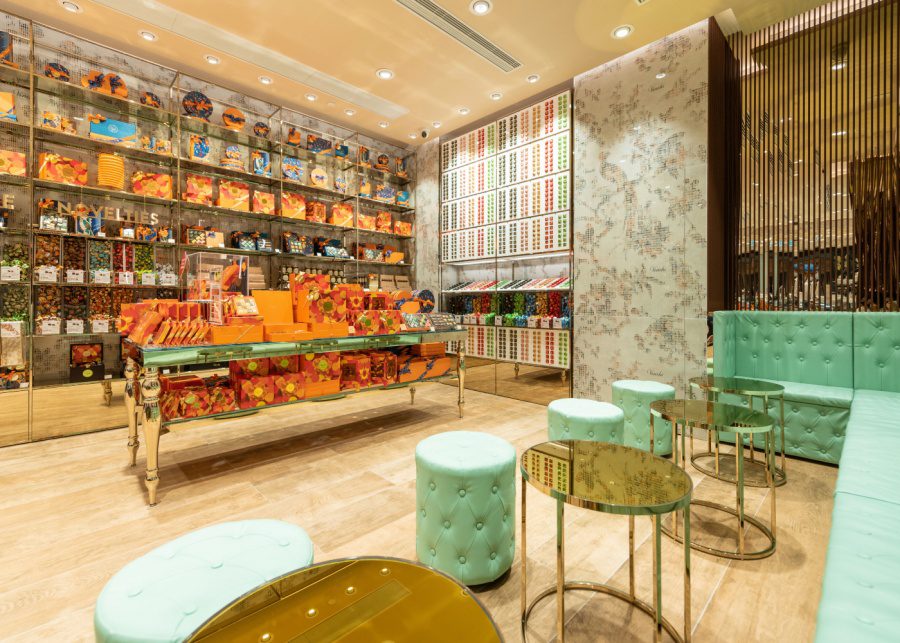 Marking the tenth anniversary of its first Hong Kong store in Harbour City, Venchi has relocated its Harbour City branch (within the same mall) to showcase more products and services. Now revamped to include a cafe space, guests can sit down and enjoy freshly made gelato desserts in the store. While ravishing Venchi's latest Gelato Pralines, your eyes can feast on the boutique's exclusive Chocoviar wall installation – a huge floor-to-ceiling collection of Venchi's Chocoviar – for the ultimate chocolate galore.
Venchi, Shop OT G09, G/F, Ocean Terminal, Harbour City, 3-27 Canton Road, Tsim Sha Tsui, Hong Kong, p. 3101 9981, 尖沙咀廣東道3-27號海港城海運大廈地下OT G09號舖
Best new cafes in Hong Kong: August 2021 edition
KEFI
We can't quite decide what we love more, the interior or the presentation of the coffee and food! The cafe's mantra is written in bold letters on the wall: You don't have to eat less, you just have to eat right. A welcome reminder that lowering your sugar and calories intake is healthier than cutting down the yummies altogether. We love pairing our coffee with KEFI's granola yoghurt tart that's topped with fresh fruit. Other picks include the avocado shrimp sourdough toast, homemade kimchi cauliflower rice with scallops, and the keto brownie chaffle. (Yes, it's a cheese waffle that's healthy!)
KEFI, 165-175 Belcher's Street, Kennedy Town, Hong Kong
Yukkuri
Enter a Japanese time capsule at this new cafe in Kowloon City. Yuk-ku-ri translates to do something in a relaxed and leisurely manner, always an apt description for cafes, as they often provide a respite from the urban jungle. Yukkuri elevates the experience with its precise attention to detail in decor – from the rustic entrance door, moon-shaped lamps, display of traditional pottery, and more. It's reminiscent of entering a collector's haven of vintage treasure. The comfort of the cafe paired with their cakes, puffs, and colourful and fragrant tea makes for a perfect place to spend a rainy day.
Yukkuri, No.424, Prince Edward Road West, Kowloon City, Hong Kong
TGIF
Three cheers for a new pet-friendly cafe! This new cafe is spacious and radiant with natural sunlight – just the way to welcome the weekend. Sip on your favourite blends as the mugs slowly reveal the words Thank God it's Friday, and check out other Insta-worthy items on the menu, including the acai bowl, bagel, and vegan, and gluten-free green salad.
Check out our guide to Shek Tong Tsui to explore the neighbourhood.
TGIF, Shop 4-6, G/F, Wo Fat Building, Shek Tong Tsui, Hong Kong
Kremaro
Quench your thirst during this scorching season with Kremaro's colourful drinks and chewy cookies. Don't be fooled by the design of this takeaway cafe, which looks like a pop-up food truck. Their Cascara Soda is made of coffee berries, it's lower in caffeine compared to coffee, and higher in antioxidants! Pair it with the featured pastries of the day or one of the chunky cookies filled with cream cheese (yum!).
Kremaro, 2 Cannon Street, Causeway Bay, Hong Kong
SOUL
Located on the ground floor of The L. Place, Soul is a coffee shop you can't miss. The open kitchen lets you marvel at the siphon method used to brew coffee. Can't get enough of your coffee and want to gobble down the mug, too? That's technically possible at Soul where The Crispy Mocha comes in a biscuit cup you can devour after you're done with your drink!
SOUL, UG, The L. Place, 139 Queen's Road Central, Central, Hong Kong
Lazzy Project
Another cafe that uses the siphon method for brewing, but this one is further away in Shau Kei Wan. Lazzy Project leans towards a more homey and cosy vibe, so yes, this will be one of those cafes where you're unwinding, unaware of the time just ticking by. Pair your coffee with some banana bread and you're sorted!
Lazzy Project, Shop No. 3, G/F, 2 Shau Kei Wan Main Street East, Hong Kong
Best new cafes in Hong Kong: July 2021 edition
Pane e Latte
Here's a new sweet spot for you to hang out at in Stanley. Pane e Latte is an Italian panificio on the Stanley coast. Bask in stunning views of the sea while digging into the cafe's artisanal baked goods, with its signature being the bomboloni – soft Italian doughnuts, filled with some rich crema pasticceria. While there isn't a date for the official opening as of yet, stay tuned to our Instagram as we'll be popping by for a sneak peek soon! 😉
Pane e Latte, G/F, U-C Court, 25 Stanley Market Road, Stanley, Hong Kong, 赤柱赤柱市場道25號啟厚閣地舖
Hjem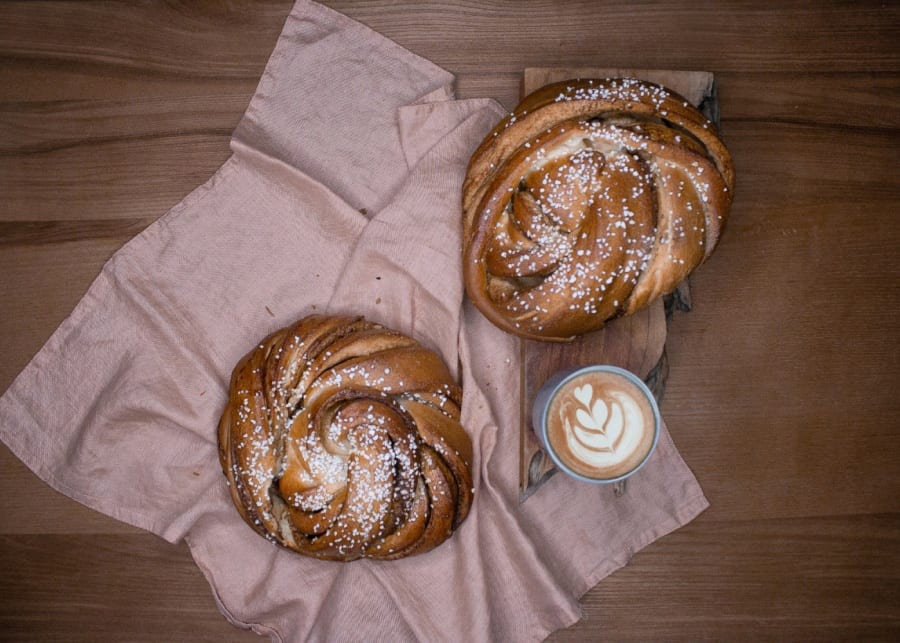 Aside from Mixo, a new Nordic cafe is also joining the Sheung Wan neighbourhood – Hjem. The latest concept by Common Abode, Hjem (meaning 'home' in Norwegian) is a serene and spacious location for you to enjoy light bites and beverages, as well as Scandinavian cuisine. The farm-to-table food menu has an array of hearty Smørrebrød (open-faced sandwiches) for you to choose from. Opt between fresh Arctic prawns, Baltic herrings, asparagus and baby spinach, among other toppings. If you're craving something sweet, go for the Giant Cinnamon & Cardamom Bun Rolls. Pair that with the Honey Milk Golden Latte, or Hjem's wonderful cocktails for a satisfying meal.
Hjem, 161 Hollywood Road, Tai Ping Shan, Hong Kong, p. 2362 9193
From Scratch
While From Scratch may be located on a slope, it's cosy interiors and excellent foods will make your hike worthwhile. An urban oasis with a hint of industrial chic, the cafe is decorated by a careful curation of house plants both inside and outside. The space is bathed in a warm light, balancing out the coolness of the grey, concrete walls. If you're feeling peckish, From Scratch is an ideal place to drop by for pasta, coffee, and desserts, such as the signature Butterscotch Mochi and the freshly made Chocolate Nutty Cookie.
From Scratch, G/F, 21 Western Street, Sai Ying Pun, Hong Kong, p. 9220 5717, 西營盤西邊街21號地舖
Mixo
Looking for a pet-friendly space to chill with your pooch? Trek up to Mixo, a new cafe that's slightly off the beaten path in Sheung Wan – a perfect ten-minute walk away from the hustle and bustle near the main roads. Mixo has several items on its lunch menu as of now (we hear it's still expanding!) Take your pick from the Classic Carbonara, Sourdough Toast Combo with eggs, prawns, and black truffle, Squid Ink Risotto, Truffle Mushroom Orecchiette, and more. As a cafe, of course Mixo is also serious with its coffee. There are four single origin espresso coffees available at the moment, including Colombia Natural, Colombia Washed, Uganda Natural, and Mexico Anaerobic Honey Roll.
Mixo, G/F, 26 Tai Ping Shan Street, Sheung Wan, Hong Kong, 上環太平山街26號地舖
Latter Cafe
Yet another pet-friendly venue on our list – yay! With its white and cream yellow interiors, Latter Cafe is a warm, playful, but also elegant new space in the heart of the city. Aside from common coffees, you can expect unique creations, like the thirst-quenching yuzu mojito espresso, and the super Insta-worthy coconut espresso with its layering effect. That said, the food menu is even more impressive. You'll find various bagels, with the matcha lava bagel being a crowd favourite, as well as mango sticky rice chiffon, Thai milk tea scone, cookie sandwiches, and other special items.
Latter Cafe, Shop E, G/F, Kam Sing Mansion, 151-153 Jaffe Road, Wan Chai, Hong Kong, 灣仔謝斐道151-153號金聲大廈地下E號舖
Posh Coffee Club
Posh Coffee Club is beyond your typical coffee shop. It aims to be the hub for local coffee enthusiasts, and to provide a unique experience for all its guests. Situated right next to the Lai Chi Kok MTR Station, Posh is easily accessible. Also, its minimalist industrial design stands out from the older buildings around it. As both the coffee and food menus change seasonally, you'll be sure to enjoy something different every time you visit.
Posh Coffee Club, Unit 2B, G/F, Cheung Lung Industrial Building, 10 Cheung Yee Street, Lai Chi Kok, Hong Kong, p. 6374 9293, 荔枝角長義街10號昌隆工業大廈地下2B號舖
Kaffee Jen
Escape the urban hustle by heading to Kaffee Jen in Tuen Mun. This new cafe revolves around the theme of zen, and is heavily influenced by Japanese temple aesthetics. Surrounded by sleek wooden furniture and plants, you'll be able to seek solace at once in this charming tea house and coffee shop.
Kaffee Jen, Workshop 3, 4 Kin Fat Lane, Tuen Mun, Hong Kong, p. 6013 3100, 屯門建發里4號(3號舖)
Coffeelin opens in Happy Valley
Coffeelin in Sai Ying Pun now has a twin in Happy Valley! A cafe by day and a bar by night, Coffeelin is the latest hotspot for those in search of a casual, all-day place to relax. As the sole distributor of the coveted Italian Griso coffee beans on the continent, the cafe strives to bring the best and most authentic Milanese-style coffee to The 852. With Milanese design elements around the cafe-bar, including dark green tiles and antique Memphis-style mirrors, you'll find yourself transported to 20th-century Italy as you take a seat in this friendly shop. Oh, and did we mention it's pet-friendly too?
Coffeelin, G/F, 8 Cheong Ming Street, Happy Valley, Hong Kong, p. 6012 6241, 跑馬地昌明街8號地舖
Mad Coffee Co. opens in Sham Shui Po
Mad Coffee Co., a neighbourhood favourite in Ap Lei Chau, has opened its first branch in the SSP neighbourhood. With a mini storefront that holds only a bench and little room for standing, Mad Coffee Co. makes up for its small space with premium coffee and hospitality. If you'd like to try the cafe's popular food menu, however, make sure to head over to its main store instead.
Mad Coffee Co., 208 Tai Nan Street, Sham Shui Po, Hong Kong, p. 6773 4386, 深水埗大南街208號叁瘋
The Salfee Bar opens in Quarry Bay
Nothing beats a fresh salad and ice-cold beverages in the summer. You'll get the best of both worlds at The Salfee Bar in Quarry Bay, where you can choose between a range of plant-based dishes to go along with a refreshing drink. Cool yourself down with The Salfee Bar's signature Minlimo, a mojito-inspired ade with espresso, lime juice, mint, and soda. Also, don't forget to pick up a QB-exclusive vegetarian frittata as a healthy and energising snack.
The Salfee Bar, G/F, 34 Hoi Kwong Street, Quarry Bay, Hong Kong, 鰂魚涌海光街34號地舖
The Coffee Academics opens in Discovery Bay
You know you can pretty much always rely on The Coffee Academics, as it often has a location somewhere near you. This month, TCA is bringing DB residents a dose of caffeine and its quality foods with its new branch in Lantau. Located in the heart of South Plaza, it's the perfect spot to fix those coffee cravings.
The Coffee Academics, Shop G65, G/F, Block C, DB Plaza, Discovery Bay, Hong Kong, 愉景廣場C座地下G65號舖
Best new cafes in Hong Kong: June 2021 edition
Loft and Scone
Located in Gilman's Bazaar, a bustling zone for office goers to grab some coffee on the go, Loft and Scone is adding one more place for caffeine addicts to get all jittery with excitement. You may have heard of And Scone for their vegan bagels (they've done pop ups before) and now they have a place to call home. This two-storey cafe does cute latte art and serves some seriously delish scones and roll cakes.
Loft and Scone, 6 Gilman's Bazaar, Central, Hong Kong, p. 6127 5295
Moontone
Don't you just love seeing pet-friendly cafes make it to our list every month? Moontone delights our palates whilst maintaining a pastel palette in their decor. The aesthetic of this cafe is different from the usual, some of the tables have low-lying cushions for your paw-friends to get comfy and settled. The signature cake has to be their bright blue yoghurt roll, which you can pair with either one of their dirty or pretty shakes.
Moontone, 440 Portland Street, Mong Kok, Hong Kong, p. 9656 4962
Trois Cafe
With two existing branches in Central, this chic cafe has recently set foot in Wan Chai and we already can't get enough. The drinks here aim to appeal to more than just one of your senses, a feast for your eyes, taste buds, and they also smell amazing. The drinks and coffee here have interesting flavours, like the butterfly pea latte for instance, and the Camellia Lady. Indulge in some house-made brownie with da hong pao ice cream and thank us later.
Trois Cafe has locations in Central and Wan Chai.
Apostrophe Coffee
A bar or a cafe? You decide. The front counter has a backdrop that looks much like a bar (with bottles of liquor and coffee beans lined up). The basque cheesecake here comes in five different flavours – original, green tea, raspberry, Baileys, and oreo – we honestly can't pick one amongst these. For all coffee orders, you can add an extra five bucks for oat milk (totes worth!), but we recommend trying the barista's special hand drip.
Apostrophe Coffee, Unit 301, Tower 535, 535 Jaffe Road, Causeway Bay, Hong Kong, p. 3102 2001
First Place Coffee
Rustic cafes with floral details are undoubtedly calming to the mind, and First Place Coffee is no exception. And natural light paves its way through the see-through glass walls encompassing the cafe, making you feel at-home. Let's start with their tarts, pick from either apple, or chocolate, you'll love 'em. For some extra kick, you can opt for the chai latte, or the hand drip with a wine-y aftertaste.
First Place Coffee, Shop 6, Hing Hon Building, 26-36 King's Road, Tin Hau, Hong Kong
Barcode
A cafe by day, and soon-to-be a bar by night, Barcode is a sleek new cafe in Central. The outdoor seating is pet-friendly which means those sitting indoors can creepily eye the cute pets to try and catch their attention. Aside from Hojicha lattes and green tea lattes, Barcode takes a unique step with their beetroot latte with hazelnut syrup. And they did the dirty in the cleanest way possible, with a photogenic glass. For sweets, bring that dreamy tiramisu and canele to your table.
Barcode, G/F, Glenealy Tower, 1 Glenealy, Central, Hong Kong, p. 6661 3161
Missing Link Coffee
Okay, we'll be honest. What first caught our attention about this cafe is their pod-like seats. They may not be the most space-friendly, but your Insta game will be poppin. Fill your tables with the good stuff, we're talking about the chocolate basque cheesecake, yuzu toast with salmon, and matcha strawberry roll cake. For drinks, iced mocha and pour over get our green light.
Missing Link Coffee, G/F, No. 10 Yiu Wa Street, Causeway Bay, Hong Kong
Blossom
Blossom has been running in Sai Ying Pun and now they have another locay in Kowloon City. The brown tones in the cafe bring an old-school cafe touch that may be quite rare to see these days. The leather chairs and chestnut brown tables obviously match all the tones of the pours. For the single origin coffee beans, you can either go for a filter coffee or syphon (it's all in the techniques). We're also fans of their cold brew which you can have to-go as it comes in a bottle. And the tiramisu is a must-have!
Blossom, 45 Nam Kok Road, Kowloon City, Hong Kong, p. 2803 2556
Best new cafes in Hong Kong: May 2021 edition
NATURA
Seasons change but our love for a good pour doesn't get cold. Natura specialises its menu to match every season. Now during the time of refreshing spring, Natura is serving sakura themed coffee, so expect the interior to be filled with sakura motifs. This dreamy flowerland's must-try include the creamy fig tart, Norwegian salmon with green tea miso glazed sauce, and the zen cake that resembles four rocks piled on top of each other (it's totally edible and it's made of blackberry mousse). You can't go cafe-hopping without ordering coffee, we recommend going for the soymilk Natura latte which is a signature floral blend.
NATURA, Shop 1&2, G/F, Tai Tung Building, 8 Fleming Road, Wan Chai, Hong Kong, p. 2816 1601
Coast Coffee
You need not travel coast to coast to find the love of your life, we're talking about Coast Coffee in Tin Hau. White is the all new aesthetic that cafes seem to go by and honest to say, they still catch our eyes (and wallet). If you want an espresso that's not too strong, go for the Cascara Tonic that has subtle lemon peel essence. The pork neck char siu and sourdough with sunny side egg are garnished with sweet and salty osmanthus sauce that is unexpectedly good.
Coast Coffee, 17 Tin Hau Temple Road, Tin Ha, Hong Kong
Proton Cafe
Enter the rustic cafe with cement flooring to be ravished by the jasmine espresso hand sake, red dragon fruits yoghurt bowl, and the fruit bomb – dried mixed fruits and cold brew. This pet-friendly industrial style cafe subtly adds a pop of colour with a black leather sofa and a cleverly painted wall to resemble yellow light from a lamp. And the plating is defo Insta-worthy!
Proton Cafe, Yuen Tat Building, 81-85 Kau Yuk Road, Yuen Long, Hong Kong, p. 9413 1131
Cruising Coffee
Another one to add to the trendy cafes in Yuen Long, Cruising is a cosy corner with just about 10 seats but the hospitality here makes you feel just at home. The attention to detail in decor is immaculate with industrial style decor and seating. Go for the Greengel, a bagel sandwich with avocado egg mesh and veggies to feel good on the inside, pair it with hojicha roll cake with mochi and a cuppa nutty flat white and you're sorted.
Cruising Coffee, Shop No. 4, G/F, Yuccie Square, No. 38 Yuen Long On Ning Road, Yuen Long, Hong Kong
Lorway Coffee & Bakery
Go glee with green at pet-friendly Lorway. The transparent glass is inviting and there's a tree right in the middle of the cafe to bring the outside in. The wooden seating is complemented with plant-themed murals, it's almost like you're on a Pinterest board. Fill your table with the scones with strawberry jam, a plate of all-day breakfast, and a flat white, okay and maybe some basque burnt cheesecake. The possibilities are endless.
Lorway Coffee & Bakery, B3A on G/F, Tuen Mun Central Square, 22 Hoi Wing Road, Tuen Mun, Hong Kong, p. 55464723
Eon Cafe & Bar
The emerald green tiles, soft pink gold steel chairs, marble-top tables, and the warm brown and gray tones bring a luxe touch to the cafe. Seconds, minutes, and hours fall short at Eon (meaning timeless) as you indulge in some Colombian, Kenyan, and Ugandan pour, and nibble away with the scones and croissants the cafe has to offer. The alcohol license is still under works but expect some on the menu shortly.
Eon Cafe & Bar, 116 Argyle Street, Mong Kok, Hong Kong
Best new cafes in Hong Kong: April 2021 edition
Loop Kulture
Encompassing two floors, this cafe is filled with rustic elements that immediately make us feel at home (or, well, at a barn). Loop Kulture emphasises sustainability, from sourcing organic produce to selling a variety of hand-picked nuts in their cafe, they even take it a step further in delivering dishes garnished with edible flowers (extra points for your Insta game). This quaint pet-friendly cafe is where you'll find us after work.
Loop Kulture, G/F, 90 Apliu Street, Sham Shui Po, Hong Kong
The Coffee Academics
With about 16 locations across Hong Kong, the folks at The Coffee Academics aren't resting just yet. Discovery Bay peeps will soon have one more spot to grab quality coffee, and perhaps an addition for a place to work from. The opening date of the new locay is not confirmed yet so keep your eyes peeled for the latest addition to the plaza.
The Coffee Academics has multiple locations in Hong Kong
Sole Coffee
We don't know about you, but we're always up for a cake and coffee combo. Or how about a combination of both? Sole Coffee has taken it an edge further with their basque coffee cheesecake (nom!). The cafe has special cakes made in collaboration with local bakery, Candy's Gourmet, but if cake is not your cup of tea, perhaps some all-day breakfast? You can expect excellent service, just as long as you don't pop over on a Wednesday, the cafe operates every other day of the week.
Sole Coffee, Shop 19-20, G/F, Yik Ft Building, 11-15 Fung Yau Street North, Yuen Long, Hong Kong, p. 3705 3120
Until Coffee
A new cafe in town no longer simply means you're getting served some coffee by a brand new team. New cafes have become a whole new experience in itself, whether it be experimenting with fusion coffees and cakes or the sleekest interiors. Until Coffee grabs goer's attention with its see-through menu and then grabs patrons' hearts with its service and specialty coffee blends. You can't miss out on their mocktails while you're there.
Until Coffee, G/F, On Tin Centre, 1 Sheung Hei Street, San Po Kong, Hong Kong, p. 6015 5409
An Coffee
Basque burnt cheesecakes have undeniably taken the cafe world by storm (we're not complaining), but the real show stealer of this cafe has to be their earl grey chiffon cake that's topped with rose petals and pistachios, marking a vibrant colour combo that will have other peeps peeking at your table. The rustic slash bohemian interior is a breath of fresh air, a pleasant little botanical garden if you will. And it's oh so photogenic and pet-friendly (who can really walk past that bright purple entrance without stepping in for a closer look?).
The cafe is closed on Tuesdays and Wednesdays and they accept cash only.
An Coffee, No.41A, Hang Ha Po Village, Lam Tsuen, Tai Po, Hong Kong
Best new cafes in Hong Kong: March 2021 edition
Neighbourhood Coffee
Repulse Bay already houses an array of restaurants and cafes and adding to the neighbourhood is Neighbourhood Coffee (nbhd for short). Their fresh new third location in Hong Kong is the place to chill on the weekend and grab brunch with the pals or fam. We love that they provide oat milk as an alternative to dairy with an addition of $5. Their signature tea – namely Japanese Sencha, apple cinnamon, and rosa oolong are a must-try.
Neighbourhood Coffee, Repulse Bay, G/F, No.35B-4 Beach Road, Repulse Bay, Hong Kong, p. 9500 0051
The Third Bakery
Hooray for a pet-friendly cafe – we love it cause we get to pet random cute and friendly doggos! With some offices switched to work from home, it has become tricky to find quiet places to work, and cafes have become a haven for peeps at the workforce recently. And again – you may spot (and pet) some dogs here which is basically free therapy, folks! Their flan cake is bound to make a great work companion.
FYI, check our full list of dog-friendly cafes here.
The Third Bakery, 38-40 Eastern Street, Sai Ying Pun, Hong Kong 
Superhooman
Calling all hoomans! Superhooman has got us super pumped with the latest addition in their menu – they're introducing a peanut butter chocolate latte (yes, you read that right!), and you can easily pair it with one of the many yum treats at Superhooman. Perhaps, the Hojicha tiramisu waffle with mascarpone cheese? Another sweet treat – this cafe is also dog friendly.
Superhooman, G/F, 16 Tsing Fung Street, Tin Hau, Hong Kong, p. 9181 1193
Revol
The sleek matte black interior sends us one clear message – they love black at Revol, be it the decor or their coffee. They're here to explore the diversity and richness of coffee in its unaltered form. They have two single-origin-espresso (SOE), with coffee beans sourced from Peru and Colombia. SOE 1 has more nutty flavours, perfect for the colder seasons, whereas SOE 2 has elderflower, strawberry, and cane sugar.
Revol, Shop No.2, G/F, 206-212 Johnston Road, Wan Chai, Hong Kong, p. 3702 0170
Bench Cafe
Nestled in the industrial streets of Tsuen Wan is a calm and slow-paced cafe, Bench that offers both indoor and outdoor seatings. We love the little fun they had creating their logo and ambience, it's unique and has a cosy feel to it. Their apple cinnamon french toast and lemon meringue tart looks hella appetizing, they also serve up some delish brunch.
Bench Cafe, 17 Fu Yung Street, Tsuen Wan, Hong Kong
Fonji
This mid-century cafe is serving more than just coffee – the Japanese joint is cosy and comfy, and is a great spot for unwinding. The nostalgia that the decor brings in paralleled with its unconventional coffee creations. Maple caffe latte is their signature (hmm, is it a mere coincidence that they're located in Maple Street?) and the pandan and coconut cake is not something you're likely to see in local cafes.
Fonji, 5 Maple Street, Prince Edward, Hong Kong (closed on Sundays)
Between
With seasoned barista's roasting signature blends in-house and crafting unique coffee cocktails, Between takes a unique turn in serving coffee. The design of the cafe is minimalistic yet it has heads turning when walking down the street. They've incorporated mixology with coffee (do not sip on this whilst at work) and also have super healthy options (as they call it), in other words, these are vegan friendly with coconut milk, almond milk, or oat milk infused with ingredients like turmeric, sesame, and matcha.
Between, G/F, 248 Queen's Road East, Wan Chai, Hong Kong, p. 2877 8711
---
Best new cafes in Hong Kong: January 2021 edition
Rise by Classified
The latest concept store opened by Classified Group and The Pawn, Rise by Classified serves an array of scrumptious baked goods, ranging from the classic pain au chocolat and croissants, to special goodies like Dutch baby and sourdough tartine. All kinds of coffee, teas and wine are also available to pair with the freshly-baked pastries.
Rise by Classified, Exchange Square Podium, Shop No. 313, 3/F, 8 Connaught Place, Central, Hong Kong, p. 2147 3454
NINETYs Roastery (Causeway Bay)
Serving Australian delicacies with an Asian twist, NINETYs Roastery has got the world's best beans to make you the perfect coffee. Not only do they serve a huge variety of coffee, tea, wines, beers and cocktails, but their food menu is also another highlight. Whether you fancy casual meals like crab benedict and salmon tartare, or luxurious dishes like Iberico pork confit and sous vide rack of lamb, NINETYs Roastery will not disappoint you. Sign up for their coffee cupping and roasting workshops, or shop some coffee beans and merchandise back home.
NINETYs Roastery (Causeway Bay), Shop 116, Lee Garden Two, 28 Yun Ping Road, Causeway Bay, Hong Kong, p. 2167 8684
Passepartout Brunch and Coffee
From Miso Caramel Lattes to Swiss Meringue Hot Chocolates, Passepartout makes creative beverages with intricate latte art. Visit them at 9am to enjoy cinnamon buns, praline gianduja and other baked goods straight from the oven. If you want a heart-warming brunch, their signature Butter Chicken Waffle and Egg Benny Wagyu Don are must-try items. Oh, and don't forget to try their indulgent Hojicha Financiers and Apple Crumple Pound Cake!
Passepartout Brunch and Coffee, Shop 2, G/F, Chung Wai Commercial Building, 447-449 Lockhart Road, Hong Kong
Master Room
A cafe that serves delicious sparkling espresso, sweet cappuccinos and mochas, Master Room is a hidden gem in Kwun Tong. Other than savouring their carefully crafted beverages and pastries, don't miss out on their iconic 1.5-metre-long Mahogany table as well as granite walls and tiles made by local craftsmen. Filled with bright natural light and fragrant coffee aroma, Master Room is definitely a great place to sit back and enjoy the day.
Master Room, Shop 2, G/F, Manulife Financial Centre Tower, 223-231 Wai Yip Street, Kwun Tong, Hong Kong
Womanboss
A female-led online shopping platform, Womanboss has soft-launched a 3000 sq-ft cafe in Sham Shui Po. Other than enjoying fresh goodies like Matcha Cake ($58) and Sparkling Americano ($40), you can also shop an array of products like soaps, coffee beans and arts. We like that their overall vibe is very chic and modern, plus their art gallery has lots of beautiful displays that will mesmerise you.
Womanboss, 82 Apliu Street, Sham Shui Po, Hong Kong
Filters Lane (Graham Street)
Serving indulgent food, alcohol and coffee, the new Filters Lane on Graham Street is a great hub for all coffee lovers. Other than espressos and flat whites made with their house blends, filter coffees from Guatemala, Honduras, Columbia and many other coffee-producing countries are available. Pair your aromatic coffee with their delicious pastries, all-day breakfast or bagels, and you will be all set for the day.
Filters Lane, 34 Graham Street, Mid-levels, Hong Kong
Pssstt… also check out the best cafes for 2020 in Hong Kong here!