We honestly can't pick our favourite dish at Francis (Photography: Francis via Facebook)
There's nothing as hearty as a good meal that starts with hummus and ends with baklava. Fall in love with falafel all over again at these Middle Eastern restaurants in Hong Kong.
Travelling all the way to Dubai to get a taste of authentic Middle Eastern cuisine? Those were the days! Hong Kong serves hot new dishes at these new restaurants every month and the food scene here knows no borders. If you love a good resto that also serves a handful of vegetarian options, then you'll love these Middle Eastern restaurants in Hong Kong.
Best Middle Eastern restaurants in Hong Kong
1. Francis
Hailing from Tel Aviv, Chef Asher Goldstein draws upon memories of the rotating selection of mezze and grilled plates on the vibrant streets of his hometown. We love the tummy-filling lunch set – worth every penny and the perf way to energise yourself at noon. For more dining options, head over for dinner – we love the Grilled Octopus and Manti Dumpling. The wine list features 50 labels; some old, others new, and the cocktail menu is to the point featuring just five classics. There are also non-alcoholic options up for grabs.
Read more on why we love Francis.
Francis, 4 & 6 St. Francis Street, Wan Chai, Hong Kong, p. 3101 9521
Francis is one of the vendors at Basehall, LG9 Jardine House, 1 Connaught Place, Central, Hong Kong, p. 3643 0865
2. Acme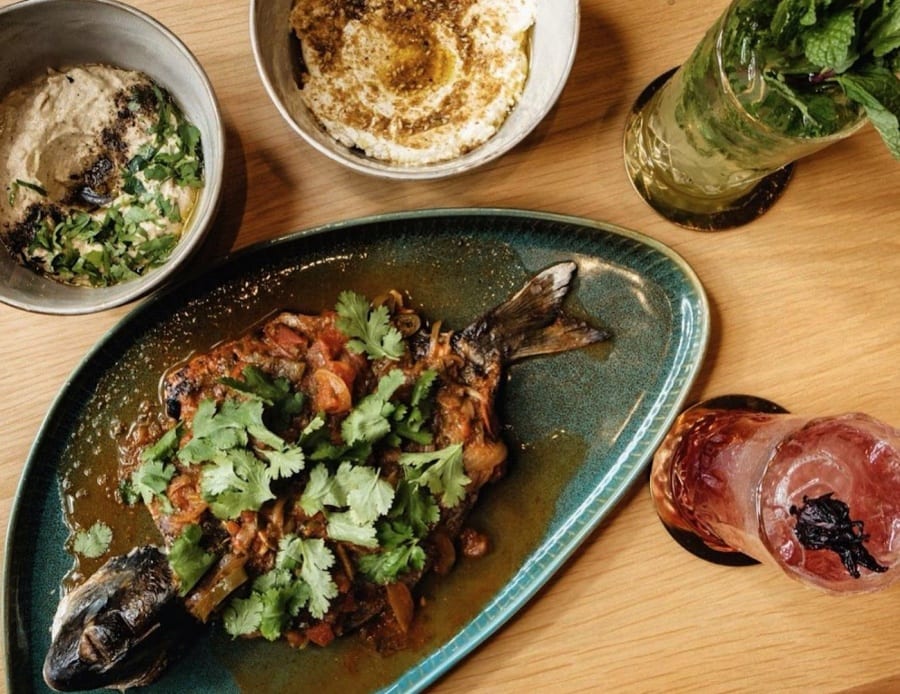 One of the hottest openings in SoHo of late has to be Acme, a restaurant that serves its own contemporary spin on traditional Middle Eastern fare. Their food concept is also visible in their decor – a modern interior that also boasts traditional Arabic design. For some veg-options, aside from hummus, babaganoush, and labneh, Acme also serves some delish fattoush, shulbato, and kosheri. Don't forget to pair your meal with some Arab coffee or quality wines.
Acme, 59 Elgin Street, Soho, Central, Hong Kong, p. 2885 6066
3. Mama Malouf
Check out this modern Lebanese kitchen with fuchsia walls that are bound to catch your attention even if you're just passing by on a bus. The dishes are inspired by Chef Alex Malouf's mother's recipes and honour the values of a home and kitchen in a relaxed modern environment. Trying one of their skewers is a must, and if you love burrata, Mama Malouf takes it one step further with eggplant, heirloom tomatoes, and mint. Also, how good does Kahlua creme brulee and pistachio ice cream sound?!
Read our review on Mama Malouf.
Mama Malouf, G/F, 93 Catchick Street, Kennedy Town, Western District, Hong Kong, p. 2817 3828
4. Shahrazad Lebanese Dining Lounge & Bar
For a more upscale dining experience, Shahrazad is inspired by the Middle Eastern collection of tales: One Thousand and One Nights. The vivid colours, bold patterns, and Arabian lanterns instantly teleport you to the land of Persia (as do the food!) Start off with some hummus Beiruti (not your ordinary) or hummus with lamb before indulging in a chef's special lamb shank. You'll also love the tagines that are served with vermicelli rice. You can't leave Shahrazad without a shisha sesh and a signature cocktail – be prepared for quite an elaborate list of drinks!
Shahrazad Lebanese Dining Lounge & Bar, 2/F, Carfield Commercial Building, 77 Wyndham Street, Central, Hong Kong, p. 2330 0242
5. Carat
A menu that offers half-Indian and half-Mediterranean cuisine, be sure to keep flipping the pages on the menu until you get to the Mediterranean side. Believe us when we say the dips platter is a MUST-try – because how often can you try five different dips on one go, in one order? Plus it comes with three different types of bread. Other platters that get our nod are the mezze hot platter and falafel platter. And the grilled Moroccan lamb lollipop? Just divine!
Carat, 4F, Winfield Commercial Building, 6-8 Prat Avenue, Tsim Sha Tsui, Hong Kong, p. 2391 3929
6. Aziza
Head Chef Mohsen brings authentic Egyptian cuisine to Hong Kong in this family-owned business that began in 2017. Aziza means darling in Arabic and may we just say what a beautiful name that is! The name also embodies their aim to provide a welcoming and homey atmosphere for all guests. For the meat-lovers, you can go for the mixed grill or the Aziza chicken but we promise you there's also plenty to choose from for vegetarians (okra tagine all the way!) Finish off with some kunafa to satisfy your dessert stomach.
Read our full review of Aziza.
Aziza has locations in Sai Ying Pun and Kennedy Town.
7. Bedu
This resto takes inspiration from the nomadic wanderings of the Bedouin tribes across the deserts of North Africa to the rocky sands of the Middle East, hence the name Bedu. The set lunch only costs $135 and it comes with a main, dessert, and a drink. We absolutely recommend getting the Baharat spiced pumpkin, feta, and zhoug labneh, and the crispy fried market fish with smoked hummus. Plus, just add $50 for some prosecco (or too soon for day drinking?)
Read more on why we love Bedu.
Bedu, 40 Gough Street, Central, Hong Kong, p. 2320 4450
8. Lamees
With the extension of the Tuen Mun MTR line, getting to Lamees is less of a hassle but it was all worth it in the first place. Dishes get heated up here with the slightly high spice levels. For the adventurous spice addict, the sojok (Turkish beef sausages) and hummus har won't disappoint. The pasta dishes each take inspiration from a different country or city (one of which is Hong Kong!)
Lamees, Shop 2, G/F, Sanford Mansion, 145 Pak Tai Street, To Kwa Wan, Hong Kong, p. 9181 9600
9. Chickpea
We remember the anticipation of waiting for the first Chickpea location in Hong Kong to open and safe to say, it's still one of our go-to spots to grab lunch or dinner. This humble takeaway serves freshly made hummus, pita pockets, salads, and more and they're pretty generous when it comes to portions! Keep your eyes peeled, Chickpea is always popping around town…
Chickpea has multiple locations in Hong Kong.
10. Loveat Persian Restaurant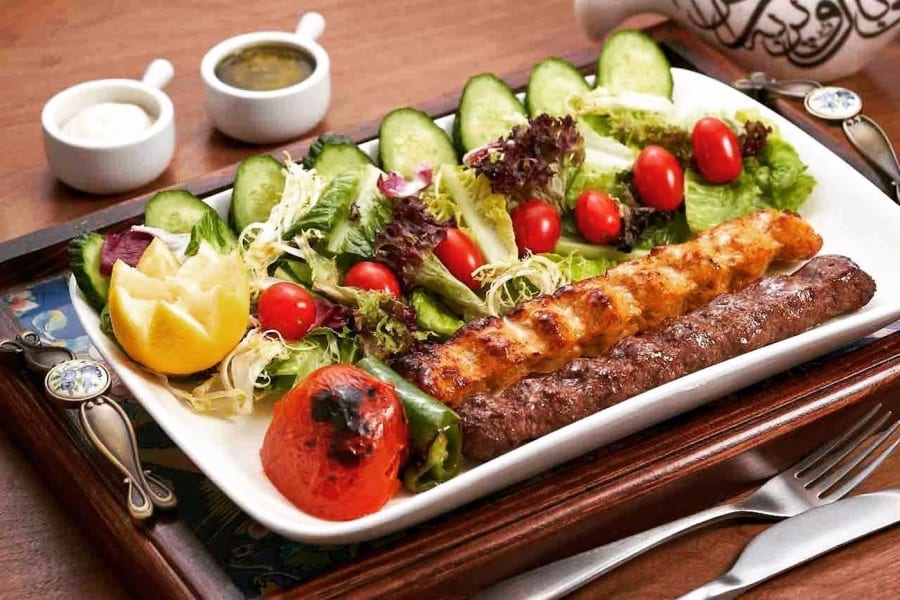 Combining premium halal lamb, beef, and chicken with Persian's finest ingredients, Loveat's welcoming team are always ready to cook up a storm to please your palates. On a hot summer evening, the mast-o-khiyar with Persian-style yoghurt, chopped cucumber, and mint has a fresh kick to quench your thirst. Also, the zeytoon parvardeh – marinated olives with pomegranate sauce and walnuts just proves the authenticity of this restaurant. There are plenty of rice dishes served with their signature skewers and kebabs. As a final act, go for the saffron ice cream for an unconventional finish that's so worth it.
Loveat Persian Restaurant, Shop E, G/F, Garley Building, 47-53 Graham Street, Central, Hong Kong, p. 2595 9900
11. Maison Libanaise
By the name, you'd already guess there's some French influence in store. Maison Libanaise takes inspiration from the cultural renaissance of 1960s Beirut, known as the Paris of the Middle East for its French architecture, progressive food scene, and liberal residents. The grilled dishes here are just fire – the shish taouk (chargrilled chicken skewers) and the mashawi (assorted skewers) are great for sharing. Wine and dine your way with generous pours from the region's most iconic wineries.
Maison Libanaise, 10 Shelley Street, Central, Hong Kong, p. 2111 2284
12. Pomegranate Kitchen
From junk catering to canapés and cocktails to lunch deliveries, Pomegranate Kitchen creates bespoke menus for special occasions. The a-la-carte lunch menu focuses on Middle Eastern cuisine in a broader sense rather than focusing on one particular region. Taste favourites from across Tunisia, Iraq, Jerusalem, and more. Bear in mind that this menu is only for lunch delivery as Pomegranate is a catering service. If you're hosting a private event, they have their own venue with alfresco dining and it's just stunning!
Find out more on their website.
Pomegranate Kitchen, 4B, Sing Tech Factory Building, 44 Wong Chuk Hang Road, Aberdeen, Hong Kong, p. 2580 0663
13. Shabab
If you're catching a ferry from Tsim Sha Tsui to Central then don't forget to stop by at Shabab for affordable Syrian food. Their shawarmas are juicy and fragrant with a balanced punch of flavour. Plus, the grilled lamb cubes are well-seasoned and you won't be able to get enough of them! All in all, a whole set meal will just cost you about $100. There are limited seats and if you want to avoid the Star Ferry crowd, takeaway is always available.
Shabab, Shop KP-39A, 1/F, Star Ferry Pier, Tsim Sha Tsui, Hong Kong, p. 6349 9994