Eateries like Pici serve fresh, handmade pasta everyday
We're always in the mood for a hearty spag bol. Get your fill of some of the best pasta in Hong Kong.
While we always have an appetite for tapas, Chinese, or Middle Eastern, a heaping bowl of pasta just hits differently. Whether it's spaghetti, penne, or orecchiette, pasta always has a special place in our hearts (and stomachs). Luckily, we're always spoiled for choice when it comes to pasta joints in the 852. From neighbourhood trattorias to Michelin-starred restaurants, some of the best pasta in Hong Kong is just a stone's throw away. Buon appetito!
The best pasta in Hong Kong that hits the spot
1. Testina
Some of the best pasta in Hong Kong can be found right in the heart of Central at Testina. The modern Italian joint inspired by Trippa Milano aims to bring you right to a family table in Italy. Hits on the menu include the Lingua Tonnata; Trippa Fritta; and Homemade Cavatelli with Mediterranean Octopus and Dry Fennel. The authentic flavours with a modern twist will be sure to impress the pasta lovers amongst you!.
Testina, 3/F, 8 Lyndhurst Terrace, Central, Hong Kong, p. 2798 0668
2. Ask for Alonzo
With locations all across the Island, Ask for Alonzo is taking over Hong Kong one bowl of pasta at a time. The Rigatoni Amatriciana is always a hit, while Alonzo's Carbonara is a must-try classic. Additionally, if you're looking for a great deal for carb-loading, Ask for Alonzo's lunch set menus give you a real bang for your buck.
Ask for Alonzo has multiple locations across Hong Kong Island.
3. Pici
See the queues? Pici's got the town raving with some of the best pasta in Hong Kong. Fresh, handmade pasta is the name of the game at this local pasta bar. Try the Pici "Cacio e pepe" and Orecchiette 'Nduja, the two signature pasta dishes that brought Pici to fame. If you're feeling adventurous (and hungry), go for the Tasting Menu and sample all the popular items from the menu. Pro-tip: all Pici locations are walk-in only, so come early or during less busy hours.
Pici has multiple locations across Hong Kong.
4. Fini's
With Italian-American roots plus a local twist, Fini's serves some of the best and unique pasta dishes in town.. While its New York-style pizzas are the bestsellers, the homemade pastas are what really demonstrate Fini's range of influences. You can opt for the good ol' Italian-American Spaghetti with Red Sauce, or the Typhoon Shelter Crab Linguini to sample some Hong Kong inspiration.
Fini's has several locations across Hong Kong.
5. Associazione Chianti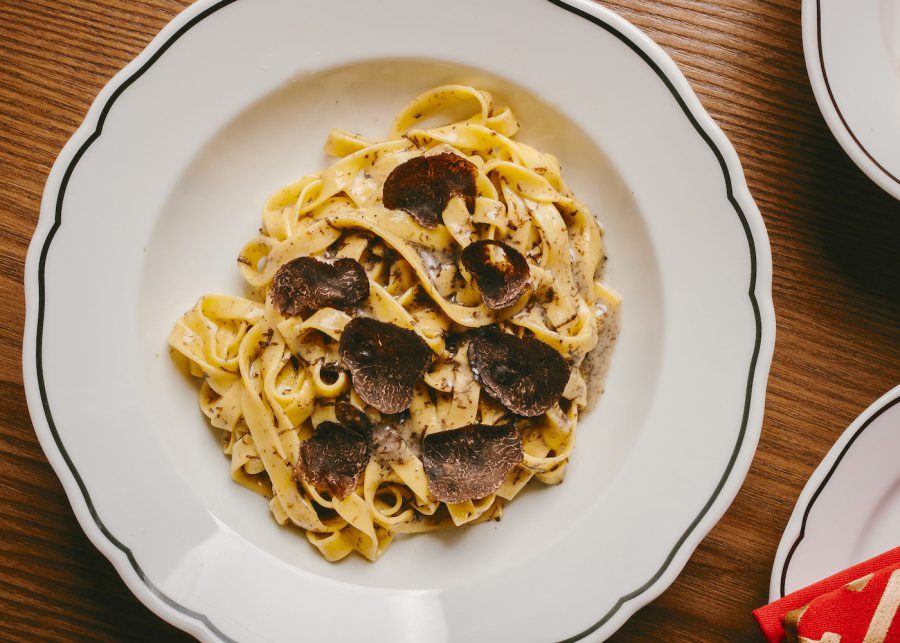 Hear us out – famed meat joint Associazione Chianti actually has some of the best pasta in Hong Kong. Although the steaks are proudly centre-stage at this Tuscan trattoria, we suggest a glance further down the menu. The pastas are unassuming yet delicious, with sauces that feature the famous meats displayed throughout the restaurant. Served with beef and pork ragu, and parmesan, the Parpadelle is a hearty dish made with hand-cut pasta and is one of our favourites at Associazione Chianti. While most come for the Bistecca, next time you find yourself at this eatery, save some room for the pastas.
Associazione Chianti, 15 Ship Street, Wan Chai, Hong Kong, p. 3619 3360
6. LucAle
Created by Chefs Alessandro Angelini and Luca De Berardinis, LucAle aims to deliver Michelin-star level food in a laid-back setting. This neighbourhood Italian eatery serves delectable, house-made pasta made with expertly sourced Italian ingredients, and presents a modern take on classic Italian flavours. The Homemade Chitarra Style Spaghetti with Black Truffle, "Pienza" Pecorino Cheese, and Walnut Breadcrumbs are must-tries on the menu, but we also like to visit LucAle from time to time for seasonal offerings.
LucAle, Shop A, 100 Third Street, Sai Ying Pun, Hong Kong, p. 3611 1842
7. 8½ Otto e Mezzo Bombana
No list of the best pasta in Hong Kong would be complete without the Michelin-starred 8½ Otto e Mezzo Bombana. As the only Italian restaurant outside of Italy to receive three Michelin stars, it's no surprise that the pasta here is top-notch. The tasting menu almost always features a house-made pasta that will knock your socks off!
8½ Otto e Mezzo Bombana, Shop 202, Landmark Alexandra, 18 Chater Road, Central, Hong Kong, p. 2537 8859
8. Nicholini's, Conrad Hong Kong
Venture to Northern Italy with your meal at Nicholini's, celebrating the freshest ingredients and finest culinary traditions. The homemade pastas are the highlight on both the a la carte and tasting menus. The Taglioni with Slow-Cooked Fine de Clare Oyster is a Nicholini's classic that must be tried. When ordering a la carte, you can opt for an appetiser or main portion, but with pasta this good, we always go for the biggest size we can get!
Nicholini's, Level 8, Conrad Hong Kong,, 88 Queensway, Admiralty, Hong Kong, p. 2822 8801
9. Palco Ristorante
Enjoy some delectable pasta with a waterfront view to match at Palco. Modern Italian food can be enjoyed here with the tasting menu or, if you're really jonesing for just a big plate of pasta, a la carte. While best known for its afternoon tea, Palco's Signature Spaghetti with 24 Months Parmesan Cheese and Black Truffle Paste is also a headliner. Make sure you whip out your cameras as the chef makes the dish tableside – with a cheese wheel and all! If you're looking for something a little less creamy, the Spaghetti Aglio e Olio and the Spaghetti with Vongole are also fantastic choices.
Palco Ristorante, Shop OTE 403 & 404, Level 4, Ocean Terminal, Harbour City, Tsim Sha Tsui, Hong Kong, p. 2382 3123
10. Tosca di Angelo, The Ritz-Carlton, Hong Kong
If you think the high ceilings and intricate chandeliers at Tosca di Angelo are the most impressive things about the restaurant, you clearly haven't tried the pasta yet! The pasta course on the tasting menu will be a highlight of your experience here. Whatever the seasonal course is, it'll be some of the best pasta in Hong Kong – like the Homemade Tagliatelle with Alaskan King Crab and Green Asparagus.
Tosca di Angelo, Level 102, The Ritz-Carlton, Hong Kong, International Commerce Centre, 1 Austin Road West, Kowloon, Hong Kong, p. 2263 2270