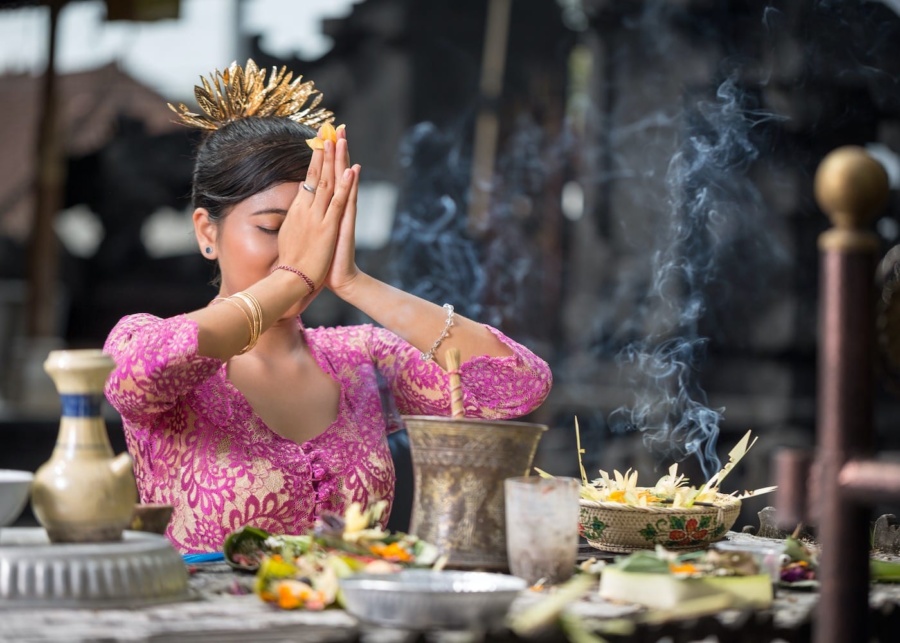 Nyepi is just around the corner, so here's everything you need to know about this Hindu celebration, and why it's our favourite day on the Balinese calendar.
Unless you're a Bali regular or local resident, chances are, you've never heard about Nyepi, AKA Bali's "Day of Silence". It's when, for a full 24 hours, all of the island's lights must be switched off, transport comes to a halt and everyone must stay at home. Sounds crazy? In our humble opinion, Nyepi is the most magical and unique date on the Balinese calendar, found nowhere else in the world other than on this enchanting little island.
Sure, it can interrupt some of your plans, and you won't be able to hit the beaches, the boutiques or spas for 24 hours (but hey, no one's going anywhere with the current Coronavirus crisis anyway). But before you start looking at flights to escape the island, let us tell you why you've hit the holiday jackpot if you happen to be in Bali during this spiritual celebration, as well as tips on what to prepare, where to stay, and even how to spend the day – every answer to your nagging Nyepi FAQs.
NYEPI IN BALI: ALL YOU NEED TO KNOW
When is Nyepi?
This year, Nyepi falls on Sunday March 14th 2021, beginning at 6am and finishing 24 hours later at 6am on March 15th. The date of Nyepi changes each year according to the Balinese calendar, so you'll want to check ahead if you're already planning next year's Bali escape.
What is Nyepi?
For the Balinese, Nyepi is a Hindu celebration that marks the start of a New Year – a day to cleanse the island from the previous year's misdoings and bad omens, establishing a pure and positive year ahead. The whole island shuts down for a full 24 hours, and the streets are off limits to everyone. Even the airport closes for a full day, with planes being rerouted above so not to disturb the silence below. Everyone must remain inside their homes, villas or hotels without any disturbances – this means no travelling, transport, work, sound, or even light. In short, it's pure bliss.
What happens during Nyepi?
On Nyepi Day, the Balinese will be busy meditating, praying and spending silent time at home with their families. But for non-Hindus, the answer is quite simply: nothing (other than plenty of relaxation). However, prior to Bali's Day of Silence, the streets come alive with the sweet sounds of traditional gamelan and reams of colourful offerings. You'll also spot villagers excitedly preparing and sculpting enormous papier-mâché monsters (called Ogoh-Ogoh) which, on the night before Nyepi, are paraded through the streets with loud music, bursts of fire, thousands of people in the streets and plenty of community spirit. It's a spectacular contrast to the silent serenity that follows. (Note: due to the Coronavirus crisis, Ogoh Ogoh parades have been cancelled for 2021).
Fun fact! Want to know the reason behind the raucous parades on the eve of Nyepi, followed by total silence? The Balinese believe that evil sprits scour the earth looking for colonies to torment. So, the parades are designed to catch the attention of these evil spirits and draw them to the island. Then, by the time the evil spirits arrive, they find an island that's seemingly deserted, with no sign of human life. Alas, these evil spirits depart, leaving the island cleansed and evil-free for another year ahead!
Must everyone celebrate Nyepi, even foreigners?
Yes, everyone must abide by the rules of Nyepi, namely by remaining indoors without any noise or visible light. Don't fret though, you're permitted to move around your accommodation as normal, providing that sound and light are kept to an absolute minimum. If you're staying in a hotel, there'll often be plenty of activities on offer to keep you occupied, and you won't be in total darkness either – lights will often be left on but dimmed at nighttime, and you'll just need to keep your curtains closed.
So what should I do on Nyepi Day?
With nothing else on the itinerary except kicking back and chilling out, there's no better time to rest, relax and rejuvenate from the comforts of a luxury hotel or resort. Find yourself a good book, meditate, dust off an old board game, treat yourself to an at-home face mask or simply bask in the sunshine with only the sounds of nature all around. To help you plan your Nyepi escape, check out the special Nyepi Stay Packages below to make your Silent Day even more magical.
Nyepi packages: Where to stay on Silent Day
Since no one can leave their accommodation on Nyepi day, many hotels will offer special Nyepi Stay Packages to keep everyone occupied on these "forced" days indoors. Most packages will offer discounted rates, complimentary meals, full access to the hotel's facilities and sometimes vouchers for spa treatments – even the kiddos will be taken care of with games, activities and movie marathons.
Check out these special Nyepi Stay Packages below for ideas on where to stay this Silent Day:
Six Senses Uluwatu – package includes daily breakfast, 1x lunch, 1x dinner, 1x 30 minute back or foot massage and 40% savings on F&B and spa treatments.
Sofitel Bali Nusa Dua Beach Resort – IDR 1,800,000 nett per room per night – stay for 4 nights, pay for just 2!
Uluwatu Surf Villas – stay one night, get the second free, with complimentary breakfast and dinner included.
Vinila Villas, Nusa Dua – from IDR 5,000,000 nett for two nights for up to 6 people – daily breakfast, 1x lunch & 1x dinner included!
Sara Residence, Legian – from IDR 1,500,000 nett for two nights for up to 4 people – daily breakfast, 1x lunch & 1x dinner included!
Amarta Beach Retreat – from IDR 1,800,000 nett for two nights for 2 people – daily breakfast, 1x lunch, 1x dinner and 1x couple's massage included!
The Westin Resort & Spa Ubud, Bali – from IDR 1,250,000++ per room per night, including breakfast and dinner for two.
Intercontinental Bali Resort – from IDR 1,400,000 nett for two nights, including breakfast, yoga and kid's club access.
The Laguna Resort & Spa – from IDR 1,200,000 nett per room per night, including daily breakfast and free room upgrade.
Top Nyepi Tips:
FOOD – If you're staying in a private villa rather than a hotel, check ahead to see whether food and meals are provided. If not, you'll want to stock up on plenty of sustenance well ahead of Nyepi, as the supermarket shelves are often bare by the time Nyepi swings around. You'll also want to pre-prepare and cook most of your meals on the day before Nyepi, as you won't be able to use that noisy blender or light-generating oven.
TRAVEL – On the day before Nyepi, many roads will close at around 4pm to make way for the Ogoh-Ogoh parades that begin at 6pm, so you'll want to avoid travelling long distances any time after lunch time. It's the perfect excuse to head home early and begin winding down ahead of the silence.
BUSINESS – Since Nyepi is the most important public holiday on the Balinese calendar, most businesses will close over Nyepi so that families can reunite and celebrate in their villages. Though the holiday is technically only one day, many businesses will close for an entire week, so keep this in mind if you have any deadlines (e.g visa extensions), or have any special occasions planned.
OGOH-OGOH – One of the best things about Nyepi is the festivities that take place on the night before Silent Day, namely the Ogoh-Ogoh parades. Every village has their own parade, starting at around sunset time, so be sure to check out your local parade for a spellbinding show of colour, noise and good times. Otherwise, if you want to see the biggest and most staggering displays, then check out the Ogoh-Ogoh parades in Jimbaran (at the main McDonalds intersection), Seseh (at the intersection of Jl Raya Tanah Lot) or in Denpasar on Imam Bonjol. You'll want to watch the closest parade to wherever you're staying, 'cause it's likely you'll need to walk home due to the road closures and out-of-office taxi drivers. (Note: due to the Coronavirus crisis, Ogoh Ogoh parades have been cancelled for 2021).
Selamat Hari Raya Nyepi, everyone!