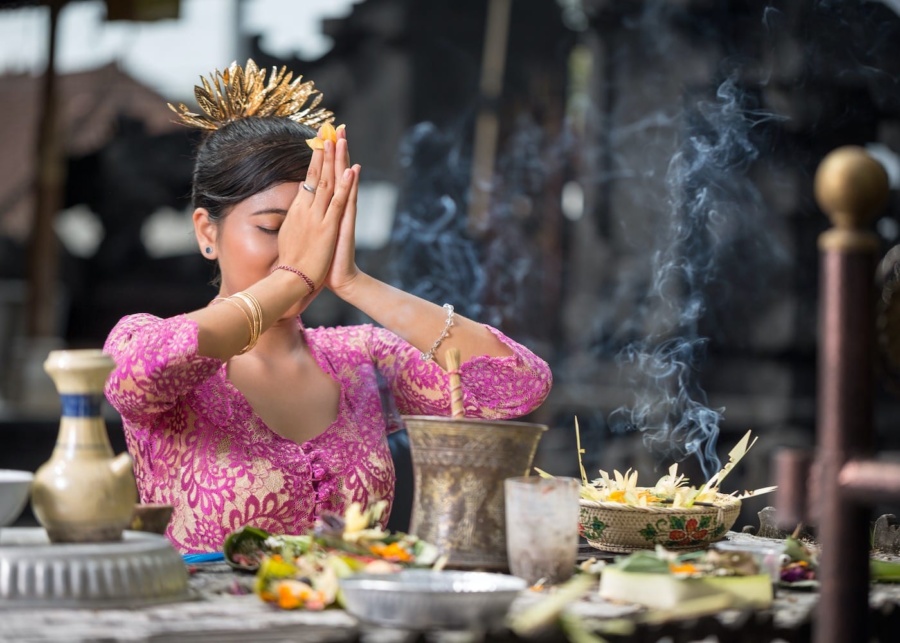 Nyepi 2023 is happening this week, so here's everything you need to know about this Hindu celebration, and why it's our favourite day on the Balinese calendar.
Unless you're a Bali regular or local resident, chances are, you've never heard about Nyepi, AKA Bali's "Day of Silence". It's when, for a full 24 hours, all of the island's lights must be switched off, transport comes to a halt and everyone must stay at home. Sounds crazy? In our humble opinion, Nyepi is the most magical and unique date on the Balinese calendar, found nowhere else in the world other than on this enchanting little island.
Sure, it can interrupt some of your holiday plans, and you won't be able to hit the beaches, the boutiques or spas for 24 hours. But before you start looking at ways to escape the island, let us tell you why you've hit the holiday jackpot if you happen to be in Bali during this spiritual celebration. We've also got some useful tips on what to prepare, where to stay on Nyepi, and even how to spend the day – every answer to your nagging Nyepi FAQs.
NYEPI 2023 IN BALI: ALL YOU NEED TO KNOW
When is Nyepi?
This year, Nyepi falls on Wednesday March 22nd 2023, beginning at 6am and finishing 24 hours later at 6am on March 23rd. The date of Nyepi changes each year according to the Balinese calendar, so you'll want to check ahead if you're already planning next year's Bali escape.
What is Nyepi?
For the Balinese, Nyepi is a Hindu celebration that marks the start of a New Year – a day to cleanse the island from the previous year's misdoings and bad omens, establishing a pure and positive year ahead. The whole island shuts down for a full 24 hours, and the streets are off limits to everyone. Even the airport closes for a full day, with planes being rerouted above so not to disturb the silence below. Everyone must remain inside their homes, villas or hotels without any disturbances – this means no travelling, transport, work, sound, or even light. In short, it's pure bliss.
What happens during Nyepi?
On Nyepi Day, the Balinese will be meditating, praying and spending silent time at home with their families. For everyone else (non-Hindus), the answer is quite simply: nothing (other than plenty of relaxation at home).
However, prior to Bali's Day of Silence, the preparations and celebrations start many days (even weeks!) before Nyepi Day. You'll notice the streets coming alive with the sweet sounds of traditional gamelan instruments and reams of colourful offerings. All of this is in preparation for Melasti, which is a purification ritual that takes place three or four days before Nyepi. It's the largest purification ritual on the island, where thousands of Balinese people – all dressed in white – form a spectacular procession towards the ocean, carrying sacred objects from the temples to the sea to be cleansed and purified.
Many days before Nyepi, you'll also spot villagers excitedly preparing and sculpting enormous papier-mâché monsters (called Ogoh-Ogoh) which, on the night before Nyepi, are paraded through the streets with loud music, bursts of fire and people lining the streets to add to the community spirit. It's a spectacular contrast to the silent day of serenity that follows.
Fun fact! Want to know the reason behind the raucous Ogoh-Ogoh parades on the eve of Nyepi, followed by total silence? The Balinese believe that evil spirits scour the earth looking for colonies to torment. So, the Ogoh-Ogoh are designed to catch the attention of these evil spirits and draw them to the island. Then, by the time the evil spirits arrive, they find an island that's seemingly deserted, with no sign of human life. Alas, these evil spirits depart, leaving the island cleansed and evil-free for another year ahead!
Must everyone celebrate Nyepi, even foreigners?
Yes, everyone must abide by the rules of Nyepi, namely by remaining indoors without any noise or visible light. Don't fret though, you're permitted to move around your accommodation as normal, providing that sound and light are kept to an absolute minimum. If you're staying in a hotel, there'll often be plenty of activities on offer to keep you occupied, and you won't be in total darkness either – lights will often be left on but dimmed at nighttime, and you'll just need to keep your curtains closed.
So what should I do on Nyepi Day?
With nothing else on the itinerary except kicking back and chilling out, there's no better time to rest, relax and rejuvenate from the comforts of a luxury hotel, villa or resort. Find yourself a good book, meditate, dust off an old board game, treat yourself to an at-home face mask or simply bask in the sunshine with only the sounds of nature all around. And trust us when we say you'll want to stargaze at night, because without any light pollution, the sky is a blanket of sparkles!
To help you plan your Nyepi escape, check out the special Nyepi Stay Packages below to make your Silent Day even more magical.
Nyepi packages: Where to stay on Bali's Silent Day
Since no one can leave their accommodation on Nyepi day, many hotels will offer special two-night Nyepi Stay Packages to keep everyone occupied on these "forced" days indoors. Most packages will offer discounted rates, complimentary meals, full access to the hotel's facilities and sometimes vouchers for spa treatments – even the kiddos will be taken care of with games, activities and movie marathons.
Check out these special Nyepi 2023 Stay Packages for ideas on where to stay this Silent Day:
Buahan, a Banyan Tree Escape – The "Serenity Nyepi with Lentera Bumi" invites you to experience a blissful, silent meditation with fireflies under the twinkling stars this Nyepi. For a minimum stay of two nights in 'the bale', you'll also snag daily breakfasts and dinner, a la carte and a communal lunch, as well as an Island Massage for two.
Price: From IDR 18,050,000++ per night in the Rainforest Pool Bale.
Bisma Eight – "The Silent Escape" package for two includes daily breakfasts, afternoon tea, a set lunch and dinner, daily turn-down service with house-made cookies, as well as access to the resort's immersive classes and workshops. You can also book a complimentary 30-minute photoshoot on the 21st or the 23rd.
Price: From IDR 7,600,000 nett for two nights in the Garden Suite, Canopy Suite or Forest Suite.
Padma Resort Legian – for a tranquil beachfront getaway this Nyepi, head to at Padma Resort Legian and indulge in perks aplenty. You'll be treated to daily breakfasts and a one-time lunch and dinner for two, plus access to the resort's artisanal activities for adults and children, not to mention a special discount on spa treatments.
Price: Starting from IDR 4,199,000 nett nett for two nights. For KTP and KITAS/KIMS holders only.
Renaissance Bali Uluwatu Resort & Spa – the "Silent Night in Uluwatu" allows you to take a restful break in the Bukit with daily breakfasts for two at the resort's Clay Craft restaurant, as well as the Nyepi day buffet dinner for two, a free yoga class (plus other resort activities), and complimentary access to the fun Tree House Kids Club to keep the little ones occupied.
Price: From IDR 2,040,000++ per night (minimum two-night stay).
Sofitel Bali Nusa Dua Beach Resort – perfect for foodies, the "Nyepi KolaboRASA" package is the ultimate gourmet collaboration thanks to special foodie popups from some of Bali's most delicious venues. Stay for two nights in a luxury room, and you and kiddos will also get daily breakfasts for two adults and one child, a one-time lunch and dinner at Kwee Zeen, as well as two hours of free access to the Kids Club and a complimentary bed for one child under 12 years old.
Price: From IDR 7,000,000 for two nights.
Hotel Tugu Bali –  enjoy silence in Canggu at this luxurious and cultural resort. You'll be treated to daily lavish breakfasts, signature afternoon teas, a one-time dinner for two and a 30% discount on spa treatments at the Waroeng Djamoe Spa. Kids are also invited to enjoy an entire day of fun Nyepi activities.
Price: From IDR 6,530,000++ for two nights.
Mamaka by Ovolo – a pet-friendly Nyepi staycay, bring Fido to join the Silent Day escape at this Kuta resort. In fact, your furry bestie will be a V.I.Pooch, with complimentary dog bowls, snacks and comfy mats. The two-night stay also includes perks for the hooman, like "First Drink on Us" atKuta Social Club, daily breakfast and IDR 400,000 credit for lunch, dinner, and mixology and barista classes. Recharge with sunrise and sunset yoga, wellness activities, access to the Wellness Zone, and a 20% discount at Kupu-Kupu Blow & Spa. Kids under 12 will score free food and drinks, homemade popcorn at "Cinema Under the Stars", as well as a pizza-making class and poolside activities.
Price: From IDR 1,644,500 per night (minimum two-night stay).
The Stones Hotel – Legian Bali, Autograph Collection – the "Silent Day Retreat" package includes daily buffet breakfasts for two, a lunch or dinner for two, and a 15% discount on spa treatments.
Price: From IDR 1,239,670++ per night in the Deluxe Room (minimum two-night stay).
Sheraton Bali Kuta Resort – the "Oasis of Serenity" package includes daily buffet breakfasts for two, a one-time dinner for two on Nyepi day, spa credit, 24-hour access to the fitness centre and in-room dining services, as well as resort activities for the whole family too.
Price: From IDR 3,500,000 nett for two nights.
Aloft Bali Kuta at Beachwalk – the "Silence Day, Aloft Way" package includes daily breakfast for two adults, a complimentary dinner on Nyepi day, 24-hour access to the Re:charge gym and the Re:fuel grab & go station, a variety of in-house food and beverage promotions, as well as complimentary hotel activities.
Price: From IDR 2,000,000 nett for two nights.
Le Méridien Bali Jimbaran – embrace the day of silence in Jimbaran with the "Serene Getaway" package. This stay deal includes daily breakfasts and a dinner for two, plus a 15% discount on food and beverage.
Price: From IDR 1,500,000 nett per night (minimum two-night stay).
Top Nyepi Tips:
FOOD – If you're staying in a private villa rather than a hotel, check ahead to see whether food and meals are provided. If not, you'll want to stock up on plenty of sustenance well ahead of Nyepi, as the supermarket shelves are often bare by the time Nyepi swings around. You'll also want to pre-prepare and cook most of your meals on the day before Nyepi, as you won't be able to use that noisy blender or light-generating oven.
TRAVEL – On the day before Nyepi, many roads will close at around 4pm to make way for the Ogoh-Ogoh parades that begin at 6pm, so you'll want to avoid travelling long distances any time after lunch time. It's the perfect excuse to head home early and begin winding down ahead of the silence.
BUSINESS – Since Nyepi is the most important public holiday on the Balinese calendar, businesses will close over Nyepi so that families can reunite and celebrate in their villages. Though the holiday is technically only one day, many businesses will close for an entire week, so keep this in mind if you have any deadlines (e.g visa extensions), or have any special occasions planned.
OGOH-OGOH – One of the best things about Nyepi is the festivities that take place on the night before Silent Day, namely the Ogoh-Ogoh parades. Every village has their own parade, starting at around sunset time, so be sure to check out your local parade for a spellbinding show of colour, noise and good times. Otherwise, if you want to see the biggest and most staggering displays, then check out the Ogoh-Ogoh parades in Jimbaran (nearby the main McDonalds intersection), Seseh (at the intersection of Jl Raya Tanah Lot) or in Denpasar on Imam Bonjol. You'll want to watch the closest parade to wherever you're staying, 'cause it's likely you'll need to walk home due to the road closures and out-of-office taxi drivers.
Selamat Hari Raya Nyepi, everyone!