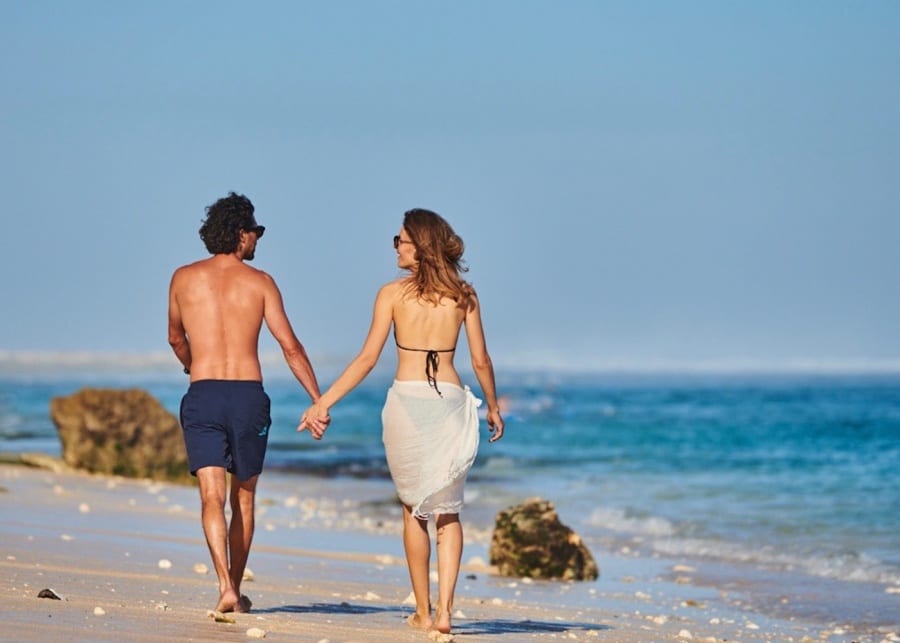 Been waiting for Bali's borders to reopen to return to the island? With the new Single Entry e-Visa, you can now enter Indonesia just days after applying.
We'll be honest: we didn't want to let this little secret slip right away. When Bali's borders first closed back in April 2020 (only residents and KITAS holders could enter), the beaches were empty, the waterfalls returned to their most natural states, and that pesky Canggu traffic was a thing of the past.
But then reality kicked in. For the past year, Bali's business owners have struggled beyond belief. Local families haven't been able to feed their own children, and rural villages are bursting at the seams, with thousands of workers returning home after losing their jobs in the tourism industry. It's glaringly obvious that Bali needs its visitors back.
So now, it's time to let the secret slip. While Bali's borders are still closed for tourism, you can apply for a visa to enter Indonesia, which will allow you to spend up to six months in Bali. The free "Visas on Arrival" for tourists are still unavailable, but anyone wanting to come to Bali can now apply for this new visa option, letting you fly into Indonesia legally and seamlessly. Here's all you need to know.
NEW SINGLE ENTRY BALI E-VISA: ALL YOU NEED TO KNOW
Whether you want to simply wait out the pandemic in beautiful Bali, or you returned to your home country last year but want to get back to the island, almost anyone is eligible to apply for the Single Entry e-Visa, providing it is not for tourism purposes. It is currently the best possible option for non-residents and foreigners to enter Indonesia and stay in Bali for an extended period of time.
The Single Entry e-Visa is valid for 60 days and allows four 30-day extensions, totalling a six month stay period. The visa is called a B211b Visa, also referred to as the "Business Visa" – AKA it's a visa that is not for tourism purposes. In order to obtain this visa, you must be sponsored by a PT Company in Indonesia – a process that can be completed with the help of a visa agent in Bali (you can send us a DM on Instagram for our list of tried-and-tested agents).
HOW TO APPLY FOR THE NEW SINGLE ENTRY E-VISA
Single Entry e-Visa applications can be submitted online by your agent, which means you do not have to visit the Indonesian embassy in your home country, nor when you arrive in Indonesia. There are, however, some required documents in order to apply:
You'll need to supply a scanned copy of your passport.
You'll need to show your bank statement in English with a minimum amount of 10,000 USD (or, ask your agent to help you).
You'll need a booked return ticket to and from Indonesia within 60 days (it's best to book a flight that can be rescheduled without fees, if you decide to extend your visa and stay for more than 60 days.)
You'll need to show proof of the e-Visa payment.
Since this visa is different from a tourist visa, there is a chance you'll need to describe the purpose of your visit when you enter the country. Legitimate reasons are:
– To attend business meetings
– To assess the market
– To check on any business investments
– To consider future business investments
HOW MUCH DOES THE NEW SINGLE ENTRY B211b E-VISA COST?
Depending on which visa agent you use, the price of the new e-Visa is approximately US$300. This includes the agent fee, the visa fee, and other documentation that's required, including sponsorship, guarantee letter, and sometimes, the promise of an approved visa application within five working days.
Once you arrive in Indonesia, you can then choose to extend your e-Visa after your initial 60-day stay period. You can extend the visa four times, 30-days each, totalling a six-month stay. The price of each extension is approximately US$50, and each extension application must be made two-weeks before the date of visa expiry.
FREQUENTLY ASKED QUESTIONS ABOUT THE NEW B211b VISA
So, you want to get back to Bali but you're unsure if it's the best decision? Here, we're answering the most frequently asked questions surrounding the new e-Visa, and everything else quarantine and Coronavirus-related.
1. Which agent is best to use to apply for the visa?
There are plenty of legitimate visa agents here in Bali who can assist with the application of your visa, but not all visa agents are made equal, and unfortunately, there are lots of scammers out there. Send us a DM on Instagram for our list of tried-and-tested recommended visa agents.
2. Do I need to have a Coronavirus test before arriving?
Yes. On arrival into Indonesia, you will need to show a negative PCR (swab) test. The test must have been completed within seven days of arrival into Indonesia.
3. Do you have to quarantine when you get to Bali?
Yes. When you arrive into Indonesia, you first have to quarantine in Jakarta for five days in a designated hotel. You will have a PCR swab test taken on Day 1, and another on Day 5. If your results are negative, you are free to travel onwards to Bali. Some visitors have been asked to sign a document to say they will continue to self-quarantine at home for a total of 14 days.
4. Can I fly direct to Bali?
No. Currently there are no direct international flights to Bali. You will need to fly into Jakarta first (the capital of Indonesia) and then fly domestically to Bali. The flight time from Jakarta to Bali is just under two hours.
5. Is Bali a safe place to be during the pandemic?
Just like any other country, Indonesia (and Bali) does still have active cases of Coronavirus, so we suggest you take all the necessary precautions that you would in any other country. Saying that, Bali is blessed with lots of outdoor spaces, breezy private villas and secluded beaches, so social distancing is just part of normal Bali life! So the simple answer is yes, Bali is still safe for those who are fit, healthy and following correct hygiene and social distancing procedures.
6. What is the current Coronavirus situation like in Bali?
The situation is changing daily, but you can track Indonesia-specific statistics here, and you can also follow the Bali Covid-19 Update Facebook group for daily (and accurate) updates. You can also read our full guide to Coronavirus in Bali here.
7. Do I need to collect my visa from an embassy?
No. You will receive your e-visa via email, so you no longer need to visit the Indonesian embassy in your country.
8. Can I book my flight before getting my visa?
We would recommend booking your flight after your visa is approved, just in case there are any delays. Once your visa is approved, you have 90 days to enter the country, so you can book your flight, print your e-visa, arrange your health insurance and also get your PCR (swab test) done within seven days of arriving into Indonesia. The only thing left to do? Pack your bags and dust off your passport!
See you in Bali soon…