Turns out, you don't have to be a raw food juicing fanatic or die-hard Ubud yogi to enjoy the perks of a healthy and balanced lifestyle in Bali. And this iconic new spot is showing us how.
For as far back as we can remember, Ubud has been the hub of health in Bali. There are yoga studios on every jalan, healthy and organic cafes lining the rice fields, and zenned-out yogis intoxified by spirulina and essential oils hiding in every bale. 
But as Dylan once chimed, times they are a-changin', and there's a new 'hood on the Bali block that doesn't separate the hardcore yogis from "the rest of us" who – heaven help us – sometimes like to enjoy a fabulous glass of wine [or three].
We're talking about Canggu – Bali's hippest and most up and coming 'hood that lovingly bundles together the yogis, the surfers, the party animals and the travellers, and there's one new spot in particular that knows just how to cater to them all.
Introducing: In The Raw Beachgarden…
[hc_component id="141599″]
You might already be familiar with the name – In The Raw was once the quaint cold-pressed juice bar that sat on the corner of Canggu's main intersection. Well, that healthy little hotspot has gained itself some tropical new digs, and they're bigger, brighter, and better than ever before.
Now a breezy, open air space on the buzzing Batu Bolong strip just footsteps from world-class surf breaks, award-winning yoga studios and some of the best bars in Bali, In The Raw Beachgarden couldn't be any better located for Canggu's contrasting crowds. And catering to these crowds is their specialty.
You see, In The Raw Beacharden is a multifaceted one-stop-shop for all of your healthy essentials. We're talking premium cold-pressed juices, fresh-from-the-farm organic produce, and a menu that's bursting at the brim with holistic wholefoods.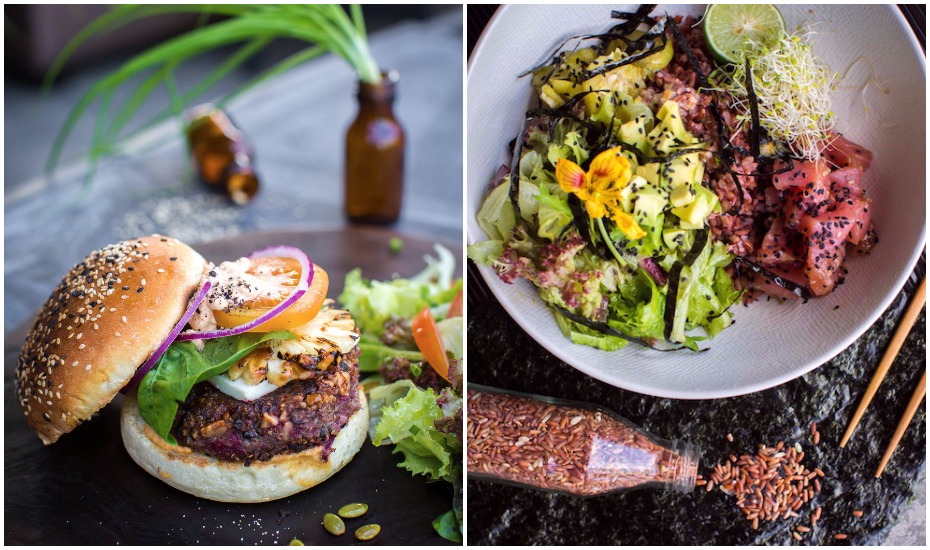 But this is where they differ – it's not only raw food and vegan cheeses here [though they serve that, too] because In The Raw Beachgarden understands the Canggu lifestyle, and that means that alongside the vegan bowls and raw hemp balls, you'll also be able to find some of the best hearty burgers and hangover cures for when you've had a few too many Pina Coladas the night before. After all, life is all about balance, right?
Yup, this hot new spot doesn't take life too seriously, and they're keeping things real with an honest menu, some of the best house-pressed elixirs around, and a wholesome market that serves everything you'll need in Canggu, from yoga mats and mosquito sprays, to vegan ice lollies, woven water bottle holders and almond or coconut milks to-go.
Here's what you won't want to miss when you pop in post-surf, pre-sunset, or following a wild night out.
Fresh from the Farm
Raw, vegan, gluten free or carnivorous – you name it, In The Raw Beachgarden has it. Everything on the vast, all-day menu uses honest, top quality produce that's direct from the farm or nearby waters, and each dish pushes the boundaries when it comes to leading Canggu's rep as a culinary capital.
For brekkie, try the Chai Spiced Pineapple on Toast for a very sweet start to the day, then move onto the BBQ Tempeh Rib Burger for an "I can't believe it's not meat" feast. Or just go full carnivore with Balinese crispy duck, an Indonesian chicken curry or even the Big BG Australian beef burger.
Other must-try signatures include the Sesame Crusted Tuna, the South African Fish Curry and the Coconut Tiger Prawns, and look out for their rotating specials that see raw Pad Thais, rice-less sushi and zucchini-basil spaghetti. YUM.
The Godfather of Cold Pressed Juices
Before we delve into a million reasons why In The Raw's juices are the best around, consider this fact first: In The Raw's co-founder, Mark Baker, is essentially the Godfather of cold press juicing. He introduced New York to the art of cold pressing more than seven years ago, when he co-opened The Juice Press – NYC's iconic juicing destination that's still leading the way today.
After ultimately kickstarting the cold pressed juice craze worldwide, it then made sense for Mark to bring this breakthrough health movement to Bali. Where better to set up shop than the health-obsessed yet hedonistic capital of Bali, right here in Canggu?
Now, at the forefront of In The Raw's persona, the collection of juices boasts the biggest range of flavours and formulas on the island, as well as the most professionally pressed. The combination of the machines and the selection of fresh, organic and raw produce promises you're getting the purest [and most delicious] juice around. They're the most daring and the most potent, not to mention the closest thing you can get to raw, pure vegetables or fruit.
So whether you're a full on health nut or just want to fix some of the damage you've done to yourself in Bali, In The Raw's 100% cold pressed juices are here to give you a helping hand back to health. And they're not just healthy tonics either – they can be used medicinally, to treat Bali belly, alcohol poisoning and even the dreaded Dengue.
Honeys, add In The Raw Beachgarden to your speed dial list, and we'll see you in the 'Gu.
In The Raw Beachgarden, Jl Batu Bolong No.103-107, Canggu, p. +62 812 3749 6861 e. [email protected] Open daily 7am – 11pm.
Like what you've read? Then sign up to our newsletter for more Bali bucket list ideas!