Does K-beauty really do it better? Our beauty writer puts Korean salon Leekaja's magic setting perm service to the test.
I'll confess: I'm not the biggest fan of K-entertainment (I'm talking about K-pop and K-dramas). But when it comes to K-beauty, I am utterly obsessed.
Whether it's the invention of groundbreaking products like the BB cushion or the brilliant use of unexpected ingredients like snail slime, Koreans clearly have a leg up in the skincare and makeup world. But how do they fare in the realm of hair care? Aiming to find out; I heard of famed Korean salon Leekaja's opening in Mandarin Gallery and was curious to see if its magic setting perm was any different from ones offered in the usual Singapore salons.
The salon
Leekaja's opening in Singapore has been a long time coming, as it has 190 outlets worldwide including in the United States, China and Australia. Helmed by Korean beauty veteran Madam Leekaja, the salon is a beauty haven – its range of services doesn't just encompass hair treatments, but also eyelash extensions, eyebrow embroidery as well as nail and foot care.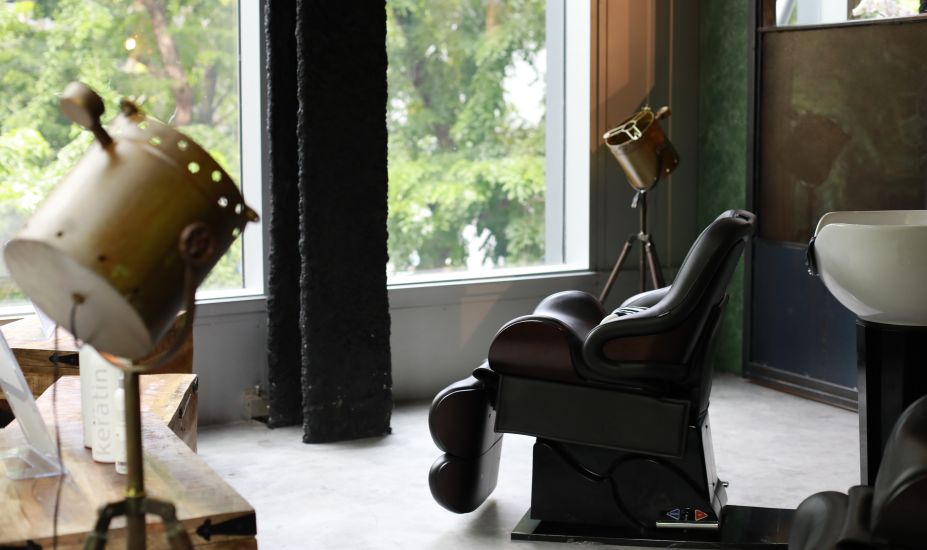 Stepping inside the salon, I was immediately struck by its cafe-like atmosphere. The first thing you'll notice on entering is the comforting smell of coffee from the barista's bench. At Leekaja, all customers are treated to complimentary snacks and beverages brewed by the in-house barista.
The salon's decor is also incredibly stunning; inspired by nature, it draws surrounding foliage into its interiors with large windows which look out to tree-lined streets and bay seating. Within its earth-toned space, you'll spot abundant use of greenery, wooden furnishings, and nature inspired accents, including striking pillars which resemble tree branches.
More hair-story
I'll get down to it: I'm not adventurous with my hair. So when it comes to getting my naturally frizzy mane done, I keep it simple and as low maintenance as possible by always rebonding my roots, and finishing off my ends with a perm. It's a solution that keeps my tresses tidy for months at a time.
Before the treatment: Consultation
I'm not fussy about my hair – my only demand when I get it done is to maintain the length to at least slightly past my shoulders. I let Salon Director Lois – her track record includes setting up two salons and being a celebrity hairstylist – take the wheels on deciding what's best for my hair. The first thing she did was to thoroughly study my head shape to decide what cut would be most flattering, then moved on to analysing my hair condition. She decided to chop off a couple inches off my hair to remove the tighter curls of my previous perm. While my hair would still be straightened at the roots, the curls would begin higher up at the sides of my hair for added volume. The perm on the ends of my hair would be looser, for a wavy-er, 'lived in' effect.

The treatment
Lois did something no stylist has done to my hair in years – she thinned it. I'm usually averse to this as I have an irrational fear of losing my hair with age. But all that worry was for naught – she was a wizard at thinning and trimming my hair into sleek layers. Once done, the crown of my hair was straightened, and the ends permed with large hot rods. We finished with the popular Tokio Inkarami treatment, to restore strength and shine to my damaged hair. My hair was then blown out to set the curls – they fell in perfectly tousled, loose ringlets around my face.
The experience
At Leekaja, I experienced the attentive service usually found in Japanese salons. Your needs are cared for every step of the way. All treatment gowns are for one-time use only to maintain high hygiene standards. Clean personal slippers are also provided for you (great for office ladies who need a break from heels), as well as mobile chargers at your request. There's even WIFI should you need to work while you're being pampered. Staff will also regularly check in on you to determine your comfort level, often offering you drinks and snacks. I was fasting then, and they were constantly fussing over my state of hunger. As soon as I could break my fast, they were quick to offer me bananas and hot chocolate.
The result
The end result was absolutely stunning; my fried ends, despite being put through the ringer with yet another perm, were incredibly soft and smooth. The number one tip I learned from the salon? To always blow dry my hair to keep it from being frizzy, and to be diligent about nourishing it with oils and creams. Thanks for the gorgeous mane Leekaja! I'll be back to keep my mane this short, lightweight and effortlessly glam.
Leekaja, Mandarin Gallery, 333A Orchard Road, #03-13, Singapore 238867