Photography: Amelia Ang
There isn't just one, but two dragon playgrounds – and other discoveries you didn't know about Toa Payoh. Read on for a local food lovin', nature sight-seeing, cafe hunting and mural spotting journey!
Toa Payoh may be one of the oldest neighbourhoods in Singapore (it's also where the first MRT station was built!), but it's far from dull. With an eclectic mix of the traditional and the trendy, this heritage-rich 'hood is where hip cafés coexist with old school confectionaries, hawkers get Michelin recognition, yesteryear's dragon playground stands next to its contemporary counterpart, and shophouses lead to a vibrant mural.
Ready for a heartland adventure? Let this be your cheat sheet to the unmissable places to go…
EAT
Toa Payoh Lorong 1 Market and Food Centre
Right by where the original Creamier used to be, this market houses some delicious secrets on the second floor. For a truly local cheat day dish, order a plate of carrot cake – these savoury, egg-coated white radish cubes are seriously worth the calories when you find a delicious one. Look no further than Chey Sua Carrot Cake (#02-30) that's featured on the Bib Gourmand list of Singapore's Michelin Guide. These handmade carrot cakes are fried till they're crispy on the outside and soft on the inside. Served with a dash of chili paste, this is one addictive dish you might not wanna share.
Tian Tian Lai (Come Daily) Fried Hokkien Prawn Mee (#02-27) is a neighbourhood fave and a Michelin Plate feature. Expect a slightly soupy rendition of the Hokkien prawn noodles where the noodles – not the prawns – are the star of the show. Slurp up these strands boasting the distinct wok hei aroma, soaked in the umami flavour of prawn and pork.
Toa Payoh Lorong 1 Market and Food Centre, Blk 127 Lor 1 Toa Payoh, Singapore 310127
Chef Kang's Noodle House & Prawn Noodle House
The man behind the one Michelin-starred private kitchen, Chef Kang's (located at Mackenzie Road), has not just one, but two noodle joints in Toa Payoh – what a treat! Recognised by the Michelin Bib Gourmand, Chef Kang's Noodle House is a wanton noodle stall hidden in an industrial estate canteen. It's known for whipping up juicy char siew slices that are perfectly charred with a rich, overnight marinade.
Chef Kang's Noodle House, 11 Lorong 3 Toa Payoh, Block A Jackson Square, Singapore 319579
Nearby, Chef Kang's Prawn Noodle House sits beneath an HDB estate. The king prawn noodle soup with prawn paste spare ribs is a standout pick (though a little on the pricier side at $10), featuring a potent yet refreshing prawn broth. The noodles are pretty standard, but the prawns and spare ribs are amazingly meaty, flavourful and succulent. For an extra kick, add a generous sprinkle of chili powder into your bowl.
Chef Kang's Prawn Noodle House, #01-328, Blk 85 Lorong 4 Toa Payoh, Singapore 310085
Toa Payoh Vista Market (Lorong 4)
Among the grocery shoppers, you'll find food hunters sussing out the best eats at this market. Our fave breakfast picks here? Prata and dim sum. First off, Rahmath Cheese Prata (#01-08) cooks up the most fluffy and crispy prata. We like the egg version, but with the aromatic dough and piquant curry, even the plain ones are far from ordinary here.
On the mellower (but no less sumptuous) side, Uncle Gen's Hong Kong Cuisine (#01-03) serves up bowls of warm, comforting Cantonese congee with spring onions, century egg, peanuts and more. The traditional, melt-in-your-mouth yam cake with fried shallots is a huge crowd pleaser too.
Toa Payoh Vista Market, Blk 74 Lorong 4 Toa Payoh, Singapore 310074
Ocean Curry Fish Head
Ahh, the classic curry fish head. This Peranakan dish is a definite must-try if you're on a foodie adventure around Toa Payoh. It's aromatic and piquant, and you can dig into the fresh fish meat and pour the curry sauce over a bowl of white rice for maximum enjoyment.
Ocean Curry Fish Head, #01-264, Blk 92 Lorong 4 Toa Payoh, Singapore 310092
Happiness Nyonya Cakes and Confectionery
Aside from selling colourful Nyonya kuehs covered in shredded coconut, this nondescript store also makes other bites like Teochew soon kueh (dumpling stuffed with bamboo shoots, turnip, mushrooms and dried shrimp) and Chinese ang ku kueh (glutinous rice pastry with a sweet mung bean filling). There's also a selection of bread and your usual modern sweets.
Happiness Nyonya Cakes and Confectionery, #01-282, Blk 92 Lorong 4 Toa Payoh, Singapore 310092
Al Ameerah
This Indian-Muslim eatery opens till late, dishing out prata and briyani till 1am every day. So whether you're craving some curry and spice in the morning or you're in a drunken stupor at midnight, you know where to go for a carb loading sesh. Nothing fancy here, just simple and affordable grub that you can get even when the late-night cravings strike – and isn't that what every 'hood needs?
Al Ameerah, #01-08, 600 Lor 4 Toa Payoh, Singapore 319515
Toa Payoh Lorong 5 Food Centre
*Note: Closed for renovations till 13 March 2020
This hawker centre houses a selection of some of the most-loved local dishes like satay, barbecued chicken wings, sambal kang kong and sambal stingray done right. Think Newton Food Centre but way less touristy, more compact and – dare we say – more authentic in taste. Residents often bring their pets and there's also a playground nearby to keep the little ones occupied.
For a sweet (but not overwhelmingly so) treat, try the tau suan, a mung bean dessert – we recommend the stall at #01-23. They're generous with the beans here and you won't just get a handful of them swimming in disproportionate amounts of thick sugary syrup.
Toa Payoh Lorong 5 Food Centre, Blk 75 Lorong 5 Toa Payoh, Singapore 310075
Suki-ya
Tucked away within the Safra Toa Payoh complex, this shabu shabu buffet spot is a bit of a hidden gem around these parts (though, it has multiple other locations around Singapore). Among the unlimited helpings of meat, we recommend the beef and pork options. Once the meat is served, dip it into rich broths in flavours like kimuchi (Japanese-style kimchi), tonyu miso (soy milk with miso) and the classic Sukiyaki (a Japanese fave, made of soy sauce, sugar and mirin).
Suki-ya, #01-04, Safra Toa Payoh, Blk 293 Lorong 6 Toa Payoh, Singapore 319387
Oasis Taiwan Porridge
Oasis Taiwan Porridge is a comfort food haven within a standalone structure by the scenic pond at Toa Payoh Town Park. Enjoy the view of the greenery through glass windows while you savour a table of traditional dishes ranging from dim sum to herbal kampong chicken to sambal-fried picks like cockles or kang kong.
Oasis Taiwan Porridge, Blk 303 Lor 6 Toa Payoh, Singapore 319393
Gourmet Paradise
A food court at the basement of a bus interchange doesn't seem like the most obvious place to hunt for authentic local bites, but this one proved us wrong. Start with the rojak, a fruit salad of sorts that's said to be the best reflection of Singapore's multi-cultural demographic in a dish. But don't expect this to be your typical salad because you won't be counting calories here – Soon Heng Rojak's (#B1-01) plentiful servings of thick sweet sauce, you tiao (fried dough fritters), prawn paste and peanut bits make sure of it. P.S. Don't confuse this with Toa Payoh Rojak which, unlike its name, is a hawker stall at Old Airport Road Food Centre.
Next up, we're spotlighting a sweet, sticky dessert from Hougang Muah Chee (yes, this stall is at Toa Payoh and not Hougang!). These are chewy blobs of glutinous rice cakes (kind of like mochi) coated with either peanut or black sesame powder. Sink your teeth into this stall's muah chee, which is delightfully soft and not overly sweet (the powder doesn't contain as much sugar).
Gourmet Paradise, HDB Hub, Blk 480 Lorong 6 Toa Payoh, Singapore 310480
Nelly's Retro Snacks
Retro, indeed. Nip into this cosy shop (near the public library) for old school biscuits stored in classic tin containers. Toys and other knick knacks are also sold here.
Nelly's Retro Snacks, #01-202, Blk 178 Toa Payoh Central, Singapore 310178
Nagara Thai
Just a short walk away from the MRT station and bus interchange, this eatery is a convenient go-to for affordable Thai food. Whether it's the tangy mango salad or fried squid in the popular salted egg batter, order up a storm and wash it all down with the classic Thai iced milk tea.
Nagara Thai, #01-110, Blk 177 Toa Payoh Central, Singapore 310177
Kelly Jie Seafood
Formerly Melben Seafood, this no-frills eatery's crab dishes are its claim to fame. Claypot crab vermicelli soup, butter crab, salted egg crab, chili crab… there are too many signature crabs to pick just one. Pro tip: Order in advance through the website to skip the queue (for dine-in or takeaway). Alternatively, be a true couch potato by getting it delivered to your doorstep – it delivers islandwide!
Kelly Jie Seafood, #01-11/15, Blk 211 Toa Payoh Lorong 8, Singapore 310211
Bangkok Street Mookata
With multiple outlets across the island, this is a seriously value-for-money mookata joint. This place has the casual vibes of a street-side Thai eatery, and the well-marinated meats keep fans coming back. Heads up: Big eaters might find the serving sizes a lil small, so go forth and order more if you're one.
Bangkok Street Mookata, #01-01, Blk 211 Lorong 8 Toa Payoh, Singapore 310211
CAFÉS
Creamier
Creamier might just be the most beloved ice cream spot in Toa Payoh and we're so glad it's reopened at a new location after shutting the doors in mid 2019. Prefer complex flavours? Get a scoop of the sea salt gula melaka. Want some pastel eye candy for the 'gram? The blue pea vanilla or summer strawberries flavour will do the trick. Going classic? Opt for cookies and cream or a good ol' chocolate ice cream.
Creamier, #01-02, Blk 131 Lor 1 Toa Payoh, Singapore 310131
The Larder Cafe
With an industrial chic decor and an extensive menu of Western grub, The Larder Cafe is a pretty good lunch spot if you're working in the area – the executive set lunch comes with a main, a soup and drink. Then there's the brunch menu for lazy weekends, with items like chicken and avocado wrap, bacon eggs Benedict, big breakfast and more.
The Larder Cafe, #01-124, Blk 177, Toa Payoh Central, Singapore 310177
Niche Savoureuse
This cafe prides itself on handmade goodies that delivers on quality and taste. Pop by for homely takes on popular cafe dishes like pizzas and pastas, alongside baked creations including brioches, scones, pies and crepe cakes. And here's the topper: The adorable customised birthday cakes like the corgi creation we spotted on its Facebook page!
Niche Savoureuse, #01-833, Blk 128 Lorong 1 Toa Payoh, 310128

Shrove Tuesday
The combination of ice cream and waffles is by far the most popular item at this humble cafe. The best of the lot? Its Nyonya chendol waffle, topped with vanilla, coconut and gula melaka ice cream, plus red bean and chendol jelly.
Shrove Tuesday, #01-32, Blk 94 Lor 4 Toa Payoh, Singapore 310094
Tims Restaurant & Cafe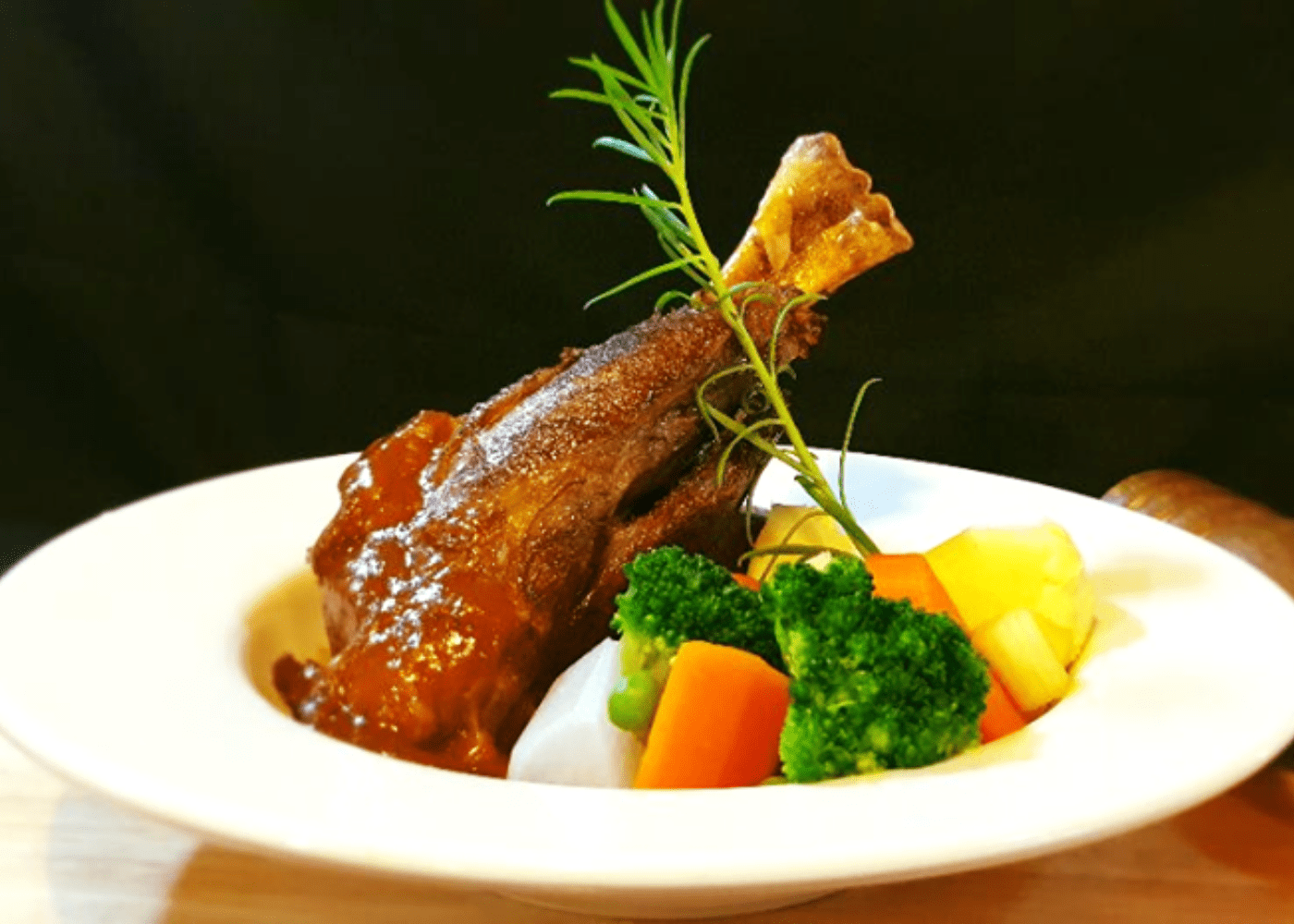 This cafe is a rare gem where Western and Nepalese influences come together in one tantalising menu. The meats are the signatures here, so take your pick from the likes of barbecue pork ribs, oxtail stew, rack of lamb with herbs crusted potato, braised lamb shank and more. Go with an empty stomach and add a plate of Nepalaese dumplings (called momos) to the table too!
Tims Restaurant & Cafe, #01-52, Blk 95 Lorong 4 Toa Payoh, Singapore 310095
Bonus: Bubble tea spots
Whichever neighbourhood you're at, knowing where to get bubble tea is essential info. So hit up these places for a sip of the sweet stuff: If you're around Toa Payoh Central, stop by R&B Tea beside Courts. Taking the bus or train? There's Koi at Toa Payoh Hub and at the building nearby, you'll spot Liho and Hollin. Stroll along and you'll also find Yunique Tea nearby.
R&B Tea, first floor, Blk 470 Lorong 6 Toa Payoh, Singapore 310470
Koi, #01-23, Blk 490 Lorong 6 Toa Payoh, Singapore 310490
LiHo, #01-536, Blk 190 Lorong 6 Toa Payoh, Singapore 310190
Hollin, #01-538, Blk 190 Lorong 6 Toa Payoh, Singapore 310190
Yunique Tea, first floor, Blk 470 Lorong 6 Toa Payoh, Singapore 310470
VISIT
Dragon playgrounds
Yes, it's plural.
While the larger dragon playground at Lorong 6 (near Blk 28) is often talked about, many don't realise there's a smaller one at Lorong 1 (near Blk 240). The latter stands right next to a modern version of a playground slide, contrasting yesteryear's terrazzo-tiled slide to its contemporary counterpart.
Dragon playgrounds, Lorong 6 and Lorong 1 Toa Payoh
Seu Teck Sean Tong Temple
From being housed in an attap hut in a kampong to this majestic temple compound (it even has TCM medical facilities within!) in Toa Payoh, visit Seu Teck Sean Tong to pray or simply explore and admire the traditional temple structures and roof ornamentations.
Seu Teck Sean Tong Temple, Blk 2, Lorong 6 Toa Payoh, Singapore 319377
Sri Vairavimada Kaliamman Temple
One of the oldest temples in Singapore, the Sri Vairavimada Kaliamman Temple originally stood at Killiney Road before being relocated multiple times. Now, it's situated in Toa Payoh, an intricately designed structure by the Lorong 8 stretch. Fun fact: The temple introduced the first Tamil and English preschool in Singapore, Saraswathy Kindergarten.
Sri Vairavimada Kaliamman Temple, 2001 Lorong 8 Toa Payoh, Singapore 319259
Toa Payoh Town Park
Going back to nature is a breeze when you have an expansive park in the heart of the 'hood. This idyllic space has an impressive variety of flora and fauna, with an observation tower, rustic gazebos scattered throughout, as well as overwater bridges and pathways atop the pond. Frequented by cyclists, runners and older folks (who drop by for tai chi sessions at the large pavilion), the overall vibe of this park is delightfully peaceful and serene. Fun fact: This was a popular wedding photoshoot location back in the 70s and 80s.
Toa Payoh Town Park, Lorong 6 Toa Payoh
Toa Payoh Sensory Park
A small park tucked away within the HDB estates of Lorong 5, this one's just within the vicinity of Toa Payoh Vista Market. It's a compact area with structures that engage your senses – think mirrors that create optical illusions and metallic pipes that function as telephone tubes of sorts. (If you wanna engage your tastebuds, head to the market for good eats.) Also, you can expect to encounter various species of butterflies here.
Toa Payoh Sensory Park, Lorong 5 Toa Payoh
Blk 192 Mural
On the periphery of Toa Payoh Central, we came upon this pastel-hued mural of the creatures who call the SEA Aquarium home. Keep a lookout for this bit of eye candy as you're strolling along the rows of shophouses!
Blk 192, Lorong 4 Toa Payoh, Singapore 310192