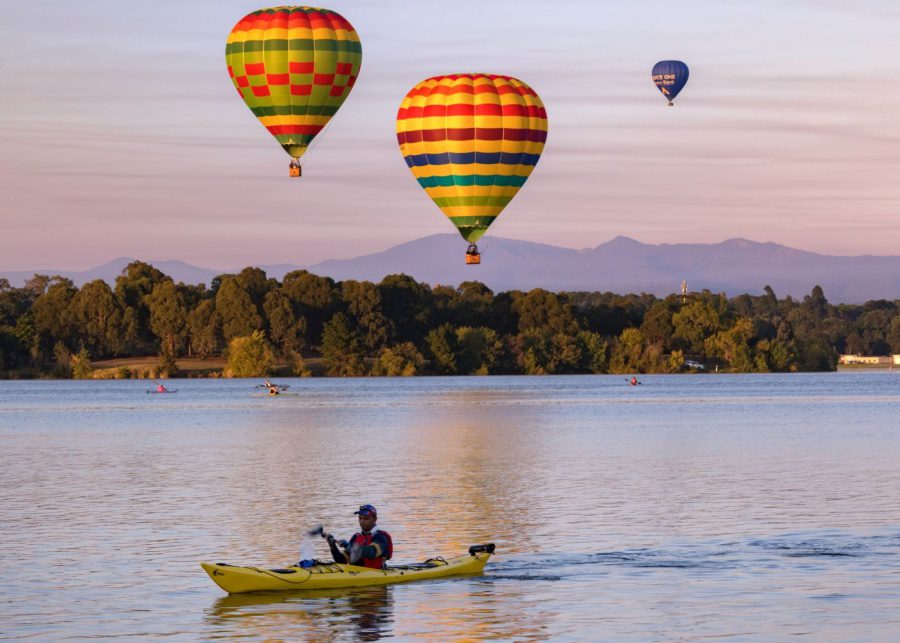 Photography: Rosie Steggles via Unsplash
Canberra gets a bad rep for being a boring Australian city but we're happy to report that its thriving food, wine and arts scenes say otherwise.
During our recent trip to Sydney for the Australian Tourism Exchange, we found out that over 60% of its travellers come from Singapore. Of course, the first thing that comes to mind when we think of travelling to Australia is visiting hotspots like Melbourne, Sydney, Gold Coast, Tasmania, Cairns, Perth and so on. On the other hand, Canberra, the Australian Capital Territory, is often overlooked. But after our trip, we're here to bust that myth.
When we shared our travel plans, the bulk of replies we got included, 'Isn't Canberra kinda boring?' or 'Is there much to do?'. Yes, we get it – Canberra gets a bad rep for being Australia's not-so-exciting city but it's all about perspective and personal preference. If you need a refuge from buzzy city life or love a laid-back holiday, this place is worth visiting.
There's more to it than the Parliament House, round-abouts (there are over 800!) and four-season weather. That's right, the overlooked older sister of Australia has a charm on its own with picturesque parks, award-winning bars and restaurants, cool climate wineries and vineyards, and unforgettable experiences. A good three days in this capital is an ideal duration for your travels. Read on for our list of fun things to do in Canberra, Australia.
Things to do in Canberra, Australia: Cool cafes, bars and restaurants
1. Pialligo Estate
A vineyard, smokehouse, olive grove, orchard, market garden, restaurant and event space rolled into one, this 55-acre playground is a real wonder. Chief gardener Peter Anderson gave us a tour of the farm where you'll find seasonal produce such as nashi pears, plums, apples and figs grown at the estate.
We had a fab paddock-to-plate lunch at the gorgeous garden pavilion. If you're stumped on what to order, the four-course sharing menu offers house-made charcuterie, entrees and mains for sharing, and individual desserts. We can't pick a favourite. Everything was a hit: the flavour-packed Jerusalem artichokes, spanner crab and malt, heirloom cucumber with harissa and sheep's yoghurt, fall-off-the-bone tender slow-roasted lamb shoulder with romesco sauce and garden greens, and the delectable soft chocolate with Tilba dairy jersey milk sorbet.
Pialligo Estate, 12 Beltana Road, Pialligo, ACT 2609
2. The Italian Place
You forget you're in Canberra when you enter The Italian Place. The exposed brick walls, red table cloth and a smorgasbord of wine bottles greeting us at the bar transported us to a quaint restaurant in Italy. Expect the best wine, pasta and service from owner Tony and his team. Tuck into delectable pasta dishes such as orecchiette with pork and fennel sausage and broccolini tossed in garlic, chilli, white wine and tortelli di zucca; and handmade tortelli with ricotta, pumpkin, stone fruit mustard, amaretti and parmesan. Visit The Italian Place Providore & Bottega (just a few steps away) for cured cheese and meats, fresh pasta and other Italian produce.
The Italian Place, 38 Mort Street, Braddon, ACT 2612
3. Rebel Rebel
This restaurant is a fan-favourite of locals and tourists alike. Rebel Rebel serves up modern Australian food with a European twist in an unapologetically cool setting. Start your meal right with Appellation Sydney rock oysters (have it natural or with pomelo and pink peppercorn), grilled prawns with bay leaf butter, and parmesan cannoli. Then, make your way to bigger meals. We're talking about 550gm grass-fed rib eye with wakame butter and sugarloaf cabbage drizzled with tahini and harissa oil. There's an excellent selection of bubbly, rose, white and red wines, too!
Rebel Rebel, 21-23 Marcus Clarke Street, Acton, ACT 2601
 4. Bar Rochford
Bar Rochford is where the cool kids gather but not the cocky ones. Tucked away in the Melbourne Building with a blink-and-you'll-miss-it entrance, the bar and restaurant gives off speakeasy vibes but welcomes you with open arms. It's rife with activity upstairs – patrons chatting it up at the bar counter and chefs firing up meals in the kitchen – so you know you're in for a good time. The menu and wine list are constantly changing so each visit is different. The unofficial theme of the menu is all about pairing simple ingredients with many flavourful elements that take dishes to the next level.
Try the set menus (vegetarian option included) for dishes like smoked beef tongue and anchovy mayo; tuna carpaccio with bottarga cream, togarashi, burrata, piccalilli, noix de jambon and dijon; and zucchini, squash, muhammara, za'atar, cos, fines herbes, lemon, green sauce, casarecce, cavalo nero, hazelnut and parmesan. It may sound like the kitchen's gone overboard with the ingredients but trust us, a flavour explosion in your mouth is guaranteed. The extensive drink list puts us in a great mood with a glass priced from just $11.
Bar Rochford, 65 Melbourne Building, Canberra City, ACT 2601
5. Zaab
This upbeat restaurant offers Lao-Thai street food with a modern twist. Step inside and you'll see what we mean – the graffiti wall and copper bar top with a neon sign that spells 'Zaab' combines street and sleek. Try the betel leaf aka flavour bombs with roasted coconut, peanut, ginger lime, Spanish onion and shrimp sauce; moreish Laos-style baked beef jerky; and son-in-law eggs, a popular Asian dish with soft boiled egg, tamarind, fried onion and Thai herbs.
Pair your meal with fun cocktails like watermelon massacre, a vodka-based tipple with watermelon, vanilla, apple and lemonade; and the spirit-forward autumn smoked negroni (gin, Campari, house-blended sweet vermouth, smoked bitters, mezcal and strawberry).
Zaab, 2/9 Lonsdale Street, Braddon, ACT 2612
6. High Jinks
Located right across the Nishi building in the basement, this hole-in-the-wall bar may be small in size but it's buzzing with energy. Order house favourites like El Camino (Patron Silver tequila, rhubarb, preserve lemon, spiced honey liqueur and citrus) and Curse Me Good (Avallen calvados, Bacardi coho, cinnamon, mead, demerara and beeswax served warm). Small bites and pizza are available if you're feeling peckish.
High Jinks, Basement 2/15 Edinburgh Avenue, Canberra, ACT 2601
7. Gelato Messina Australia
This is no ordinary gelato shop. Messina sets the benchmark as one of Australia's best. There's no such thing as pre-made bases or mass-produced flavour pastes here. In fact, the place owns a dairy farm which supplies creamy jersey milk, as well as a strawberry and hazelnut farm. The team also makes chocolate using high-quality single origin Ecuadorian cacao. Select from over 40 flavours including 35 classic flavours and five rotating weekly specials.
Gelato Messina Australia, 4/21 Lonsdale Street, Braddon 2612 and 38 Eyre Street, Kingston, ACT 2604
8. Grease Monkey
Every city has a great burger joint, and for Canberra, this is it. Make yourself comfy inside the Brooklyn-style diner or take it outdoors to the beer garden. Chow down on mouth-watering burgers, pizzas and fried chicken, then fuel up with milkshakes, beers and wines. The Braddon outlet is located right opposite the famous Rainbow Roundabout, a symbol of same sex marriage equality and a sign of pride.
Grease Monkey, multiple locations including Braddon, Gungahlin and Woden
9. Lamsheds Food and Wine
Tucked away in Yarralumla, Lamsheds Food and Wine is one of the ACT's best-kept secrets. The imaginative menu whets your palate with unique combos. Order the gnocco fritto with mortadella mousse; tuna tartare with pickled mushroom, pea and wasabi puree; snapper, fennel and mussel risotto; and the surprisingly good Waldorf salad with quail and picked walnut mayonnaise. The massive list of wines can be bought by glass or bottle. We like how the place accommodates small and big groups of people with the buzzing open kitchen in the background.
Lamsheds Food and Wine, 27 Bentham Street, Yarralumla, ACT 2600
10. Bentspoke Brewing Co.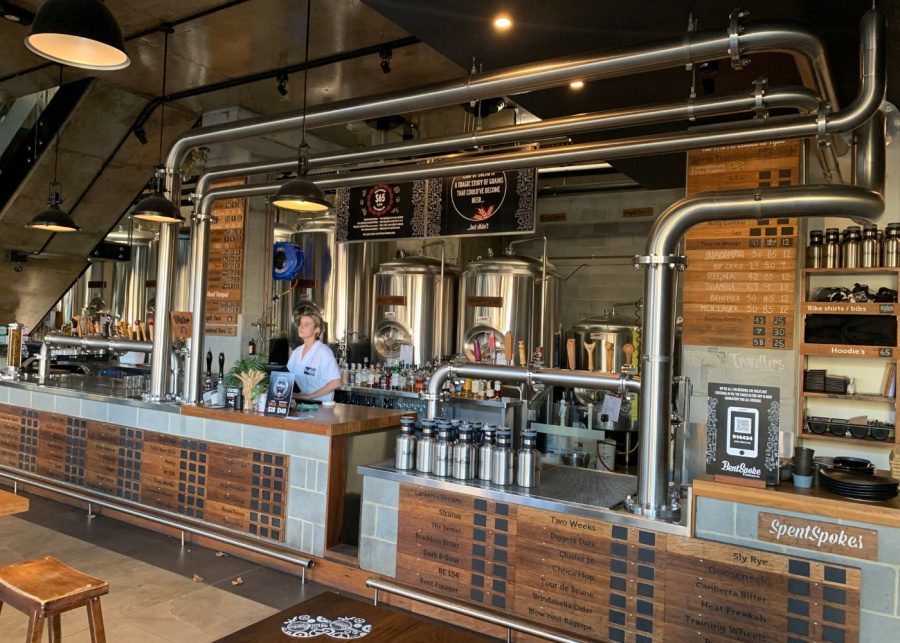 Bentspoke brews some of the finest craft beers in Canberra, and it has the crowds to prove it. Pick from over 18 beers and cider on tap including its core range that has Crankshaft Cranking IPA, Barley Griffin Canberra pale ale, big and hoppy Sprocket, and the clean and crisp Mort's Gold lager. The food menu is no afterthought with standout dishes like crumbed pigs ear burger, Texas chilli beef and kingfish sashimi.
Bentspoke Brewing Co., 48/38 Mort Street, Braddon, ACT 2612
Things to do in Canberra, Australia: Shop local and explore museums, vineyards and more
11. Hive
Hive has a range of artisan crafted homewares, self-care essentials, jewellery, quirky gifts, and other handy things with a touch of whimsy. It's great to know that all items in this boutique store are curated with ethical and sustainable brands in mind.
Hive, Shop 58, Ori building, 30 Lonsdale Street, Braddon, ACT 2612
12. Pop Canberra
This one-stop shop celebrates the works of local makers. Step inside for unique spirits from local distilleries and fun collabs with indie brands in the form of bar soaps, candles, tote bags and serving boards.
Pop Canberra, Shop G12/27 Lonsdale Street, Braddon, ACT 2612
13. Timber + Tailor
It's going to be tough leaving empty-handed after a visit to Timber and Tailor. The store highlights a talented collection of Australian designers and makers. Browse handmade ceramics, jewellery, concrete vessels, timber products, art prints, bags and natural skincare products.
Timber + Tailor, 67/30 Lonsdale Street, Braddon, ACT 2612
14. Go on a food tour
For a perfect intro to Braddon (Canberra's hip precinct), you have to book this food tour with Eat Canberra. Over four hours, our tour guide Amelia took us to some of the best restaurants in the area including a popular gelato shop, Italian deli, brewery and chocolate truffle store. We chatted with the owners, had a quick lesson on the founders' stories and, of course, tasted delish food. We don't want to spoil it by revealing too much but if you're a foodie who loves exploring the culinary scene, this one's for you.
Eat Canberra Food Tours, book online
15. Visit the National Gallery of Australia
Spend an afternoon at the National Gallery of Australia and be wowed by over 166,000 works of art. The place is also home to the world's largest collection of Aboriginal and Torres Strait Islander art. Don't forget to visit the Sculpture Garden just outside the premises. American artist James Turrell's "Within without" is a clever lighting installation that affects the way we perceive the sky.
National Gallery of Australia, free entry, Parkes Place, Parkes, Kamberri/Canberra, ACT 2600
16. Visit the Australian War Memorial
Get to know the military history of Australia at its War Memorial. There's a shrine, museum and archive with a collection of art, relics, photographs, film and sound of those who served in Australia's military forces and commemorating their sacrifice at war. The heritage building located beneath Mt Ainslie is quite a marvel.
The Australian War Memorial, Fairbairn Avenue, Campbell, ACT 2612
17. Go on a hot air balloon ride
Get a bird's eye view of the scenic Canberra cityscape by embarking on a hot air balloon ride. The entire event takes about three hours and ends with a fun champagne celebration. You'll also receive a commemorative flight certificate. Of course, these flights are weather-dependent so remember to call the company an hour before your scheduled flight to confirm the activity. Oh, and if you're visiting in March, check out the Canberra Balloon Spectacular, an annual hot air balloon festival. Watch a parade of colourful hot air balloons take off from the Patrick White Lawns in the parliamentary triangle.
Balloon Aloft Canberra, book a tour online
18. The National Arboretum Canberra
Nature lovers will have a field day at The National Arboretum. The sprawling 250-hectare area is filled with over 44,000 rare and endangered trees, a world-class display of Bonsai and Penjing collections, and 94 forests. Take a stroll around the Bush Tucker, Central Valley, and Discovery of Gardens or partake in a guided forest walk to discover the stories of the forests. We particularly enjoyed the 'Weaving for Wellbeing' workshop for an intro to Aboriginal weaving. It's no wonder the park sees over 800k visitors a year.
The National Arboretum Canberra, free entry, Forest Drive, Molonglo Valley, ACT 2611
19. Drink up at wineries and vineyards
Take a half-day winery tour to sip on cool climate wine from the Murrumbatman and Lake George wine region. It's home to 140 vineyards and 40 cellar doors, all within 35-minutes from the CBD. We took a tour with Van Du Vin and sampled wines at Clonakilla, The Four Winds (trying the wood-oven pizzas) and Shaw Wines. These vineyards are famed for shiraz, riesling and viognier, but you can also get decent pinot noir, pinot gris, chardonnay and tempranillo. This tour is great for beginners – they make it clear you don't have to be an expert to enjoy great wine. As our tour guide aptly put it, "My favourite wine is the one I'm drinking now or the bottle I'll be opening after." Preach!
Van Du Vin, book a tour online
Things to do in Canberra, Australia: Where to stay
20. Ovolo Nishi
We can't stop gushing over Ovolo Nishi's artistic charm. All of the rooms in this luxury boutique hotel are furnished with restored vintage furniture and original artworks. Enjoy free in-room snacks and drinks in the mini bar (replenished daily, too!), Wi-Fi, buffet breakfast and happy hour at the lobby bar. Its strategic Canberra CBD location means close proximity to a cinema, restaurants and bars including Monster Kitchen & Bar, its in-house vegetarian restaurant. There's even a candy bar in the lobby. Sweet!
Ovolo Nishi, NewActon Precinct, 25 Edinburgh Avenue, Canberra, ACT 2601
21. Hyatt Hotel Canberra
Taking over a heritage building, Hyatt Hotel Canberra perfectly interweaves 1920s colonial style with modern Art Deco designs. Escape into oversized guest rooms and luxurious suites with deep bathtubs. The clubhouse also has a 15m-long heated swimming pool indoors – perfect when it gets chilly.
Hyatt Hotel Canberra, 120 Commonwealth Avenue, Canberra, ACT 2600
22. Jamala Wildlife Lodge
Imagine staying in a room with its own shark tank, a private enclosure overlooking giraffes, deers and alpacas, and "lounging" with lions, a cheetah, tigers and sun bears. You can live the safari life right here at the Jamala Wildlife Lodge. With opulent surroundings, incredible animal encounters and gourmet cuisine, staying here is truly a one-of-a-kind experience. The money raised from the Jamala Wildlife Lodge supports The National Zoo and Aquarium's regional breeding and educational programs.
Jamala Wildlife Lodge, National Zoo & Aquarium, 999 Lady Denman Drive, Canberra, ACT 2611
Buckle up for a journey around the Australian capital with our list of fun things to do in Canberra.