The Singapore Night Festival returns for its 10th edition, brighter than before
Singapore has never been short of good art, but it's time to get nostalgic (and excited) about the return of the Singapore Night Festival this year. It's when the streets of Bras Basah and Bugis  are swarmed with people making their stops at the various art installations that pop up during the time of the year.
After 10 magical years of the festival, this year's installations are brighter and more impressive than before. We know, because we checked it out first-hand. Don't know where to start?  No worries, here's what you should check out at the Singapore Night Festival 2017. It will be quite… lit.
Convolutions, National Museum of Singapore
As always, the projection on the main facade of the National Museum of Singapore is one of the biggest draws for the Singapore Night Festival. And this year, French musical group, EZ3kiel, will be displaying their grand project which incorporates music, architecture, projection mapping and laser lights.
Nostos: Records of the Self, National Museum of Singapore
A project by Australian skincare line, Aesop, Nostos offers a scent experience for visitors as they use their noses to navigate the space. The scents featured will be of Aesop's signature ingredients, bergamot, sandalwood and olibanum. Meant to connect the sense of smell with nostalgia, this room will make you want to stick around to really take everything in.
The Tree That Blinked, National Museum of Singapore
Blink, and you might miss it! The massive banyan tree outside the museum serves as a canvas to British artist, Karel Beta. If you look long enough, a whole series of moving portraits is projected onto the tree – the work shifts and moves with the wind as the faces blink, twitch, change into other faces, and age.
Tessellations of Time, National Museum of Singapore
Sprawled on a grass patch near the museum, the installations consist of geometric pods that light up and glow. It's a fully interactive piece, so people are encouraged to enter the pods and use it as a reflective space of their memories, past and present.
The Flower of Life and the Infinite Self, Stamford Green
Take the escalator up to Fort Canning Park and you'll see a giant bamboo dome atop the lawn with a tessellated fabric roof of the Flower of Life pattern, but the fascinating bit doesn't stop there. Walk into the dome and you will find yourself lost under a world of geometry and reflections as you look into the convex mirrors that line the interior walls of the dome.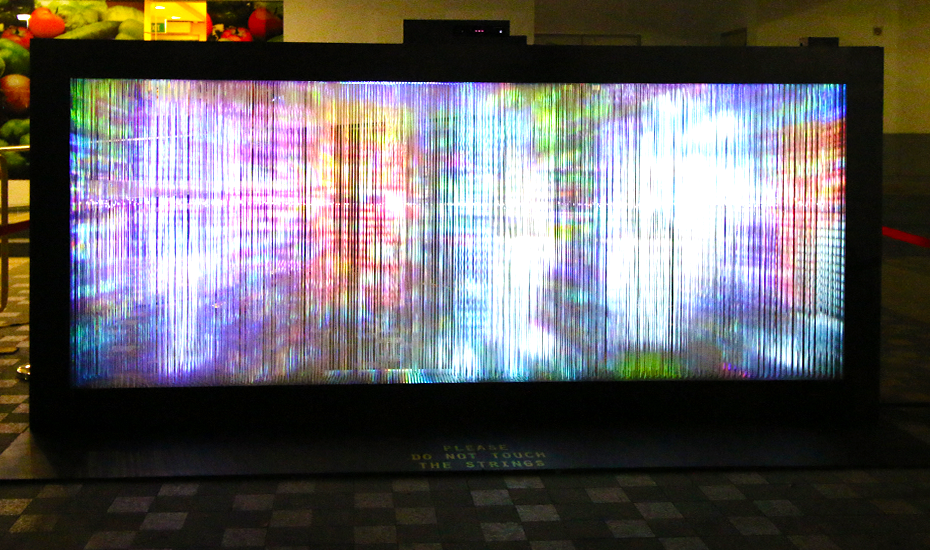 Dream City Window, SMU School of Information Systems
Situated right where the crowds will be walking through, the Dream City Window uses user-generated interactive visuals inspired by the evolving environment. Dance, pose, or simply gaze into this dreamy window and watch it shapeshift before your eyes.
Les Hommes Debout, Singapore Art Museum
Now this exhibit requires to get real close and intimate to the…16 human-sized mannequins. It might look odd at first but watch and listen to how they react and respond to what ever it is you whisper or shout into their "ears". Colours change, mannequins might start singing, flashes of light happen – it's going to be an unpredictable ride with this one.
Flock, National Design Centre
After all that walking around, wouldn't a place to stretch your legs be great? We're talking about the dancefloor. The immersive installation will see you stepping into the heart of Tchaikovsky's Swan Lake as you explore a narrative through the medium of dance. Go on then; dance like no one is looking!
Phosphene, National Design Centre
The 50m winding cavern of sparkly surprises borrows from the phenomenon of seeing light without light actually entering the eye, and what a trippy stroll it was. Well, what can we say – because of the pretty aesthetics, this one's going to be Instagram-worthy for a lot of people, so get your cameras ready and start chope-ing your spot.
Light Up The Beat!, Waterloo Centre
Flashing lights, groovy music – here's the outdoor dance floor you have been looking for at the Singapore Night Festival 2017! Made of upcycled fluorescent tubes that have been forced to retire in place of of LED bulbs, this impressive structure is quite literally a beacon of light in the middle of Waterloo Street.
Singapore Night Festival 2017, 18-26 August, Bugis-Bras Basah. For more information on acts and times of performances, visit the official website.
Ready for more art? Here's how to poke fun at all things Singapore, an exhibit on shark preservation, a festival  specially dedicated to GIFs and moving images, and an art crawl around the Kampong Glam neighbourhood.