Photography: Joseph Nair/ Memphis West Pictures
Calling all culture vultures. These art exhibitions are right up your alley!
2022 is looking pretty good, what with new restaurants, cafes and bars to hit, things to do and amazing musicals to catch. What about the art scene, you ask? Well, it's safe to say we've got you covered. Bookmark this page, art enthusiasts, as we'll be updating it regularly with exciting art exhibitions in Singapore throughout the year.
2022's top art exhibitions in Singapore
1. The Tailors and the Mannequins: Chen Cheng Mei and You Khin
Until 12 Jun 2022
This art exhibition in Singapore delves into the perspectives of people in Africa, the Middle East and South Asia through the eyes of 'outsiders' Chen Cheng Mei and You Khin. Though the artists have never met, they both share a similar knack for portraying everyday scenes in various locations such as Africa, South Asia, the Middle East, and beyond. Explore artworks, photographs and sketches drawn from the personal archives of both artists.
The Tailors and the Mannequins, Dalam Southeast Asia, UOB Southeast Asia Gallery, Level 3, #01-01, National Gallery Singapore, ​​1 St Andrew's Road, Singapore 178957
2. Eat Read Use: Topic No 6 Eat Read Use
Until 5 April 2022
In case you didn't know, the National Vending Gallery is a cool "art vending machine" that supplies merchandise disguised as a project of topics with design influences. Its final topic, No 6 Eat Read Use, is a play on the famous quote from the movie Forrest Gump – "Life is like a box of chocolates, you never know what you're going to get." Explore eight surprise box sets with edibles such as coffee, chocolate or kombucha, a visual book with points of interest like hidden wildlife or early hawkers, or useful products that range from games to craft items to household goods. These sets are created by a brand, writer, artist or designer based in Singapore.
Eat Read Use: Topic No 6 Eat Read Use, Level 2, Design Gallery 2, National Design Centre, 111 Middle Road, Singapore 188969
3. WWF-Singapore's AR-Mazing Tiger Trail 2022
Until 9 Apr 2022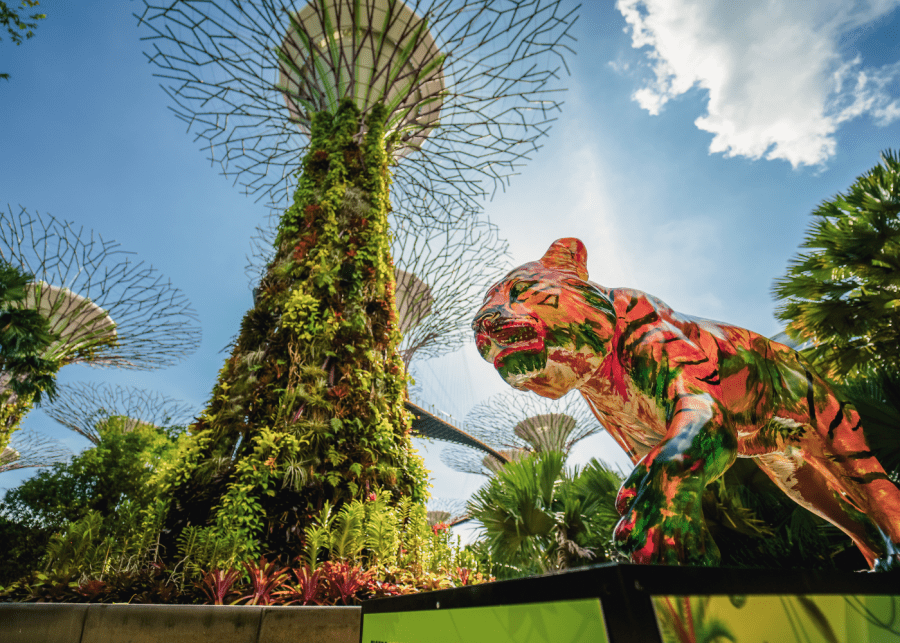 Embark on an exciting island-wide trail to raise awareness for tiger conservation. The three-part island-wide trail by WWF-Singapore uses art as a vehicle to educate, and spark discussion and action. Go on a journey to discover 33 life-sized tiger sculptures (designed by internationally-acclaimed artists) exhibited across Singapore at the likes of Gardens by the Bay, Jewel Changi Airport and Sentosa. You can also take part in fun art and craft workshops like t-shirt decorating, terrarium making, and coffee grounds upcycling. A portion of the profits will go to supporting the WWF-Singapore's AR-mazing Tiger Trail cause.
WWF-Singapore's AR-Mazing Tiger Trail 2022, multiple locations including Gardens by the Bay and Sentosa
4. Good Design Research: The Local Tree Project
Until 10 Apr 2022
Did you know that over 13,000 trees will be cut down in Singapore over the next 13 years for urban development? The Local Tree Project, an initiative by Roger&Sons, is a showcase that sheds light on the journey of these trees and how it aims to repurpose local wood into objects and furniture.
Good Design Research: The Local Tree Project, Level 1, Pop-up Gallery, National Design Centre, 111 Middle Road, Singapore 188969

5. Between the Silent Eyes by Nhàn Tran
Until 17 April 2022
Documentary photographer Nhàn Tran unearths the stories of young mums from the Hmong community in Vietnam in this poignant exhibition. Known as one of the largest indigenous minority groups, they're amongst the most underprivileged and lead an agrarian lifestyle. Sadly, the women of the Hmong community are forced to bear the bulk of domestic labour and childcare. As a result, many young girls marry before the legal age and bear children quickly. Nhàn Tran takes us inside their lives (particularly one of her subjects, May) through a series of photographs taken over the years. Safe to say the project sheds light on unrepresented and vulnerable communities, and calls for a wider movement towards social, economic and gender equality.
Between the Silent Eyes by Nhàn Tran, Lower Gallery, Objectifs, 155 Middle Road, Singapore 188977
6. Apa Khabair? – Peranakan Museum in the Making
Until 29 May 2022
Do you miss going to the Peranakan Museum? You don't have to wait till its opening next year as the Asian Civilisations Museum has collaborated with local Peranakan communities to bring us a teaser. Apa Khabair? (which translates to "What news is there?" in Malay) takes you into the worlds of Peranakan communities through a video series and digital cookbooks, an exhibition featuring 17 Peranakan objects such as a ceremonial carriage, sireh sets and porcelain vessels, and a colourful timeline of Peranakan history.
Apa Khabair? – Peranakan Museum in the Making, Asian Civilisations Museum, 1 Empress Place, Singapore 179555
7. Design Superposition at National Design Centre
Until 10 April 2022
The National Design Centre's latest exhibition, Design Superposition, brings together the works of 10 local and international designers to explore the multi-faceted nature of design and its value. Interact with the installations and participate in activities as you evaluate what design means to you – you can play the role of a juror, or challenge yourself to identify which 10 out of 100 tiles are cut from discarded marble.
Design Superposition, National Design Centre, 111 Middle Road, Singapore 188969
8. Attack On Titan: The Exhibition
Until 3 July
Fans of the best-selling dark fantasy manga and anime are in for a treat. The Attack on Titan exhibition explores its rich characters and themes as a global cultural phenomenon. Take your time to marvel at over 150 artworks, drafts and sketches by writer and illustrator Hajime Isayama, from the manga's early days to its heydays. Look out for the immersive battle sequence set in the Great Titan Theatre.
Attack On Titan: The Exhibition, ArtScience Museum, 6 Bayfront Avenue, Singapore 018974
9. Museum of Ice Cream
Ongoing
We scream for ice cream! The lush enclave of Dempsey welcomes the world-famous Museum of Ice Cream. Known for its interactive and 'gram-friendly exhibits in New York City, the Singapore outpost features 14 never-before-seen installations such as the sprinkle pool, a pink and yellow jungle filled with 10,000 bananas and more. And what's a museum about ice cream without the icy treat? As you're guided through the pastel wonderland, you'll be treated to five unique ice cream treats.
Museum of Ice Cream, 100 Loewen Road, Singapore 248837
Get your dose of art and culture at these art exhibitions in Singapore!