Photography: Our Second Nature
From chic clothes to shoes, accessories, and jewellery, we're sending a salute to top Singaporean designers in the local fashion scene
Contrary to popular belief, shopping in Singapore isn't just limited to international designer labels and high street brands in upscale malls. For retail therapy with a distinctly local spin, get clued in on these top homegrown fashion designers who are putting our little red dot on the global map.
Local fashion designers in Singapore
Aijek
It's hard not to notice Aijek: refreshingly and unapologetically feminine, this local fashion label is a breath of fresh air amongst the plethora of avant-garde labels in Singapore's fashion scene. Designer Danelle Woo seems to know exactly what women want: easy, effortless, and elegant pieces that translate from work to the weekend. Besides, who wouldn't be charmed by sartorial stunners like this lace maxi dress or embroidered mini dress?
Aijek, available at Tangs Orchard and VivoCity, Society A, Sarah B, Trixilini, and Nana & Bird
Ans.ein
Imagine appreciating art in forms beyond the canvas… that's exactly what the founders of Ans.ein set out to do. Anseina (Ans) and Erlyn (Ein) have used the best of their design and retail business backgrounds to bring you wearable art. We're fans of the fabric prints and the iconic brush-stroke designs in the splash and blooms collection which you can find in the form of kimono and maxi dresses, jumpsuits, cardigans, multiway tops and pencil skirts.
Ans.ein, available online and at The Playfair, Design Orchard, Naiise and more
Attaby
The threads at Attaby are sleek, sophisticated, classy and, not to mention, perfect for Singapore's climate. Founded by Claire Chahil, who's also the brains behind multi-label boutique The Attaby Collective, you'll find sizes from XS to UK18 here.
Attaby, TheAC, 420 Joo Chiat Road, Singapore 427641
Benjamin Barker
There are plenty of menswear stores around shelling out the same, heritage-inspired threads, but Benjamin Barker is a cut above the rest. Founded locally in 2009, the local fashion concept store gets our vote for its unpretentious yet dapper collection of dress shirts, bespoke suits, custom-made leather brogues, and handsome accessories that even the ladies might be tempted by.
Benjamin Barker, available at various locations including Funan, JEM, Vivocity and more
Beyond the Vines
This contemporary womenswear label is blowing up all our feeds, and for good reason. The designs are best described as pared down essentials in soft hues and with flattering contours. Prices are also pocket-friendly for quality basics – tops are typically priced at $59 and below, while bottoms average $69 and below.
Beyond the Vines, locations at Funan, Oue Downtown and Tang Plaza
Biro
If you love Japanese aesthetics, you'll love under-the-radar menswear label Biro. Named after the ballpoint pen, the brand is home to timeless wardrobe staples made from premium fabrics sourced globally, and immaculately tailored by Japanese artisans. It's "slow fashion" at its finest – instead of seasonal collections, expect new pieces only every few months. Everything you need is here, including silk cotton t-shirts, floral shirts, and chambray over shirts.
Biro, #03-23, Mandarin Gallery, 333A Orchard Road, Singapore 238897, also available online
Dark Horse Vintage
Dark Horse Vintage is giving us major throwback vibes with its vintage selections made right here in Singapore. Equal parts quirky and fun, the enticing colours and eye-catching prints are great for any occasion. Of course, all eyes will be on you – honestly, we won't mind the extra attention if we're decked out in these one-of-a-kind, gorgeous pieces.
Dark Horse Vintage, available online
David's Daughter
Dare to take it to the next level? Read: Bold silhouettes, cheeky detailing and popping colours. You'll feel right at home with David's Daughter. This local fashion label does not shy away from vibrant hues and fun prints. It's definitely go big or go home here. We also love the story behind the moniker. Designer-founder Fannie Chua pays tribute to her dad by carrying his legacy through her brand. Awww!
David's Daughter, #08-15 (Performance Building), 158 Kallang Way, Singapore 349245, by appointment only
Depression
True to its name, this unisex ready-to-wear label makes no apologies for its moody and often clinical approach to design – think minimalist cuts in stark, monochromatic colours. The label is a favourite amongst edgy fashionistas and celebs such as Adam Lambert and The Black Eyed Peas, and is also stocked internationally in Italy, Egypt and the UK.
Depression,#04-14 Sects Shop, Orchard Gateway, 277 Orchard Road, Singapore 238858
Elnadyah
Yes, batik prints can be cool too and thanks to Elnadyah, we are seeing more of these traditional prints beyond resortwear and travels; paired with everyday casual looks. We're fans of the wrap pegged pants that go beyond batik prints and detachable skirts that you can wear over a pair of pants. Or add minor touches with batik print chokers and head wraps.
Elnadyah, available online
ELOHIM by Sabrina Goh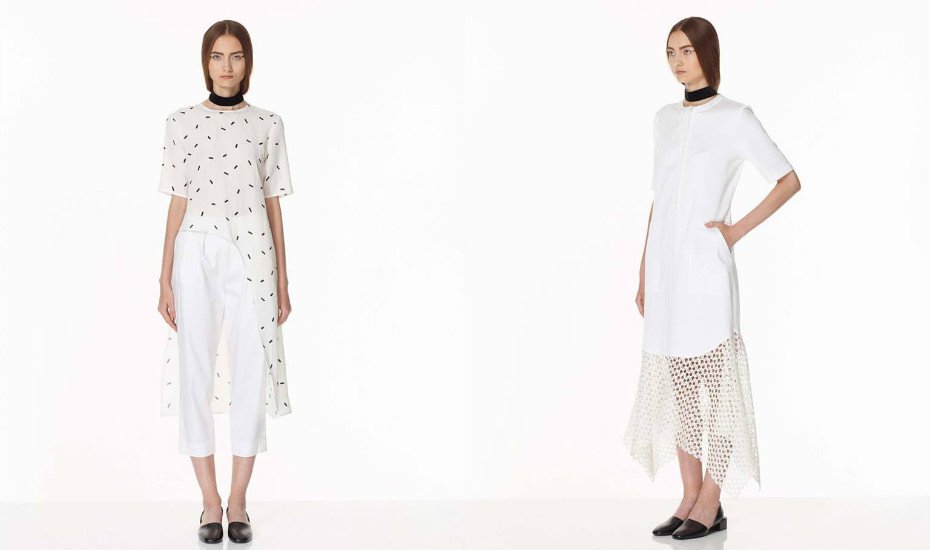 Minimal, conceptual, structural: it's easy to whittle down ELOHIM by Sabrina Goh to just three little words but make no mistake; it is so much more than that. Drawing inspiration from architectural silhouettes, the local label offers strong, sensuous designs that constantly push the envelope – be it structured slip dresses with asymmetrical hems, boxy overcoats with textural details or the perfect vermillion two-piece inspired by ancient rock formations in China.
Sabrina Goh, multiple locations at Paragon, Raffles City Shopping Centre and TANGS Plaza
Esse
Shake off that fast fashion and slip into sustainable fabrics and effortless classics that transcend trends at Esse. These lightweight and flowy pieces are made with breathable fabrics (great for our weather!) like lyocell, organic cotton, handloom tussar silk and cupro. Want to know more? Check out our full story with Esse founder Alicia Tsi as she gives us a crash course in sustainable fabrics!
Esse, available online
Ginlee
Known for its sophisticated colour palette and soft lines, this local fashion label creates some of the softest silk dresses we've ever owned. The secret? The fabric is silk habotai and handwashed for a suede effect. Expect similar attention to detail with all of its designs, like intricate two-tone embroidery and crepe de chin fabric for you to keep cool in the blistering Singapore heat.
Ginlee, #02-35, Raffles City Shopping Centre, 252 North Bridge Road, Singapore 179103
Hher
Hher's a great spot for stylish threads that'll take you from boardroom to bar. Why? It's got everything from formal tops to casual dresses. And don't for once assume there are only minimalist lines, soft shapes and subtle details – the local boutique surprises with pops of colour and edgy silhouettes.
Hher, available online and at Design Orchard and Gather stores
In Good Company
For once, a local label that bucks the trend, instead of setting it. Designers Kane Tan and Sven Tan (of alldressedup fame)'s strategy is a clever one – forgo the typical seasonal dictates of fashion, and focus instead on creating capsule collections of wardrobe essentials that every woman needs. And indeed, judging by In Good Company's aesthetic of sophisticated and classic silhouettes, which are tailored to Singapore's weather, no man, woman or child would be able to resist snagging an IGC creation or two for themselves.
In Good Company, multiple locations including TANGS at Tang Plaza, Jewel Changi Airport and Ion Orchard
Jo Kilda
If you're seeking luxury and effortlessly chic fashion, Jo Kilda is definitely a cut above the rest. Clad in the finest fabrics like Korean lycra, chiffon, silk, mid-weight jersey and vegan leather, these standout pieces are sure to turn heads. You'll definitely experience a 'Cinderella moment' at this local boutique.
Jo Kilda, #01-10, Phoenix Park, 314 Tanglin Road, Singapore 247977
Klarra
After scanning through the items at Klarra, you'll quickly notice a number of classics that transcend trends. Whether it's for work or play, Klarra's chic, muted-toned pieces will make your heart flutter. Oh, and the team has also forayed into footwear so they've literally got you covered from head to toe.
Klarra, available online and at #03-33, Raffles City Shopping Centre, 252 North Bridge Road, Singapore 179103
Lisa Von Tang
The woman behind multi-label boutique Gnossem and the Chi Chi Von Tang local fashion label has emerged with the new brand. Lisa Von Tang is all about east-meets-west style, in a reflection of the designer's German-Chinese heritage. Blending power and sensuality, the brand champions empowered women with its cult, statement-making designs. Think drop-crotch harem pants, oriental silks and mandarin collars.
Lisa Von Tang, #01-68 The Shoppes at Marina Bay Sands,10 Bayfront Avenue, Singapore 018972
Max. Tan
Monochromatic minimalism reigns supreme at Max. Tan, the avant-garde eponymous label that no edgy fashionista worth her salt would ever be able to resist. Designer Max Tan pays homage to deconstruction and transformation by playing with volume, quirky cuts, and unexpected silhouettes – and the results? Refreshingly studied designs with the slightest hint of androgyny that are serious but never austere, minimal but never simple.
Max. Tan, 29 Mcnair Road Singapore 328528 (By appointment only) and online
Ong Shunmugam
Those familiar with the name will know that Ong Shunmugam is, hands down, one of the most original homegrown local fashion labels around. Best known for creating modern, wearable interpretations of traditional wear – be it the cheongsam, sari or samfu – designer Priscilla Shunmugam is a true talent with a mission to challenge the way we think about Asia's sartorial history in modern times. Check out the beautiful atelier at Chip Bee Gardens.
Ong Shunmugam, #01-76, 43 Jalan Merah Saga, Singapore 278115
Our Second Nature
Yet another brand flooding our feeds is Our Second Nature. Inspired by intangible everyday moments, ONS works with a London-based designer every collection to create an original print that sets the theme for each. Our favourites have got to be the crisp, button down dresses (pictured top).
Our Second Nature, available online
Qlothe
Qlothe's ethos is simple: to create contemporary pieces with an eclectic charm – and boy, do they deliver. There's a range of office and casual wear with a curated 90s fashion to modern-day styles that scream chic. You can't go wrong with geometric colour block tops, mustard yellow trousers (that's sure to turn heads) and a classy checkered jumpsuit.
Qlothe, available online and locations at Naiise, Design Orchard. 
Reckless Erika
If your mood ranges from 'pop of colour' to 'better in black' within the week, Reckless Erika's just the place to make a beeline to. They're not kidding when they promised a range that'll take you from day to night. Think stylish jersey dresses with Chinese collars, asymmetrical layered dresses and figure-flattering jumpsuits with vibrant prints. Great to know that all creations are ethically made with quality materials that don't wrinkle.
Reckless Erika, #05-09, Biztech Centre, 627A Aljunied Road, Singapore 389842 (by appointment only), also available at Design Orchard and Tangs Vivocity.
Rye
Rye is named after a grain, which should you an idea about the brand's direction. The up-and-coming local fashion label puts out capsule collections of timeless classics. Aesthetics-wise, we best describe the designs as comfy chic: almost all of its dresses, for instance, are roomy and come with an oversized fit.
Rye, available online or at Tangs Orchard, Nana & Bird and Design Orchard
Salient Label
Vibing modern silhouettes with understated designs and minimal hues? Salient Label will totally be your scene. Though the collections heavily depend on black, navy, grey (with random pops of orange and mahogany hues), the clever asymmetric cuttings, big-cuff hemlines, two-tone colour panel designs and draped details make all the difference. Also totally versatile for styling.
Salient Label, available online and locations at Isetan and Naiise
Stolen
We're still enthralled by Stolen's debut at Singapore Fashion Week in 2016. Bucking the tradition of a typical runway show, founder Elyn Wong's showcase was a performance art spectacle, with models switching between standing stock-still, and sprawling on chairs. The enchanting show was equally matched with breathtaking designs of neutrals and soft draping juxtaposed with architectural pleats. The designs have evolved over time, but they continue to be inspired by Elyn's love for architecture and structure.
Stolen, available online and Strait Clan (by appointment only)
The Form
No matter how big our wardrobe, there's that 20 per cent that we keep reaching for over and over again. Well, the folks at The Form create pieces that fit into this criteria – think elevated classics with muted palettes and a subtle edge to let your personality shine.
The Form, available online and TANGS at Tang Plaza
The Shirt Bar
Leave it to this boutique to bring you an unlimited supply of shirts – they are called the Shirt Bar, after all. Fancy a mix of printed shirts, basics and dapper formals? You've come to the right place. Best you complete the look with a blazer all designed with a contrasting under collar and printed inner lining.
The Shirt Bar, available at multiple locations including Isetan Scotts and Suntec City
Vilry.co
Are you the fashion-conscious type and – oh, the horror! – running out of ideas? Pop by Vilry.co for a dose of inspiration. The brand puts a spin on everyday looks by incorporating different textures and materials, playing with silhouettes and colours, and pushing boundaries with even the smallest of details. Tip: Pair your outfit with chunky statement earrings from the accessory line.
Vilry.co, available online
Ying the Label
Watercolour paintings on your dress? Trust us, you'll have to add a piece to your wardrobe. Ying the Label's swoonworthy hand-painted drawings perfectly blends colours, textures and the intricacy of the brush strokes to create wearable art pieces for work and play. High quality fabrics from Japan, Korea and Indonesia are used to retain the vibrant digital prints even after several washes. Pay a visit to the newly opened boutique at King Albert Park.
Ying the Label, locations at King Albert Park (by appointment only)