Photography: Annie Spratt via Unsplash
Need a bouquet delivered ASAP? These florists have got your back with flower delivery in 24 hours or less!
Artfully arranged blooms are one of our favourite things to gift for any occasion (and for ourselves). But are they a good last-minute gift idea? You betcha. You can count on these florists in Singapore for same-day flower deliveries. Say yes to gorgeous bouquets that promise to reach your destination in less than 24 hours!
Where to get same-day flower delivery in Singapore
1. Roses Only
For Valentine's Day and romantic milestones, you can't go wrong with a bouquet of red roses to surprise your boo. But, what if you've blanked out and missed the bouquet prep? Fret not: Roses Only is here to save the date! Simply order by 5pm on weekdays and by 12pm on Saturdays for same-day delivery, completely for free. Fast delivery aside, this florist offers an amazing selection of roses – from vibrant reds to mauve purple, there's a rose for any occasion.
Roses Only, order online
2. Fav Florist
Surprise a loved one with bushels of blooms in a jiffy. Fav Florist has you covered with floral bouquets, domes, boxes and envelopes… plus free one hour islandwide delivery! With farm-fresh flowers air-flown daily, you'd be forgiven for thinking that they would cost a bomb. Don't worry, these beautiful arrangements are an affordable and value-for-money pick, starting from $21.90 for the Surprise Mini Bloom Bouquets. We also love how this florist uses premium flowers that are guaranteed to look just like the photos on its site – what you see is what you get!
Fav Florist, multiple locations including Holland Village, Tiong Bahru and Chinatown
3. Wonderland Botanicals
One of our most beloved florists, Wonderland Botanicals offers stunning bouquets for the home and for special occasions. Whether you need an arrangement for the dinner party table or a birthday you almost forgot about, hit up the florist for your urgent orders. Same-day deliveries have a charge of $15 and orders have to be placed by noon. There's also a deadline delivery service ($15 per location), where you can specify a date and time slot (for example, between 10am – 11am) when you'd like your order to reach its destination.
Wonderland Botanicals, order online
4. Farm Florist
Farm Florist is known for thoughtful floral curations from under $45, using fresh flowers that are imported daily (this also prevents wastage!). If you don't know your way around flowers and foliage, let the team surprise you with a Surprise Bouquet or Surprise Bloom Box. When placing your order, simply fill in the occasion and recipient's details (like age and gender), and the experts will handle the bloom selection. Amazingly, this – and Farm Florist's other bouquets – come with free same-day flower delivery with no minimum spending. Psst: if you happen to get a late delivery, you'll receive a full refund in store credits!
Farm Florist, order online
5. Deer Petals
If a friend or loved one is having a rough day, cheer them up with a customised bouquet that you can send over within hours! Deer Petals will happily create a personalised bouquet ($89) for you based on the occasion, the receiver's favourite colour and flower preference. Just place your orders before 1pm and the bouquet will be delivered on the same day for free. Plus, shop Deer Petals' Weekly Pick section for expert recommendations each week. For a bouquet-loving soul, check out the flower subscription service ($138) that delivers on the reg.
Deer Petals, available online
6. Flower Chimp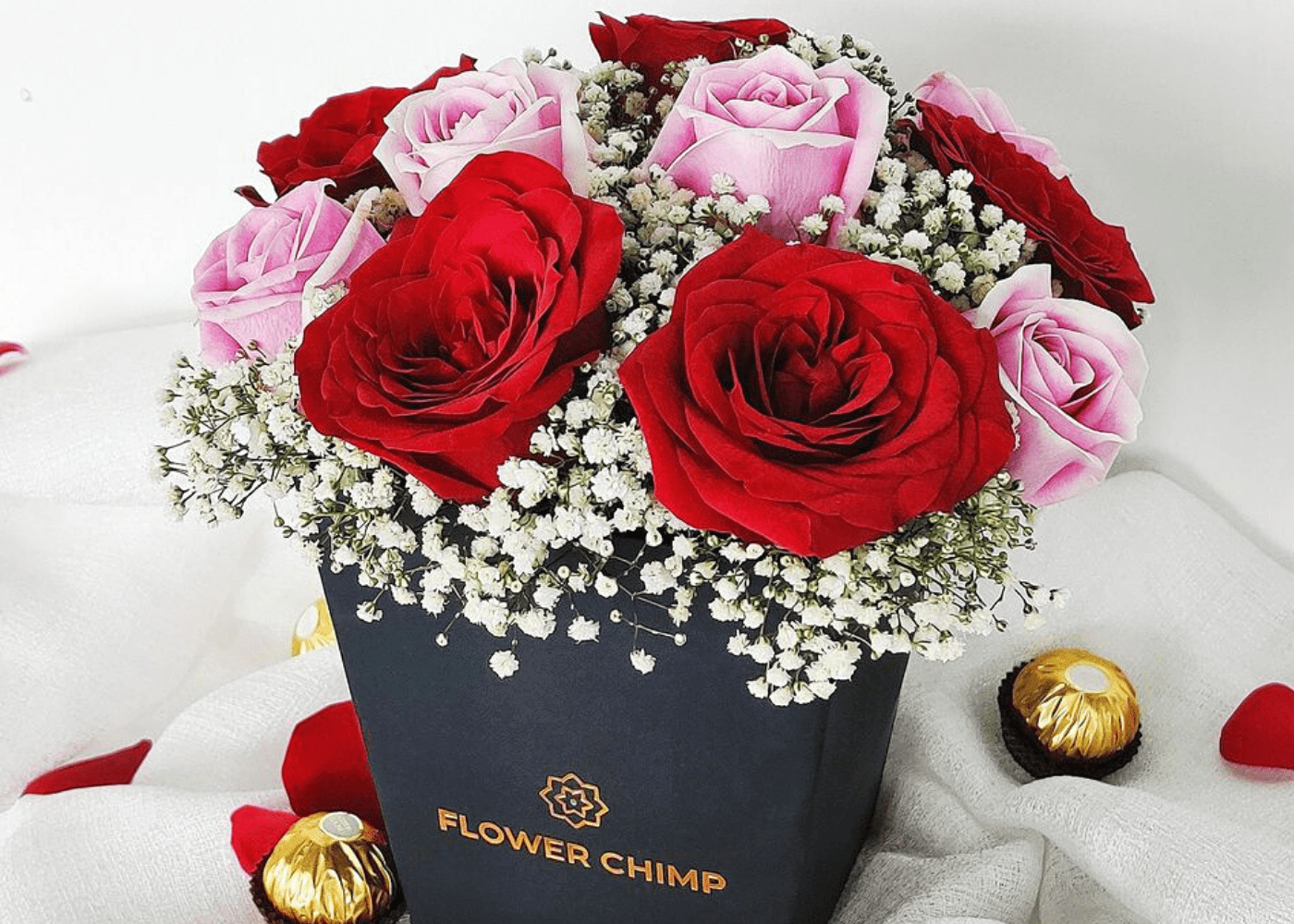 Send your loving sentiments or congratulatory wishes with a bouquet from Flower Chimp. Customising options include adding a message, balloon, chocolates and more. Here, the flowers have a seven day freshness guarantee and can be delivered on the same day if you place your order before 2pm. Oh, and did we mention that delivery is free?
Flower Chimp, order online
7. Happy Bunch
When it comes to sweet gestures, there are few things better than receiving a hand-tied posy. Happy Bunch offers an affordable option with bouquets and gift boxes from $25. Get them delivered islandwide for free and on the same day if you wish, no minimum spend required. And you'll get rewarded for sending love (read: flowers) to friends and family – each purchase earns you Happy Points, which can be used to redeem future discounts.
Happy Bunch, order online
8. Flower Addict
Flower Addict's beautifully curated hampers are some of the easiest last-minute gifts you can send to a loved one. Wanna arrange the sprigs yourself? Order fresh cut flowers in 'Style Yourself' boxes to make your own unique bunch, or gift this experience to a fellow flower fan. Make use of the same-day flower delivery service to get your surprise delivered in time.
Flower Addict, order online
9. Xpressflower
Thinking of someone? Send some blooms their way! Better yet, make it a sweet treat with ice cream, cake or other tasty pairings with Xpressflower's combos. There are also preserved flowers, Disney bouquets and others to choose from. And how can we forget the store's commitment to send your flowers on time? Purchase the same-day delivery service (there's even a phone number on the website for urgent orders), or select a specific time period that you need them delivered by (midnight and early mornings are available too).
Xpressflower, available online
10. Petit Fleur
Started by a former accountant who wanted to share stylish, one-of-a-kind arrangements with the local market, Petit Fleur boasts a team with an eye for floral artistry. Its premium blooms are designed meticulously and nurtured to last longer than your average. From floral boxes to intricate bouquets, take your pick and send it off to make someone's day. Petit Fleur also offers same-day flower delivery (charges apply) – just be sure to give its team at least four hours to prepare the blooms!
Petit Fleur, available online
On the hunt for blooms to save you from a missed birthday or anniversary? You know where to look.