Photography: The Daily Blooms via Facebook
These stunning preserved flower bouquets, domes and bloom boxes perfectly depict your eternal love and affection!
Flowers make some of the best gifts for meaningful occasions. Whether you're trying to make a good impression on the first date, celebrating an anniversary, or congratulating a loved one on a milestone event, nothing says "I appreciate you" better than a gorgeous bouquet. If you're reluctant to cough up money on blooms that last only a fleeting moment (especially when they come with a hefty price tag), fret not. We've rounded up the best florists in Singapore for preserved flowers that last forever and ever.
Where to get preserved flowers in Singapore
1. The Daily Blooms
Preserved flowers at The Daily Blooms come in the cutest bloom boxes and jars. Pick from colours like red, pink, blue or purple, and even add trinkets like Polaroids and teddy bears to make your gift extra special. We love that this store is open 365 days a year – even offering same-day delivery across the island. Now, that's reliable.
The Daily Blooms, available for same-day delivery and self-collection; #03-01H, Kong Beng Industrial Building, 41 Jalan Pemimpin, Singapore 577186
2. Blanc Artisan
Blanc Artisan sells alluring preserved flowers that are sure to delight their recipient any time of the year. These everlasting blooms come in glass domes and are decorated with heart-shaped LED lights for a charming glowy effect. You can even get them fitted into a jewellery box if you're looking for something practical.
Blanc Artisan, free islandwide delivery within specific timeslots; shop online
3. Anndol Floral
Whether you're looking to gift a bouquet or purchase a beautiful floral statement piece to spruce up your home, the folks at Anndol Floral have your back. Browse the collection of preserved flowers that come in dreamy arrangements and vibrant colours bound to make an impression. We also love the selection of vase designs that range from sophisticated to quirky. Get the bum-shaped one for a cheeky (pun-intended) surprise. Hot tip: self-collect your bouquet at its studio for $15 off.
Anndol Floral, available for next-day delivery, walk-ins by appointment only; #05-11/12, Primax Building, 22 New Industrial Road, Singapore 536208
4. Bloomback
The preserved flowers at Bloomback aren't just made with love! This local biz and social enterprise empowers marginalised communities, providing skills training and employment to these individuals. Each flower dome can be customised to suit your budget and preference. Throw in some LED lights to make your blooms glow. Or, add a Bluetooth speaker function to play your favourite tunes while admiring your gorgeous floral arrangement.
Bloomback, available for same-day delivery and self-collection; #05-70, Lobby A, The Vertex, 33 Ubi Avenue 3, Singapore 408868
5. Windflower Florist
For a selection of both fresh and preserved flowers, stop by Windflower Florist. These sweet bouquets come in a dizzying array of pastel shades, perfect for any occasion. Want to make your floral gift extra special? Add on a pint or two of delish ice cream in osmanthus oolong or blue pea lavender flavours before you check out your cart.
Windflower Florist, available for same-day delivery; #02-27/28, Primax Singapore, 22 New Industrial Road, Singapore 536208
6. Sjo Flora
Bored with the standard bouquet? Invest in a preserved flower photo frame or table mirror from Sjo Flora to switch things up. Your gift won't just be beautiful; it'll also be functional and totally worth the money. Of course, you can also choose from its regular selection of bouquets and flower vases if you want to go the traditional route. The blooms that come in a rattan basket are super cute!
Sjo Flora, available for free delivery; shop online
7. Skinnyblooms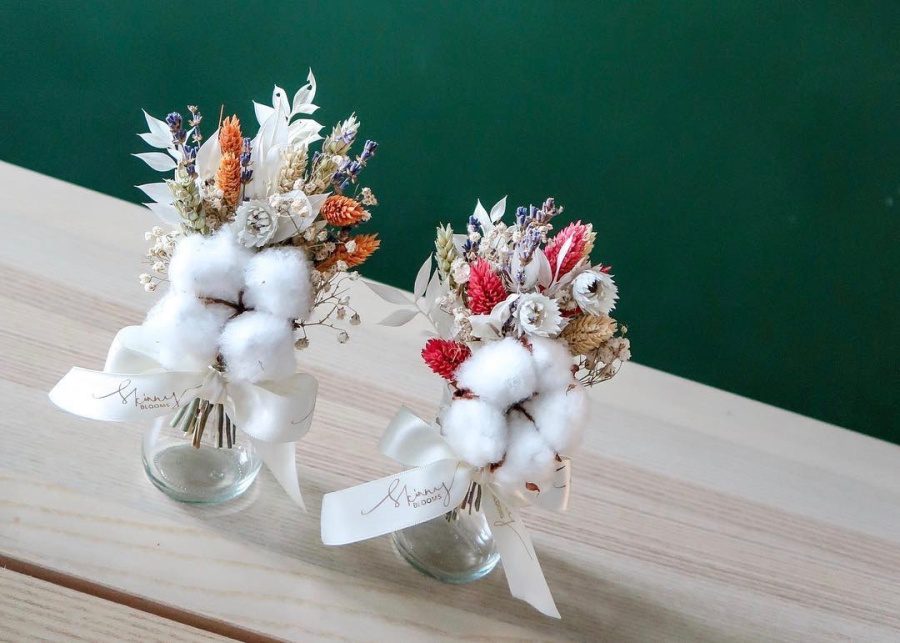 Love minimalist floral arrangements? Planning a rustic-themed wedding? The preserved flowers at Skinnyblooms will fit your bill. We love how its bouquets come wrapped in ribbon and brown paper for that ethereal cottagecore aesthetic. It also offers a bespoke bridal bouquet service for one-of-a-kind blooms on your special day.
Skinnyblooms, available for delivery, shop online
8. Moon Fleur
Surprise your partner with a handcrafted preserved flower bouquet, dome, or bloom box. If you're looking to treat them to something beyond an ordinary floral arrangement, check out the money series that includes adding folded money notes of varying values into each bouquet. Did we mention its Sola flower doubles up as an essential oil diffuser, too?
Moon Fleur, available for delivery, walk-ins by appointment only; #04-02, Suite 10, LHK 2 Building, Singapore 367996
9. Lavieflo
From petite flower domes to elaborate preserved flower arrangements, Lavieflo has everything you need to impress. We particularly love the bloom bag! It features a minimalistic black bag with a see-through window that contains a gorgeous assembly of roses, hydrangeas and foliage.
Lavieflo, available for same-day delivery and self-collection, walk-ins by appointment only; #09-01, Eastgate @ Katong, 46 East Coast Road, Singapore 428766
10. Floral Garage
Get affordable and quality preserved flower bouquets at Floral Garage. This florist believes you don't need to burn a hole in your pocket to show your loved ones just how much you appreciate them. We recommend checking out its customised bouquets for added fun. Think: floral arrangements that include beer cans and snacks for that foodie in your life.
Floral Garage, available for same-day delivery; #06-01, LHK 3 Building, 8 New Industrial Road, Singapore 536200
11. The Floral Keep
Preserved flowers at The Floral Keep are touted as the most affordable in Singapore. Customise the arrangements according to your preference, or pick from the selection of ready-made bouquets. It also has a flower preservation service you can use. Just bring in your fresh flowers and have them preserved and wrapped in a bouquet, dome, vase or shadow box frame.
The Floral Keep, available for delivery and self-collection, walk-ins by appointment only; 546 Serangoon North Avenue 3, Singapore 550546
Show your everlasting love and affection with these gorgeous preserved flowers in Singapore!