Photography: Givenchy
No doubt, you'll be tempted to add these wishlist wonders to cart.
Knock knock, who's there? Oh, you know, just the most exciting new beauty launches we've seen this month. We say hello to colour-correcting sunscreen, a waterless daytime moisturiser as well as new vegan goodies from local beauty gurus, and a cult-favourite Danish skincare brand. Read on for the top new beauty launches of the month.
Best new beauty launches of April
A hydrating foundation that gives you a glow-up
Alexa, play Blinding Lights by The Weeknd. There's a new foundation in town to get your glow on. Givenchy's new Prisme Libre Skin-Caring Glow combines the best of coverage and hydration to give you a natural glow. Available in 16 shades, the 90% skincare base ticks three major skincare must-haves for our mask-wearing climate. It boosts radiance, improves hydration and allows the skin to breathe. The soft satin liquid foundation also covers pores, uneven dark spots, blemishes and other imperfections.
Givenchy Prisme Libre Skin-Caring Glow Foundation ($80), available at multiple locations including Sephora and the Givenchy Beauty Counter at Takashimaya
Homebred skincare brand launches a waterless moisturiser
Local skincare maven Sigi Skin has finally dropped a moisturiser! Say hello to Idyllic Fields, a waterless daytime moisturiser packed with oats, troxerutin, polyglutamic acid and matcha extracts. Chase dryness and inflammation away with the creamy texture. It's also known to protect your gorgeous face from oxidative stress and provide relief from skin irritation. Plus, 5% of the proceeds of the Idyllic Fields moisturiser will go to Causes For Animals, an animal welfare charity.
Sigi Skin Idyllic Fields, $78, available online 
Sunscreen with colour tuning properties
If you're all for taking the minimalist makeup route this year, Allie's colour-tuning sunscreen might help. Yup, this multi-tasker protects your skin against harmful UV rays and blurs out pores and dark circles, giving an all-round glow to your complexion. Select from Ennui Purple for large pores and dull skin or go with Sunny Apricot to eliminate dark circles and pores. These mighty SPF 50+ and PA++++  tubes are also lightweight, waterproof and packed with hydrating hyaluronic acid. It's a win in our books.
Allie Color Tuning UV sunscreen, from $30.90, available online via Shopee and Lazada 
This local skincare label is expanding its line of vegan goodies
And we're loving every single bit of it. Handmade Heroes has launched a series of top-to-toe skincare! Highlights include the Ultimate Bakuchiol Booster Oil and Cocoliscious Lip Mask with Bakuchiol, a natural retinol alternative that's gentle on your skin but a powerhouse ingredient. The booster oil is known to boost collagen production, skin-cell turnover and smooth out those pesky fine lines.
Or try the newly minted Hyaluronic Lip Dews, an improved blend of coconut oil, cocoa butter, vitamin E and hyaluronic acid. Take your pick from four shades naturally derived from minerals. Also keep your cuticles on point with the Oat Mighty Cuticle Oil that's got all the fine stuff – from colloidal oats to jojoba seed oil – for well-groomed nails.
Handmade Heroes' new collections, from $9.90, available online and at multiple locations including The Editor's Market and The Min List
Cult-favourite Danish brand is bringing its #OleGlow to our city
Orange you glad that the internationally loved Danish skincare brand has arrived in Singapore? Yup, get your hands on cult-favourite clean and cruelty-free mavens like the vitamin C-packed Truth Collection. Our eyes are set on the iconic Banana Bright Eye Creme (also a best seller in the US), which boasts a mix of naturally derived botanicals, powerful actives and fatty acids. Poppin' peepers, here we come!
Oleherinksen, from $32, available at Sephora 
Skincare inspired by fillers and backed by science
When medicine doctors, dermatologists and plastic surgeons are behind a skincare label, you sit up and listen. Laboratoires Filorga's anti-ageing "medi-cosmetique" skincare contains a NCEF (New Cellular Encapsulated Factors) complex that combines active ingredients used in fillers and injections. But no, you don't have to go under the knife here. Instead, they bring you power-packed essentials – the NCEF-Essence is a multi-correction lotion that's formulated with anti-pollution and hydrating heroes. Or slather on the Time-Filler cream that aims to resurface, revitalise, relax and plump. End your routine with the creamy-AF Meso-Mask for a luxurious but power-packed experience. The mask is spilling with collagen and elastin to repel wrinkles and signs of fatigue.
Laboratoires Filorga, from $60, available at Lazada 
Yet another maskne-busting range on our radar
Another day, another range to banish "maskne". We say, keep it comin'! The four-product range from Bio-essence consists of a cleanser, serum and hydro gel. But we're particularly drawn to the Biome Balancing Solution that's known to restore balance, reduce acne and improve overall skin health. Here's to clear and smooth skin, with or without your face mask.
Bio-essence Bio-Water Biome range, from $10.90, available online and multiple locations including Guardian, Watsons and OG 
We can't wait to try these new beauty launches! How about you?
---
Best new beauty launches of March
Pretty pastels and butterflies in Chantecaille's Spring 2021 makeup collection
Chantecaille is setting our hearts and makeup stash aflutter with its new spring 2021 collection. Feast your eyes on mesmerising pastel colours and shimmers with a nod towards butterflies. Yes, the collection is a reflection of early spring flowers that butterflies are attracted to and pollinate. For instance, the limited edition lip shades of the popular plumping lipsticks are named after these flowers. There's Clover, a neutral pink; Hyssop, a rich nude shade; and Peach Blossom in a warm peach hue. But our eyes are set on the Butterfly Quartet, a four-pod eyeshadow compact with satin, shimmers and chrome peal finishes. And don't miss out on the new spring inspired edition of the Bio Lifting Serum. 5% of the sales proceeds from this collection will go to the Nature Society of Singapore (NSS) to support the Butterfly and Insect Group.
Chantecaille's Spring 2021 makeup collection, from $80, available at multiple locations including Tangs at Tang Plaza and Takashimaya
Belif's anti-ageing serum goes jumbo
You can now get a limited edition Belif bestseller – the Youth Creator-Age Knockdown Bomb Jumbo in a whopping 75ml bottle. This hefty container is half the size of its regular bottle. It also comes with a chrome massage stone that's magnetically attached to the top of the bottle cap. Massage the anti-ageing serum into your face with the stone to enjoy maximum efficacy of the herb-based formula.
Belif Youth Creator-Age Knockdown Bomb Jumbo, $126, available online and at selected TheFaceShop stores
Say goodbye to an oily t-zone with Bskin's new loose powder
Oh sweet honey! Local skincare brand Bskin unveils a loose powder that's light as air and gives a luminous finish. Meet the Flawless Finish Perfecting Loose Powder, a makeup-skincare hybrid that smoothes out uneven skin tone, controls shine and keeps your makeup flawless all day (yes, even with a mask on). The formula is packed with royal jelly (soothes skin, improves skin elasticity and boosts collagen) and honey (has anti-bacterial properties, nourishes and reduces fine lines and wrinkles). Plus, titanium dioxide, a mineral with UV filter properties to shield your skin against nasty UV rays. Oh, and there's no need to worry about your shade. The powder comes in a translucent, lightly tinted shade that flatters all skin tones.
Bskin Flawless Finish Perfecting Loose Powder, $49, available online 
Give your falsies a break with Browhaus' improved Extend Lash & Brow Growth Serum
Browhaus has given us the answer to va-va-voom lashes (and brows, too!) with a revamped version of its Extend serum.  Meet the new and improved Extend Lash & Brow Growth Serum, now packed with potent botanical extracts for longer, fuller and stronger lashes. Panax ginseng root extract promotes hair growth and grape seed extract conditions and strengthens each eyelash from the root.
Browhaus Extend Lash & Brow Growth Serum, $95.23, available online and at various locations including Funan, Wheelock Place and Westgate
Get your glow on with Emma Lewisham's new day cream
Is your complexion in dire need of a glow up? Turn to Emma Lewisham's new Brighten Your Day Crème. Packed with natural ingredients like acerola, kakadu plum (rich in Vitamin C), saccharide isomerate (a hydration powerhouse) and a gentle blend of AHAs and BHAs (exfoliates dead skin cells), the product is absolutely rocking. Plus, the Day Crème comes in a refillable jar. Buy a new pod once you've emptied yours or send your empty jars back for sterilisation, repurposing or recycling through the Emma Lewisham Beauty Circle.
Emma Lewisham's Brighten Your Day Crème, $105, available online
Attain the perfect brows with Anastasia Beverly Hills Golden Ratio Brow App
It's brows on fleek with the new Anastasia Beverly Hills Golden Ratio Brow App. The app uses augmented reality and advanced face mapping features so you can master the art of eyebrow shaping anywhere. Once you've downloaded the app, there's an onboarding quiz to analyse your brows, followed by a face analysis that aligns the "golden ratio" lines to your face. Above all, you'll also get a step-by-step manual, a built-in camera brow stencil and custom highlights to draw your brows to perfection. Finally, the app even recommends products according to your brows.
Anastasia Beverly Hills Golden Ratio Brow App, download the app of iOS and Android devices
Dolce & Gabbana Beauty launches in Singapore
Come early April, we'll be seeing the launch of Dolce & Gabbana Beauty with a flagship store in Ion Orchard. The luxurious makeup line is created for real, everyday women of all ages, lifestyles and cultures. We're talking about a "life-ready" range of products for the eyes, lips and face. The countdown has officially begun!
Dolce & Gabbana Beauty, launching in early April 
Spritz masnke out of the way with Afterglow
Another product that helps with maskne? We'll take it. Only Group introduces Afterglow, an antibacterial mist that combats pesky maskne. What's in the formula? Natural plant-based ingredients such as cedar, cherry blossoms, green tea, white birch and soya beans to prevent bacterial growth, and soothe and hydrate the skin.
Afterglow, $42, available online and at multiple Only Group locations including Dhoby Ghaut, Holland Village and Raffles Place 
Get your hands on Coach x Sephora's whimsical collection
Fans of Coach, get ready for its most quirky collaboration yet! Sephora and the iconic fashion house have come together for an unconventionally fun makeup series. We can't pick a favourite from the seven pieces – from face and eye shadow palettes that double up as bag charms to the Tea Rose Brush set in a playful pink hue. The collection is also clad in Coach's signature colours and features its mascots: Rexy the dinosaur, Sharky the shark, and Uni the unicorn.
Coach x Sephora Collection, from $24, available at Sephora 
Upgrade your shower game with Drunk Elephant The Littles Hair + Body Kit 2.0
Drunk Elephant is bringing the best of its body and hair products into one nifty kit. The bag contains seven exciting minis including shampoo, conditioner, scalp scrub and tangle spray to nourish and protect your hair and scalp. Plus, biocompatible body products to cleanse, moisturise and balance your skin. In true DE fashion, it comes in a cute neon orange bag and light blue comb.
Drunk Elephant The Littles Hair + Body Kit 2.0, $69, launching on 22 April 2021 at Sephora
Rooki Beauty and Aquajelle create pastel nail polish shades
If you're got a soft spot for pretty pastels, you're going to love this collab. Local skincare brand Rooki Beauty and Aquajellie join forces for The Resort Collection. The result? Seven ultra-flattering nail polish shades in Rooki Beauty's signature colours. It's not just pretty – the formula is easy on your nails too. And no dry skin here as it's infused with hyaluronic acid. It's also pregnancy safe (no nasties like formaldehyde or phthalates), odourless and peelable. Pick a colour, pair it with one of Rooki Beauty's products and save $10.
Rooki Beauty x Aquajelle collection, from $25, available online
---
Best new beauty launches of February
Porcelain's skincare line gets a face lift
The local skincare brand's got a cool new look and we're loving every bit of it. Decked in a sea of calming cerulean hues, the bottles are designed to resemble ceramic flacons. Of course, the range remains just as stellar. Free of sulphates, parabens, silicons, drying alcohols and phthalates, top bestsellers include the Essentials HA+ Hydrating Serum, Deep Hydrating Lotion and the Plus+ Bio-Cellulose Mask.
Porcelain, available online 
Prep your skincare with Yehwadam's new natural skincare range
TheFaceShop Yehwadam's line has a new addition to its range – Yehwadam Artemisia. The new natural skincare range holds just three products – a toner, an emulsion and a cream – for an effective routine. Equal parts lightweight and refreshing, the range addresses concerns like skin damage caused by external stressors, as well as signs of ageing. Three core ingredients are the stars here –  Artemisia Capillaris (rich in vitamins and minerals, and soothes the skin), Houttuyniae Herba (treats blemishes and purifies skin) and Water Lily (provides the ultimate hydration).
TheFaceShop, available at multiple locations including Plaza Singapura and Raffles City  
J-beauty emporium Osakakuma lands in Singapore
If you're bummed out about not travelling anytime soon (especially to Japan), we have an exclusive for you. Japanese curated beauty and lifestyle retailer Oasakakuma has landed in Singapore! It's launched in collaboration with beauty distributor Okuma, and you'll spend hours looking through over 1,000 J-beauty goodies. Oh, and we hear It's got the lowest prices in town. It's so confident that it provides a refund of any price differences within seven days. Highlights include cosmetics brand Amplitude, skincare from The Ginza and the popular Cocochi AG Ultimate Sleeping Packs, just to name a few.
Osakakuma, #02-22, PLQ Mall Paya Lebar Quarter, 10 Paya Lebar Road, Singapore 409057
Attain mochi-like hands with Re:Erth's new hand cream
Maybe it's the frequent use of hand sanitisers or you've often overlooked your hand cream. But if your hands are feeling drier than usual, Re:Erth has just the thing for you. Meet the Rejuvenating Hand Treatment, a hand cream that pumps up the hydration, restores the skin's elasticity and diminishes the appearance of wrinkles. The local skincare brand uses a trifecta of ingredients including Lipodisq Encapsulated Pure Retinol. This integral part of the formula penetrates deep into your skin for maximum efficacy. And since it's encapsulated, there's no oxidation and deflation of the retinol so you can use it anytime.
Re:Erth, available online and at multiple locations including Tangs Orchard and Design Orchard
Restore your skin with Yours' pH-balancing toner
Step up your basic skincare routine with Yours' Bounce Back Balancing Toner. Packed with power minerals, this mighty bottle restores the skin's natural pH level, evens out skin tone and lightens dark spots. It also gives your skin barrier a boost, promotes cell renewal and guards against acne-causing villains. Phew, what a mouthful! Your skin gets a much-needed dose of nourishment and a healthy glow ('cos don't we all love that?).
Yours, available online
---
Best new beauty launches of January
Laneige's iconic sleeping mask gets an upgrade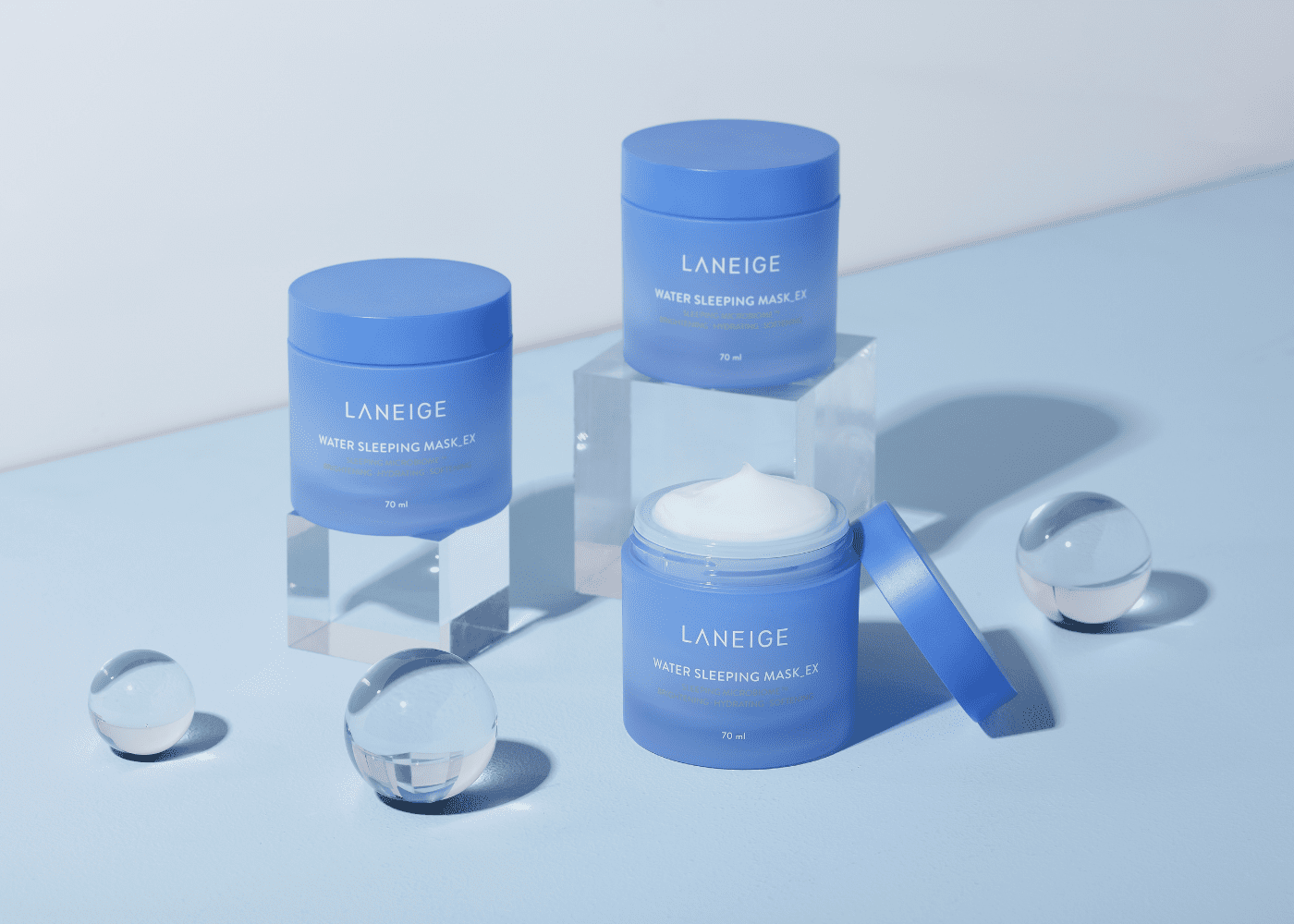 Say aye if you stand by this cult favourite sleeping mask! We know we do. In fact, it won Editor's Pick for Best Spa-Worthy Face Mask at our Beauty Awards last year. Get ready for a reformulated version. The Water Sleeping Mask_Ex gets an upgrade with squalane, sleeping microbiome and probiotics complex. This keeps your microbiome in check and strengthens its defence when you're sleeping. We can't wait to wake up to supple and hydrated skin.
Laneige Water Sleeping Mask_Ex, $45 for 60ml, available at Laneige boutiques and departmental stores; from 1 Feb at Shopee, Zalora and Sephora
Drunk Elephant launches its first facial mist
Spritz the bad juju of 2020 away with Drunk Elephant's Sweet Biome Fermented Sake Spray. You'll want to take notes on the benefits. The facial mist is said to restore, soothe and contribute to a healthy microbiome and balanced skin barrier. Powerful electrolytes offer ample antioxidant protection and hydration. There's also ceramides, vitamin F, natural minerals zinc and amino acids to accelerate collagen production for soft and moisturised skin. No doubt, a great defense against blue light and UV-generated environmental free radicals!

Drunk Elephant Sweet Biome Fermented Sake Spray, $60 for 100ml, available at Sephora
Say hello to Spa Esprit's acne busting Mask Avenger Facial
Is maskne sucking the life out of you? Guard your skin against pesky pimples with Spa Esprit's The Mask Avenger Facial. The facial includes cool skincare tools like the Smartline Skin Scrubber, along with a gentle manual extraction to deeply cleanse your face, eradicate nasties and enhance blood circulation. Your pores will take a backseat and you'll be left with a clearer complex and fewer breakouts. Hallelujah!
Spa Esprit Mask Avenger Facial, $190 (trial price, use the promo code 'SEMA190'), available at all outlets including Wheelock Place and Raffles Place 
Estee Lauder launches a luxurious eye serum
Are your eyes still looking tired even after slathering on concealer? Switch up your eye serum game with the luxurious New Re-Nutriv Ultimate Diamond Transformative Eye Serum. Each mighty bottle is formulated with black diamond truffle extract, 24K gold ('cos why not?), south sea pearls, lady thistle extract and marine algae. It also comes with a cooling sculpted ceramic eye wand massage tool that helps to reduce puffiness, brighten dark circles and lift those peepers. Tired eyes, who?
Estee Lauder Re-Nutriv Ultimate Diamond Transformative Eye Serum, $290, available at multiple Estee Lauder stores including Ion Orchard, Marina Bay Sands and Tangs Orchard
Smooch up to the reinvented Rouge Dior
This popular lipstick now boasts a colour-enhancing formula with enriching ingredients that are kind to the lips. Select from two more couture finishes – the extra-matte velvet or the bright and bold metallic – according to your mood. It features 35 shades including popular picks like 999 Velvet, 100 Nude Look and 080 Red Smile. Oh, and did we mention that it also comes in a classy refillable case? Loving it!
Rouge Dior, $56, available at all Dior Beauty boutiques and counters
Tom Ford unveils a hydrating matte foundation
Tom Ford Beauty premieres the Traceless Soft Matte Foundation, with a winning liquid formula of hyaluronic acid (for hydration) and soft-focus microsphere powders (to blur imperfections). The silky, blendable texture builds from medium to full coverage so there's no room for caking, poring and settling. We just wish it comes in more shades!
Tom Ford Beauty Traceless Soft Matte Foundation, $145, available at all Tom Ford counters including Tangs Orchard and Takashimaya, and online 
One/Size by Patrick Starr has dropped in Singapore
Is makeup really one size fits all? Count on beauty guru Patrick Starr to educate us with the inclusive One/Size makeup brand. Highlights include the Go Off Makeup Dissolving Mist, Point Made 24-Hour Liquid Eyeliner Pen, Ultimate Setting Powder and Visionary Eyeshadow Palette.
One/Size, available at Sephora 
Kiss skin fatigue goodbye with Innisfree's new Black Tea Youth Enhancing Ampoule
Our busy lifestyle, plus crappy sleep schedule, is doing more damage to our skin than we think. We can't hit a reset button but from the looks of it, this ampoule comes pretty close. Derived from Jeju black tea, the ampoule carries a "reset concentrate" ingredient that combats dryness, dullness, textured and sensitive skin. The lightweight formula also absorbs quickly so you can move on with the rest of your routine. Speaking of which, the Black Tea skincare line comes with an enhancing cream, eye serum and ampoule mist.
Innisfree Black Tea Youth Enhancing Ampoule, $51 for 30ml, available at Innisfree stores and online