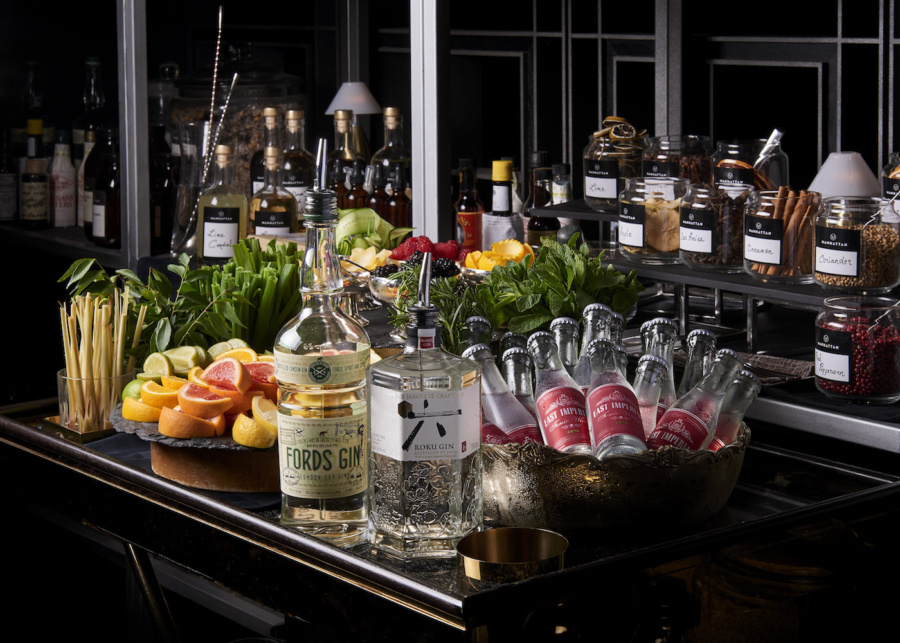 What's on our agenda: bottomless cocktails, G&Ts, flambeed crepes Suzette, Asian-inspired hot plates
Nobody's perfect – except for Manhattan Bar's adults-only Sunday cocktail brunch.
Look, we all work really, really hard. So we aren't asking much – just the best treatment we deserve when the weekend rings. We do live for those fab two days after all. So don't give us the side-eye from your fave café if you see us fleeing to Manhattan Bar for an ultra luxe boozy brunch. Actually, do whatever you want, we'll be too deep into the free-flow and caviar to care. Those of you who love the idea of free-flow Champagne brunches and an extravagant Sunday brunch, step right into Manhattan Bar.
Riding high on its freshly minted number two spot and clinching the 'Legend of the List' and 'Best Bar in Singapore' titles on Asia's Top 50 Bars list, Manhattan Bar has plenty to celebrate. We seem to be reaping the benefits with its revamped adults-only Sunday cocktail brunch.
Spend three hours from 12pm to 3pm feasting like royalty as the bar whips out bloody marys, boozy chocolate, vanilla or banana milkshakes spiked with a dark rum or maple-finished bourbons from the Rickhouse, live food stations filled with fresh seafood, a carvery of cajun slow roasted lamb and roasted mustard-crusted wagyu beef, hand-rolled bagels and house-made cream cheese schmear and a medley of indulgent dessert bites. And that's just the tip of the iceberg.
What's new? A G&T station, flambeed crepes Suzette, five new cocktails and refreshed hot plates
First up, give the classic G&T your own spin with garnishes, house-made tinctures and spices of your choice. Even the bloody mary station has an extended list of choices (opt for a smokier Mezcal instead of vodka), toppings (bak kwa, anyone?), hot sauces and colourful garnishes. Not sure where to start? Ask one of the friendly bartenders to whip up something out of this world.
You gotta try all of the five Asian-inspired speciality cocktails
But the highlight has to be the fresh menu of Asian-inspired cocktails. For a caffeine kick, sip on the delish kopi-cano concocted with Dark Matter coffee aeropressed with Campari and Mancino Rosso. We kept going back for the mango-rice, a cool spin on the popular Thai dessert which was also a unanimous favourite that floored everyone on the table. If you can't go without champagne, order the CHO, a sweet-sour sparkling flute with bourbon, maraschino liqueur, blackberry shrubs, yuzu and lemon.
And now for the munchies – 'cos you shouldn't drink on an empty stomach
The Asian theme is also reflected in the revamped hot plates, which you can order to your table. We're all for the chilled foie gras bar with mutsu jam and barrel-aged balsamic vinegar. Also try the Saint Jacque scallop, BBQ pork belly and savoury lavender blinis topped with squid ink mousse and tobiko caviar. Honest talk: after being spoilt with fab cocktails, we thought the dishes were outshone by the amazing tipples, but this is a cocktail brunch, after all.
After three hours of feasting, our verdict is clear: this is one delish and boozy treat not to be missed.
Manhattan Bar's, Adults-Only Sunday Cocktail Brunch, every Sunday, 12pm-3pm; $158 per person with free-flow cocktails, wines and beers; $195 per person with free-flow cocktails, wines, beers and Billecart-Salmon Brut Reserve Champagne; 1 Cuscaden Road, Level 2 Regent Singapore, Singapore 249715