Get your henna stain on.
These local henna artists are taking this ancient art to the next level with modern designs, intricate motifs and a mix of colours!
Ah, Deepavali in Singapore calls for some galavanting in the streets of Little India, squeezing our way through the crowds at Little India Arcade, stuffing ourselves with Indian sweets and biryani, and standing in line to get a henna stain. Henna (or mehndi, as some call it) has come a long way from being used for medicinal purposes to a form of artistic expression and aesthetic. Today, it's a well-loved art across all cultures and we're loving the new-found reception it's receiving.
The evolution of an ancient art form
"It's become an ultra modern and hipster product", says Monica Saranya Selva De Roy, the artist behind HennabyMon. "A few years ago, henna artists would have certain periods during a year where they'd be sought after, like wedding peak season, Deepavali and Hari Raya. Now, you can expect a henna artist to be swamped all year round. You can find us at private Christmas parties, or at a Caucasian bachelorette party, and even at local hipster carnivals."
Henna Hacks 101
Need some hacks for long-lasting henna? Monica's got your back. Remember this mantra: a warmer body = a darker henna stain. While the henna paste is on, apply drops of medicated oil, a mix of sugar and lime or for free smells – heat cloves on a dry pan and place your hands over the heat. Once you've removed the paste, apply tiger balm and even though we're all for personal hygiene, washing your hands 30 times is not advised if you want the stain to stay on.
Need a henna artist to get you started? We know of a few. From producing modern designs and intricate masterpieces; to using white henna and Jagua ink (we'll get to this!), here are the henna artists that stole our hearts.
For designs that go beyond your palms: HennabyMon
Who says henna's restricted to the palms of your hands? Take it from Monica, a henna artist who's worked with the likes of local songstress Tabitha Nauser (you can see her beautiful work in Nauser's single, Rules) and Singapore's first burlesque artist, Sukki Singapora. Known for her geometric Moroccan henna designs with traces of Arab, Monica goes beyond the hands, working on intricate back and shoulder henna designs – which is also great for guys. Psst..some of her notable clients are men (yes, break those stereotypes)! So ladies, the next time you book a slot, bring your man along to get matching henna. Psst… check out HennabyMon's booth at the Deepavali Bazaar (Stall 76-78) from 23 to 26 October.
HennabyMon, drop her a DM on Instagram at @monzxz or Whatsapp at 9337 2610 for bookings
For glitter and white henna: Syraskins
One of the popular kids on the block, Syraskins has received accolades for their intricate designs and versatility. They also sell homemade henna paste in the form of cones and bundle sets if you're itching to draw your own masterpiece. Something that caught our eye? Glitter and white henna. White henna doesn't actually contain henna so you can easily remove it whenever you want with a makeup remover or baby oil. Plus it looks really cool on pictures. In case you didn't know, Syraskins' white henna consists of cosmetic grade, body art adhesive and MICA pigments so it doesn't harm your skin (works just like a smudge-proof eyeliner). Up your henna game by bejewelling your hands or getting a white henna design. Of course, Syraskins also offers a range of Moroccan, mandala and botanical designs. One thing's for sure, picking a design isn't going to be easy.
Syraskins, Tristar Complex, #01-08, 970 Geylang Road, Singapore 423492, products are available online.

For modern motifs: Mehndi Style by Kassy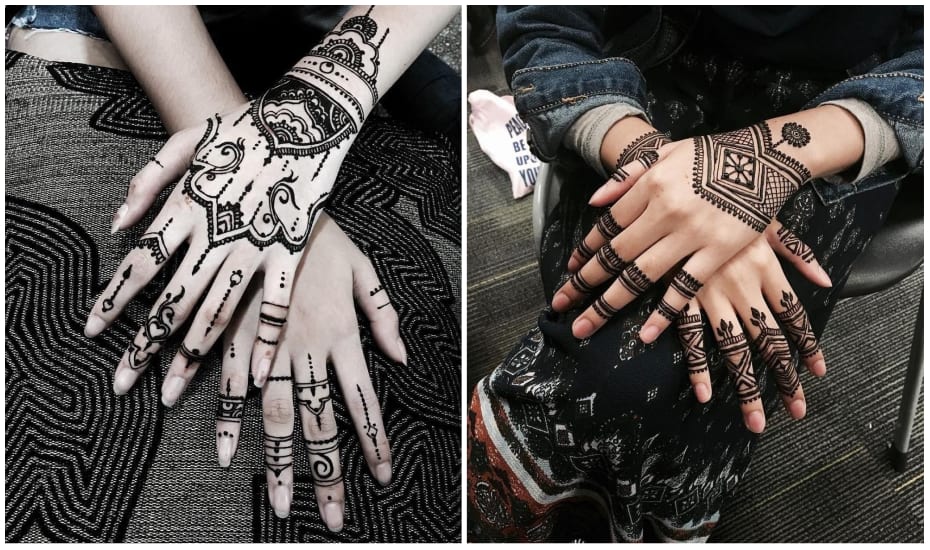 Look to Mehndi Style by Kassy for casual yet intricate designs that look too good to be hand-drawn (they totally are though!). Her motifs are clean and pay great attention to detail. Not sure which pattern to pick? Go for the Arabian and Moroccan-inspired works (just like the ones above) that are sure to pump up the likes on your Instagram feed.
Mehndi Style by Kassy, contact 94753123 for bookings or send a direct message to her personal account at @kasturinairr.
For tattoo-esque designs that make heads turn: Henndrawn
Too fickle-minded to get a permanent tattoo or just can't sit through the pain? Henndrawn offers something that's going to change the face of temporary body art. Two words: Jagua ink. Made from Jagua fruit that's used by South American tribes, this organic Jagua ink gel leaves a blue-black stain on your skin and lasts up to three weeks. The lady behind this genius idea is See Min Ng, the founder and artist at Henndrawn. We're falling head over heels for her complex and ultra-flattering designs that range from sweet and simple to O.M.G fabulous. Plus, she's got pretty mermaid hair and a vibrant Instagram page of gorgeous face art. Major love!
Henndrawn, book a slot online.
For the perfect blend of classic meets contemporary: Artsy Atelier
If you're on the hunt for traditional designs with a modern touch, look no further than Artsy Atelier. Henna artist Zawiyah K combines timeless floral patterns with intricate designs. Just look at how perfectly she's incorporated the rose in the design above. We're also swooning over her Eid-inspired work, which perfectly exhibits her craft and attention to detail.
Artsy Atelier, make an enquiry via Whatsapp/text at 9295 8880 or email her at [email protected]
For henna workshops: FauzellAArtistry
Henna artist Fauzellah Sahabdin has been in the industry for close to 19 years – that's a lot of henna cones! What we love about her is that each step of her journey has been self-taught, right from researching designs to creating her own henna mixture. She's known for her complex designs and clean lines, and she hosts basic to advance henna courses and henna mixing workshops for those interested (her annual henna sesh for 30 pax is always fully booked!). Fauzellah's currently planning a few workshops next year, and details will be out in January 2020 so keep a lookout on her Facebook page.
FauzellAArtistry, make a booking via Whatsapp at 8200 8375
For traditional floral designs: Es Henna Fix
Trust Es Henna Fix to bring you traditional floral henna designs (with a touch of mandala) that go beyond passing trends. Her homemade henna paste leaves a deep maroon stain and even heroes the intricate details from the design. The Eshennamix cones are currently out of stock on the site but you can create your own mix with the powder packs. Oh, and get your stains to stay longer with the henna care bundle which includes a bottle of henna sealant, henna balm and aftercare oil.
Es Henna Fix, make a booking online.