Photography: Image via Reddit
From popular fictional characters to Zoom call background ideas, these Halloween costumes are sure to rack up the likes.
Halloween's going to be different this year but that shouldn't stop you from having fun and donning the best outfits. In fact, with everything that's happened in 2020, you've got enough content to swap your usual spooky Halloween costume for something bang on trend. No clue what to wear? We take a stab at 2020 by bringing you the best (and most hilarious) Halloween costume ideas.
Best Halloween costume ideas in 2020
Crewmates from Among Us
Ride on the popular game by creating costumes of the popular crewmates in space. The only question is – who is the imposter? Super sus!
Recreate the look: If you don't have a coloured jumpsuit like the image above, purchase a full bodysuit and a pair of goggles. Finally, pick your favourite hat – the party hat, devil horns, cap and beanie are some easy choices.
Zoom call background
Attending Zoom meetings is the new normal, so why not put together a Zoom background as a Halloween costume?
Recreate the look: Reuse a large cardboard box and get crafty! Go all out by accompanying your background with the appropriate Zoom call attire. Think professional on top and slack on the bottom.
Mildred Ratched From Ratched
Those who've watched the psychological thriller series will know that this is going to be a hit! We're positive the sinister head nurse of Lucia State Hospital, Mildred Ratched, will attract some eyeballs.
Recreate the look: Throw on a long-sleeved satin turquoise dress and a matching nurse hat. Put your own spin on it with a couple of brooches, and don't forget those pearl ear studs and red lip colour.
King T'challa aka Black Panther
If you're still recovering from the untimely passing of Chadwick Boseman, pay tribute to his most popular character by donning a Black Panther costume.
Recreate the look: This is tough to recreate from scratch so unless you're a seamstress with lotsa time, rent a costume instead. Wakanda forever!
Animal Crossing avatars
Another popular video game with multiple costume ideas? Animal Crossing! This is an easy one since you can raid your wardrobe for a casual look. The detail is in your choice of props.
Recreate the look: No matter what, don't forget a bright coloured wig!
Dwight Schrute from The Office
Did you binge-watch The Office during the circuit breaker? Now's your chance to bring to life one of television's most beloved characters, Dwight Schrute.
Recreate the look: Jim Halpert does it best in a hilarious episode. Don a centre parting, pale yellow shirt, tie, aviator glasses and you're good to go. In this case, identity theft is a total joke. Bears, beets, Battlestar Galactica!
Enola Holmes
Those who've seen the mystery film revolving around the sister of Sherlock Holmes can channel Enola herself.
Recreate the look: If you don't have a vintage prairie dress lying around, a red long-sleeved dress will do. Remember to include a pendant necklace and wear a lovely braided bun.
Joe Exotic from Tiger King
There were many shocking discoveries from this crime documentary but we can't forget Joe Exotic's quirky sense of style. You're either going to get a thumbs up from fans of the series or confused stares from uncles.
Recreate the look: Animal prints, the iconic mustache and mullet combo, plus some cool bling are a must! Or get the whole costume set via Amazon.
The gang from Avatar: The Last Airbender
Another series that witnessed a resurgence thanks to Covid-19 is Avatar: The Last Airbender. We love how every character has a unique look – even side characters like Ty Lee, Suki, Uncle Iroh and the cabbage man. But we won't be surprised to see multiple Aangs, Zukos, Kataras, Tophs and Sokkas this year.
Recreate the look: Whether you're going as Aang or Zuko, remember the airbender tattoos and scar; or even an Appa plushie as a bonus! There are various costume rental stores offering the whole shebang.
Phua Chu Kang
Take a trip down memory lane with the best contractor in 'Singapore, JB and some say Batam'. Yup, add a local touch by channelling the series' titular character, PCK himself.
Recreate the look: You'll need a wig, a striped shirt, a facial mole and those yellow boots!
Money Heist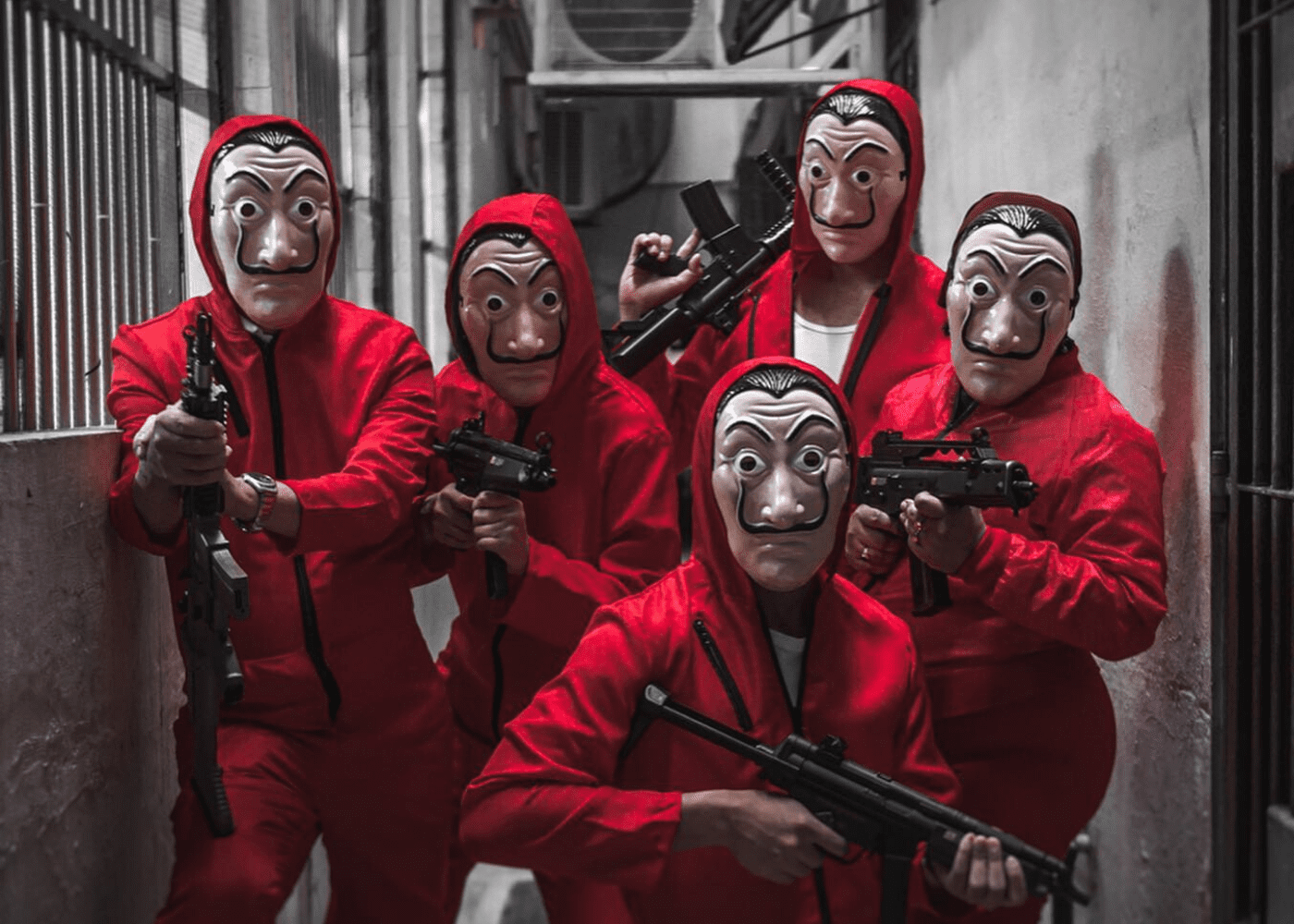 Another popular costume that's great for groups of five? The clan from Spanish crime series Money Heist.
Recreate the look: There's no going around it, the money is on those masks. Accompany your red hoodie with a sling bag and a toy shotgun.
So, which Halloween costume idea is calling your name?