Photography: dcbel via Unsplash
Electric cars are all the rage now. We've scoped out the best electric cars in Singapore for anyone looking to get a new set of wheels.
So you've started your sustainability journey, shopping at zero-waste grocery stores, moving on to eco-friendly beauty products, and sustainable fashion. How about your car? Electric cars now take up more than 10% of new car registrations in Singapore. New electric vehicle (EV) charging stations are popping up in carparks islandwide. That means you'll be able to charge your new ride just about anywhere. Plus, early adopters of EVs can enjoy lower road taxes, and rebates if their car is registered before 31 December 2023. For anyone looking for their next ride, here's a list of electric cars in Singapore that you can choose from.
Best electric cars in Singapore
1. Peugeot e-2008
This may be Peugeot's first ever fully electric SUV, but with the way it drives, you'd think Peugeot's been producing 'em for years. You'll pretty much forget that you're even driving an electric car! Fun fact: when designing the Peugeot 2008 (the petrol version of this car), Peugeot already had the EV version in mind. So you'll find that there are very few differences between the petrol and electric versions of this car. It has a driving range of 345km and emits zero carbon dioxide. There's even an eco driving mode that optimises the battery life and range.
Peugeot e-2008, from $78,888 without COE
2. Opel Mokka-e
Having won the Golden Steering Wheel Best Car in Germany, this EV is giving every other electric car a run for their money. The Golden Steering Wheel is one of the most important awards in the German automobile industry. There are stringent conditions and rigorous tests to go through. Not to mention a round of examination by expert judges. The next-gen battery technology gives you 363km of range on a single charge. And advanced heat management means that the battery will have a long lifespan and range.
Opel Mokka-e, from $180,500 with COE
3. BYD Atto 3
With its Blade Battery technology that's both smaller and lighter than conventional lithium batteries, the BYD Atto 3 boasts a range of 480km. It also has some of the best safety standards in the market. Can we also talk about the design? The "dragon eye" headlights and Dragon Face 3.0 exterior balances the interior. The leather detailing and other designs within the interior take inspiration from fitness and music. There are even strings along the door bins and when you pluck them they mimic guitar strings! The seats are inspired by gaming chairs, and there are cameras all around that function as your dashcam. Although it's a little slower than most EVs out there, you're sure to get a bang for your buck with the other specs.
BYD Atto 3, from $181,888 with COE
4. Volvo Polestar 2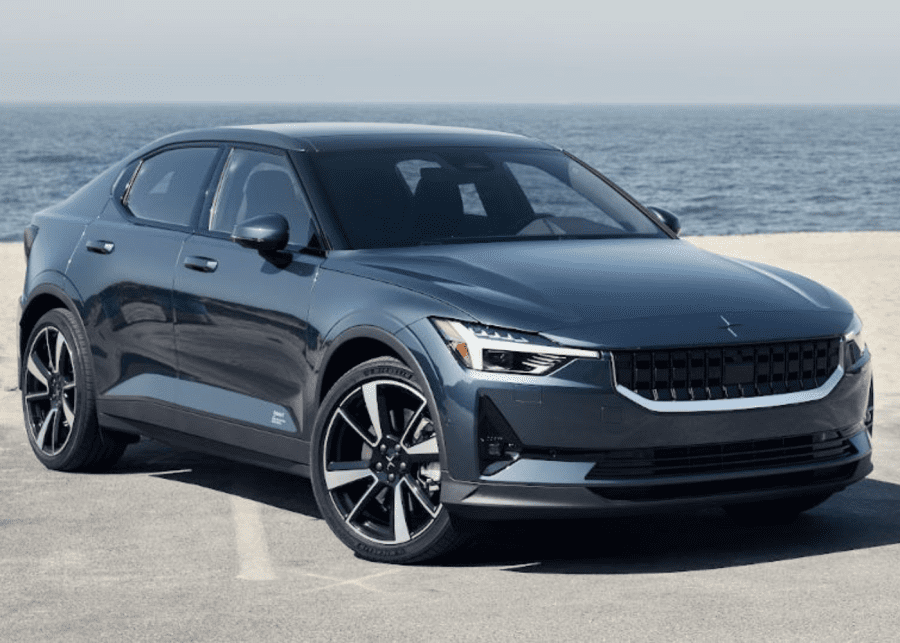 100% electric and 100% performance. Polestar is Volvo's budding performance and electric car division, dedicated to bringing high-tech offerings with modern Swedish design. In very Volvo fashion, you can expect a minimalist design with elements of luxury. The responsive throttle means you can actually get from "0 to 60 in 3.5" (we couldn't resist). Word around the car world is that this is the closest thing you'll get to the Tesla Model 3. So for anyone out there that wants to get the next best thing, this is it.
Volvo Polestar 2, from $242,000 with COE
5. Audi e-tron GT
If you're not a fan of the boxy SUV-style cars, give this car a go. The Gran Turismo car concept is given a new spin with the Audi e-tron GT. Sportiness meets everyday usability in the car's design. The car interior setup is kept driver-centric, futuristic, and classy. Everything within the car is also leather-free, and the upholstery uses resource-efficient materials.
Audi e-tron GT, from $710,940 with COE
6. Mercedes EQB
For the eco-conscious families out there, this seven-seater SUV will be perfect for you. It's the second fully electric compact car from Mercedes' EV line that is both comfortable and powerful. You get the familiar spaciousness of the Mercedes with the new EQB dashboard and infotainment system. The uninterrupted light bars at the front and the back keep the car elegant. And since it's a seven-seater, you can fold the back row seats down for added boot space.
Mercedes EQB, from $291,000 with COE
7. Porsche Taycan
If you think electric cars are boring, maybe the Porsche Taycan can change your mind. The design – right down to the door handles – keeps it aerodynamic and sleek. With a whopping range of up to 512km, you'll be able to get through a whole day of errands without breaking a sweat. The steering wheel buttons are kept simple but accessible so it doesn't clutter up your space. Being a fully electric car, you can say goodbye to rising petrol prices. All you have to do is plug it into a charging station for 30 minutes and you're ready to go.
Porsche Taycan, from $351,958 without COE
8. Tesla Model 3
Alright, we couldn't write an electric car round up without giving a shoutout to Tesla. It's probably the first brand that comes to mind when someone mentions electric vehicles. It has one of the best ranges, going up to 547km. Besides the fun infotainment system with pet-friendly settings, the seats are made of vegan leather and boasts a sleek interior. Tesla still has some kinks to work out with the car build. But you'll find Tesla owners raving about the acceleration capabilities and tech-centred design.
Tesla Model 3, from $114,655 without COE
Buckle up and get the best ride with electric cars in Singapore.