Made with love by a Honeycombers' crafts guru. Photography: Darissa Lee for Honeycombers
Bring your vision to life by creating DIY masterpieces with quality art supplies, stationery and more from Singapore's top craft stores. Here's where to start...
It's easy to find most things in Singapore, whether it's good food, luxury brands kitschy home accessories or locally-made goods. Handicraft stores? Well, if Daiso, Art Friend and Ikea are the only names you know, this rather comprehensive list of arts and crafts stores in Singapore will point you to the other places that sell all the tools, supplies and materials you need for your DIY undertakings. Here's where else to go for the best supplies in Singapore…
Krafer's Paradise
Conquering three floors with its gorgeous range of stationeries, art supplies, scrapbooking needs and all the bits-and-bobs you need for your craft masterpieces, Krafer's Paradise is literally a craft wonderland. Any tools and accessories needed, from stretched canvases and brushes of all sizes to clay and styrofoam shapes, this store has got your back.
Krafer's Paradise, #04-19/20/21, 180 Kitchener Road, City Square Mall, Singapore 208539
Overjoyed
Overjoyed is when you can get your hands on all the necessary craft essentials for an upcoming DIY project from this retail store that offers beautifully designed products for everyday needs. From jewellery craft to paper craft, you can surely find materials of all sorts here. What's more? They also conduct interesting crafty workshops to provide you with fresh ideas that'd keep your creative juices flowing.
Overjoyed, 2 Handy Road, B1-11 The Cathay Singapore 229233
Elsie Department Store
Into sewing? You may or may not know about this tiny shop at Ang Mo Kio. Featuring sewing supplies, buttons, yarn, ribbons, felting wool and even googly eyes, it stocks all your haberdashery needs here. The family-run business has been around for almost 40 years and is truly a hidden treasure. Can't travel all the way to the North? It's also started an online store but we urge you to visit this charming space at least once!
Elsie Department Store, 709 Ang Mo Kio Ave 8, #01-2607, Singapore 560706, also available online at Flying Bear.
Art Friend
From feathers to felt, this store has every variety of craft material waiting to be made into paper dolls, masks or jewellery. The only limit is your imagination! They have stores at Bras Basah Complex, Orchard and its biggest outlet situated at Clementi Central.
Art Friend, multiple locations including Bras Basah Complex and Plaza Singapura.
Typo
It's affordable, accessible, cheeky and always on trend. Yes, we're talking about Typo. What does this stationery shop not have? It's pretty much hit everything from Disney and unicorns to pop culture (we want everything from the Friends TV Series collection) and Harry Potter. Us older kids are still upset that Typo wasn't around during our school days.
Typo, various locations islandwide and online.
Paper Market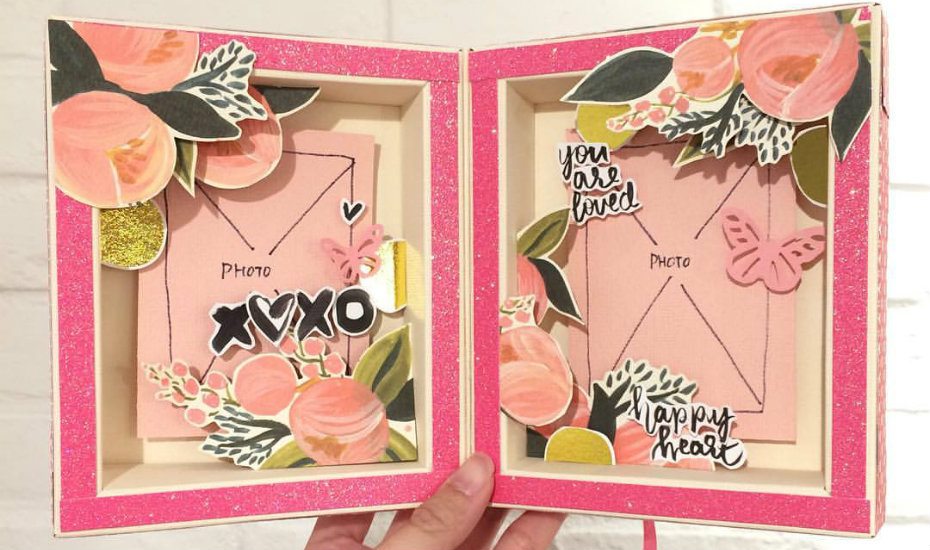 With two stores located at Raffles City Shopping Centre and Plaza Singapura, sourcing materials for a wall collage full of happy snaps is very easy. Paper Market stocks absolutely drool-worthy craft materials and offers a wide range of floral embellishments and unique die-cut tools.
Paper Market, Raffles City Shopping Centre, 252 North Bridge Road, B1-27 Singapore 179103
Tokyu Hands
Think of this all-in-one lifestyle store as Pinterest IRL. Yes, if you ever need some craft-inspo, head over to Tokyu Hands for cool discoveries and all sorts of crafty things such as the latest Japanese stationery, unique items, and the coolest tools and materials great for DIY. And if you're feeling rather ambitious, pick up everything you need to jump on the jewellery-making, flower-arranging and dress-making bandwagon!
Tokyu Hands, available at multiple locations, including Jurong East, Orchard Central and Suntec City.
Fancy Papers
Whether it's matte black or sandy-textured paper, this store offers only the highest quality paper to suit all crafting needs. It's the perfect place if you want to make an out-of-this-world poster for your bedroom wall.
Fancy Papers, #01-26, North Bridge Centre, 420 North Bridge Road, Singapore 188727
Sin Hin Chuan Kee
With all the pretty things under one roof, Sin Hin Chuan Kee (let's just call it SHCK) is quintessential for DIYers who need ribbons, threads, zippers, and fashions accessories like statement buttons in their projects!
Sin Hin Chuan Kee, 200 Jalan Sultan, #01-08 Textile Centre Singapore 199018
Golden Dragon
This oldie (serving crafters since 1949!) is a dream come true for knitters, beaders, stitchers, and quilters. They also have a variety of interesting ideas and crafty gadgets such as the super pom pom maker, flower loom, and Asian knot templates. Golden Dragon also offers lessons on many different types of crafts like shoe beading, paper quilting, and patchworking.
Golden Dragon, #02-51, People's Park Centre, 101 Upper Cross Street, Singapore 058357
Spotlight
Get inspired with materials for arts and crafts, sewing, cooking, decorating and parties at this superstore. Everything from fabrics to clay moulds to wooden shapes to paint on. But be warned, you can get stuck in here.
Spotlight, locations in Plaza Singapura and Westgate.
Daiso
A hop and skip from Spotlight, you will enter $2 heaven: Daiso, Japan's number 1 supplier of homewares, stationery, decorations, art materials and more. Daiso is the perfect spot for anything Halloween; they usually churn out plenty of fun Halloween products as the season is approaching so check it out!
Daiso, various outlets islandwide including Plaza Singapura and ION Orchard.
Klosh
This store has recently been on our radar, popping up at various heartland malls and most recently at Jewel Changi Airport. Maybe it's the quirky "sticky kits" for scrapbooking or fun stationary like the Crocobite hole puncher above, but we can't resist walking into Klosh every time we see it.
Klosh, various locations including Tiong Bahru Plaza, Jewel Changi Airport and Ang Mo Kio Hub, also available online.
IKEA
Everyone's favourite furniture giant is also no stranger to art supplies and craft materials. Its range of art and craft products includes well-priced oil pastels, ink stampers with various designs, watercolour paint boxes, blackboards and nice thick pencils.
IKEA, two locations at Tampines North Drive and Alexandra Road.
Arab Street
Arab Street is definitely a treasure trove of artsy things — from wall art to hipster cafes. Now, add craft stores to the list as we shop at wholesaler Kin Soon (36 Arab Street) for a range of ribbons with different colours and textures, as well as Sin Hin Chuan Kee (796-798 North Bridge Road) for wallet-friendly DIY items like buttons and sequins.
People's Park Centre/Complex
Tucked away in the heart of Chinatown, you'll find a crowded corridor full of textile stores on the second floor of People's Park Centre. Check out Golden Dragon (#02-51), where you'll find great supplies for knitting, sewing or embroidery. At People's Park Complex, make sure to visit Malin Textile (#02-1122) for gorgeous Japanese fabrics.
People's Park Centre, 101 Upper Cross Street, Singapore 058357; People's Park Complex, 1 Park Road, Singapore 059108