Photography: WithAutumn via Facebook & Resin Play
From perfume-making to knitting to wood crafting, these leisurely activities are the perfect stay-home entertainment!
Already mastered the art of cooking and baking with all those hours on your hands? It's time to put on your DIY hat once again and get crafting. Think about it – it's a great way to spend a lazy weekend, and you can even pick up interest in a new hobby. Go all-in hands-on with DIY craft kits and design terrazzo jewellery, terrarium jars, bespoke fragrances, leather accessories, and scented body lotion!
Resin Play
Create a gem of your own with activity kits from Resin Play (from $55). Try the basic starter pack with non-toxic resin to dip your toes into the craft or add a floral touch to your trinket tray pieces with dried pressed blooms and metal leaf flakes. Missing the sunny rays and sandy shores of the beach? Dive into turquoise or blue seascape sets to recreate the beauty of nature at home. Anyone who can't help swooning over pretty terrazzo prints can design their own coasters or jewellery too! Oh, and look out for free live demos on the brand's Instagram to guide you during the circuit breaker season.
Resin Play, available online.
Studio Mu Yu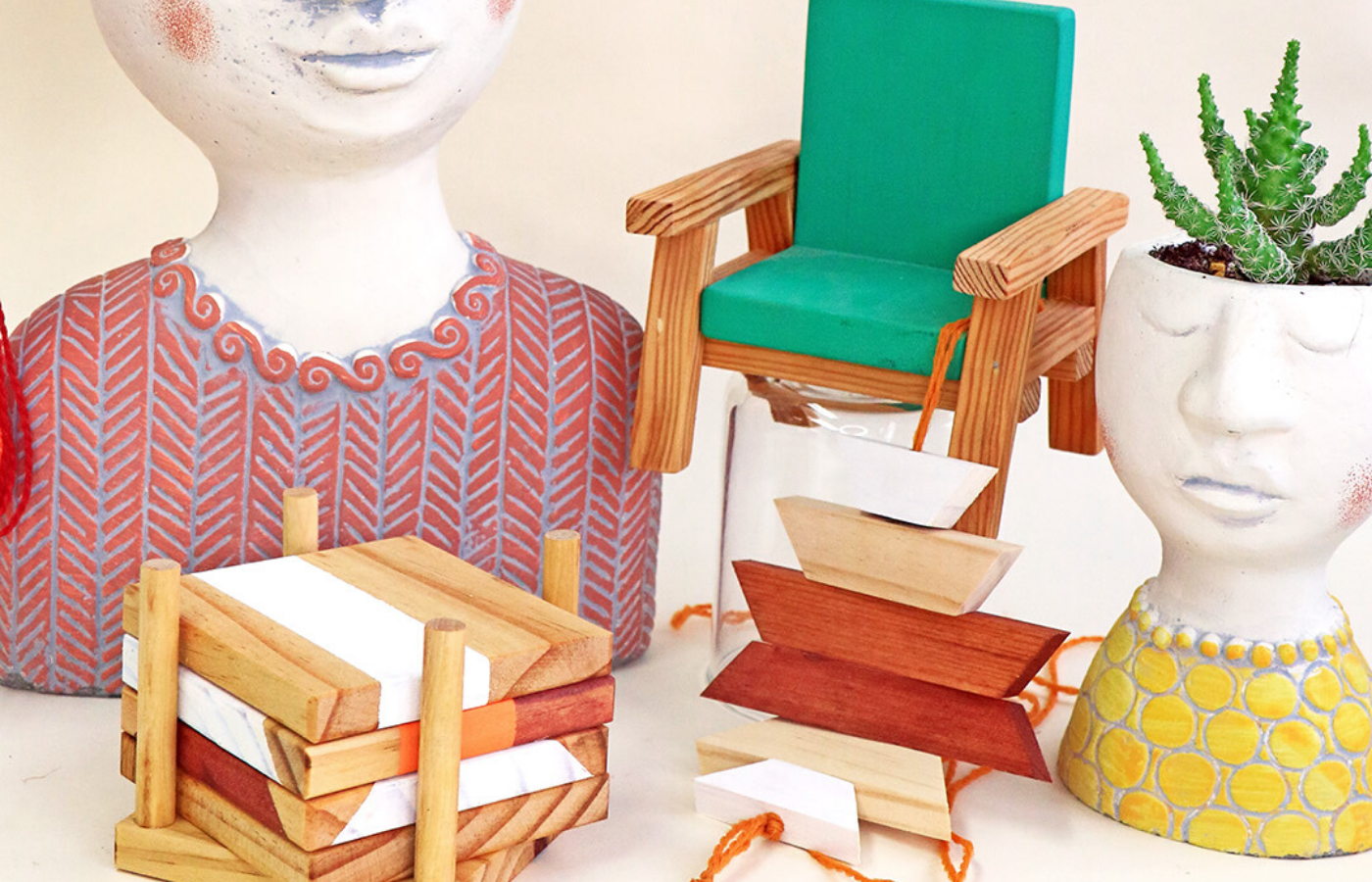 After debuting its jewellery series of DIY kits last month, the local woodcraft brand is back with a sophomore collection featuring five crafts (from $20). Add to the aesthetics of your room with a wall-hanging decor or coaster, piece together a wooden frame for your fave photo, create your own tiny chair that doubles up as a mobile phone stand and a succulent holder, or set the trend with a handmade wooden bag. Raw ingredients in each order include upcycled wood, acrylic paint, wood oil, paintbrushes, sandpaper and gloves.
Studio Mu Yu, available online.
Streaks & Strokes
Create your own artistic masterpiece with Streaks & Strokes, no art or painting experience required! The fun painting kits (for both adults and kiddos) give you all the tools and materials you need to jazz up your t-shirt or tote bag. And you can expect more than just one afternoon of DIY fun: The t-shirt painting kit, for instance, provides a 15ml paint bottle that is sufficient for up to eight painting sessions. This means you can broaden your artistic horizons and use it to spruce up any other cotton shirts or bags you already own. Plus, the fabric paint is durable and your painted item can be washed after just four days. Need extra artsy inspiration? Streaks & Strokes has online painting classes, tutorial videos and a blog with more painting ideas.
Streaks & Strokes, available online.
Plant For Life
Grow your green side with this plant starter kit ($32.99) by Knovus, which supports Lee Ah Mooi Old Age Home by donating $5 from every purchase. For a therapeutic afternoon, grab a few cans or pots lying around your house to plant the four succulents in a mix of black lava stones, white gravel pebbles and coco peat soil. The pack also comes with a pair of rubber gloves, a syringe to water the succulents, and a drainage net.
Plant For Life, available online.
WithAutumn
A natural dye studio that advocates for traditional textile techniques and works with artisans around the world, WithAutumn hosts workshops for all sorts of crafts. Think punch needle embroidery, tapestry weaving and block printing (check out the online classes!). If you'd like to take a stab at it yourself, browse through the selection of DIY craft kits (from $29.90) and try your hand at weaving a star or punch needling shapes like pineapples and puppies.
WithAutumn, available online.
Oo La Lab
Blend a scent that's uniquely you with the help of Oo La Lab's eau de parfum mixology kit ($188). Even better, you can concoct nine fragrances to match your style or your mood for the day. Gravitate towards the top, middle and base notes of your choice, from floral and fruity to amber and woody. Then, settle in snug for an afternoon of endless experimentation as you fiddle around with 12 scents, three limited edition ingredients, a blotter booklet, and glass vials for your finished products. Psst: Use the promo code 'HNCBxOLL15' to get the kit at $150.40, applicable until 30 Dec 2020.
Oo La Lab, available online.
Make Your Own
From calligraphy to dreamscape fountains to acrylic on canvas, these folks sure know what they're doing when it comes to all things DIY. Make Your Own is known for its creative workshops, but since that's a no-go right now, opt for the next best thing and order a craft kit (from $18) to maximise your stay-home experience. What the local brand really excels in is its terrarium jars, which come in various shapes, sizes and forms for you to experiment with.
Make Your Own, available online.
Epic Workshops
Guaranteeing crafters an epic time with stay home kits (from $18), the brand goes for variety in its offerings. So you'd like to practice your calligraphy? Check. Wanna immerse yourself in the world of art jamming? Got it. Interested in leather crafts or clay art? Head this way! It's a one-stop-shop with oodles of fun for the fam.
Epic Workshops, available online.
It Takes Balls
Cheeky name aside, It Takes Balls is a socially responsible studio smitten with knitting. Apart from its cosy ready-to-wear collection, the local label offers cool knit kits (from $55) containing needles, yarn, patterns and other tools. Pick your preferred style and you'll be well on your way to creating your own bag, necklace, scarf, basket, tote, clutch and even wearable items like tank tops, bikinis and sweaters! The best part? Beginners can rest easy as every order comes with free, unlimited lessons so you can keep the ball rolling while you Netflix and knit.
It Takes Balls, available online.
Super Farmers
Bitten by the green bug? Grow your own veggies the easy way at home with an Urban Farming Kit (from $19.90). Containing a bag of organic potting soil, two seed sticks and a growing guide, this bag makes gardening simple and straightforward – even for those who've never been able to keep a succulent alive. Choose between kang kong, Chinese kale (kai lan) and chye sim – or get 'em all in a bundle of three! It's for a good cause, too. Every pack is put together by underprivileged elderly women, and this initiative helps them cover their living expenses.
Super Farmers, available online.
Soaplah
This one's for all the beauty junkies keen to dabble in the art of handmade skincare. Soaplah's DIY lotion kit ($25.90) lets you blend your own concoction with all the ingredients you need. Just pick your fave scent – lavender, rosemary, peppermint, grapefruit or eucalyptus – and start mixing!
Soaplah, available online at Naiise.
BloomBack
A social enterprise with a love for floral art, BloomBack offers a neat selection of DIY craft kits (from $25) for the entire family. Whether you're looking to get crafty with your partner or your little ones, there's a pack of blooms for you. Each stay-home box features items such as preserved flowers, cards and frames for you to design your new standout decor piece.
BloomBack, available online.
Craftsforgreen
Specialising in green thumb gifts, this homegrown brand naturally looks to Mother Nature for its DIY packs (from $17). Grow a googly-eyed pot of wheatgrass, make a rainbow-hued mossarium, assemble open terrariums or plant a succulent in an upcycled container of your own. New to gardening? Every kit comes with care tips and instructions to help you along the way.
Craftsforgreen, available online.
The Fun Empire
If you're running out of things to do at home, fret not. The Fun Empire has all you need to keep entertained without leaving the house. Make your own terrarium, try out art jamming, get hands-on with leather or create flowers and animals using clay. Plus, each kit comes with a simple step-by-step guide – no experience needed!
The Fun Empire, available online.