Photography: Samantha Yeo
Is your Bondee avatar geared up and ready to go? Here are five things you didn't know you could do on this new social networking app.
Haven't heard of Bondee? Well, you're living under a rock because this next-gen social app is blowing up in Asia. Created by Singapore-based tech company, Metadream, this new social networking platform dips its toes into the metaverse. Its functions have been compared to familiar (and nostalgic) games like Habbo Hotel, Animal Crossing and The Sims. Check it out to put your own spin on virtual spaces, create personalised 3D avatars, and interact with friends online.
Like many other users, we were enchanted by the adorable interface of this app. But we struggled to navigate at first, as it came with no instructions. If you're getting started on Bondee and need a helping hand, we've compiled a list of five things you didn't know you could do.
Five cool things to do on the Bondee app
1. Design more than one space
This is probably our favourite activity on the Bondee app (next to dressing up our avatar in cute clothes). Click on the profile icon at the bottom right of the screen, and you'll find a square-shaped space for your avatar to live in. It starts off as a blank canvas, and you can use the app's pre-designed templates or build your own using virtual furniture.
What you might miss? You can actually design more than one space, and swap them around depending on your mood or activity. Think home office, bedroom, living room or the gym. Click on the reset icon to clear a space of all previous furniture, and once you're done decorating, click on save to add it to your list. You can even interact with certain pieces of furniture like the lounge chair or treadmill.
2. Hang out with your friends virtually
If you've got a couple friends on Bondee, you'll know you can start chats with them and hang out virtually on couches and swings or even go clubbing. But did you know you can also set up group chats for up to 10 people? Aside from displaying texts and voice messages, you can watch all your avatars interact together at the bottom of the screen. It's an easy way to make you feel closer to your friends when you're chatting from different corners of the island. We love that the icon for the chat automatically changes into a group photo of everyone too.
3. Go sailing for unique prizes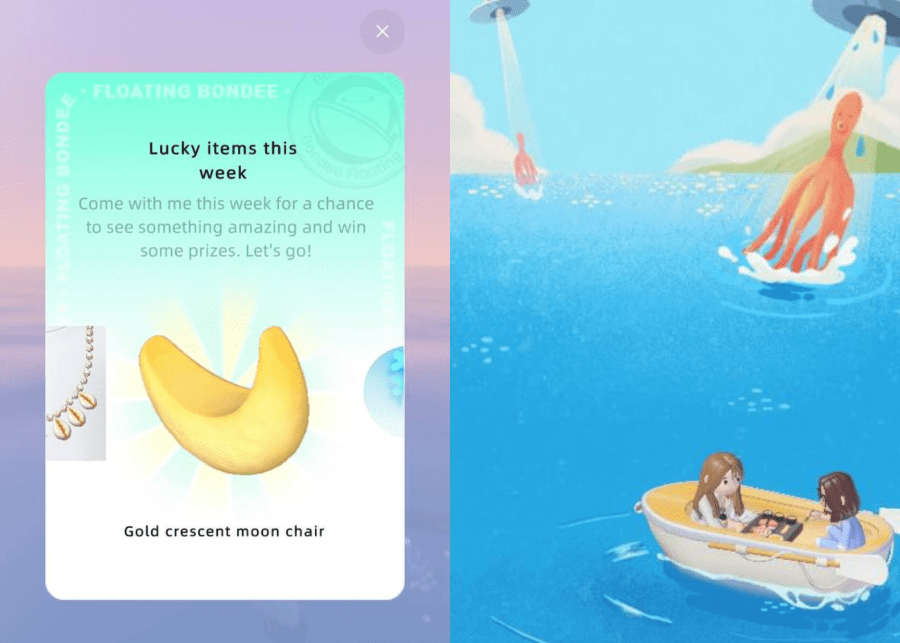 Tap on the sailing icon on the top left of your home screen, and you'll find your avatar sitting on a little boat out at virtual sea. Stay long enough and you may encounter scenic views of mountains, fish, glowing jellyfish, and flowers. We hear this takes some time, and some users leave this sailing option on for hours before chancing upon ethereal views.
If you don't have time for that, don't fret. Click exit on this function, and you'll be given the choice to sail offline with your app running in the background. We like to leave this on because whenever we come back, we're greeted with either cool images of our avatar's sea adventures, or rare clothes and furniture from the lucky items section. We're hoping to snag the gold crescent moon chair this week.
4. Toss a message in a bottle out to sea
Want to make a new friend? Write a message and send it out to sea – you might just hear back from a stranger. You can throw out up to six drift bottles a day. The app encourages you to share your hobbies, skills or thoughts in detail to increase your chances of meeting a like-minded friend. Currently, you can only read another user's response to your drift bottle. You can't send a reply in return. But we're hoping this changes in the near future so you can hold in-depth conversations with new people.
5. Nudge your friends (as if you're on MSN)
Back on the homepage, you can update your status and set an action that corresponds with what you're up to in real life. There's shopping, working, and our personal favourite: unwinding in a bathtub. You get to see what all your other friends are up to as well.
Think someone might have missed your text? If you're a millennial who remembers the good 'ol days of MSN, you'll be pleased to know you can nudge a friend. All you've gotta do is tap on them two times in quick succession. We love seeing their little 3D avatars jolt about.
Got the hang of Bondee yet? We'll see you in the metaverse!