Photography: Anna Shvets via Pexels
Say goodbye to ageing skin with beauty treatments for your face and body at these aesthetic clinics in Singapore.
Want to look your absolute best? We all do! Regular pampering seshes at luxurious spas with facials and massages aside, there's an easy solution to flawless beauty. Enter aesthetic clinics in Singapore and their beauty treatments. They'll keep you in tip-top shape so you can wave farewell to wrinkles, fine lines, double chins and more.
Best aesthetic clinics in Singapore
1. V Medical Aesthetics and Laser Clinic
With over 30 certified doctors and 14 clinic locations islandwide, V Medical Aesthetics and Laser Clinic is the largest medical aesthetics group in Singapore. Swing by to get a consultation with one of its experts in face slimming, non-surgical facelift and pigmentation removal.
Concerned about scarring and pigmentation? Its signature treatments include Pico laser for and more even complexion. For those who are after a more youthful appearance, try the HiFu face lift or 4D laser face lift for a rejuvenating treatment. And if a defined jawline is what you're after, the V-shape face slimming treatment might be up your alley. Make an appointment for a consultation to get expert advice on what's best for your skin goals – other services like eye and acne treatments are available too!
V Medical Aesthetics and Laser Clinic, multiple locations including Tiong Bahru, Woodleigh and Pasir Ris

2. Become Aesthetics Clinic
Safe and clinically-proven aesthetic services are the name of the game at Become Aesthetics Clinic. Led by a team of five medical aesthetic doctors, these experts specialise in innovative anti-ageing skin and face treatments for a younger-looking you. With over 500 positive reviews on social media, you know you're in good hands at Become Aesthetics Clinic!
Treatments include laser and injection procedures to alleviate a range of concerns, like pigmentation, scars, acne, skin laxity, dullness and more. From non-invasive treatments for double chin removal or injections to reduce the appearance of wrinkles, speak to one of the doctors to seek out the most effective and customised treatment for your area of concern. Plus, the clinic has three outlets in convenient central locations, all within walking distance from the MRT, so accessing them will be a breeze!
Become Aesthetics Clinic, multiple locations at Novena, Somerset and City Hall
3. illumia Medical
For bespoke medical aesthetic treatments, visit illumia Medical for beauty enhancements by medical doctors who specialises in long-term solutions – not mere quick fixes! Located in Orchard and Katong, this one-stop aesthetic clinic is your go-to for sustainable enhancements.
If you want rejuvenated skin and more defined visage, try the illumia Elite IQ 5D Reju-Lift. It combines a thread lift and a facial rejuvenation treatment done by the Medical Director, Dr. Ram Nath, who has over 20 years of experience in aesthetics. Looking for a non-surgical facelift? Ask for Dr. Ong Xiang Ning, who will have you covered with the illumia Ulthera 360 Non-Surgical Facelift, which comprises both Ulthera and a skin booster for a lifted and tighter-looking appearance. Another popular pick is the illumia Botox + Pico Laser by Dr. Jason Lau. This treatment promises clearer and brighter skin, with botox as a preventive measure to slow down the formation of lines and wrinkles. Swing by illumia Medical to find out more about its range of services!
illumia Medical, multiple locations including Wheelock Place and Katong
4. Edwin Lim Medical Aesthetic Clinic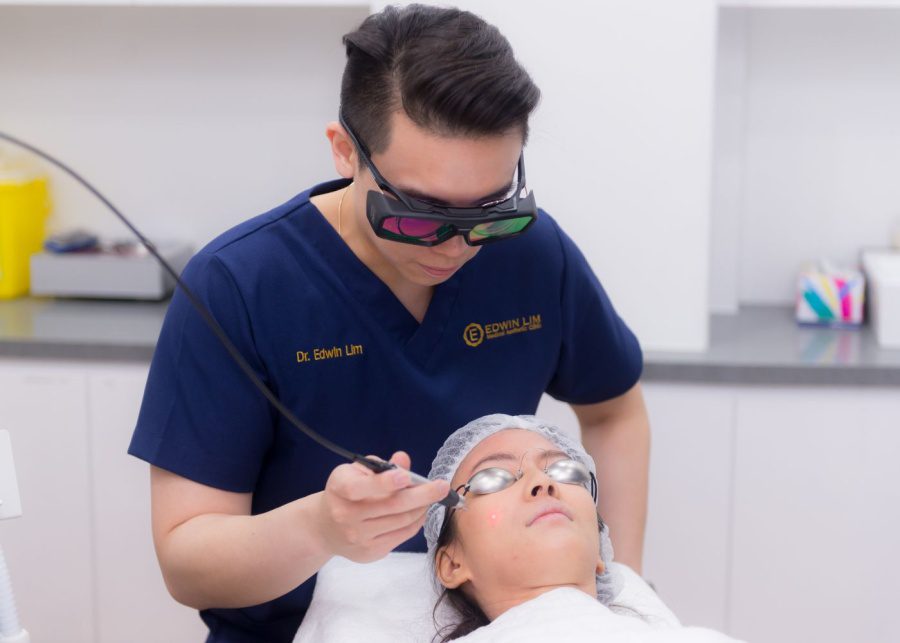 A trusted, safe and effective provider of evidence backed medical aesthetic treatments, this aesthetic clinic was started by Dr Edwin Lim. He strives to empower his patients through enhancements to their visage with minimally invasive treatments. That means little to no downtime after your treatment, so you can get on with your usual activities fast!
Instead of a one-size-fits-all approach, Dr Lim personalises the treatment to your skin type and concerns, so that you're getting the exact solutions you need. There are plenty of options too: from laser treatments for acne and pigmentation, to botox and dermal fillers for facial enhancement, laser removal of moles and acne scars, book a consultation to figure out what you need. With many satisfied clients and testimonials on Google, you're in good hands here.
Edwin Lim Medical Aesthetic Clinic, multiple locations at Changi City Point and Lucky Plaza
5. Shakura Pigmentation Beauty
This whitening and pigmentation specialist from Japan has the solution to your pigmentation problems. Its Shakura Active Formula, used in all its facial treatments, combines milk essence and hibiscus sabdariffa flower (aka roselle) to repair and rehydrate skin. A visit here starts with a skin analysis so the consultants can put together a customised plan for you. Next, it's all about that glow up: the signature Shakura Miroko Whitening Treatment helps to fade dark spots to give you that unblemished skin you've always wanted.
Shakura Pigmentation Beauty, multiple locations including Plaza Singapura and Junction 8
6. The Lifestyle Clinic
Looking for a personalised treatment to address common issues such as acne or pigmentation? Drop by The Lifestyle Clinic for an aesthetic treatment catered to your concerns. Located at Orchard Road, the aesthetic clinic offers treatments such as permanent laser hair removal for men and women, facial tightening, rejuvenation, hyperpigmentation and even hair loss. Avid beauty enthusiasts will be familiar with Profhilo, Juvederm Filler, Hydrafacial, Thermage Face or Thermage Eyes, Rejuran Healer, and Obagi Blue Peel to name a few.
The clinic is particularly known for its acne and scar reduction treatments. Founder Dr Komathy recommends a course of isotretinoin of up to 10 months for moderate to severe acne scars. Or a mix of two to three treatments such as chemical peels to reduce acne breakouts as well as scarring. Despite its prestigious address, The Lifestyle Clinic offers competitive pricing so you don't burn a hole in your pocket.
The Lifestyle Clinic, #12-06, Camden Medical Centre, One Orchard Boulevard, Singapore 248649 
7. See Aesthetics and Medical Clinic
Employing safe and effective technologies in a private, exclusive space, this clinic is helmed by Dr Joseph See, who specialises in aesthetics and anti-ageing medicine. Whether you're gunning to get rid of cellulite, dark circles, moles, spider veins or saggy skin, there's a professional solution here for you. Treatments include advanced pulsed light therapy for hair removal and skin rejuvenation, botox, fillers, and CoolSculpting to remove fat.
See Aesthetics and Medical Clinic, #11-01, Scotts Medical Centre, Pacific Plaza, 9 Scotts Road, Singapore 228210
8. Freia Medical
Freia Medical is helmed by Dr. Harold Ma, Dr. Toby Hui, and Dr. Joanna Chan, who have 35 years of experience in aesthetics medicine between them. So you know you're in well-trained hands. The constant upskilling and updating of equipment keeps the team in line with the best and most up-to-date practices. As it's one of the highly-rated aesthetics clinics in Singapore, you're sure to get top-notch service no matter the procedure – whether it's FUE hair transplants, dermal fillers, botox, skin lifting Ultherapy or Sofwave, laser treatment for hyperpigmentation, fat freezing (removal), or tattoo removal.
These minimally invasive aesthetic treatments are performed safely and effectively by experienced staff at their modern yet cosy, stylish clinics at Novena and Wisma Atria Orchard. If you're in the market for hair loss solutions or hair transplants, there's no better place to be. Freia Medical is one of the top FUE hair transplant clinics with over 15 years of experience in this procedure. Fun fact: Dr. Ma is one of this treatment's pioneering practising physicians in Singapore. He's since mastered the technique which is performed at the clinic on a daily basis for many patients over a decade and counting.
Freia Medical, multiple locations including Royal Square Novena Media Centre and Wisma Atria Office Tower
9. The Clifford Clinic
If you're a busy professional who wants to eliminate the signs of stress from your face, you've come to the right place. The Clifford Clinic offers non-invasive aesthetic treatments with minimal downtime so you can go right back to living your best life. You'll be in trustworthy hands with an array of services that focus on face, hair, body, skin and eyes. Just tell 'em your concerns – whether it's hair loss, stretch mark removal or eye wrinkles – and these experts will give you the best care.
The Clifford Clinic, #01-03, Clifford Centre, 24 Raffles Place, Singapore 048621
10. New York Skin Solutions
Got skin problems? Make this clinic your go-to. It's been around since 2004, with outlets across Singapore and Malaysia offering radiant skin to anyone who walks through the doors. Eliminate those pimple scars and tighten saggy skin with a programme tailored just for you. Say yes to youthful skin with the HydroCollagen+ skin treatment or bid farewell to crow's feet, eye bags and dark circles with the eye rejuvenation treatment.
New York Skin Solutions, multiple locations including Ngee Ann City and Tampines 1
11. Clarion Medical and Aesthetics
Wondering how to get rid of your double chin, tired-looking eyes or saggy skin? Clarion Medical and Aesthetics has the answers. It's easy to age gracefully when you've got the help of these friendly experts. From the face and neck to eyes and hair, you'll be well taken care of. Treatments include lasers for pigmentation and hair removal, microneedling radiofrequency for acne scars and eye bags, and high intensity focused ultrasound for skin tightening. Growing old never looked so good!
Clarion Medical and Aesthetics, #03-17, Thomson Plaza, 301 Upper Thomson Road, Singapore 574408
12. EstheClinic
In the biz for over 20 years, EstheClinic is lauded for its sleek tech that's safe, non-invasive and delivers lasting results. Just pop by for a consultation so the pros can craft a personalised plan for your needs. Its 'no pain, only gain' mantra aims to deliver the best results with minimum discomfort or downtime, so you know you're in good hands. Choose from treatments like IPL hair removal, skin brightening, cellulite removal and skin tightening.
EstheClinic, multiple locations including Tanjong Pagar and East Coast
13. Dr Yvonne Goh Aesthetics
For expert treatments in complete privacy and comfort, head to this award-winning boutique clinic. It's run by Dr Yvonne Goh, who has years of experience in skin treatments and technology. She champions the non-invasive approach to aesthetics, making sure you're in good hands with techniques that are safe and require little to no downtime. Prevention is key to turn back the clock on ageing! So polish up your natural beauty with face and body services such as laser toning, botox, fillers, acne light treatment, stretch marks reduction, hair removal and more.
Dr Yvonne Goh Aesthetics, #09-05, Camden Medical Centre, 1 Orchard Boulevard, Singapore 248649
14. Cutis Medical Laser Clinics
Delete all your photo editing apps, 'cause you won't need them anymore. Get the face, body and skin of your dreams at Cutis Medical Laser Clinics. Conveniently located near Singapore's bustling Orchard Road, this award-winning medical aesthetic clinic in Singapore will help you achieve all your beauty goals. Plus, its treatments are FDA-cleared so you know you're in safe hands.
Want all the right junk in all the right places? Check out its variety of non-invasive body treatments like CoolSculpting, ZLipo and ThermoSculpt to reduce unwanted fat. You can even kick age in the butt with Ultherapy – a gentle procedure that lifts saggy skin by increasing the production of collagen. While you're there, make time for its medical-grade skin rejuvenation facials that tackle common pain points like dull skin, pigmentation and scars. Our top pick? The Crystal Carboxy CO2 Gel Mask that clears pores, reduces acne, and improves fine lines for picture-perfect skin. We're ready for our close up!
Cutis Medical Laser Clinics, #08-07, Scotts Medical Center, Pacific Plaza, 9 Scotts Road, Singapore 228210
With the help of these aesthetic clinics in Singapore, you'll be looking flawless in no time.