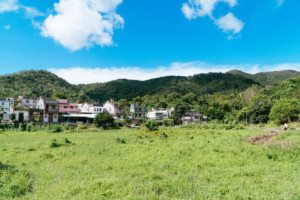 Wu Kau Tang Country Trail is one of our favourite hiking spots in Hong Kong
Whether you are looking to work on your fitness or simply explore more of Hong Kong, Wu Kau Tang Country Trail in the New Territories will take you closer to nature as you walk through different Hakka villages
There are endless shopping possibilities in the city, but we also love the outdoors – think beautiful islands around Hong Kong, cosy picnic spots and educational farms like Holiday Farm. If you enjoy hiking in Hong Kong, try Wu Kau Tang Country Trail! This hike from Luk Keng Village to Wu Kau Tang Village features stunning scenery and the opportunity to visit Hakka villages.
Go hiking at Wu Kau Tang Country Trail and explore Hakka villages
1. Hike start point: Luk Keng Village
Luk Keng Village is the starting point for this moderate level hike that will take approximately five to six hours to complete. The village is actually an undeveloped rural heritage area, meaning you can still see traditional houses rather than huge apartment complexes. We recommend fuelling up at BB Happy Restaurant, a cha chaan teng that serves up a selection of Hakka-style dishes, before heading out.
BB Happy Restaurant, Tai Po Tai Mei Du Long Village 60, Hong Kong, 大埔大美督龍尾村60號
2. Walk to Plover Cove Country Park
After you've eaten and enjoyed taking in the village, walk along Bride's Pool Road for around 30 minutes until you reach Plover Cove Country Park. Enjoy walking along the tree-lined street and see if you can spot some of the colourful birds or butterflies that frequent the area.
Plover Cove Country Park, Bride's Pool Road, Sha Tau Kok, Hong Kong, 新娘潭路
3. Hike Wu Kau Tang Country Trail
Inside Plover Cove Country Park, you will find a signboard that indicates the start of Wu Kau Tang Country Trail. This part of the hike climbs a small hill and winds through the countryside before allowing stunning views of the surrounding nature from the summit.
4. Explore Lai Chi Wo Hakka Village
At the end of Wu Kau Tang Country Trail, you'll find yourself in one of the Hakka villages – Lai Chi Wo Hakka village. This small walled village is now largely abandoned but beautiful architecture can still be seen around the settlement. Alongside the village houses, there are also ancestral halls, a temple and a monastery to explore.
5. Head home along Tiu Tang Lung Path
From Lai Chi Wo, follow Tiu Tang Lung Path and take in views of the nearby Yan Chau Tong Marine Park. After walking for around 40 minutes, you will reach Sam A Tsuen, a small village with some restaurants and vendors selling drinks and snacks. Continue following the path for another 45 minutes until you reach your final destination, Wu Kau Tang village.
This hike is the perfect way to escape the city and explore a lesser-known part of Hong Kong.
Getting there: From Fanling Station, take the 56K green minibus to Luk Keng
Getting home: From Wu Kau Tang, take the 20R green minibus to Tai Po Train Station