Pumpkin spice and everything nice (Photography: katerinasergeevna via Getty Images Signature)
Turkey, gravy, and all the pies... Feast on the best Thanksgiving menus in Hong Kong this year.
As Christmas events and decorations take over Hong Kong, Thanksgiving is creeping up on us first this November! Whether you're gathering with friends or family at fine dining restaurants, or ordering catered takeout menus, our guide to Thanksgiving menus in Hong Kong 2023 will help you celebrate Turkey Day in style.
Best Thanksgiving menus in Hong Kong 2023
1. Dan Ryan's
Treat yourself and your crew to Dan Ryan's special three-course dine-in menu. It features pumpkin soup, roasted turkey with traditional sides like stuffing and candied yams, and ends with a delightful slice of pumpkin pie. Alternatively, opt for the Thanksgiving to-go package that comes with a juicy 12lb turkey with all the trimmings to enjoy in the comfort of your home. Planning larger gatherings? The "thirsty" and "hungry" sets offer wine pairings and extra signature dishes. No matter how you decide to celebrate Turkey Day, you can trust Dan Ryan's authentic menus to deliver a truly American dining experience.
Dan Ryan's has multiple locations across Hong Kong.
2. Smoke & Barrel
Smoke & Barrel is gearing up to serve a feast that'll make your taste buds dance the turkey trot! Picture juicy, slow-smoked Norfolk Bronze Turkeys, crispy potato gratin, honey-glazed veggies, together with its homemade cranberry sauce – all part of Smoke & Barrel's takeout festive turkey package. And let's not sidestep the real star of the show: the BBQ sauces and seasonings that'll make your turkey burst with flavour (figuratively, of course). But hold on, there's more! The team is popping open a bottle of bubbles and tying things up with a heavenly Chocolate & Pecan Pie. Whether you're dining in-house or celebrating at home, Smoke & Barrel is set to bring Texas-style BBQ joy to your 2023 Thanksgiving.
Smoke & Barrel has locations in Central and Kennedy Town.
3. Bostonian Seafood & Grill
Bring the party right to your doorstep with Bostonian Seafood & Grill. With its decked-out Turkey-To-Go takeaway, you can feast like royalty. Sink your teeth into a juicy roasted turkey with chestnut stuffing, paired with classic sides like creamy mashed potatoes and tangy cranberry sauce. And for an extra touch of indulgence, they're throwing in lobster and striploin – talk about a feast! You can order the deluxe set to feed your family, or go all out with the premium set for a bigger gathering. Finally, don't forget to add a sweet treat like the pumpkin cheesecake – because there's always room for dessert. With Bostonian Seafood & Grill's Thanksgiving menu, you just need to heat, eat, and enjoy an epic Turkey Day. The only task left, really, is to unbutton your pants.
Find out more about Bostonian Seafood & Grill's Festive Turkey-To-Go offer.
Bostonian Seafood & Grill, Lower Lobby Level, The Langham, Hong Kong, 8 Peking Road, Tsim Sha Tsui, Hong Kong, p. 2132 7882
4. MâmAmis
Say chào to a feast that blends the comfort of Thanksgiving favourites with the vibrant flavours of Vietnam. At MâmAmis, you can dig into a Roasted Turkey Bánh Mì, where traditional turkey and stuffing harmoniously meet cucumber, pickled carrots, daikon, chicken liver pâté, and a punchy sriracha cranberry aioli. Or perhaps, dive spoon-first into a comforting bowl of Roasted Turkey Pho – a delightful twist on a classic, complete with all the Thanksgiving trimmings. And for those looking to pull out all the stops, MâmAmis' Roasted Turkey Set (for 6 to 8) is sure to be a crowd-pleaser, boasting a turkey marinated in Vietnamese herbs and an array of sides. So, why not mix things up and add a touch of Vietnamese flair to your Thanksgiving in Hong Kong this year?
MâmAmis, Shop A & B, 27 Hillier Street, Sheung Wan, Hong Kong, p. 2893 3309
5. Buenos Aires Polo Club
Transport yourself to Argentina for Thanksgiving celebrations at Buenos Aires Polo Club. Located in the heart of Hong Kong, this steakhouse introduces you to Argentina's rich culinary culture, promising a memorable Thanksgiving with your loved ones. Its Thanksgiving feast on 23 November features a variety of dishes, from provoleta mac 'n' cheese and whipped mashed potatoes to its signature grass-fed General Pico steaks from the asado grill. The star of the show is the traditional smoked turkey, stuffed with chestnut and sausage. And for dessert, who can resist the classics like pumpkin and banana cream pies? It's certainly a Thanksgiving to look forward to at Buenos Aires Polo Club!
Buenos Aires Polo Club, 7/F, 33 Wyndham Street, Central, Hong Kong, p. 2321 8681
6. Feast
For those looking to indulge in a traditional Thanksgiving menu in Hong Kong without the hassle of cooking, Feast offers everything you need for your gathering. Its catering sets star the meal's centrepiece – a juicy 4.5kg roasted whole turkey stuffed with chestnut, bacon, and veggie goodness. Paired with all the trimmings like turkey gravy, cranberry sauce, green bean casserole, and loaded smashed potatoes, this is Thanksgiving done right! Feast also offers sliced turkey, refreshing salads like pomegranate couscous, and sweet treats such as mini berry tarts and Christmas macarons a la carte, so you can customise your menu. Plus, free delivery is included for orders over $1,200.
Find out more about Feast's catering sets.
Feast, Shop E, 5/F, Kai Tak Factory Building Stage II, 99 King Fuk Street, San Po Kong, Hong Kong, p. 5627 3120
7. Mercato Gourmet
Prepare to host a splendid Thanksgiving at home with a little help from Mercato Gourmet, Hong Kong's largest Italian supermarket. Its roasted turkey set, perfect for 3 to 6 people, includes a 3.2 to 4kg roasted whole Australian turkey. This show-stopper comes with classic stuffing, creamy mashed potatoes, and roasted carrots. What's more, you get to choose your favourite sauce and enjoy a bottle of organic Lambrusco to boot. Fancy cooking up your own feast? You can opt to take home a frozen whole turkey. Mercato Gourmet even offers free defrosting and marinating services to make your prep hassle-free! Or, why not pre-order a pre-roasted turkey? Customise it with a variety of stuffings, sauces, and sides like Brussels sprouts and creamed spinach.
Mercato Gourmet has multiple locations across Hong Kong.
8. Flint, JW Marriott Hotel Hong Kong
Renowned grill restaurant, Flint at the JW Marriott, is offering a special four-course Thanksgiving set menu on 23 November, brimming with traditional flavours. Kick off your meal with a starter of your choice, followed by a soup. Next, indulge in a delectable main course, with options like roast turkey or succulent beef tenderloin. To finish, enjoy a sweet finale with festive desserts such as the quintessential pumpkin pie. Do remember: reservations need to be made two days in advance. So, be sure to book your table early to avoid disappointment!
Find out more about Flint's Thanksgiving Four-course Set Lunch and Dinner.
Flint, 5/F, JW Marriott Hotel Hong Kong, Pacific Place, 88 Queensway, Admiralty, Hong Kong, p. 2810 8366
9. Henry, Rosewood Hong Kong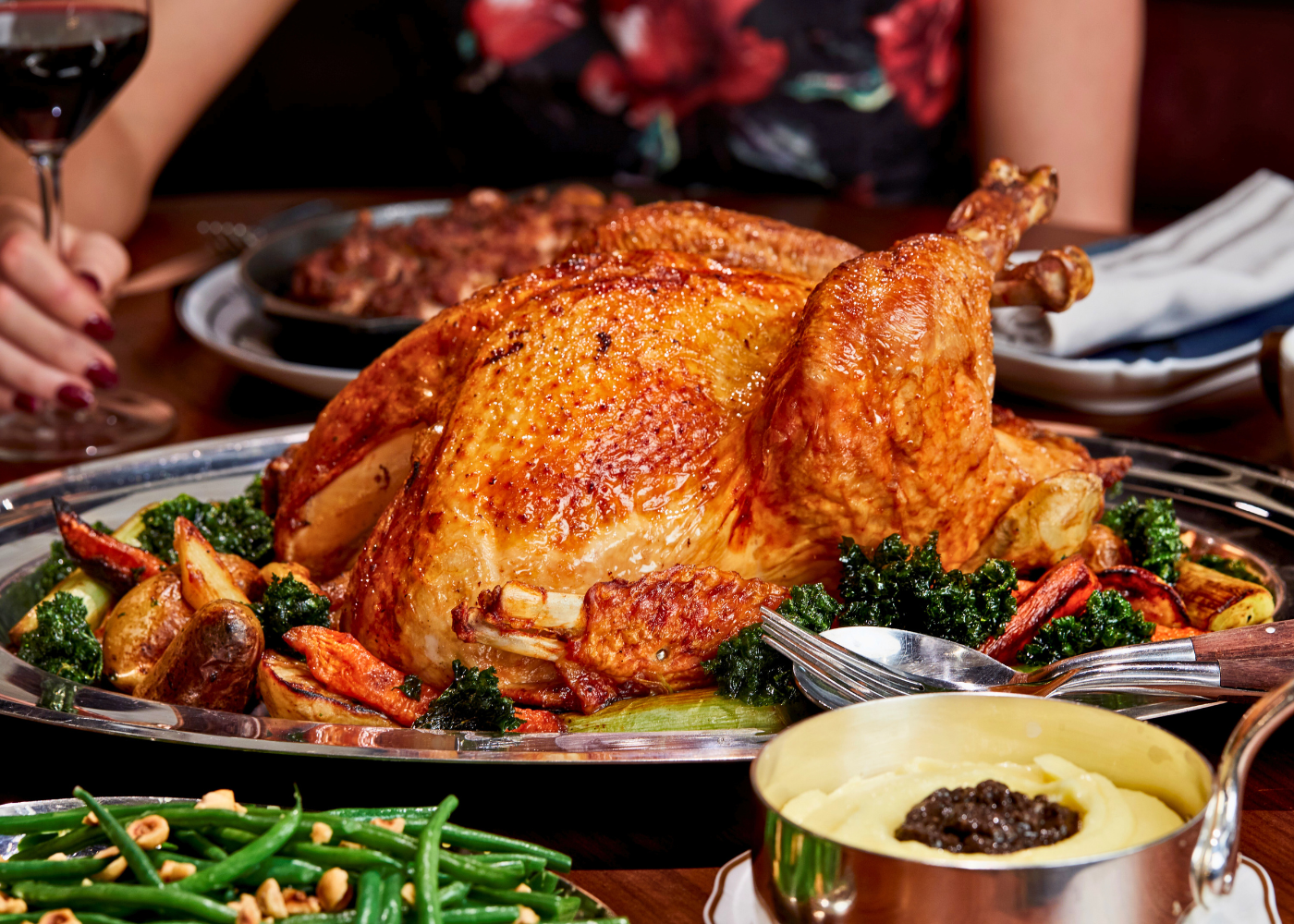 Get ready for an exclusive, one-night-only Thanksgiving dinner at Henry on 23 November. The menu is a spread of five dishes, perfectly capturing the essence of the annual American feast. Start with the succulent Crab Louie salad, then move on to the classic onion soup. But, the real star of the show is the herb-roasted turkey, served with cranberry stuffing and rich turkey gravy, truly embodying the spirit of Thanksgiving. Don't overlook the smoked prime rib either, a dish that boasts aromatic flavours and tender meat, beautifully paired with charred spring onions, horseradish crème fraîche, and veal jus. And to end the meal on a sweet note, indulge in the pumpkin caramel pudding with a cinnamon cream biscuit, creating a perfect blend of sweetness and warmth.
Henry, 5/F, Rosewood Hong Kong, 18 Salisbury Road, Tsim Sha Tsui, Hong Kong, p. 3891 8732
10. Four Seasons Hotel Hong Kong
Unbutton your pants, because the Four Seasons is all set to pack a Thanksgiving takeaway feast that's bound to leave you craving for more. This year, it's serving up a turkey dinner, ready for you to enjoy in the comfort of your own home. We're talking a lavish spread of side dishes that include everything from giblet gravy to cranberry sauce with star anise, glazed chestnuts, and a cornbread stuffing with veal sausage, pear, and dried cranberries – a flavour fest in a box! And let's not forget the dual magic of mashed goodness: roasted Idaho potatoes with herbs, and a delightful pumpkin and sweet potato mash. Available to order from 1 till 20 November, the Thanksgiving feast is ready for pick-up from 17 till 23 November. Just remember to bring your email confirmation for an easy, breezy pickup experience.
Find out more about the Four Seasons Hotel Hong Kong's 2023 Thanksgiving takeaway feast.
Four Seasons Hotel Hong Kong, 8 Finance Street, Central, Hong Kong, p. 3196 8888
11. Please Don't Tell, The Landmark Mandarin Oriental
Looking for an intimate Thanksgiving celebration? Head to Please Don't Tell (PDT), the secret bar hidden within MO Bar. Its holiday feast includes classics like roast turkey or beef with all the trimmings, along with festive desserts like cinnamon ice cream and eggnog. Enjoy it all with a 90-minute free-flow of Roederer bubbly, wine, and punch to toast to the occasion. Guests can also savour PDT's exclusive pumpkin basque burnt cheesecake from the freshly baked series. This cosy 25-seat space does holiday dining right – with hip style, signature drinks, and delicious comfort food.
Please Don't Tell, G/F, The Landmark Mandarin Oriental, 15 Queen's Road Central, Central, Hong Kong, p. 2132 0110