Stock up your pantry with all the healthy staple food items, oil-free snacks and vegan chocolates you need at our favourite health food stores in Hong Kong
Hong Kong has seen a growing number of options for healthy eating and alternative sustainable lifestyles, including much-beloved veggie spots like VEDA and POP Vegan. Now more than ever, it's important to take care of both yourself and the planet, and there's no better place to start than in the kitchen. We give you the guide to the best health food stores in Hong Kong, so you can enjoy all your favourite healthy foods in the comfort of your own home.
Health food stores in Hong Kong
1. Slowood
With multiple locations, including Kennedy Town, Discovery Bay, and Shatin, the waste-free grocery shop Slowood sells all kinds of eco-conscious and sustainable lifestyle alternatives, such as reusable coffee cups and other kitchenware. For healthy staples like quinoa and beans, you're welcome to buy in bulk. You can also find an array of healthy snacks and spices available, such as tahini, vegetable stock cube and other seasonings.
Slowood has branches across Hong Kong.
2. Greendotdot
Specialising in organic Chinese groceries, Greendotdot should be your first stop if you're looking to cook up some local Hong Kong fare. With 20 locations across Hong Kong and online shopping and delivery available, there is never a bad time to stock up on pantry basics.
Greendotdot has branches across Hong Kong.
3. Green Common
Since 2012, social enterprise Green Monday has been dedicated to promoting veganism, vegetarianism and healthy eating in Hong Kong and they opened their first plant-based concept store Green Common at Nan Fun Place. With branches across the city, stop by to browse the shelves for the latest international products, including gluten-free and sugar-free lines, or pick up an array of substitute meat and dairy products from companies like Beyond Meat, Gardin and Daiya. It's the best place to get your vegan sausages and yogurt cups. AND you can sit down for a taste of the impressive Beyond Burger at their restaurant/deli section.
Green Common has branches across Hong Kong.
4. SpiceBox Organics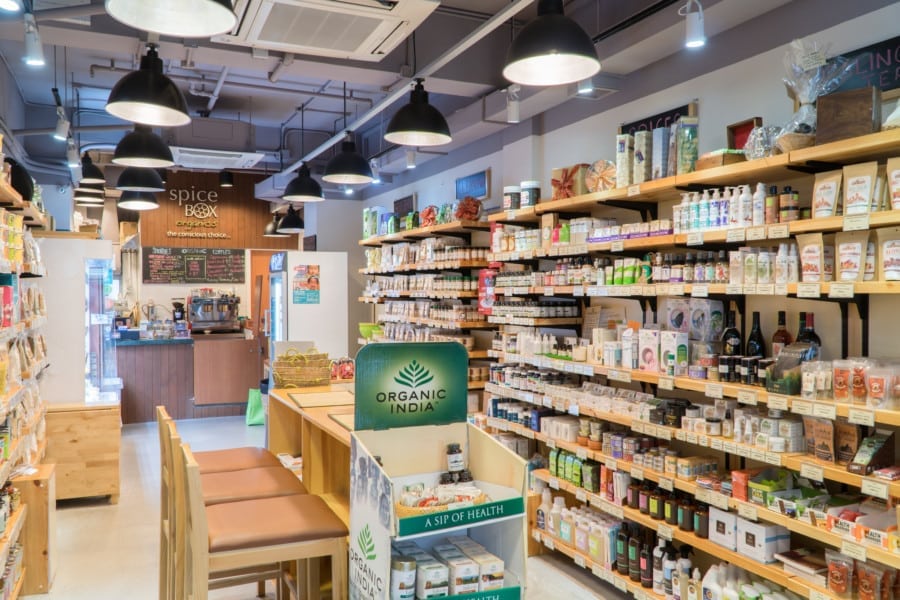 SpiceBox Organics is a cosy health food store and deli with branches across Hong Kong selling an extensive range of superfoods and health products that fulfills the needs of your plant-based pantry. As the name suggests, they are big on spices, so this is a good place to hit if your local supermarket is lacking what you need. They also provide different vegan and vegetarian lunch meals such as vegetarian lasagne, baked samosas, and vegan brownies for customers to take away. Definitely one of the health food stores in Hong Kong that's worth a visit!
Read our full delicious review of Spicebox Organics.
SpiceBox Organics – Mid-Levels, Shop 1, 137 Caine Road, Golden Valley Mansion, Caine Road, Mid-Levels, Hong Kong, p. 2559 9887, 半山堅道137號金谷大廈地下1號舖
5. FoodCraft
Founded in 2016 by the raw food chef Shima Shimizu, FoodCraft offers organic groceries with a focus on gut health and food allergies. Check out their locally-made in-house products such as kimchee-flavoured sauerkraut, raw sprouted walnut pesto, sprouted spelt sourdough boules, and more. They also offers cooking classes and workshops on a variety of topics, including sourdough baking, tofu and sushi making, and kombucha and kefir brewing.
FoodCraft, 16A, Yiu Ga Factory Building, 62 Victoria Road, Kennedy Town, Hong Kong
6. The Store
It doesn't get any easier than ordering organic groceries online with The Store, which offers same-day delivery across Hong Kong Island, Kowloon, and New Territories during week days before 2 pm with a qualifying minimum spend. In addition to organic groceries, they also offer supplements and sports products, such as energy gels, protein powders, glucosamine and chondroitin, and more. With a large selection of international brands, you can often find better prices without the wait of ordering from overseas.
The Store, 33 Wyndham Street, LKF Tower, Central, Hong Kong, p. 9848 5974
7. Food for Life
Food for Life is a hidden gem in Wan Chai. In this health food grocery store, you can locate a diverse range of vegan snacks, such as Pana Chocolate (which is considered the best vegan chocolate ever made!), jalapeño kale chips, and quinoa hummus puffs. Plus, they have of very affordable prices compared to major supermarkets.
Food for Life, 75 Queen's Road East, Wan Chai, Hong Kong, p. 2893 7001, 灣仔皇后大道東75號
8. One Vegan Shop
One Vegan Shop is a neighbourly vegan grocery store that offers a wide selection of cruelty-free essentials, including beauty products, pet food and grooming products. Having sourced different snacks and home products directly imported from the USA, United Kingdom and European countries, this convenience store is a life-saver in New Territories area for health-conscious consumers and pet owners.
One Vegan Shop, Shop 1, G/F, Transport Plaza, 2-6 Fung Cheung Road, Yuen Long, Hong Kong, p. 3620 2212, 元朗鳯翔路2-6號交通廣場地下1號舖
JustGreen (NOW CLOSED)
As one of the biggest health food stores in Hong Kong, JustGreen provides a curated selection of over 10,000 organic foods, superfood, vegan snacks, supplements, as well as fresh vegetables and frozen products. It's undoubtedly a great spot to buy daily necessities like organic shampoos, or pantry staples like packed tempeh, frozen bread loaves and taco shells.
JustGreen has branches across Hong Kong.