Looking to kickstart your healthy diet but haven't got the time to cook? These healthy meal delivery services will sort you out.
Hong Kong is a haven for food lovers and we all know it. Every day is a gourmet venture for us – whether you're looking for the best dim sum, street food, or the most Insta-worthy Hong Kong ice cream parlours. However, there are times when our body calls for a detox, and this is when healthy food comes in. What makes life even sweeter is that now you can have yummy and body-loving treats delivered to your doorstep, thanks to these healthy meal delivery services in Hong Kong.
Healthy meal delivery services in Hong Kong
1. Eatology
Designed by its in-house dietician, Eatology's scientific-based meals are designed for calorie-control, muscle-building, and weight loss purposes respectively. Aside from catering meal plans to vegans, it's known for offering the most customisable experiences of healthy meal plans delivery services in Hong Kong. Ranging from gluten free meals, protein-driven meals, plant-based menu to a tantalising Asian programme, it offers over a hundred recipes for healthy-eaters of different kinds. Priced around $398 each day, Eatology's daily package comes with three meals and two delightful snacks.
Read our review on the 1500-calorie vegan meal plan by Eatology.
Eatology, Unit 4/G, Hong Kong Industrial Building, 444-452 Des Voeux Road West, Kennedy Town, Hong Kong, p. 2368 6891
2. Nosh
Known as the trailblazer of healthy meal delivery services in Hong Kong, all of Nosh's meals are prepared by Chef Kevin James, containing under 550 calories. For those who think healthy eating is boring, hold that thought – Nosh launches new recipes on a weekly basis, featuring ingredients hand-picked from around the world. To get started, simply choose between Asian or Western cuisine, then opt for a Balanced Diet plan, a Muscle Building plan or a Weight Loss plan. What's more, all the meals are delivered in eco-friendly packaging which are designed out of sugar cane and PLA plastic – love that!
We sampled the Western and Asian menus delivered by NOSH.
Order from NOSH online.
3. Nutrition Kitchen
This company's personal-trainer-approved meal plans are what it takes for you to build your desired physique. Depending on whether you want to lose weight or build muscle, its fitness experts would tailor-made plans for you in a 5-day, 9-day or 17-day package. Its meals are split into balanced and low carb types in the sizes of small or regular, with estimated calories listed for each meal on the site. Deliveries are available from Mondays to Fridays covering most districts around Hong Kong Island and Kowloon.
Check out our experience trying Nutrition Kitchen.
Order from Nutrition Kitchen online.
4. Paleo Taste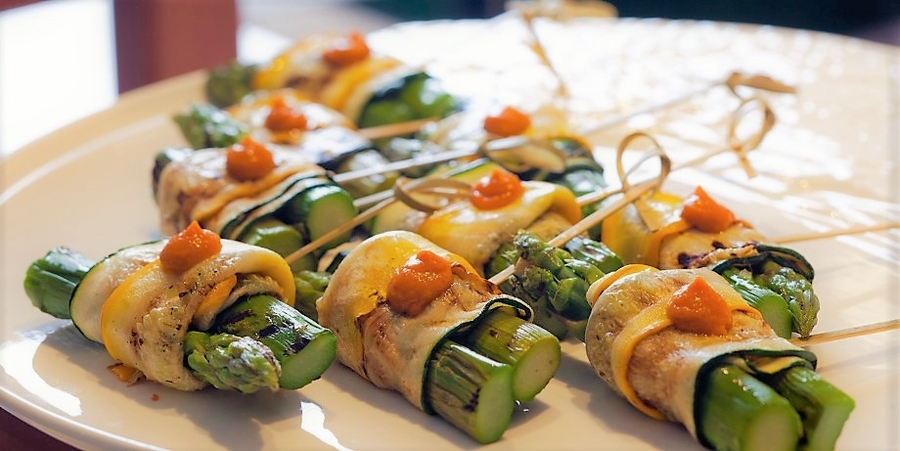 Paleo Taste follows the paleo diet – in other words, be prepared to eat like a caveman (joking, but not really!) Going Paleo is all about returning to our ancestors' way of eating, think wild vegetables, grass-fed meat and in-season fruits. The 100% grain, gluten- and chemical-free menu at this company changes weekly with deliveries taking place on Tuesdays and Thursdays. Orders must be placed online on Sunday or Tuesday night.
Order from Paleo Taste online.
5. The Raw Circus
Many city dwellers kick-start their healthy diets due to a wakeup call of their own or of their loved ones. This was also the case for Jenny Tan, a brand-agency owner who founded the company following her realisation of how going raw vegan benefited her mother in her cancer recovering. The 100% plant-based raw and vegan service offers three meal plan options depending on your commitment in veganism: Raw Gourmet plan, the Detox/Weight Control plan and Stay Fit plan. It also provides catering services in various formats such as canapés, guilt-free cakes and buffet-style dishes, and we can reveal that the food tastes pretty damn delicious.
We tried the gourmet plan by The Raw Circus.
The Raw Circus, 23/F, 12 Wong Chuk Hang Road, Wong Chuk Hang, Hong Kong, p. 5265 1381
6. Youni
Youni, meaning you and I, aims to support customers on their health journey with balanced nutrition. Youni's meals contain a mixture of western and Asian flavours, ranging from Tikka Tikka Chicken to Miso Seafood Soba, and Moroccan Fish Fillet Tagine to Taiwanese Pork Mince. Meal boxes can be collected at their cafes or delivered to your door when ordered three days in advance.
Youni has several locations in Hong Kong.
7. Food Folk
Incorporating non-GMO veggies, pastured animal protein and healthy fats in meal plans, Food Folk supports sustainability and wellness by utilising an array of local ingredients. Their meal programs are one-week long or eight-weeks long, and include a health coaching session, where experts will determine the macronutrients you need according to your health.
Food Folk, Unit A, 14/F, Derrick Industrial Building, Wong Chuk Hang, Hong Kong, p. 3594 6111
8. Fitasty
Fitasty's meal boxes are so delicious that you will fall in love with healthy eating. Using no preservatives and packing meals with a vacuum seal, Fitasty's meal program is not only wholesome but also healthy. What's more, you can flexibly choose the program duration as well as the number of meals per day, ensuring that the plan suits your needs.
Shop Fitasty's meals online or at their locations.
9. Easy Food
If you are on a keto, paleo, low carb or vegetarian diet, Easy Food will be a great choice for you. With menus like fish couscous and paprika chicken, going on a non-mainstream diet will not be as hard as you think. Their program length ranges from two days to a month, and you can customise the number of meals and total calories in a day. Their ordering website is very user-friendly too!
Order Easy Food online.
10. Mealthy
Incorporating plant-based meats like OmniPork and Beyond Meat, Mealthy's programmes are perfect for those struggling to go vegetarian. Delivering meals twice a week, Mealthy ensures customers get to enjoy the freshest food with no preservatives. Choose vegan, standard or low-carb diets for bulking or fat loss, and a tailor-made package will be delivered to your door. The Macronutrients of each meal are also clearly stated, making Mealthy perfect for those who are conscious about nutrition.
Order Mealthy online.
Biorna Quantics (closed)
While surfing this company's website, you'll probably think you've landed on a science and tech platform instead. As a joint venture between an acclaimed chef and scientist, Biorna Quantics curates a seasonally rotating menu tailored to your own genotype. Simply put, you can find out what you should or shouldn't be eating after taking their recommended DNA test. The menu features over seventy dishes in their 4- to 12-week menu cycle which includes functional bars, breakfasts with probiotics to promote healthy digestion, and smoothies packed with antioxidant-rich ingredients. Thanks to its "meal exclusion" function, you can opt out ingredients that you dislike in advance of the deliveries.
Biorna Quantics, Unit D, 22/F, 6 Yip Fat St, Wong Chuk Hang, Hong Kong, p. 2882 6239, 益年工業大廈