You can recreate this irresistible spread at home with Hotel Icon's range of Southeast Asian delicacies
Thanks to food delivery in Hong Kong, we can get fed up right even without leaving the safety and comfort of our homes.
Living in the food paradise that is Hong Kong, we are always on the hunt for beautiful cakes and delicious hot pot. And while al fresco dining and fine dining may give the most uplifting experiences, don't you sometimes just want to enjoy good food while cosied up at home, especially when some frightful virus is raging outside? So, we've rounded up the best food delivery in Hong Kong that will fix your cravings in no time.
Psst – we update this article constantly, so make sure to check back in on the regular for limited-time food delivery deals in Hong Kong!
Best food delivery in Hong Kong for lockdown and quarantine
1. Hotel Icon
Miss travelling to Southeast Asia? Journey to Singapore, Malaysia, and Thailand with Hotel Icon's 'Southeast Asian Cuisine Takeaway' service. With over 30 authentic and mouthwatering dishes on offer, including the classic Bak Kut Teh, Black Pepper Crab, Curry Fish Head with Claypot, Thai Red Curry Seafood Platter, and many more, you'll be spoiled for choice. In addition to the enticing desserts on the menu, durian fans shouldn't miss out on the variety of Malaysian durian flesh  prepared by Executive Chef Danny Ho (aka Durian Prince).
Order Hotel Icon's 'Southeast Asian Cuisine Takeaway' online.
2. The Upper House
If you're looking for a sumptuous feast to share with your family, the food delivery from The Upper House will not disappoint. In addition to the array of Mediterranean-inspired a la carte items, we love the Family Dinner Set from Salisterra, which features a Roasted Whole Miso Marinated Chicken (which is just oh-so-juicy!), FOMO potatoes, Mini Bombolinis, a bottle of rosé and our favourite Saicho Sparkling Tea – all presented in a beautiful, sustainable wooden box. You can also opt for a selection of classic dishes from The Continental, including Gnocchetti with Octopus Ragu, Truffle Stuffed Roast Chicken Breast, 'HK' Sticky Toffee Pudding, amongst others.
Order from Salisterra and The Continental online.
3. Shangri-La To Go
Island Shangri-La, Kowloon Shangri-La, and Kerry Hotel are re-introducing its 'Shangri-La To Go' services. From Japanese bento boxes to sizzling clay pot dishes, to elegant afternoon tea sets, you'll find a variety of premium food and beverage options available. New items from Island Shangri-La include Lobster Bar and Grill's signature dessert pies; classic dim sum from Summer Palace; Three Yellow Chicken Donabe Rice from Restaurant Petrus; and more. There are also new releases over on the Kowloon side, such as the five-course Italian set meal from Angelini, and creative dishes in the takeaway buffet box from Big Bay Café.
Order via the eShops of Island Shangri-La, Kowloon Shangri-La, and Kerry Hotel.
4. JIA Everywhere
If you are fans of Jia Group's restaurants like Chachawan, Duddell's, Louise, and 22 Ships, you have to try their delivery service JIA Everywhere. From a la carte dishes to catering menus, an array of food and beverages from Jia Group's 13 restaurants are available on one platform. To celebrate its recent update, the website is offering 15% off all pick-up orders and 10% off all delivery orders above $800 spending – what more are you waiting for?
Order from JIA Everywhere.
5. Black Sheep GO
From Greek chicken gyros to beef pho, you can enjoy all kinds of cuisines from the 25 locations of Black Sheep Restaurants. That's right, whether you'd like to try the all-new Ho Lee Char Siu Fan from Ho Lee Fook; curated Beiruti Boxes from Maison Libanaise; or fresh-out-of-the-oven pizzas from Motorino; Black Sheep GO has them all. For those looking for healthier food delivery options, order from the Supper Cult, a three- or five-day meal plan for lunch and/or dinner. Moreover, you can now purchase from The Cellar Selection, which offers a rotational selection of wines curated by the expert sommeliers at Black Sheep. Cheers to that!
Order from Black Sheep GO.
6. ZS Delivery
Wanna experience fine dining at home? The Michelin one-starred delicacies from Hansik Goo and Whey are now available for pick-up and delivery via ZS Delivery! If you're craving contemporary Korean cuisine, go for the meal sets created by the team at Hansik Goo. Options include Korean BBQ Trio Home Cook Set for Two, which comes with three kinds of slow-cooked meat; Abalone Samgyetang Sharing Set; and Korean Fried Chicken Bucket. As for Whey, you can go for the Signature Set for Two, which features the restaurant's famous "Bak Kut Teh" New Territories Pork Rib and Curry Laksa Konjac Rice (the latter is our absolute fave!); Singaporean Sharing Set for Two, featuring Grilled Black Cod Sambal and Beef Rendang; and more.
Order from Hansik Goo (at least a day in advance) and Whey (before 2pm on the day of pick-up or delivery).
7. Le Comptoir
Enjoy dishes from from Michelin 2-starred French to traditional Japanese restaurants in the comforts of your own home. Le Comptoir delivers our favourite bites from Poem, Umi, Ecriture, and Silencio. We recommend Fifty Shades of Tuna Maki and Chicken Nanban from Silencio, and Crispy Suckling Pig and Wagyu Short Ribs from Poem.
Order from Le Comptoir.
8. Meraki at Home
Uma Nota, Bedu, and Little Bedu offer delivery from 12 to 9pm (last order is at 9pm and you can expect deliveries by 9.30pm) daily. The Meraki at Home menu from Bedu includes set meals of chicken, prawns, veggie or lamb, as well as à la carte favourites. And for as long as dining restrictions are in place, Bedu is offering a Two For One Menu – a great value for money! You'll find big dishes to share, such as Smoky Hummus, Homemade Pickles, Homemade Flatbread, and Bedu's famous Honey Baked Feta. These are followed by a choice of mains for two, with a Baked Honey Cake to finish. All set lunches and à la carte options from Uma Nota are also available for delivery and as for Little Bedu, enjoy discounts when you go to pick-up and in-person orders.
Find out more about Meraki at Home.
9. Nissa La Bella
Missed your chance to make it to Nissa La Bella for lunch? Or find yourself craving for Southern French food for dinner? Nissa La Bella will be delivering their lunch set for dinner as well from 6-9pm on weekdays. For the set, you can choose to start with either soup or salad and pick your preferred main and indulge in a hearty dessert to finish! Ordering is simple, you can call them or message via Bistrochat.
Nissa La Bella, 10-14 Upper Station Street, Sheung Wan, Hong Kong, p. 9549 3882
10. Nutrition Kitchen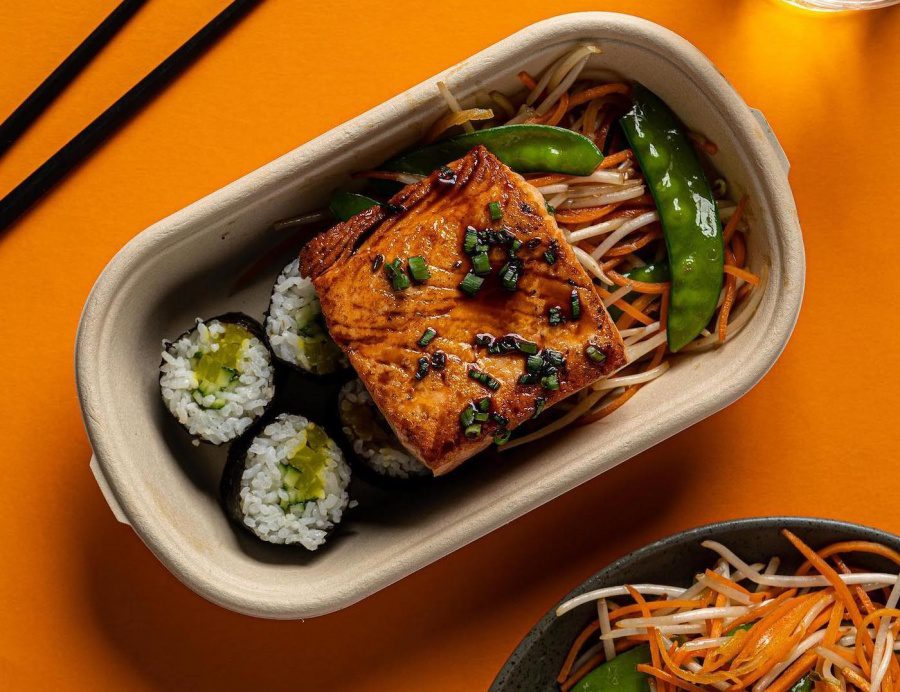 Looking for regular meal plans that are healthy and won't have you shopping for groceries or washing the dishes? Nutrition Kitchen offers regular, flexitarian, and vegetarian meal plans, with different commitment options (two weeks or four weeks). You can count on the team to have your breakfast, lunch, and dinner delivered to your doorstep every morning. All you have to do is heat it up and enjoy! You can take a look at the next week's entire menu before deciding to sign up for the meals.
Check out  our experience with Nutrition Kitchen.
Find out more about Nutrition Kitchen.
11. Foodpanda
A pioneer of food delivery apps, Foodpanda collaborates with over seven-thousand restaurants in Hong Kong, including exclusive vendors such as Gong Cha and CIAK. Their delivery fee is generally cheaper and serves a wider geographic area than some other apps. Other than food delivery, you can also pick up your food from vendors, or shop daily necessities from Pandamart that can be delivered fastest within twenty minutes.
Order from Foodpanda online
12. Deliveroo
Partnering with over eight-thousand restaurants in Hong Kong, Deliveroo has five years of delivery experience in this city. Some Deliveroo-exclusive vendors include Pizza Express, Eric Kayser and The Pasta Project. For users subscribed to Deliveroo Plus ($98 per month), delivery fee can be waived for all orders of $100 or more.
Order from Deliveroo online
13. McDonald's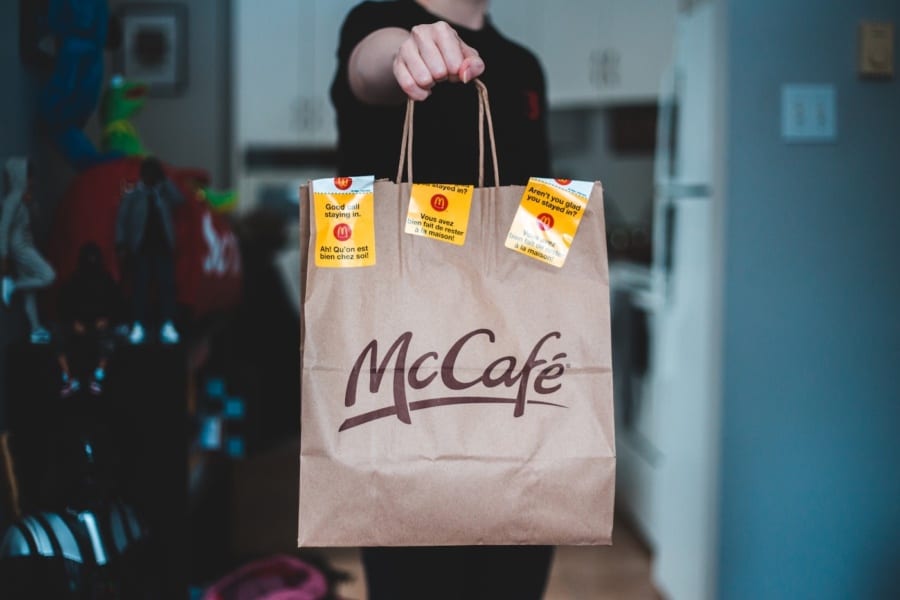 When it comes to the fastest delivery services in Hong Kong, you can never miss out on McDonald's. We love the fact that 24-hour McDelivery does not have delivery fee, plus there are many coupons available on their mobile app. A lot of their combos that come with fries, a burger and a drink cost less than $50, becoming one of the most affordable delivery options in Hong Kong.
Order from McDonald's online
14. KFC
Hands up if you love fried chicken! We have fallen head over heels for KFC's signature fried chicken, egg tart, creamy chicken rice and mashed potatoes. KFC has all kinds of deluxe combos that can cater up to twenty-four people, and they offer different coupons on their mobile app.
Order from KFC online
15. Pizza Hut
Available from 11am to 10:30 pm, Pizza Hut delivery comes with free delivery for orders above $90. Other than a la carte items like Chicken Supreme Pizza and Seafood Fettuccine, huge sets for two to six people are also available. If you use their membership reward system, you can even redeem free food with your accumulated points.
Order from Pizza Hut online.