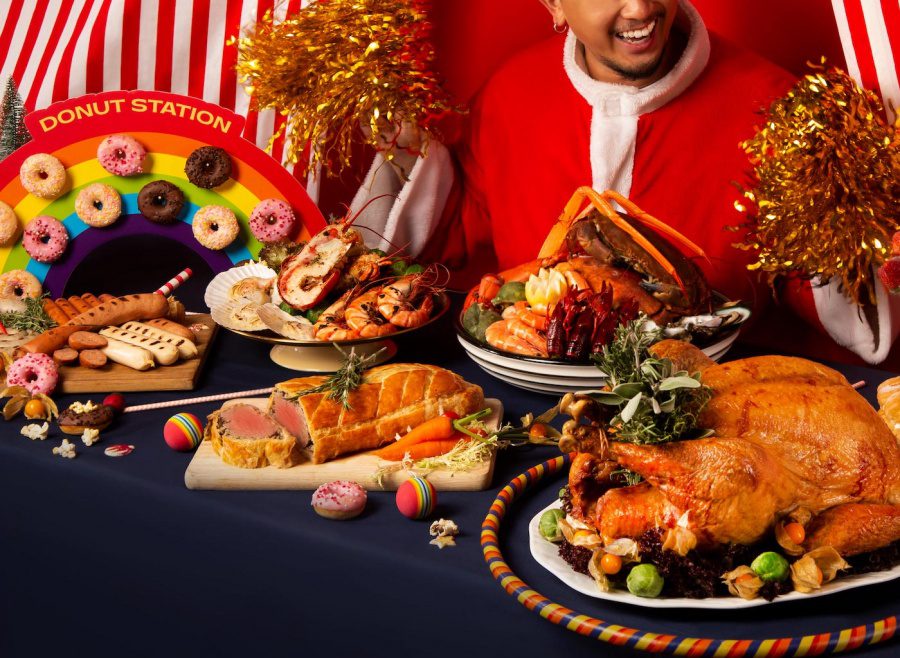 Oh boy! Which should we dig into first?!
We've found the tastiest festive treats and Christmas menus in Hong Kong 2022. From full on festive dinners with all the trimmings to delicious afternoon teas, you won't go hungry this year.
Once you've shopped for Christmas trees and Christmas decorations, it's time to organise your wine delivery for the festive season before scouting out the tastiest Christmas menus in Hong Kong 2022. Luckily, we've done all the leg-work for you and have found the most delicious festive treats, buffets, brunches, lunches and dinners for your eating pleasure. Now go stuff yourself silly with turkey.
Psst – we're still compiling Christmas menus in Hong Kong for 2022, so please stay tuned! In the meantime, here's what happened last Christmas to whet your appetite:
Christmas menus in Hong Kong
1. The Astor
Eaton HK is transforming into a festive wonderland for the entire month of December! The Astor will host a carnival-themed buffet (both lunch and dinner) with traditional Christmas dishes like roast turkey, maple-glazed baked ham, beef wellington, and whole roast suckling pig. One of the must-tries include the grilled lobster with miso sauce and lobster bisque (only available on the weekend). End your buffet with festive desserts like Christmas stollen, panettone, chestnut tarts and more.
The Astor, B1, Eaton HK, 380 Nathan Road, Jordan, Hong Kong, p. 2710 1901
2. Chilli Fagara
Christmas menus in Hong Kong aren't just about turkeys and mince pies! Our fave Sichuan restaurant in Soho, Chilli Fagara, will warm you up with the fiery dishes featured on the nine-course tasting menu (from $818 per person). The feast starts with prosecco along with three appetisers for sharing, such as Baked Clams with Fresh Green Peppercorn, and Lettuce Wraps with Sichuan Preserved Sausages. Next comes the Yin Yang Hot and Sour Soup, with one side holding a broth made with ocean-fresh shrimps, scallops, tofu, and soft sole fish; and the other side featuring pumpkin and crabmeat. Shared mains include the Stir-fried Lobster with Vermicelli, Crispy Fried Lamb Shank, and two other decadent dishes. Finally, the dessert is a Candied Sugar Cage with Fiery Chilli Chocolate Ice Cream. Don't forget to complement your meal with Chilli Fagara's exclusive Fiery Festive Mulled Wine ($128), which is infused with Sichuan peppercorn.
Chilli Fagara's nine-course tasting menu is available from 22 November to 1 January. Note that you need to make a reservation at least two days in advance.
Chilli Fagara, G/F, 7 Old Bailey Street, Central, Hong Kong, p. 2796 6866
3. Beefbar
Wrap up your 2021 with the exquisite Christmas menus at Beefbar, one of our favourite steakhouses in Hong Kong. Crafted by Executive Chef Andrea Spagoni, the menus on offer are the five-course Festive Dinner and the seven-course Christmas & New Year's Eve Dinner. To whet your appetite, the feast begins with the Spot Prawn Caviar; this is followed by highlights such as the juicy Kurobuta Pork Tortelli, served with freshly shaved white truffle; the A5 Omi Striploin Smoked Turnips, cooked to perfection; and the Quince Tarte Champagne Zabaione, which is an Italian dessert with a festive touch.
The five-course Festive Dinner is available until 30 December 2021 (except for 24 and 25
December, while the seven-course Christmas & New Year's Eve Dinner is available on 24, 25 and 31 December.
Beefbar, 2/F, Club Lusitano, 16 Ice House Street, Central, Hong Kong, p. 2110 8853
4. Buenos Aires Polo Club
We always have a jolly good time at Buenos Aires Polo Club, thanks to its scrumptious dishes and lively, lavish vibes. For its Festín de Navidad sharing menu ($898 per person), you will start with three entradas, like the Iberian cured meats platter, and foie gras terrine with Christmas trimmings. And after the lobster bisque, you'll have a choice between three mains: the show-stopping General Pico Black Angus Prime Rib; an 18oz chateaubriand; or add $388 for a Boston lobster, served with chimichurri and lemon. Accompanying your main are some classic sides, such as mashed potatoes, provoleta mac 'n' cheese, golf salad, and more. Your feast will end with a spiced-baked apple with vanilla ice cream.
Buenos Aires Polo Club's Festín de Navidad is available for dinner on 24 December, as well as lunch and dinner on 25 December.
Buenos Aires Polo Club, LKF Tower, 33 Wyndham Street, Central, Hong Kong
5. The Landmark Mandarin Oriental, Hong Kong
All six restaurants and bars at the luxurious The Landmark Mandarin Oriental will be celebrating Christmas with special menus. These include the Festive Brunch at MO Bar (from $718 per person); SOMMkind of Special Festive Brunch and Boxing Day Dinner at SOMM (from $718 per person); four- to eight-course lunch and dinners in the two-Michelin-starred Amber (from 1,788 per person); Year-end Celebration Menus for lunch and dinner at Sushi Shikon and Kappo Rin (from $1,800 per person); Festive Turkey Dinner with 90-minute free-flow at PDT (from $888 per person); and more. In addition, the LMO Festive Delicatessen will be launched online on 1 December. It'll showcase a selection of seasonal delicacies and holiday treats curated by Chef Richard Ekkebus of Amber.
The Landmark Mandarin Oriental, Hong Kong, The Landmark, 15 Queen's Road Central, Central, Hong Kong, p. 2132 0188
6. Feather & Bone
One of the most popular delicatessen and butchers in Hong Kong, Feather & Bone is presenting the Christmas Sharing Menu (from $598 per person) this season. It includes a Roast Turkey Roulade with fig and cinnamon stuffing, served with cranberry sauce and a variety of classic side dishes. The feast wraps up with a Christmas Pudding, Eggnog Custard, a premier Cheese Selection, and a glass of 'Three Butchers' Mulled Wine. For drinks, there are free-flow packages (from $298) available, too. So, feel free to pair your meal with unlimited prosecco, house white wine, 'Three Butchers' shiraz, lager, and non-alcoholic beverages for the ultimate feast.
Feather & Bone's Festive Christmas Sharing Menu and Vegetarian Sharing Menu will be available from 15 November onwards. All bookings must be made three days in advance for a minimum of four guests. Find out more about Feather & Bone's Christmas offerings and menus.
Feather & Bone has multiple locations across Hong Kong.
7. Chaiwala
Vibrant Indian restaurant, Chaiwala, is hosting a Festive Brunch (from $398 per person) and Christmas Dinner Tasting Menu (from $498 per person) to celebrate the holidays this year. Both sharing menus begin with some crowd favourites: Pani Puri with Jal-Jeera, Aloo Tikki Chaat, and Malabar Scallops. There will then be a selection of fresh-off-the-tandoori meats and spiced vegetables, as well as Kerala Fish Curry and Old Delhi Butter Chicken. As you dig into some Bollywood desserts, get ready for an evening of dancing and entertainment at Chaiwala.
Chaiwala's Festive Brunch is available from 12 to 4pm on 25 and 26 December; the Christmas Dinner Tasting Menu is available from 6pm onwards on 24 and 25 December. Find out more about Chaiwala's festive menus.
Chaiwala, Basement, 43-55 Wyndham Street, Central, Hong Kong, p. 2362 8988
8. Frank's Library and Foxglove
Find your way into the depths of Foxglove to Frank's Library, the speakeasy jazz lounge that is currently hosting Hong Kong's most exclusive champagne and caviar bar pop-up – Petite Coupe. Available only in December 2021, you'll be able to taste a series of champagnes from Champagne Pommery, as well as champagne-infused cocktails, including The Roaring 20s, The Red Mill, and La Garçonne. Pair these with premium caviar from the Royal Caviar Club for a deluxe holiday experience. Don't forget to try the Christmas Special Mulled Cider from Foxglove to keep yourself toasty (and tipsy!) before you head out.
Frank's Library, inside Foxglove, G/F, 18 Ice House Street, Central, Hong Kong, p. 2116 2449
9. Ask for Alonzo
From 1-31 December, head to Ask for Alonzo for a family-style feast, complete with free-flow packages. Expect dishes like Piedmont beef ravioli with truffle and roasted jus and red snapper fillet with green asparagus and lemon sauce – both are beautifully executed on the plate and totally Insta-worthy. With the all-vegetarian menu, there's a feast waiting for everyone. There are festive lunch and dinner menus separately – Christmas menus in Hong Kong can't get more fam-friendly than this!
Ask for Alonzo has multiple locations in Hong Kong.

10. Hutong
Have you heard, Hutong has moved? Join the festive cheer at their new location at H Zentre (which still offers stunning skyline views!). Throughout December, the restaurant will be offering festive feasts and two limited-edition cocktails, the Osmanthus Mule and Golden Solstice. Hutong's Winter Solstice Dinner and Festive Dinner both dish out 11 courses, with additional charges for wine or cocktail pairings. The Winter Solstice Dinner will feature brand new innovative dishes, such as the charcoal yu xiang crispy pork dumpling and flaming suckling pig. And the Festive Dinner will have patrons stunned with the flaming Peking duck and the garoupa fillets poached in egg yolk broth.
Hutong, 18/F, H Zentre, 15 Middle Road, Tsim Sha Tsui, Hong Kong, p. 3428 8342
11. Lung King Heen
With the hotel's Christmas mascot Charlie Bear welcoming guests and festive decorations lighting up the entire hotel, the Four Seasons is bringing the Christmas spirit in full force. Head over to Lung King Heen for an extensive nine-course menu on Christmas Day. The special menu includes signatures like diced chicken in coconut curry sauce and wok-fried superior Australian Wagyu beef.
Lung King Heen, Four Seasons Hong Kong, 8 Finance Street, Sheung Wan, Hong Kong, p. 3196 8888
12. Le Garçon Saigon
The festive season is all about sharing the joy with your loved ones, so how about gathering at Le Garçon Saigon for a family-style feast? The Vietnamese restaurant is offering a sharing menu (from $698 per person), which consists of nine dishes, such as toasted banh mi and stir-fried greens, and even free-flow prosecco and house wines – what a sweet deal! A must-try for seafood lovers, the menu features a variety of the freshest catch from the sea. These include oysters, grilled diver scallops served with rice vermicelli, grilled lobster, and more.
Le Garçon Saigon's Le Festival de Saïgon menu is available for dinner on 24 December.
Le Garçon Saigon, 12-18 Wing Fung Street, Wan Chai, Hong Kong, p. 2455 2499
13. La Paloma
How about a Spanish spread this Christmas? Celebrate the holidays at La Paloma on 24 and 25 December with the restaurant's eight-course dinner menu. Dishes include a range of delicious tapas and you can add on their signature lobster paella (which you should!). The meal ends with the festive dessert platter for a sweet taste of Christmas cheer.
La Paloma, 1/F, Soho 189, 189 Queen's Road West, Sai Ying Pun, Hong Kong, p. 2291 6161
14. Roji
Tucked away in a hidden corner of Lan Kwai Fong, celebrate the season wining and dining in one of the city's cosiest izakaya restaurants. Spice it up with a mug of mulled wine or winter-themed cocktails. Head to Roji for Christmas Eve and you won't be disappointed with their signature dishes like hamachi topped with salmon roe and deep-fried chicken katsu. Make sure you stay until after 10pm for free-flow standard drinks, highballs, mulled wine, and sake, as well as live festive beats. There will be drinking games, too, where guests can win dining vouchers, and more.
Roji, G/F, 20A D'Aguilar Street, Lan Kwai Fong, Central, Hong Kong, p. 9884 0704
15. Salisterra
The Upper House is celebrating the festive season with a series of sumptuous menus to mark Salisterra's first seasonal festivities! Bask in the amazing harbour views whilst digging into a plate of smoked chestnut velouté, beef tartare, red prawn cappelletti, roast duck breast, and more. The restaurant is offering a Christmas Eve (either four-course or six-course) dinner, and Christmas day lunch (three-course) and dinner (only a-la-carte).
Salisterra, Level 49, The Upper House, Pacific Place, 88 Queensway, Admiralty, Hong Kong, p. 3968 1106
16. Vive Cake Boutique
Enjoy a Merry Vive-mas with Vive Cake Boutique! This cake shop in Central has created the stunning 'Pretty as Pink' series to celebrate Christmas 2021. Until 31 December, you can find Instagram-worthy delights such as the iconic Blushing Tree, which is made of red velvet buttercream cake with cream cheese; the Pinkalicious Christmas Cupcake Collection, which consists of four petite, adorable cupcakes in earl grey or red velevet flavours; and the Rosy Merry, a true showstopper with elegant frosting and real floral toppings.
Vive Cake Boutique, Shop 3, 1/F, H Queen's, 80 Queen's Road Central, Central, Hong Kong, p. 9602 2869
17. Amalfitana
Available only on Christmas Eve, Christmas Day, and Boxing Day, Amalfitana is offering a three course menu that's light, affordable, and it involves pizza! Start off with the classic Burrata, followed by Alla Bolognese Pizza and tiramisu to finish because it's a sweet time to celebrate! Free-flow will be available for 90 minutes including mulled wine, peroni, prosecco, wines, and soft drinks. Oh, don't forget to try the limited Christmas cocktail, the Christmas Carol, made with candy cane vodka, milk, orange liqueur, and raspberry coulis.
Amalfitana, Yu Yuet Lai Building, Shops D&E, G/F, 43-55 Wyndham Street, Central, Hong Kong, p. 2688 2001
18. Lucciola
Celebrate Christmas in Hong Kong with an authentic Italian flair crafted by Chef de Cuisine Francesco Gava. Treat yourself to a semi-buffet – either brunch or dinner – available from 24 to 26 December. Starting with an Italian aperitivo and Negroni at the bar, you will then be spoiled with a seafood platter consisting of oysters, scampi, and caviar. You can then select your mains and then help yourself to dessert.
Lucciola, 1/F, The Hari, 330 Lockhart Road, Wan Chai, Hong Kong, p. 2129 0333