The Fullerton's thoughtfully assembled hampers give to a good cause
From fine wine to decadent treats, these Christmas hampers in Hong Kong will certainly gift your spirits!
Not sure what to bring to family gatherings this holiday season? You can't go wrong with a Christmas hamper. Filled with premium wine, chocolates, and even stuffed toys, these baskets are bound to have something for everyone. (Though, of course, you can also check out our festive gift guide!) Without further ado, let's dive into some of the best Christmas hampers in Hong Kong for 2023.
Shop these fantastic Christmas hampers in Hong Kong
1. The Fullerton Ocean Park Hotel
Perhaps the most mouthwatering gift this Christmas comes courtesy of The Fullerton Ocean Park Hotel. Its festive hampers brim with foie gras, artisanal chocolates, and freshly baked holiday cookies – all arranged by its expert chef team. And its donations to the Ocean Park Conservation Foundation give these hampers a charitable touch. For palate-pleasing provisions prepared with purpose, The Fullerton's holiday hampers let you gorge with a conscience.
Order The Fullerton Ocean Park Hotel's Christmas hampers online.
The Fullerton Ocean Park Hotel, 3 Ocean Drive, Aberdeen, Hong Kong, p. 2166 7388
2. Gift Hampers HK
Nothing beats the gift of abundance and generosity in the festive season! Pamper your loved ones with the luxurious baskets by Gift Hampers HK, a leading and award-winning hamper specialist. From gourmet chocolate to artisanal cheese, to seasonal treats and premium wines sourced from around the world, the 60 types of Christmas hampers on the platform are all filled to the brim with stunning, scrumptious goodies. What's more, you can customise your basket with personalised messages, boxes, and even balloons to add a thoughtful touch. We also love that Gift Hampers HK takes extra steps to minimise its impact on the environment by using Eco-Plastic Lite packaging, biodegradable cellophane wrapping, and recyclable fillers. You can even make use of the basket recycling programme to receive a $50 voucher (on top of contributing to the planet)! The best thing? All the hampers come with free and super efficient delivery!
Browse the full range of Christmas hampers by Gift Hampers HK.
Shop Gift Hampers HK online.
3. Agnès b. Cafe & Fleuriste
To ring in the Christmas season, Agnès b. Cafe & Fleuriste has crafted a festive collection of indulgent treats and elegant decorations sure to delight. Showcase your holiday spirit with ornate chocolate gift boxes doubling as tree ornaments, or musical tins filled with traditional French cookies. Gift an assortment of smooth truffles and bonbons wrapped in vibrant packaging, or curated hampers brimming with sweets alongside fine French wines.
Get an early bird promotion on Agnès b. Cafe & Fleuriste's Christmas hampers!
Agnès b. Cafe & Fleuriste has multiple locations across Hong Kong.
4. The Upper House
The cool kids know The Upper House is the place to be this holiday season. Its signature House Hamper overflows with gourmet goodies like chocolate chunks, lemon shortbread, and House-marinated olives, plus festive libations crafted by its mixologist. All bundled up in a chic silver leather tote, this hamper is the height of refined revelry. And with a dining voucher for Salisterra included, your holiday feasts are covered, well into the new year.
Order the House Hamper online.
The Upper House, Pacific Place, 88 Queensway, Admiralty, Hong Kong, p. 3968 1000
5. Hush Home x Aromatherapy Associates
If there's one gift that keeps on giving, it's a good night's sleep. This holiday season, Hush Home has partnered with luxury wellness brand Aromatherapy Associates to craft two rejuvenating hampers focused on rest and relaxation. The Luxury Dream Hamper provides all the essentials for unwinding, with a mulberry silk pillowcase, eye mask, aromatherapy atomiser, and Deep Relax essential oil to cue the body for slumber. For at-home pampering, the Deluxe Spa Hamper bundles ultra-plush bath sheets with a trio of aromatic oils to turn your tub into a tranquil oasis. With hand-picked accessories designed to calm the mind and pamper the senses, Hush Home's self-care hampers are the key to making wellness dreams come true this Christmas and into the new year.
Find out more about Hush Home and Aromatherapy Associates' Christmas hampers.
Hush Home has stores in Sheung Wan and Kowloon Bay.
6. JW Marriott Hotel Hong Kong
This Christmas, let JW Marriott Hotel add a five-star touch to your festive hamper gifting. Spoil your loved ones with the JW Festive Gourmet Hamper, a collection overflowing with delights like foie gras mousse, truffle paste, tea, and more. For an elevated experience, opt for the Grand Hamper, offering Moët champagne, artisanal XO sauce, and other luxurious treats. Each hamper from JW Marriott is brimming with gourmet delicacies and premium touches, expertly curated to impress even the most discerning recipients. By seamlessly blending elegant style, exquisite tastes, and thoughtful details, JW Marriott creates hampers that beautifully convey your warmest holiday wishes.
Find out more about JW Marriott Hotel's Christmas hampers.
JW Marriott Hotel Hong Kong, Pacific Place, 88 Queensway, Admiralty, Hong Kong, p. 2810 8366
7. City'super
Enjoy the festive season, thoughtfully curated by City'super. At this premium lifestyle specialty store, you can select from an extensive collection of holiday desserts, featuring treats like Borsari's pandoro Christmas trees or Luca Ciano's panettone. For a dash of family fun, you can DIY a Pop-up Tree Box from Royce. In addition, Citysuper's "Exquisite Eats" is a showcase of quality ingredients and ready-to-cook selections, perfect for those aspiring chefs among you! With one-stop party platters, premium gift sets, and cheer-filled homewares, City'super makes festive gifting an absolute breeze.
City'super has multiple locations across Hong Kong.
8. W Hong Kong
Give the gift of luxury this season with W Hong Kong's lavish hampers. The W Luxury Festive Hamper neatly wraps up a selection of treats including pandoro, honey, and biscuits. For a bit of sparkle, consider the Curio Hamper, featuring sparkling wine and mulled wine tea. But if you're really looking to push the boat out, the Remix Luxury Hamper is for you. Aptly named, it comes as an entire suitcase bursting with luxuries like Veuve Clicquot Champagne, nougats, olive oil, and more. W's hampers are thoughtfully curated, blending gourmet edibles with stylish accessories for a lavish touch.
Find out more about W Hong Kong's festive hampers.
W Hong Kong, 1 Austin Road West, Kowloon, Hong Kong, p. 3717 2992
9. Fortnum & Mason
Make spirits bright this Christmas with Fortnum & Mason's hampers, filled with myriad edible luxuries. With over 300 years of experience in perfecting the art of festive hamper-giving, Fortnum's is undoubtedly the expert in curating Christmas cheer in sophisticated baskets. For the ultimate holiday treat, opt for The Christmas Collection Hamper, overflowing with the British icon's sweet biscuits, chocolates, and signature teas housed in a keepsake musical tin. More modest budgets will adore The Merrymaker's Hamper, packed with delicious items such as tea, pudding, and chocolate reindeer noses.
Fortnum & Mason, Shop 022&122, G/F, K11 Musea, Victoria Dockside, 18 Salisbury Road, Tsim Sha Tsui, Hong Kong, p. 3916 8100
10. The Cakery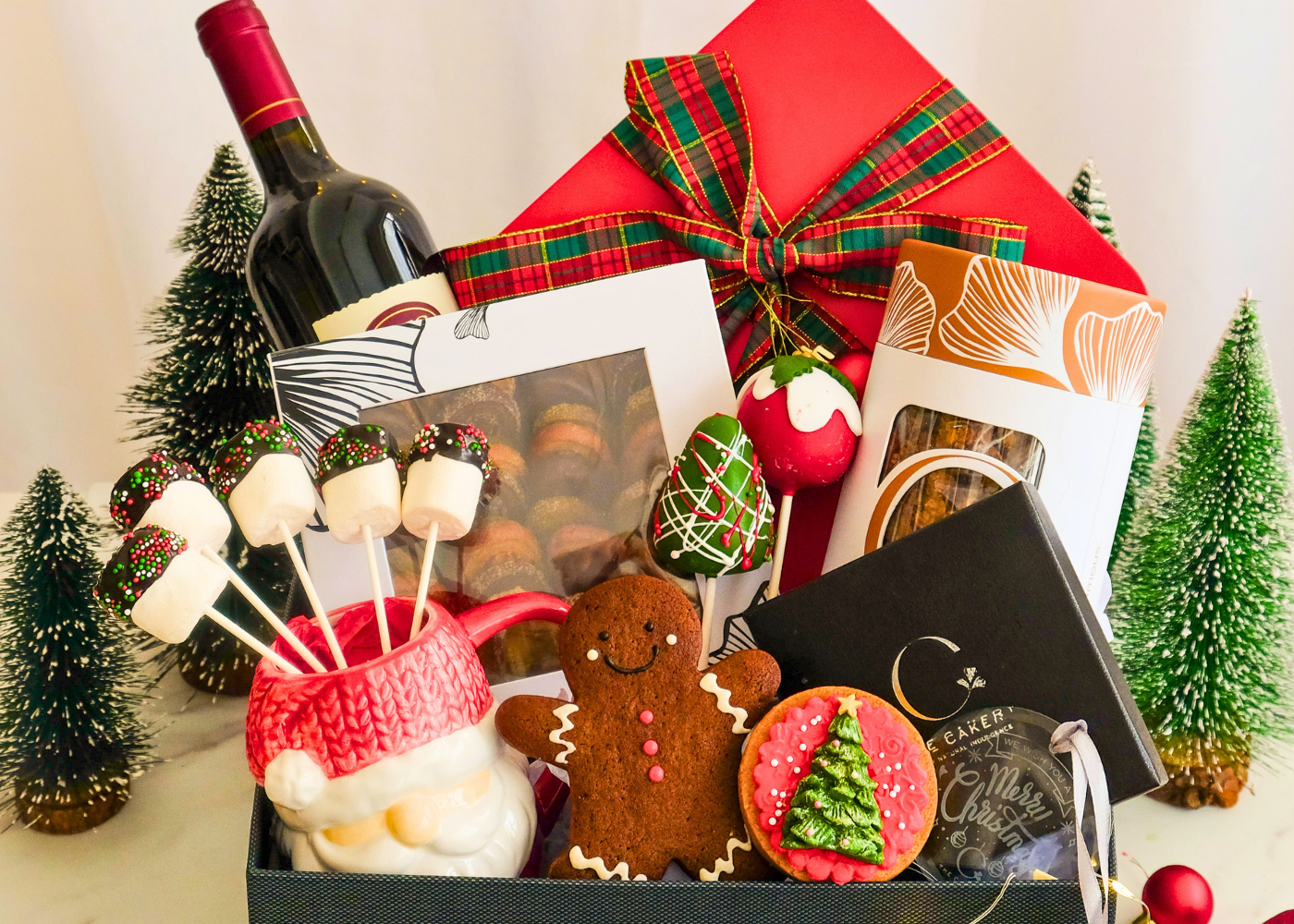 Christmas wouldn't be complete without The Cakery's anticipated vegan hampers, available in various sizes for any celebration. Each hamper overflows with the bakery's wholesome holiday treats, from sugar-free cookies to chocolate-covered cake pops, thoughtfully crafted to spread nostalgic joy. The Cakery keeps things light yet delightfully festive with ingredients focused on nutrition, so you can indulge in holiday classics guilt-free. And with ornamental additions like cookie gift boxes and keepsake baubles, its hampers double as decor.
Shop The Cakery's holiday hampers online.
The Cakery has multiple locations across Hong Kong.
11. Bacha Coffee
A reputable Moroccan chain, Bacha Coffee offers you the charming opportunity to curate bespoke gift sets for the coffee aficionado. You can choose from five distinct hamper sizes, each one showcasing the brand's premium Arabica beans and top-notch brewing gear. To add a touch of personalisation, you can customise each gift with thoughtful notes and selections, all tailored to your recipient's taste. Love a little bite to go with the java? New festive additions, such as gingerbread and zesty lemon biscuits, provide delightful edible accents to your gift set.
Bacha Coffee, Shop 1063, 1/F, IFC Mall, 8 Finance Street, Central, Hong Kong, p. 2301 1910
12. Vermillion Lifestyle
There's no better way to indulge in the festive season than with Vermillion Lifestyle's opulent hampers, brimming with artisanal delicacies from across Asia. For lavish celebrations, the Health & Wealth hamper overflows with gold-dusted treats, mulled wine candles, and premium teas, and chocolates fit for royalty. Or, opt for the medium-sized Surprise & Delights hamper, packed with glassware, Christmas tea blends, hazelnut chocolates, and more to tickle the taste buds. Hosting an intimate gathering? Vermillion's petite Smiles hamper is perfect, as it contains chinaware, fruit tea sachets, crisps, and other tasty morsels sized just right. With hand-picked items exuding quality craftsmanship, each thoughtfully curated hamper from Vermillion Lifestyle offers a taste of Asia's rich heritage.
Shop Vermillion Lifestyle online.