There are two Christmas hampers curated by Hong Kong SkyCity Marriott Hotel this year
From fine wine to decadent treats, these Christmas hampers in Hong Kong will certainly gift your spirits!
Not sure what to bring to family gatherings this holiday season? You can't go wrong with a Christmas hamper. Filled with premium wine, food, confectionery, and even stuffed toys, these baskets are bound to have something for everyone. (Though, of course, you can also check out our gift guides!) Without further ado, let's dive into some of the best Christmas hampers in Hong Kong for 2021.
Shop these fantastic Christmas hampers in Hong Kong
1. Hong Kong SkyCity Marriott Hotel
Visit the life-sized gingerbread house at SkyCity Marriott to browse the hotel's wide range of Christmas hampers and confectionery. Inside the Deluxe Hamper ($1,988) and Premium Hamper ($2,988) are luxurious treats such as homemade SkyCity Marriott Smoked Salmon Premium X.O. Sauce, honeycomb (you know why we love this one!), foie gras pate, champagne, and more.
Hong Kong SkyCity Marriott Hotel, Hong Kong International Airport, 1 Sky City Road East, Lantau Island, Hong Kong
2. Four Seasons Hotel Hong Kong
Treat yourself and your loved ones to some five-star luxury this holiday with the Christmas Hampers from the Four Seasons. There are three sets of Christmas hampers in total available on the Hotel's eShop: the Gourmet Hamper ($2,800), Deluxe Hamper ($4,300), and the Ultimate Hamper ($12,880). Each contains decadent items, such as red wine, champagne, foie gras, classic palmier, and many more.
Four Seasons Hotel Hong Kong, 8 Finance Street, Central, Hong Kong, p. 3196 8888
3. Mandarin Oriental, Hong Kong
Mandarin Oriental is offering a range of festive delights this season, including four Christmas hampers on its eShop: The Hamper ($2,188), Traditional Hamper ($3,188), East and West Hamper ($4,188), and the Deluxe Gourmet Hamper ($5,188). Each of these contains a different combination of items, but the hamper that's caught our eye is the East and West Hamper, as it showcases some of the most unique ingredients from around the world. You'll find bird's nest, Chinese preserved sausage, and dried scallop, but also smoked salmon, Iberico ham, and more.
Furthermore, as part of EcoDrive's #GiftBetter2021 Campaign, the hampers from Mandarin Oriental come with alternative packing options to help the planet. Using plastic-lite, reusable hampers instead of styrofoam and mesh fruit packaging, you, too, can make a positive impact on the environment this holiday.
Mandarin Oriental, Hong Kong, 5 Connaught Road Central, Central, Hong Kong, p. 2522 0111
4. Artisan Lounge
Share the love and festive cheer with social enterprises in Hong Kong by purchasing Christmas hampers from Artisan Lounge. Each hamper comes with a laser-carved coaster, crafted by Cedar Workshop and Ebenezer School & Home for the Visually Impaired. The Lounge offers two exclusive hampers this year: 'All I Want For' (from $2,588), which contains premium items sourced from around the world; and 'Holly Jolly' (from $1,688), which features a selection of artisanal products. For an extra cost, you can also upgrade your bottle of wine, or add an extra bottle of champagne to complete your bundle.
Artisan Lounge, Shop 008, K11 Musea, 18 Salisbury Road, Tsim Sha Tsui, Hong Kong, p. 2601 3428

5. Chilli Fagara
In search of something to warm you up this winter? Chilli Fagara is turning the heat up with two indulgent Christmas hampers, filled with chilli-infused goodies for spice lovers. Firstly, the Small Hamper ($588) contains various types of chillies, sauces, star anise (for a festive touch), noodles, and Chinese liquor. Alternatively, you can opt for the Premium Hamper ($1,588), complete with Sichuan delicacies and handmade artisanal goods. These include Chef Chan's signature Chilli Powder, a mulled wine pack, dining vouchers worth $300, and more. Psst – early birds can enjoy 15% off from 22 November to 12 December 2021, so get shopping!
Chilli Fagara, 7 Old Bailey Street, Central, Hong Kong, p. 2796 6866
6. Feather & Bone
Go FAB and festive this season with Feather & Bone's Christmas hampers! The brand is offering three hampers in 2021: the Merry Little Christmas hamper ($888), which contains pantry essentials, snacks, and wines; the Jolly Jamboree ($1,488), which comprises several sauces, seasonings, champagne, and other winter delicacies; and the lavish Jingle Bell Rock hamper ($2,288), filled to the brim with treats and kitchenware crafted by local artisans, as well as champagne, foie gras, and other luxurious items. Simply head to Feather & Bone's online store to make your purchase.
BTW, we also love the two quarantine hampers by FAB (both $1,198), which are available all year round – perfect for surprising your friends and family in quarantine!
Feather & Bone has various branches across Hong Kong.
7. Green Common
Spread festive joy to the community with 'Be Kind' Christmas hampers. With 5% of the selling price going towards Feeding HK and Impact HK, Green Common's 'Be Kind' bundles feature healthy and eco-friendly items that give back to the underprivileged groups in Hong Kong. Each of the four charity Christmas hampers and gift sets contains a selection of plant-based treats, including snacks and vegan wine. Moreover, two of the Christmas hampers are wrapped in water-soluble #INVISIBLEBAG, which is biodegradable, microplastic-free, and non-toxic.
Green Common has multiple branches across Hong Kong.
8. Steak King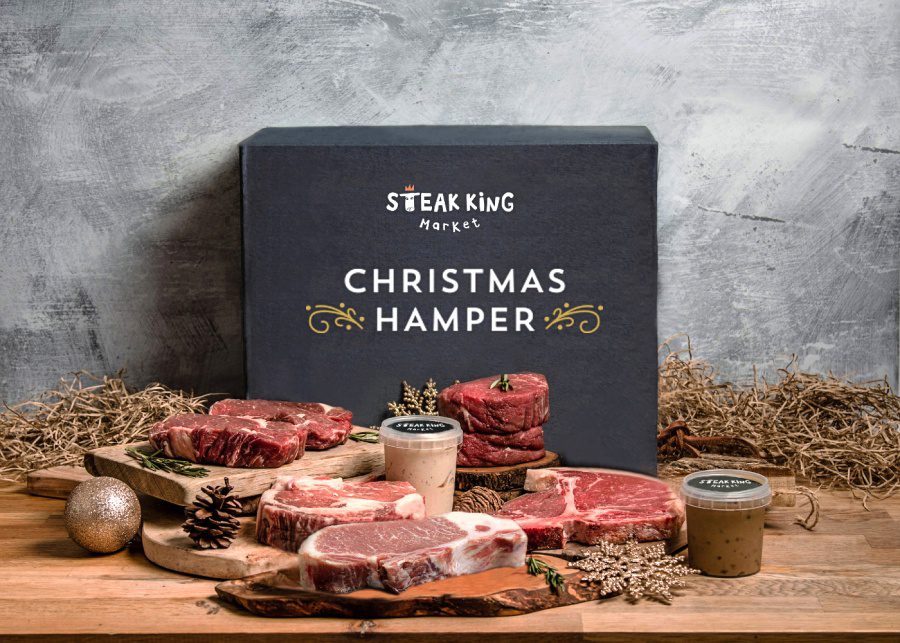 Seeking the perfect present for your carnivorous friends? Look no further, because Steak King's Premium Steak Hamper ($2,400) and Ready-to-eat Christmas Party Set ($2,900) will have you covered. The former features two USDA prime NY strip steak, two USDA prime ribeye, one bone-in ribeye, one bone-in porterhouse, two Iberico pork chops, and two peppercorn sauces – totalling to almost 4kg worth of steaks! And if you're planning a traditional and fancy Christmas dinner, Steak King's Ready-to-eat Christmas party set will keep things hassle-free. The set is fit for groups of seven to ten, as it includes a 7kg free-range Canadian turkey (brined and sous vide cooked); sage and onion stuffing; duck fat roasted potatoes; pigs in blankets; roasted parsnips and carrots; brussels sprouts; gravy; and cranberry sauce. What a feast!
Steak King, 16A Kwai Bo Industrial Building, 40 Wong Chuk Hang Road, Wong Chuk Hang, Hong Kong, p. 9095 1817