Unleash your inner artist at The Park Lane's CNY-exclusive art jamming session
Whether you're looking for conventional Chinese New Year events in Hong Kong, or interesting exhibitions to feel the vibes, we have you covered!
Hong Kong may be known for its happy hours and scrumptious brunches, but when it comes to Chinese New Year, it's a whole different scene. From receiving red packets to indulging in auspicious Chinese New Year food like homemade Cantonese turnip cake, it's the time of year when families reunite to celebrate and pray for good fortune. So, if you're in search of the best Chinese New Year events in Hong Kong to enjoy with your loved ones, look no further than our top picks below.
Kung hei fat choy! 2023 Chinese New Year events in Hong Kong
1. The Park Lane Hong Kong, a Pullman Hotel
One of our fave hotels for staycations in Hong Kong, The Park Lane is the ideal urban retreat for you and your loved ones this Lunar New Year. Its festive family staycation package (from $1,329 per night) includes one-night accommodation of your choice; buffet breakfast for two adults and one child at Playt; access to the fitness centre; one jumper ticket to Ryze Hong Kong or one child ticket to Real Expert PlayFun Zone (Causeway Bay); and more. Plus, the popular art jamming session at The Park Lane is adding its own CNY twist, making it a fun and therapeutic experience for the holidays.
Discover more about the staycation deals at The Park Lane.
The Park Lane Hong Kong, a Pullman Hotel, 310 Gloucester Road, Causeway Bay, Hong Kong, p. 2293 8888
2. Lion Dance at The Peninsula
For over 40 years, The Peninsula has dazzled its audience with its Chinese New Year event – a vibrant lion and dragon dance. Taking place on the morning of Sunday 22 January, nine lions and one dragon will dance into the Year of the Rabbit, bringing luck, blessings, and good fortune. The performance begins with a lion-awakening ritual, followed by a spectacularly choreographed performance.
Learn more about the lion and dragon dance at The Peninsula.
The Peninsula Hong Kong, Salisbury Road, Hong Kong, p. 2920 2888
3. Harbour City x Mayuka Morimoto: Blooming Bunny Year @ Harbour City
When it comes to celebrating the Year of the Rabbit, nothing makes us happier than seeing cute, beautiful bunny-themed decor and goodies around town! If you have a soft spot for bunnies like we do, don't miss out on Harbour City's 2023 Chinese New Year event with Japanese embroidery artist, Mayuka Morimoto. The artist has designed six rabbit-themed embroidery artworks to be featured on limited-edition lai see packets. You can also check out other works by Morimoto, which are exhibited from 9 to 27 January at the mall's "New Year Wishing Pond" installation. Want to do good this Lunar New Year? Be sure to buy or redeem Harbour City's "Rabbit Ears Knot Double-sided Lai See Pouch", as all proceeds are going to the Hong Kong Blood Cancer Foundation.
Find out more about Blooming Bunny Year @ Harbour City.
Harbour City, 3-27 Canton Road, Tsim Sha Tsui East, Hong Kong, p. 2118 8666
4. LCX x Esther Bunny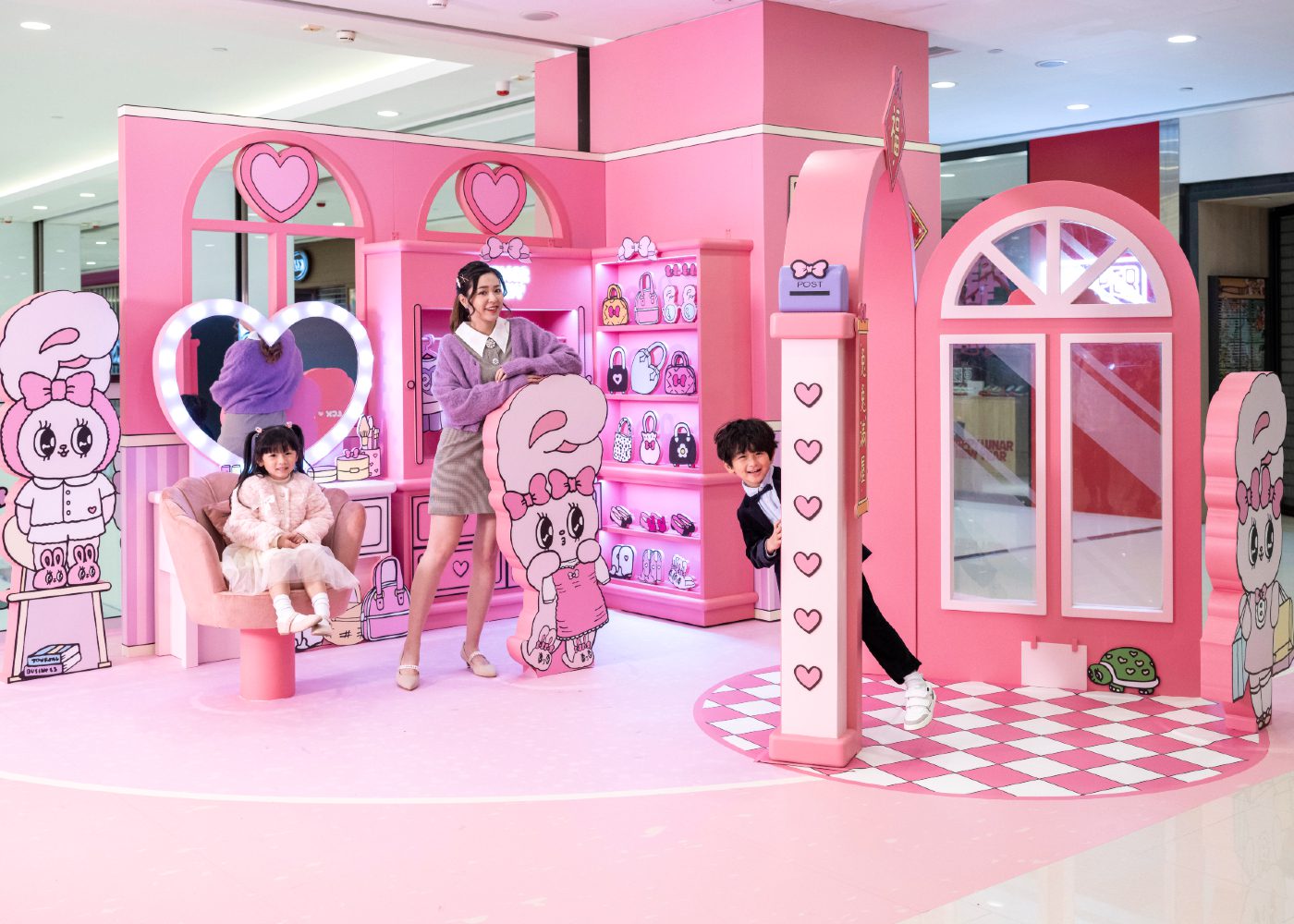 Hailing from South Korea, Esther Bunny is hopping by Hong Kong to celebrate a pink Chinese New Year (and Valentine's Day) with us! From 6 January to 19 February, you can visit "A Pretty Year of Bunny" Exhibition –Esther Bunny's den – at the entrance of LCX. Have a sweet New Year at the giant Sweet Candy Box, and don't forget to snap pics at the Bunny's Kitchen and Bunny's Wardrobe. Next, wander around the Bunny New Year Stalls, which offer a rotation of vendors from 6 to 19 January. Last but not least, be sure to visit LCX between 22 and 24 January for a chance to meet the God of Fortune to ring in a prosperous year!
Find out more about LCX x Esther Bunny.
LCX, Level 3, Ocean Terminal, Harbour City, 3-27 Canton Road, Tsim Sha Tsui, Hong Kong, p. 3102 3668
5. Ifc mall: "beautiful: Where Happiness Blooms and Flutters"
Looking to get in some shopping to welcome the Year of the Rabbit? While you're at it, stop by ifc and check out the "Garden of Auspicious Delights" Chinese New Year Installation. Until 5 February, the Oval Atrium will be transformed into a vibrant blossoming garden of Chinese New Year flowers. To further the ambience, a duotone of butterflies will be fluttering around on suspended geometric installations. In addition to the festive spectacle, ifc will be unveiling limited-edition greeting cards and two interactive digital initiatives: a "Fluid Blessings" digital experience and a "Bedazzling Butterfly" Instagram AR filter. Finally, be sure to redeem a set of exclusive "Dancing Butterflies in Fortune Garden" Lai See Packets when you spend a designated amount at ifc.
ifc mall, 8 Finance Street, Central, Hong Kong, p. 2295 3308
6. MOSTown: MOST Chic New Year Snap & Tag
Nothing says Chinese New Year like a festive photo op! Until 15 February, MOSTown is unveiling three dioramas and five installations teeming with the retro vibes of 1960s and 70s Hong Kong. The five installations inspired by Hong Kong movie classics include the In the Mood for Love-inspired "Retro Studio" and the four-metre-tall "Resplendent TV Tube." To add to this photogenic affair, MOSTown has created an Instagram filter with various themes and messages to spice up your snaps. Prefer to have your photos taken more professionally? On 14, 15, 28, and 29 January, you can redeem a family portrait taken by a professional photographer.
MOSTown, 18 On Luk Street, Ma On Shan, Hong Kong, p. 2643 9110
7. Times Square: Feast of Fortune and Happiness
Local toymaker URDU is coming together with Times Square to redesign Disney characters Mickey Mouse and Donald Duck as the lucky mascots of Maneki-neko and Daruma. As part of the Feast of Fortune and Happiness campaign, from now through 5 February, the Times Square Open Piazza will host these two-metre characters. In addition to these installations, a pop-up in the Atrium will sell limited-run Disney items and the exclusive URDU Fukuheya Disney collection. What's more, when you purchase items at the pop-up, you can redeem special Lai See packets and Chinese blessing banners.
Times Square, 1 Matheson Street, Causeway Bay, Hong Kong, p. 2118 8900
8. Chinese New Year Floral Jubilation at Discovery Bay
Discovery Bay is celebrating Chinese New Year with a host of events. On 15 January, stop by the Chinese New Year Sunday Market to stock up on origami, fresh flowers, calligraphy supplies, and more festive offerings. A Mandarin mascot will also be appearing around the market as well as free bunny face-painting for the little ones. Furthermore, exclusively at Discovery Bay, LOST is presenting two new Chinese New Year experiences from 13 to 29 January. In search of lai see packets? With VisitDiscoveryBay, you can redeem a set of "Floral Jubilation" Packets as well as win a set from a giveaway game on VisitDiscoveryBay's social media pages.
For those who want to take a longer break at Discovery Bay, Auberge Discovery Bay is launching a Chinese New Year staycation package from 21 to 24 January. Two people can welcome the Year of the Rabbit with a one-night stay in a Mountain View Room. The package also features welcome drinks at Café bord de Mer, a buffet breakfast, and dinner for two.
Find out more about 2023 Lunar New Year events at Discovery Bay.
9. Temple Mall: "The Art of the Game: Behind Mah-jong Tiles"
Are you playing any mah-jong this Lunar New Year? Jointly with the "The Art of Mah-jong Craft" studio, Temple Mall is presenting "The Art of the Game: Behind Mah-jong Tiles" to wish everyone luck and prosperity this year. On the first floor of Temple Mall North, a "Mah-jong Art" exhibition will delve deeper into the ancient game. Also at Temple Mall North, a three-metre-tall mah-jong installation will be on display until 5 February for your photo-taking pleasure. There will also be a "Love in a Tile" Whatsapp Fai Chun sticker booth and a "Chinese New Year Paper Art: Handcrafted Fai Chun" workshop.
Temple Mall, 136 Lung Cheung Road, Chuk Un, Hong Kong, p. 2320 5614
10. Gold Coast Hotel: "Ceramics & Baking" Getaway
Book a seaside staycation at the Gold Coast Hotel to ring in the Year of the Rabbit with your loved ones. The "Ceramics & Baking" Getaway package, offered to either two adults or for the whole family, will add a splash of colour to your New Year. The deal includes accommodation in a Deluxe Seaview Room; breakfast; a session of ceramics or baking workshop; a complimentary round of in-room minibar; amongst other privileges.
Gold Coast Hotel, 1 Castle Peak Road, Tuen Mun, Hong Kong, p. 2452 8888
11. The Ritz-Carlton, Hong Kong: "Spring Stellar-bration" staycation
Cosy up in one of the Deluxe Rooms at The Ritz-Carlton, Hong Kong with its "Spring Stellar-bration" staycation package over your Chinese New Year holidays. Take in the sky-high views of the city while savouring the Hotel's festive Ginger Glutinous Pudding with Demerara Sugar and a complimentary bottle of house champagne. You'll also get to enjoy breakfast for two, along with 20% savings on selected spa treatments at The Ritz-Carlton Spa (which is one of our favourite hotel spas, BTW) and the hotel's dining venues.
The Ritz-Carlton, Hong Kong, International Commerce Centre, 1 Austin Road West, Kowloon, Hong Kong, p. 2263 2100
12. Visit the Wishing Trees in Lam Tsuen
Looking for traditional Chinese New Year events in Hong Kong? The famous Wishing Trees in Lam Tsuen are said to bring good luck to those who throw joss paper onto them and make wishes. Legend has it that the higher the branch the joss paper lands on, the higher the chance your wish will come true. Each Chinese New Year, people from across the city flock to these Trees to pray for good fortune.
Lam Tsuen, Tai Po, Hong Kong, p. 2638 3678
13. Sample both traditional and innovative Chinese New Year menus
You can't miss out on the delicious food when it comes to Chinese New Year in Hong Kong! Other than traditional CNY snacks like the New Year pudding and turnip cake, we've also compiled a list of the best Chinese New Year menus in Hong Kong where you'll find limited-time festive delicacies to enjoy with your family and friends.
14. Go shopping at the Flower Market
For an extra dose of luck, prosperity, and good fortune, add some symbolic plants into your home. Kumquat, orange trees, and mandarin trees are often bought to welcome wealth, luck, and prosperity, and you've probably spotted them outside shops and in lift lobbies. And in case you haven't noticed, shops filled with orchids are popping in every corner, so why not stop by to pick up some beautiful blooms? They signify renewal of life and a new beginning, and their long branches symbolise longevity. You can easily find them at the Flower Market (for a great bargain too!).
Follow our guide to the Flower Market for an insider's look at the best shops.
15. Watch festive Cantonese movies during your holiday
If you're looking for things to do during Chinese New Year that you can enjoy from your own home, we recommend you to binge watch these beloved Hong Kong movies to get in the mood. One of locals' must-watch during the holiday has to be Stephen Chow's All's Well, Ends Well (1992) – it's a hilarious classic!
Check out these iconic Hong Kong film locations if you feel like taking a tour in the city over the CNY break.