Going nowhere without my nails done (Photography: pixelshot)
No matter what occasion, we adore a ridiculously good looking manicure. If you do too, then take a look at our favourite nail salons in Hong Kong.
Everyone deserves to be pampered once in a while. Whether you're indulging in eyelash extensions or integrating our five unscientific ways to relax in Hong Kong into your life, we all need to unwind with some TLC every now and then. These manicure spots are our hot picks across the city, from French manicures to bolder design that incorporate Swarovski crystals, here we round up the best nail salons in Hong Kong to have manicure and pedicure treatments.
Best nail salons in Hong Kong
1. Ooh La La Nails
This little salon in Wan Chai is all about beautifully executed nail art and manicures. They specialise in Russian Manicures, which is when the entire cuticle is removed to create a larger and more appealing space for the design. We love how long their work lasts and the fact that the nail artists are so precise.
Read our full review of Ooh La La Nails.
Ooh La La Nails, Room 2302, 23/F, Bayfield Building, 99 Hennessy Road, Wan Chai, Hong Kong, p. 5138 3866
2. Carte Blanche
Part hair salon and part beauty salon, this TST favourite is well known for its Japanese treatments. We love their amazing manicures and pedicures that are executed by seasoned professionals from the comfort of a beautiful salon.
Read our review of Carte Blanche.
Carte Blanche, Shop 277 & 277A, Level 2, Mira Place 2, 118-130 Nathan Road, Tsim Sha Tsui, Hong Kong, p. 2739 1960
3. The Nailtural
Home to vegan and toxin-free manicures, The Nailtural is the perfect spot for those looking for a completely safe way to decorate their hands. The brainchild of a pregnant owner, the salon uses toxin-free lotions and potions and even the nail dryer is less dangerous. We love the attention to detail here.
Read our full review of The Nailtural.
The Nailtural, Room 2B, Johnson Centre, 13 Hau Fook Street, Tsim Sha Tsui, Hong Kong, p. 9173 3796
4. Rainbow Nails
One of the few OPI-authorised Educator Salons in the city, Rainbow Nails offers a range of OPI manicure and pedicure services, as well as OPI nail supplies. While most nail salons in Hong Kong adopt traditional techniques and equipment, Rainbow Nails offers American manicures, which rely on both manicure machines and the manicurists' skills. This results in nail art that lasts longer and has more precision.
Rainbow Nails, 8/F, Thyrse House, 16 Pottinger Street, Central, Hong Kong, p. 2840 0660
5. Nail Jolly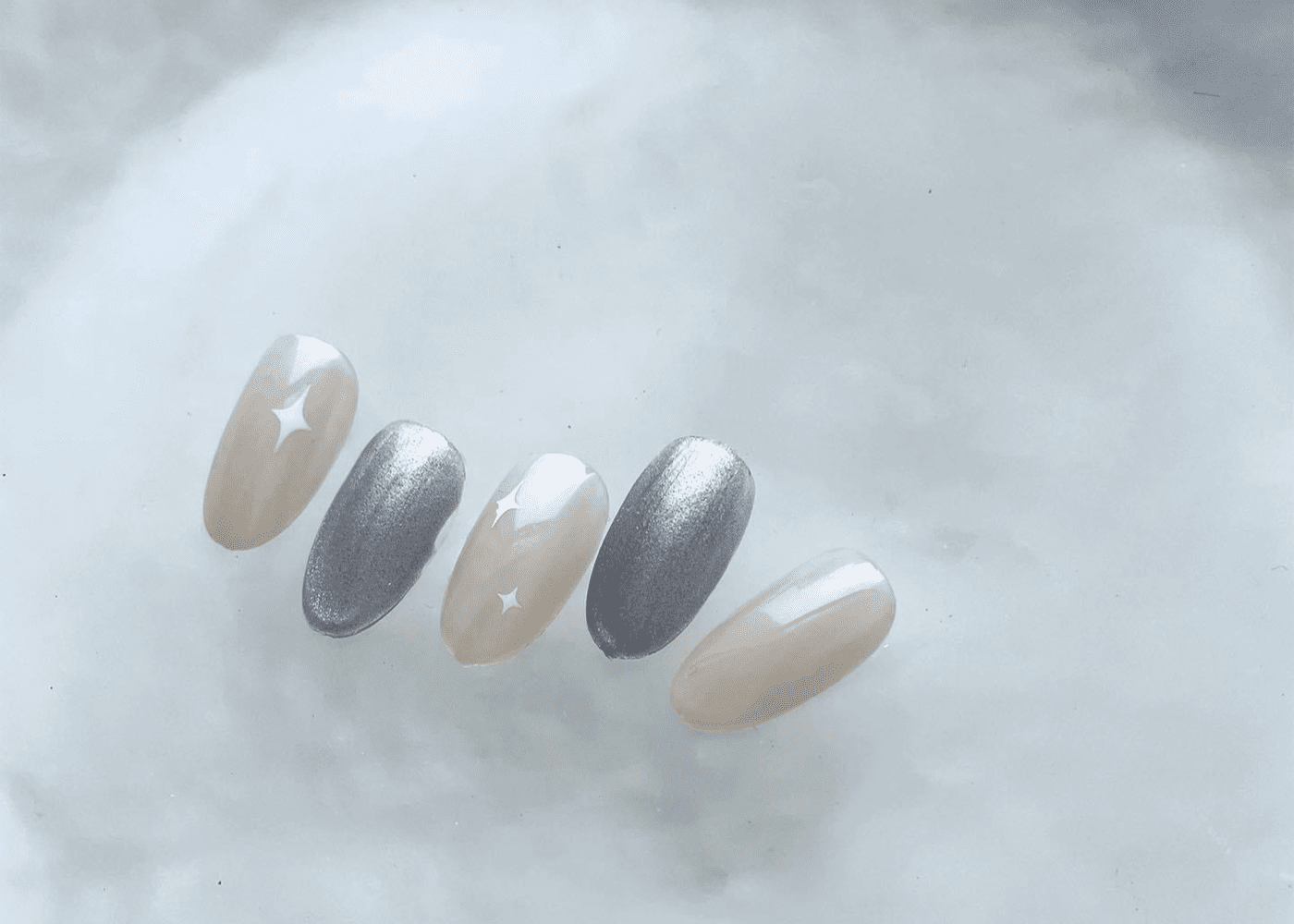 Founded in 2010, Nail Jolly provides professional services such as manicures, pedicures, hand and foot massages, artificial nails, and more. These take place in a cosy and serene environment, with a touch of nature and luxury.
Nail Jolly has multiple locations across Hong Kong.

6. Nail Care 2
Looking for a quick fix-up? Nail Care 2 offers affordable, quality and efficient service to get you in and out the door in around 40 minutes (roughly). It's one of our fave nail salons in Hong Kong, plus it's a great chance to support a local business!
Read our full review of Nail Care 2.
Nail Care 2, Shop E3, G/F, Shun On Building, 2 Sands Street, Kennedy Town, Hong Kong, p. 5546 6139
7. EightyEight
If you're into feminine design, you'll want to get your manicure done at EightyEight. Their nail art design is dominated by pastel colours like peach and soft pink with amazing details like mini stars, galaxy, marble patterns and simple Swarovski ornaments. If you're looking for a nail salon to get the VIP treatment, then this is the spot.
Read our full review of EightyEight.
EightyEight, G/F & 1/F, 53 Wellington Street, Central, Hong Kong, p. 2350 9618
8. Canary
Get ready to be pampered at Canary, where you will be treated like a queen with their top-notch professional mani-pedi and intensive hand and foot treatments. Using world-class Japanese techniques, the team at Canary will offer nail designs that match your individual style and even go the extra mile by applying anti-ageing cream after your treatment and offering complimentary nail repair within one week of your appointment.
Canary, 9/F, Man Cheung Building, 15-17 Wyndham Street, Central, Hong Kong, p. 2537 0338

9. LCM Nail & Beauty
Famous for its South Korean nail design, LCM Nail & Beauty specialises in floral nail art design. Offering both hard gel and soak-off gel, LCM can also illustrate your favourite cartoon characters like Hello Kitty and Mickey Mouse on your digits. This is one of our favourite nail salons in Hong Kong!
LCM Nail & Beauty, M206, Haleson Building, 1 Jubilee Street, Central, Hong Kong, p. 5494 1661
10. The Nail Library
Inspired by an industrial space in New York, The Nail Library takes pride in having Hong Kong's largest collection of nail polish brands and colours, so you'll find everything you need in terms of nail treatments at their salon. Located in the heart of Central, The Nail Library also offers bespoke nail art designs that can be tailored to your preferences. The Nail Library is one of the most popular nail salons in Hong Kong, so be sure to book ahead.
The Nail Library, 2/F, 76 Wellington Street, Central, Hong Kong, p. 6298 8391
11. Pikapika
As far as nail salons in Hong Kong go, this is one of the best in town. Pikapika is a professional and private nail studio located in Causeway Bay. The salon offers various treatments using natural nails, but you can also get artificial nails using UV gel. Feeling a bit artsy with your digits? Pikapika also has various nail arts using ombre or multi colours, hand drawing, accessories, acrylic, and Swarovski. Prices are some of the best in town, so be sure to book in advance online.
Pikapika, Flat B4, 2/F, Kingston Building, 2-4 Kingston Street, Causeway Bay, Hong Kong, p. 6169 6069

12. Iyara Day Spa
Escape the busy life of Hong Kong at Iyara Day Spa, which, despite its locations in the heart of the busy Central district, offers a serene ambience for its customers. They have a great range of services from body spa to waxing, lash extensions, manicure and pedicure, and many more. For nail treatments, you can choose from either the spa or express manicure or pedicure, but for extra comfort, opt for their Ultimate Manicure or Pedicure package and get an additional 15 minutes of hand, arm, and shoulder or foot massage.
Iyara Day Spa has multiple locations in Hong Kong.
13. Envi Me Nail
Get your nails done at Envi Me Nail and your friends will envy you for your beautiful digits. The professional nail salon uses high quality nail products from both Japan and America. Ombre design is what they do best, but they're also great when it comes to creating illustrations of cartoon characters or detailed patterns like marble and geometrical shapes. It's got to be one of the top nail salons in Hong Kong.
Envi Me Nail, Flat 11, 8/F, Fuk Wo Industrial Building, 5 Sheung Hei Street, San Po Kong, Hong Kong, p. 6013 2591
14. Tinted.
We've tried and tested Tinted. and, to be honest, we were surprised by how long the mani-pedis last! The salon is super chic with coral walls and a bright neon sign, and quality is ensured. Treatments include their signature manicures and pedicures – with options to use non-toxic gel polish – and you can add extensions or add treatments to strengthen your nails. All signature treatments come with nail art for four nails. If you're opting for colourless services, Tinted. will have your nails feeling fresh and rejuvenated with their cuticle treatment and grooming. The staff are friendly and you'll actually not mind spending hours getting your nails done!
Tinted., 5/F, 18-20 Pak Sha Road, Causeway Bay, Hong Kong, p. 6012 6444
15. Pedi:Mani:Cure Studio
Merging natural beauty with holistic wellbeing, PEDI:MANI:CURE Studio by Bastien Gonzalez focuses on the concept of the medical pedicure and manicure. There are a total of 14 luxe treatments including Bastien Duo and Bastien Pedicure, both performed by the studio manager, podiatrist, and manicurist, Albin Brion. For a quick and classy treatment, PEDI:MANI:CURE's Colour Touch and French Touch are reasonably priced and include nail reshaping. And an afternoon at this modern and classy studio screams "treat yourself" like nothing else!
PEDI:MANI:CURE Studio, Landmark Mandarin Oriental, 15 Queens Road Central, Central, Hong Kong, p. 2132 0011
16. Glow Spa & Salon
With years of international and local experience under their belts, Glow's beauty therapists bring a wealth of knowledge to the table. They're not only up-to-date with the latest trends and techniques, they're also adept at tailoring these to suit each client's personal style. Offering a vast array of seasonal colours in both polish and soft gel, Glow is nothing short of impressive. Whether you're pressed for time and need an express manicure, or are looking to indulge in a full spa manicure experience, this nail salon has you covered.
Glow Spa & Salon, 8/F, Silver Fortune Plaza, 1 Wellington Street, Central, Hong Kong, p. 2525 5198
17. Luxe Beauty & Nail
Established in 2013, Luxe Beauty & Nail has built a reputation for delivering top-tier nail care services in Hong Kong. Luxe's wide range of services extends beyond traditional manicures and pedicures, offering toxin-free nail care, rejuvenating hand and foot treatments, and artificial nail services. What sets Luxe apart is its team of highly skilled nail artists, each boasting an impressive portfolio of qualifications and years of experience. They're not just nail experts – they're artisans who take pride in their craft, ensuring the highest standards in every service they provide. A testament to Luxe's commitment to quality, the team sources only the best nail care products from around the globe, featuring top brands like OPI, CND, and more.
Luxe Beauty & Nail has multiple locations across Hong Kong.
18. The Feel Good Factor
The Feel Good Factor (FGF), a warm, spacious boutique day spa in Hong Kong, is the brainchild of a dynamic mother-daughter team, Helen and Emma. Since 1999, FGF has been a pioneering nail salon in Hong Kong, offering an array of beauty and nail services. The spa's East-West aesthetic mirrors Hong Kong's unique blend of cultures. Manicures at FGF involve a meticulous process, including nail bed cleaning, cuticle care, shaping, plus a relaxing hand and forearm massage, all leading up to your choice between a vast selection of nail varnishes. Pedicures, aptly named by FGF as a mini "Hong Kong Getaway", is complete with a soothing foot soak, exfoliation, a gentle lower leg massage, followed by nail shaping and polishing. For clients who forget their open-toed shoes, FGF offers stylish, affordable bamboo flip-flops.
The Feel Good Factor, 2/F, Winsome House, 73 Wyndham Street, Central, Hong Kong, p. 2530 0610
Flawless (closed)
If you're looking for an exclusive nail salon with a premium quality products and service, Flawless is the place for you. An urban spa, Flawless offers makeup, facials, and nail treatments that are literally flawless. They are also the only spa in Hong Kong that offers professional medi-spa treatments by Medik8, a global cosmeceutical company that's a pioneer in skin research.
Read our review of Flawless.
Flawless, 4/F, Sea Bird House, 22-28 Wyndham Street, Central, Hong Kong, p. 2869 5868, 中環雲咸街22-28號四寶大廈4樓
Moksa (closed)
Looking for a nail salon that takes you away from the business of the city? Thanks to its wonderful interior design and slow beauty mantra, Moksa is the place to go in Central to relax and get pampered. Order a juice before you settle in on the comfiest chairs to enjoy your mani or pedi. Or go one further and opt for the treatment that includes a homemade skin scrub. We love!
Read our full review of Moksa.
Moksa, 1/F, 30 Hollywood Road, Entrance on Shelley Street, Central, Hong Kong, p. 3421 2007
Nail Cabin (closed)
Relatively new to the Hong Kong scene, Nail Cabin has received high praise from the public, their talented and friendly team deliver an all-round great experience that's raising smiles and standards. We know, we threw at them some very abstract designs and they did a marvellous job. When it comes to wonderful nail salons in Hong Kong, Nail Cabin can't be beat!
Read our full review of Nail Cabin.
Nail Cabin, 22B, Way On Commercial Building, 500 Jaffe Road, Causeway Bay, Hong Kong, p. 6077 9537
Nail Wizard and Spa (closed)
Formerly known as Beauteous, Nail Wizard and Spa is a nail salon that specialises in manicures and pedicures for people of all genders and ages, so you can take along your partner and even your kids!. Whether you want to have a classic manicure using nail polish, soft gel or hard gel, a spa pedicure, an express mani/padi, or beautiful nail art, the therapists at Nail Wizard and Spa will listen to your preferences and work their magic on your nails. We love the feminine interiors at this nail salon.
Read our full review of Nail Wizard and Spa.
Nail Wizard and Spa, Store D, 1/F, 9-11 Mee Lun Street, Central, Hong Kong, p. 2466 6150
[This article was originally published in July 2018 and updated in 2023 by Catherine Pun.]