From Indian to Peruvian, European and Australian we had some excellent meals in 2018. Be sure to try them STAT!
Sometimes it feels like all we do here is eat, not that we're complaining. We indulged in curries and naan from the best Indian restaurants, enjoyed wonderful fine dining restaurants in Hong Kong and went hard at these dinner buffets last year, but which places had us going back for more, and more, and more? Here, we're revealing our top 20 best meals of 2018 in Hong Kong, and funnily enough, most of them do vegetarian and vegan too, so everyone will be happy.
Our 20 best meals of 2018 in Hong Kong
Burger Joys
2018 was the year we really discovered Burger Joys. Oh, what a year! From the moreish tatty tots to the succulent burgers, we were so happy when they opened their second branch in Sai Ying Pun. We think they make one of the best vegetarian burgers in town too, filled with hearty mushroomy goodness and fresh ingredients, and that's why they're on our list of 20 best meals of 2018 in Hong Kong. Unsurprisingly, they also make our list of best burgers in Hong Kong. Keep doing you, Burger Joys.
Good for: Burger cravings that won't budge
Salt & Barrel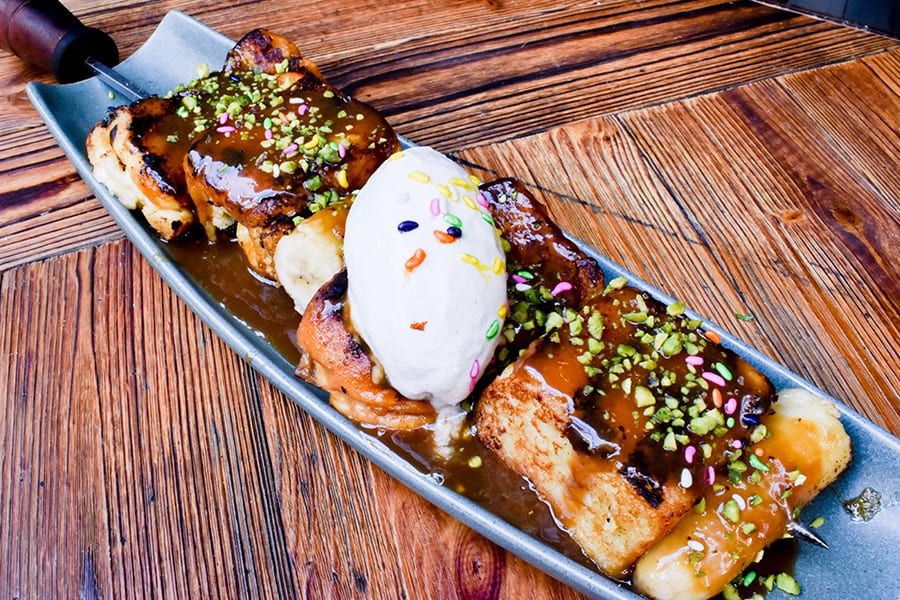 Another new opening in Shek Tong Tsui, Salt & Barrel comes from the brains behind another one of our fave spots: Blacksalt. This Kebaberie and Taproom serves a wonderful selection of dishes, including cauliflower wings, but its brunch at Salt & Barrel that we can't get enough of. Enjoy the Kebaberie Fry Up or try vegan waffles topped with scrambled tofu. We promise you'll fall in love with the Banana Foster French toast too. Mmmm…
Good for: Brunch, lunch and dinner
Picada
We've been fans of Picada since they first opened on Elgin Street. Now in their new spot in Central, this restaurant continues to bring the tasty South American dishes to the table. The Peruvian Ceviche and Hamachi Tiradito cannot be missed, while the octopus proves a winner too, as do the tacos. There are plenty of vegetarian options, and the atmosphere is always buzzing with fun, especially on their salsa nights!
Good for: Soulful latin nights
Kailash Parbat
Coming in at number 17 on our list of 20 best meals of 2018 in Hong Kong, it's hard to believe that we'd never heard of Kailash Parbat before they emailed us to come and try their food, and boy we're glad we accepted! This popular Indian chain restaurant specialises in chaat, so offers a menu unlike any other in the city. With all food made freshly on premises, this is where to go when you need a complete Indian food feast. We ate so many delicious dishes there that it's hard to isolate must-orders, but our full review on Kailash Parbat will fill you in on how to stuff yourself silly.
Good for: When you're in the mood for food (and lots of it!)
Saam Hui Yat Dim Sum
Eat dim sum as it was intended at this joint in Sai Ying Pun. Settle in with strangers on the mismatched chairs and tables at Saam Hui Yat, and feast on some of the most delectable har gow and beef balls in town (as voted by our very own photographer, Anson Yip.) A word of warning, the entire menu here is in Cantonese, so either go with someone fluent or play the old point and receive. It's no wonder this place makes it onto our list of best dim sum in Hong Kong too.
Good for: Taking it old school with your dim sum
 Daarukhana
Modern Indian cuisine was abound in 2018, and our absolute fave new opening in this arena was Daarukhana, helmed by former Chef of Indian Accent in New Delhi Valice Farancis. The brightly coloured interior in an unassuming part of Wan Chai sets the scene, while the bold dishes carry the flavours and freshness to your table. Both veggies and meaties will love what's on offer here, with our picks being the Paneer Bhurji Quesadilla, Baked Sweetcorn, and the Baingan Two Ways. And to make things even better, they also have an amazing set lunch menu that will fill you up from just $138. Welcome to Hong Kong, Daarukhana.
Good for: Stellar nights out with friends
Qi – House of Sichuan
Some like it hot, and we are them. Qi – House of Sichuan has been awarded one Michelin Star since 2016, and we just love its consistency, fresh ingredients and the fact that vegetarians can eat there too. It's one of those spots where you can be overwhelmed by the size of the menu, so let us help you out with these must-orders: Smashed Cucumber, Mala Tofu in Sesame Dressing, Bang Bang Wontons, Braised Mandarin Fish Fillet in Chili Oil Soup, Kung Pao Prawns, Vegetarian String Beans and Mango Glutinous Dumplings to finish off. Definitely deserved of a place on our list of 20 best meals of 2018 in Hong Kong.
Good for: Fire starters
A Side/B Side
Hidden away up an alleyway in Sheung Wan, A Side/B Side is unlike any other restaurant in town. Settle in around the cooking station in the middle and watch as Chef Jon Irwin prepares the daily delights. We visited a few times in 2018 and fell in love with the dark chocolate mousse with artichoke – so good! Expect fresh produce and great vibes at this little haunt.
Good for: Treating someone special
Tiger Room
Central had a bevy of restaurants open in 2018, but one of our absolute faves is Tiger Room. Located on Gough Street, this friendly spot delivers quality and affordable Japanese dishes that we can't get enough of. The tofu salad is bomb and we loved the fat mushrooms in the yakitori, but the grilled cod is the star of the show.
Good for: A casual Japanese rendezvous
MiMi2Go
After living in South Korea for five years, finding good Korean food in Hong Kong can be a challenge, but MiMi2Go in Central is an exception to the rule. Serving up a selection of classic Korean dishes, including bibimbap, bulgogi, japchae and gimbap, this is food made with absolute love, and we're mad for it. They even make vegetarian and vegan kimchi that you can stock up on to take home for your own private kimchi-eating sesh, no wonder they make the list of 20 best meals of 2018 in Hong Kong.
Good for: When you're dreaming about K-food
Pure Veggie House
We're obsessed with Pure Veggie House. We even had Christmas dinner there, where we got to chow down on their heart-warming vegan hot pot. The regular menu is GIGANTIC, and we're trying to eat our way through it entirely. Be sure to head up for dim sum during lunch time (we are big fans of the siu mai) and indulge in the Kung Pao Mushrooms and more tofu and vegetable dishes than you can shake a stick at at dinner.
Good for: Big groups, so you get to try more
VEDA
It's quite something to not even be open yet and still make our list of 20 best meals of 2018 in Hong Kong, but VEDA does. Hetty McKinnon has designed an intoxicating menu of veggie-forward dishes that incorporate the flavours of her travels, and we had the opportunity to sample some at a sneaky pre-opening media sesh. Quite simply, VEDA is what we've been waiting for in Hong Kong forever. You won't find fake meats on this menu, just a variety of salads, dumplings and plates that sing with the special qualities of the vegetables themselves. And did we mention they have an entire avocado toast menu? Stay tuned…
Good for: Pigging out veggie-style
     8. Street food
Is there anything better than a big fat bowl of cheong fun covered in peanut and chilli sauce to get you going in the mornings? This, alongside siu mai, tea eggs, and fishballs all featured on high rotation for us during 2018. Find out where to eat the tastiest street food in Hong Kong. Long live street eats!
Good for: Filling up on the go
The Chinese Library
One of the most exciting openings of 2018 was Tai Kwun, the restored prison in Central that's been transformed into a heritage masterpiece. And alongside the stunning architecture, a number of new restaurants have moved in to call Tai Kwun home. Our fave to date is undoubtedly The Chinese Library. With interiors to die for, every dish that we sampled at The Chinese Library was a stunner, and they even catered to a fully vegetarian diet. Must-tries include the Jade Flower with Sichuan pepper essence, seasonal wild mushroom dumplings, and the decadent Deep-fried Chocolate Hazelnut Balls.
Good for: Fancy Chinese food
Nobu
We had the pleasure of dining at Nobu on a few occasions in 2018 (both for work and play), and the food was always absolutely top notch. The stunning views from The InterContinental set you up for a breathtaking meal, and each dish is put together with absolute precision and care. The Nobu Signature Tasting Menu will delight with the freshest produce and delicacies, and they also have a selection of special promotions running throughout the year to keep things interesting. We love the Crispy Rice with Spicy Tuna, Black Cod Saikyo Yaki and each piece of sushi or sashimi delights.
Good for: Living your best life
Namaste Kitchen
As much as we love fine dining, we are all about cheap and cheerful food experiences too, and Namaste Kitchen totally floats our boat. I'll never forget the day I walked into the office to find co-workers discussing their secret love for Namaste. It turns out, we had all been pigging out there for years without knowing! The scrummy Nepalese cuisine caters to all diets, with our fave dishes being: Gundruk Soup, Chilli Chicken and Bhindi Masala, served with an onion kulcha, of course! Namaste Kitchen is a great place to dine in, but also holds up well as takeaway. While it makes our list of 20 best meals of 2018 in Hong Kong, we're pretty sure it will continue to curry favour in 2019 too.
Good for: When you're in need of something super hearty and tasty
Arbor
In my review of Arbor when it first opened in 2018, I stated that Chef Eric Raty would be my choice of death row chef, and this position hasn't changed. The team easily catered to my pescatarian/dairy-free diet and served up the most exquisite langoustine in history, but the real coup was the epic dessert: soy milk ice cream atop salted duck yolk and white chocolate with black beans coated in Kowloon soy sauce and dried soy bean sheets. A-Mah-Zing!
Good for: Special occasions and dressing up flash
Champagne Brunch on the Eighth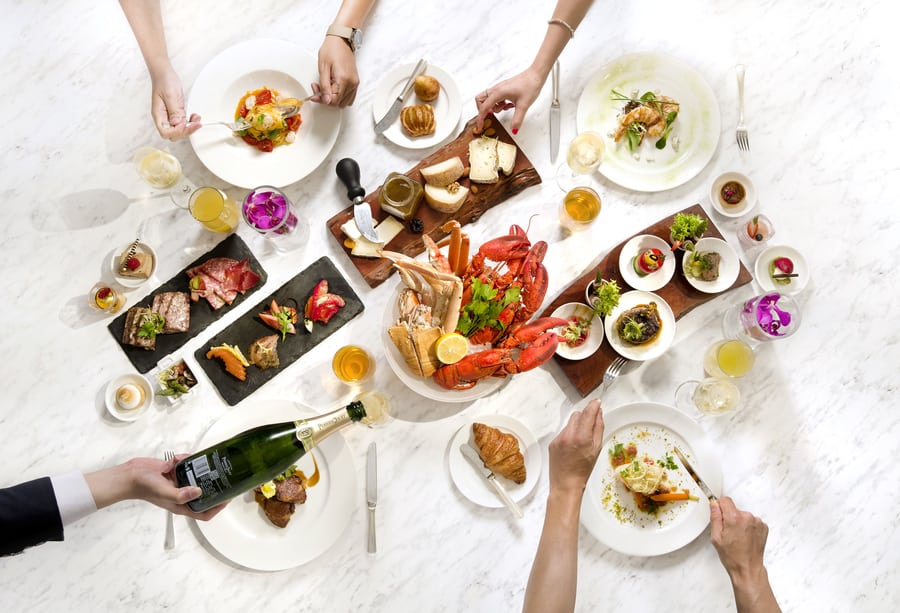 TBH, in general, most of us here think that brunch in Hong Kong can be somewhat overrated, but Champagne Brunch on the Eighth at Conrad Hong Kong is an absolute beast of an affair that we can really get behind. Taking place over the whole of the eighth floor, including Nicholini's and Brasserie on the Eighth, sit down to a map (you heard me right) that locates all of the different stations. From the cheese library to the Chinese counter to the amazing Antipasto area and on to the bar where you can order a bunch of cocktails, we loved this dining experience so much that we managed to fit it in multiple times in 2018. Bring on 2019!
Good for: Shameless gourmandising
Arcane
Regular Honeycombers readers may be sick of us singing the praises of Chef Shane Osborn and the team at Arcane, but our choir gets bigger with every passing year. Despite having dined at the restaurant near a dozen times this year, not one of us on the team are yet to experience anything less than magnificence, and critics agree, with Arcane retaining its 1 Michelin Star status in 2018. Getting a table will be the biggest obstacle to your experience at Arcane, as Chef Shane Osborn has recently starred in Chef's Table, a great show on Netflix that we urge you to watch, even if simply to ogle at the bromance between Shane and teammate Mark Best. The fact that they have an entire vegan menu at Arcane only adds to our obsession.
Good for: People who love good food and despise pretense
Confusion Plant Based Kitchen
Every. Single. Time. Every single time we've been to Confusion Plant Based Kitchen (which is about 30 times between us #nojoke) in Sheung Wan, we've been blown away by the deliciousness served up by Lisa Terauchi and her team. Alongside the regular menu (we LOVE the tofu tacos and purple yam fries), they also have daily specials that include everything from curries to tofu steaks to vegan egg tarts. We love you, Confusion. Don't ever change.
Good for: Every. Single. Meal
Enjoyed our list of 20 best meals of 2018 in Hong Kong and want more food goodness? Find out which Mexican restaurants in Hong Kong make us loco (in a good way), try the tastiest bakeries in Hong Kong or see where we do afternoon tea in Hong Kong.