Oh, go on... one more glass
We don't do bad brunches. We will try brunches if they sound appealing, but we'll never recommend a brunch that doesn't live up to our exacting standards, and we're obsessed with the new offering from Conrad Hong Kong
You know we're a bit picky when it comes to recommending free-flow brunches in Hong Kong, but do we have a scoop for you. The newly-launched Champagne Brunch on the Eighth at Conrad Hong Kong not only delivers in the food stakes, but also also has a killer free-flow package and some of the best views in town. When it comes to hotel brunches in Hong Kong, this may just be our new fave…
So, what's so special about Champagne Brunch on the Eighth?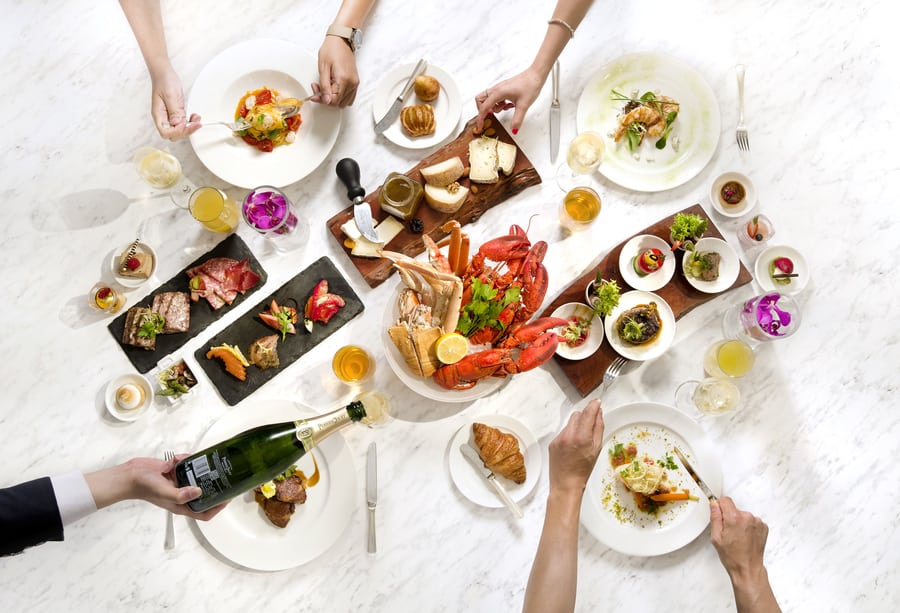 YOU NEED A MAP! You need a map to navigate this brunch, you guys. A. MAP! The brunch takes over the entire inside of both Nicholini's and Brasserie on the Eighth, plus there are stations across the lobby, including the coveted Cheese Library (complete with super helpful Cheese Librarian of course.)
Besides this, I loved a number of things about this brunch, so I've made a list of bullet points to keep it simple:
It runs from 11am-3pm. Um, hello. That's four hours to enjoy absolutely everything, from the fresh seafood counter–three types of international lobster, anyone?–to the Sunday carvery table, and even a "Brunch of Surprise" station that changes every hour and with the seasons!

Vegetarians are well catered for. There is nothing worse than going to a brunch in Hong Kong as a vegetarian and having to eat salad – boo! If you are vegetarianly inclined, bask in the antipasto garden before heading to the pasta kitchen where the chef will whip something fresh up for you with homemade pasta and sauces (I loved the mushroom taglioni with tomato sauce.) If that's not enough, they have veggie dumplings in crystal wrappers at the Chinese Bar and you can order off the menu too…

Let's talk more about that menu. Champagne Brunch on the Eighth isn't just an exquisite buffet. You also get to order a selection of starters and mains off the menu. From decadent twists on a classic like lobster eggs benedict to omelettes with truffle to healthier selection such as … the starter selections are lovely. For mains, indulge in Fish & Chips, Mediterranean Seafood Platters or a 

grilled butcher board with beurre parisienne.

Free-flow Perrier-Jouët and champagne-infused cocktails. I'm a champagne snob. There, I said it. Perrier-Jouët is a personal favourite of mine, so this brunch had an unfair advantage from the get-go, but on top of pouring the good stuff from hearty magnums, guests can also chat with the bartenders at the standalone bar and have them create a cocktail/mocktail of the day, or really any drink of choice. So good!
If you're like me, and just like a little taste of dessert, or if you're like most people and really love the sweet stuff, you'll enjoy the options at Champagne Brunch on the Eighth. From the ice cream and sorbet selection to the fresh berries to the tower of mini delights, including tiramisu and cream puffs with sabayon, it's just a heavenly way to end four hours of food and family/friend time.

Did I mention there's a Cheese Library? The cheese librarian can help you decide what suits your palate, and they've also got a great selection of cheese condiments from across the globe that help that make the Tête de Moine taste even better

This isn't a raucous brunch affair. You aren't going to be distracted by drunken hooligans here. Sure, some of the bigger tables certainly got happier as the day went on, but you'll also be surrounded by a great crowd who interact as they navigate their way through this fabulous brunch offering from Conrad Hong Kong.
If that's not enough for you, this is what Executive Chef Claudio Rossi said about Champagne Brunch on the Eighth: "This  menu is all prepared with passion and love from a team of dedicated and proud professionals, from gastronomy,  mixologist to  service team. This  refined Sunday Brunch  concept is poised to conquer the most discerning  palates of the town."
And we promise you'll taste the love!
Brunch on the Eighth, Conrad Hong Kong, Pacific Place, 88 Queensway, Admiralty, Hong Kong, p. 2822 8801, 金鐘金鐘道88號太古廣場港麗酒店. $898/adult or $358/Child (aged 3-12)
All booked in for Brunch on the Eighth but wanting other reliable food recommendations in Hong Kong? Check out the delicious brunch at Salt & Barrel, try casual Spanish at Elia or hit up all the spots on our list of best French restaurants in Hong Kong.