Explore Bali's biggest through to underground music scene with this list of cool pads and events showcasing why the island's music scene is something to shout about, from music mavens Secret Bali Life
On an island famous for tropical sunsets and sundowners, it's a no-brainer that the party scene and best music in Bali continues long after the sun goes down – showcasing everything from headlining acts from around the world, regular weekly gigs, pop events in Ubud and and packed out, dance-floor action in some of SE Asia's best venues.
And as much as we love Bali's treasured sunset hour at any of the island's best venues and regular music events such as Live Events and Get Vintaged Wednesdays, we've called upon the island's most knowledgable music experts – our friends at Secret Bali Life – to give us the lowdown on Bali's music scene and where to live-it-large after dark.  Here's their inside track on Bali's best music options of the day.
The W Bali/Woobar
W Hotels across the globe are synonymous with being uber cool and not afraid to stage some seriously credible music events, and the W Bali is no exception to that rule. With a designated club space as well as a beautifully appointed deck for sunset performances, The W Bali Seminyak consistently books credible international, non-commercial DJs from varying genres, and is always busy as a result. You don't even feel as though Woobar is part of an 'international hotel chain' as they definitely pull it off, and are up there with the best when it comes to consistently putting on top draw nights and their regular party events.
Umalagon
The island is awash with great places to go out and listen to quality non-commercial music, but Umalagon stands out from the rest for a couple of reasons. Firstly – it's run by a collective of like minded boys and girls who have experience in a variety of different roles in the industry, from time spent in creative hotspots from afar, such as Berlin and Burning Man, but they are all firmly entrenched in Bali and therefore have an eclectic and organic following of knowledgeable and interesting characters who like to party. Secondly – they play, produce, know, and live house and techno. Hats off!
Sun Down Circle
Sun Down Circle is the alternative music arm of Potato Head, and what a fine job they've done with it too. Sun Down Circle have been creative in their use of the venue, creating pop-up style events by making use of the whole space, including the upper tiers – the venue's vastly under utilised areas. When they have thrown the traditional parties on the lawn, through the production and layout of these, they keep demonstrating their creativity as a team. Nowhere is their creative, forward thinking vision more apparent than through the very astute curation of international acts and support.
Jenja
Exactly one year ago, an astute chap on the scene took the very brave decision to open up a new nightclub away from the safe haven of Seminyak. It was a gamble, but wow did it pay off!  Admittedly, the venue is only 5 minutes out of the centre of Seminyak, but to a lot of people that may as well be half way to the moon! Well it's not, and (to be frank) even if it were, it would be worth the trip. Hands down Jenja is the best non, open-air, purpose built nightclub on the island. Great headline acts, a very strong roster of young, hungry residents, and the best sound system to hear the aforementioned artists bring the noise.
White Magic Sunsets
If people think travelling two junctions south on Sunset is unfathomable, then our next pick has plenty to be proud of. White Magic Sunsets is without doubt the mother and father of poolside parties in Bali. Run by the disco don and unmistakeable character of Adrian Giordano, this event really is special and WELL worth the trip to Kuta Beach… YES, KUTA BEACH! This is exactly why this event does so well and attracts a great crowd from around the island, driven by the sound of quality disco, both classic and nu (that's not a typo – google it if you have to, Grandpa). White Magic Sunsets uses some of the best underground DJs from within the genre from all Four Corners of the globe, using incredibly professional production, great support from their partner the Sheraton Kuta Bali, and a great marketing campaign from a design perspective to of what they do… which is offer a truly, great Sunset party.
Koh
The story of Koh can best be summed up by the phrase, 'Back To The Future'. Koh opened its doors earlier this year, with the unusual but innovative decision to open the club, take it for a test run, look at the data, then close it again in order to fine tune it… and (yes this is beginning to sound like an article on a Formula 1 Team) but you get the picture.  Bali is synonymous with plush venues, with expensive looking fixtures and fittings… not Koh. Koh fuses both musically and aesthetically the characteristics of venues more akin to Berlin or East London than with Bali, and boy does Bali need this. The mythical and overused mantra of Bali being 'The Next Ibiza' will only ever come to fruition if forward thinking places like Koh succeed, and with their July re-opening, and knowing what we know, we think they stand a great chance… Go and see for yourself.
Old Mans
This great throwback style beach bar is the place to go if you just want to have good, old fashioned fun! Old Mans normally kicks into life at approximately 5.01PM during the week when the happy hour bell goes, then quietens down again a lot, lot later than that! Every night has its own identity, each one focusing on a different aspect; be it live music, DJ supplied sounds, or Beer Pong.  But depending which one you pick however, there is one constant whenever you head down for a night out: it's going to go off and you will definitely have a lot of fun!
Invasion Ubud
Now, Ubud is definitely not part of the island synonymous with parties, but thanks to the hard work, imagination and just generally lovely attitude of the guy behind it, Invasion has really started to make a name for itself. They throw pop up parties in Ubud in different locations each time, with the one constant being they are always daytime into evening pool parties. They don't use international guests, they don't get hundreds of people down, but what they do do, is put on great little events with a great crowd each time, and a refreshing new option for one of Bali's most beautiful spots.
PNNY
PNNY is a collective of five, bright young things who came together through the Bali party scene and decided to do things for themselves – a collection of Bali born and/or raised DJs who collectively also make music, are qualified sound engineers and party organisers, and have a band manager amongst their numbers. They play all over the island individually, but it is when they come together for their own PNNY events that the true depth of what they can do is best showcased. From hip-hop to techno, they cover it all – and this makes them extremely adaptable and popular with the younger spectrum of the local party scene! We fully expect these guys to go from strength to strength in the coming months and years.
hu'u Bar
The Godfather of The Strip. hu'u bar has been at the forefront of the club scene in Bali since it opened its doors in 2001. In that time they have seen many young pretenders come and go, yet have managed to see them all off… and then some. The number of international DJ's who have passed through their doors over the years must be an island record! They fly the flag for all alternative music from techno to trap and we hope they remain the Godfather for another 15 years!
Air Festival
This may come as a bit of a disappointment to some who are only passing through, but one of the highlights of any discerning clubbers calendar in Bali is undoubtedly the annual Air Festival. Recently voted in the top 20 boutique festivals around the world by a much trusted and popular international music website pulseradio.net, this gathering of like-minded souls occurs during Nyepi, when for 24 hours the island falls into darkness and silence in line with local beliefs and traditions. This is the TOTAL antithesis of what happens at AIR in the Gilis: While experiencing the silence and blackness of Nyepi is undoubtedly a very spiritual and beautiful experience, it doesn't really make for a great party now does it?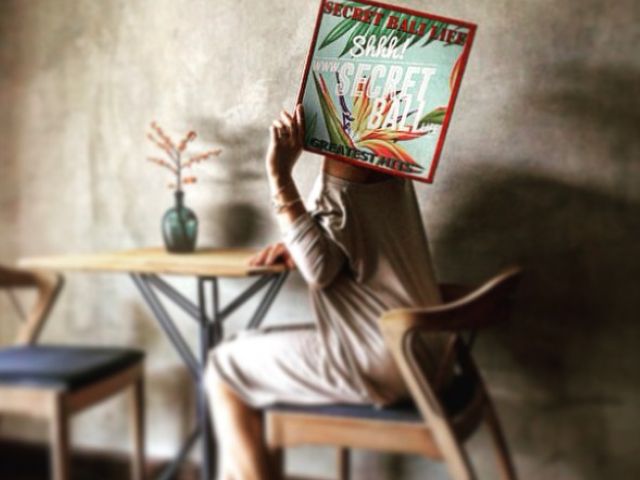 About Secret Bali Life
Secret Bali Life was set up to help connect the dots on Bali's underground music scene through innovative street promotion, social media, and a simple yet selective website full of musical content that showcases the best of the island's events and talent. They only work with the most credible of the island's music community and aim to be the one-stop shop for island residents and visitors who are seeking out the best musical gems Bali has to offer… with great musical content, giveaways, tips and secrets!
This story was penned by Lee Stone, the man behind Secret Bali Life.  With 20 years experience as an underground music promoter in the UK, he decided a couple of years ago to relocate to SE Asia and ended up in Bali. As well as Secret Bali Life, he has a couple of other interesting projects in the pipeline so keep your eyes on www.secretbali.life for more news on that, but remember…. Shhh!! 
Top image:  Potato Head