Sky-high ceilings, sunken living areas or open-plan bathrooms with indoor palms - whatever your dream spaces look like, Bali's best interior designers can bring them to life...
Whether you're furnishing your home or building a dream house from scratch, there really is no better place than Bali when it comes to interior design. Here on the island, you'll find fabulous furniture made from breathtaking indigenous materials, you can shop gorgeous homewares made by local artisans who've honed their craft over generations, and that's before we even mention the dizzying array of big, breezy rental villas just waiting to be decorated and transformed into dreamy abodes.
But where to start on your home decorating journey? From picking out the perfect textiles, tiles and ceramics, to choosing the right materials that not only look lovely but will last in Bali's tropical climate too – designing and decorating your home is a pretty daunting task.
Luckily, right here in Bali, you'll find interior experts who can carefully curate Pinterest-worthy spaces that deserve a front page feature on Vogue Living. So, to help you create the perfect interiors for your home or commercial project, we've shortlisted the very best interior designers, stylists and decorators in Bali to help turn your dream space into a reality.
The best interior designers, stylists and decorators in Bali
1. Somewhere Concepts
A boutique interior design company with big credentials, Somewhere Concepts covers everything from interior architecture to design and styling. You've likely spotted their modern and minimalistic designs in some of Bali's most sought-after addresses, from the world-renowned River House, to the breezy Bingin Cliff House and the cool urban vibes of BGS coffee shop. Their superpower? Creating spaces that are effortlessly breathtaking, yet durable and oh-so dreamy.
Best for: Contemporary minimalism with warm, rustic and tropical touches.
2. My Shrine Designs
My Shrine Designs is a creative collective of skilled art directors, interior designers, architects, stylists and photographers – AKA all the contacts you need to create your dream space from conception through to installation and finishing. They offer everything from villa renovations to event decor and even custom furnishings from their team of artisans, ranging from glass blowers and wood workers to welders, stone masons and sculptors. If you're looking for an interior designer to customise every detail in your home or commercial space, My Shrine Designs is it.
Best for: Fully customised spaces and furnishings (particularly restaurants and eclectic retails spaces) made by an entire team of in-house creators.
3. Azula Designs
As a team of professional designers who specialise in high-end interiors without the crazy price-tag, Azula Designs ensures that comfort and class aren't reserved only for the rich and famous. Instead, they make sure the interior design process is fun, simple and affordable. How? By offering three different packages to suit all different budgets, with custom packages on request. They also support local, so no matter where you're located, they'll do their best to recommend local materials and furnishings. And the kicker? They take the time to really understand your 'design personality', with their online design survey to match you with your perfect designer. Ready to meet yours? Email Azula directly on [email protected].
Best for: Modern, tropical interiors. However, Azula Design has interior professionals from all different backgrounds who can design a style that fits any taste.
4. Bloom Design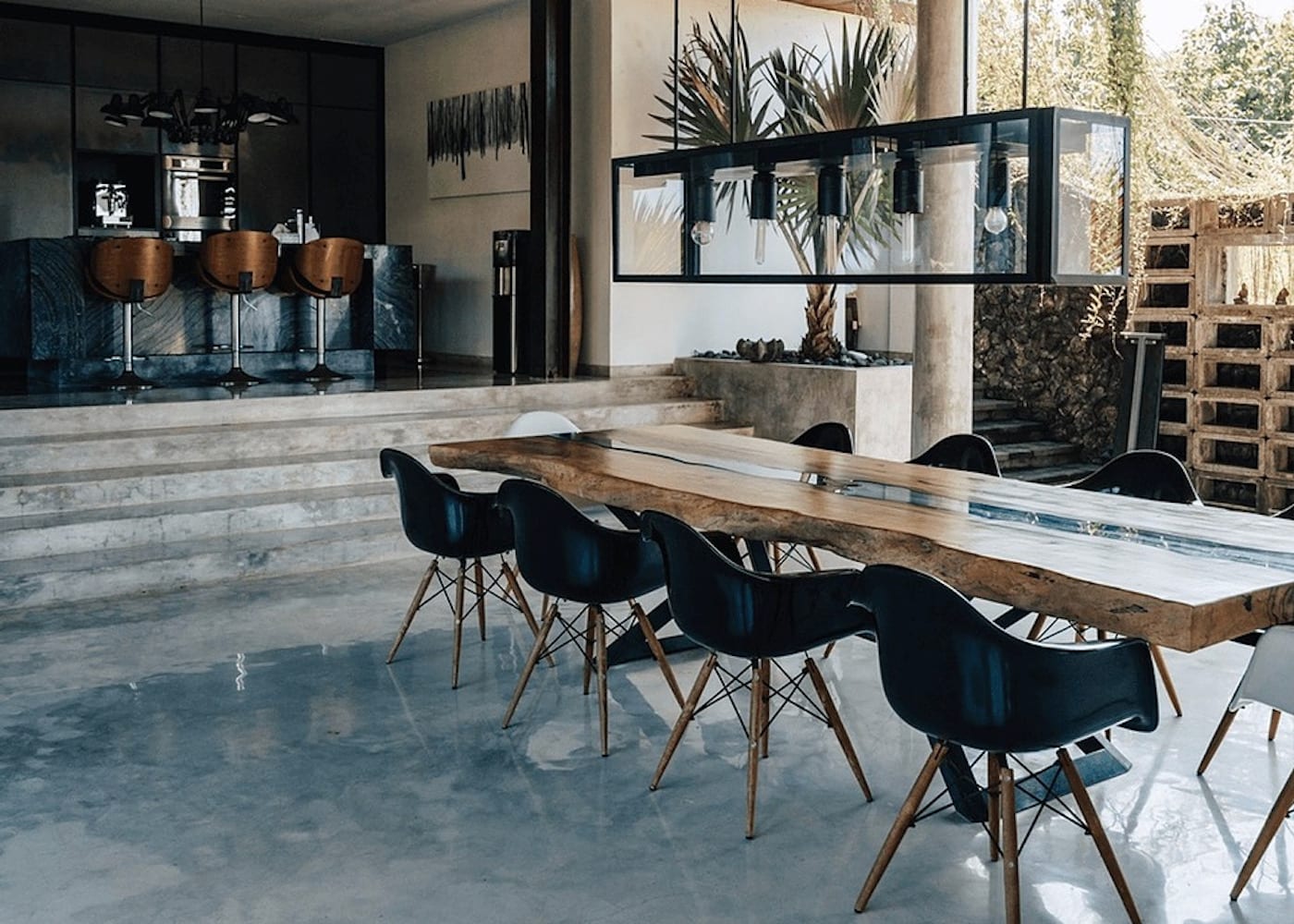 Based in both Bali and Sydney, Bloom Design's portfolio spans from six-star villas in trendy Canggu, to stylish self-contained apartments in Bondi. Headed by Felicity Bloom, the Bloom Design team works closely with their clients, architects and builders to translate any idea into an inspiring space and experience. From bespoke interiors to architecture, furniture design and procurement across Australia & Indonesia, Bloom Design draws inspiration from the vast Australian landscape and the rich Balinese culture. The result? They balance playful and beautiful design elements with functional, liveable spaces.
Best for: Chic, clean and contemporary aesthetics that are as functional as they are fashionable.
5. Paz Interior
Love the beach-chic decor at The Lawn, La Brisa, La Vela and Cafe Coach? That's the breathtaking work of Paz Interior – an interior decorator and custom furniture maker here in Bali. You'll want these guys on speed dial for when your project is nearing an end, ready to be furnished and decorated with gorgeous homewares, textiles, fixtures and fabulous furniture. They're experts in curating lovely, leisurely spaces designed for lounging and living the good life. And who doesn't want that?
Best for: Nailing the finishing touches of a tropical-inspired project with beach chic, ethnic vibes.
Know if any other awesome interior designers in Bali? Send us a DM on Instagram and let us know!