In this special edition of Hot New Tables, we've cherry picked Bali's very best new openings of 2017. Drumrolls please…!
Like the rolling waves of our fave Bali beaches, we've seen a surge of new cafes, restaurants and bars open up on the island. Some have come and gone, some have risen and fallen, and some have rolled in with the promise of power and greatness, only to be washed right back out again.
But there are those who have come in like tidal waves. They've gotten our bikini bottoms in a twist and have swept us away with some of the most innovative and downright delicious dishes this island has ever seen.
So to reminisce on the scrumptiousness of 2017, this special edition of Hot New Tables is a roundup of the culinary greats that have opened on our shores this year, from concept-pushing cafes and bars, to easy breezy beach clubs and award-winning restaurants… Cheers!
Best New Beach Club: La Brisa
In 2017, we gained one more La Familia destination to go la-la for [after La Plancha, La Favela, La Sicilia and La Laguna all wowed us with their out-of-this-island wining and dining concepts]. Yup, the breathtaking, shabby-chic doors to La Brisa opened just a few months back, bringing us a rustic, boho-beach club directly on the oceanfront of Echo Beach in Canggu. Full disclosure here: this is without doubt our fave new spot to soak up the sun in the outdoor pools [yes, there's more than one – and even more to come] or to graze on lip smackingly delicious seafood and cocktails in one of the cosy nooks and crannies – all of which are expertly hand decorated and curated using reclaimed wood from more than 500 old fisherman boats. La Brisa has reminded us all what we love about Bali [sun, sea breezes, sustainability, seafood and smiles] and we can't get enough.
La Brisa, Jl Pantai Batu Mejan Gg. La Brisa, Echo Beach, Canggu, p. +62 81 139 466 66. Open daily 10am – 1am.
Best New Vegan Cafe: KYND Community
The vegan movement in Bali has proved stronger than ever before this year, and with the opening of KYND Community [the pinch-me-cute pink new cafe on Petitenget] it's only gunna get more ferocious [in the Kyndest way possible, of course]. KYND Community has seen a queue out the door ever since opening on Seminyak's hippest strip, and this plant-based cafe, salad bar, juice & smoothie shop is showing us all just how good cruelty-free food can be. Try the Gourmet Toasts for brekkie [all named after famous vegans or environmentalists], tuck into the KYND Cheese Burger for lunch [yup, it ain't just alfalfa sprouts and kale here] and finish it all off with some oh-so-sweet waffles – just because.
KYND Community, Jl Raya Petitenget No12x, Seminyak, p. +62 859 3112 0209, e. [email protected] Open daily, 6am – 4pm
Best New Sundowner Spot: Ji Terrace by the Sea
This year we fell truly, madly, head over flip-flops in love with Ji Restaurant at Hotel Tugu Bali – or rather, even more so than ever before. You see, this Japanese sunset-facing fusion restaurant extended its deliciousness over three floors this year, and now the jewel in Ji's crown is a rooftop terrace that's dishing up modern interpretations of Asian classics alongside tropical beats, contemporary cocktails and 180 degrees of undisturbed vistas over Canggu beach. We'd go as far to say that this is the hottest new sundowner spot in the 'Gu, whether it's the gorgeous design, sunset views or drop-dead-delicious menu you fall for.
Ji Terrace by the Sea at Hotel Tugu Bali, Jl Pantai Batu Bolong, Canggu, p. +62 361 4731701, e. [email protected] Open daily from 5pm.
Best New Coffee Joint: Coffee Cartel
You can't call yourself the cartel unless you mean serious business, and luckily, this brand new boutique coffee house just off of Petitenget has been living up to its name in a big way. Coffee Cartel was Bali's latest coffee spot to join the island's top dogs of quality brews this year, and with traditional Mexican aesthetics, a sweet and signature pink hue, potted cacti, golden cutlery, flower-adorned marble tables and retro black-and-white vintage wall art of Kate Moss, this place isn't afraid to show you who's boss. There's also plenty of excellent food too, including superfood bowls, burgers and healthy takes on Indonesian classics [like a Cauliflower Nasi Goreng].
Coffee Cartel, Jl Lebak Sari No.8 Petitenget, p. +62 8214 525 1005. Open daily 7am – 6pm
Best New Clifftop Club: Ulu Cliffhouse
Just last month, a brand new sun soaking, cocktail sipping, ocean gazing destination opened up on the Uluwatu clifftops, and this one is redefining the cliff club experience as we know it. With jaw-dropping views and a concept that's been curated by a community of creative talent, Ulu Cliffhouse has been taking Bali's cliff club game to the next level. It's a stunning 4640 square-metre oasis 35 metres above sea level, complete with a 25 metre infinity pool, an onsite spa, recording studio, curated gallery space, in-house surfboard shaper, a boutique store and a terraced restaurant and cliffside bar perched over the ocean. Yup, this clifftop playground is one to add to your bucket list – stat.
Ulu Cliffhouse, Jl Raya Uluwatu Pecatu, Uluwatu, p. +62 813 3881 2502, e. [email protected] Coming soon.
Best New Health Hub: In The Raw Beachgarden
Remember the quaint cold-pressed juice bar that once sat on the corner of Canggu's main intersection? Well that healthy little hotspot gained itself some tropical new digs this year, bringing all the fresh-pressed goodness of its juicy predecessor – and then some. Now serving up a mouthwatering new menu of organic, healthy treats [like brand new smoothie bowls and a gourmet salad bar] alongside crispy duck, beef burgers and coconut tiger prawns for a bit of balance. But it doesn't stop there. In The Raw Beachgarden is also home to a an organic market for all of your juicing, organic munching and coffee sipping needs – just a few sandy-footed steps from the Batu Bolong waves.
In The Raw Beachgarden, Jl Batu Bolong No.103-107, Canggu, p. +62 812 3749 6861 e. [email protected] Open daily 7am – 11pm.
Best New Bar: AYA Street
Hot on the lips of almost every island foodie and cocktail connoisseur [not to mention Seminyak's party animals who are probably still nursing their hangovers from the raucous opening night] AYA Street is the hip new restaurant, bar and lounge that's brought Peruvian-Asian gastronomy to the Petitenget strip, alongside world-class beats, modern street art, and of course, creative cocktails. Yup, there's a lot to digest here – from the vibrant urban interiors decorated by Banksy, D*Face and Space Invader [all of which are available for purchase] to the open kitchen that pumps out the most beautiful tapas this island has ever seen. Our top tip? Sit at the "show bar" and let the chef take the reigns of your order. You'll graze on Peruvian prawn soup, grilled octopus, classic ceviche, and even Fish Anticucho with a sweet potato confit, creamy avocado, Lombok chili Huancaina, criolla and an edamame relish.
AYA Street, Jl Petitenget No.99 A, Seminyak, p. +62 0877 6302 9889, e. [email protected] Open daily 6pm-1am.
Best New Thai: Som Chai
We were VERY excited about this brand new venue by celeb Street Food Chef, Will Meyrick [the man behind four of our fave gourmet spots on the island: Mama San, Sarong, Tiger Palm and Hujan Locale]. And when we finally got to taste this brand new Thai dining trailblazer, we weren't disappointed. The food is as fiery and authentic as you'd expect, the cocktails are complex and expertly curated, and the venue is a real showstopper, complete with dancers on swings and live entertainment. Will Meyrick, you've gone and done it again!
Som Chai, Jl Raya Kerobokan No.86A, Kerobokan. Open daily 6.30pm – 1am.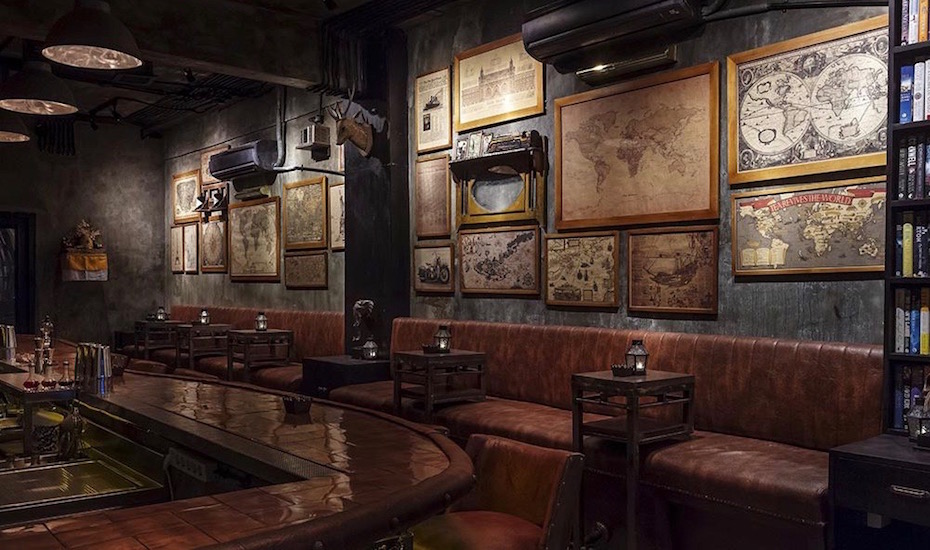 Best New Speakeasy: 40 Thieves
Within weeks of opening, 40 Thieves was slated the coolest new club in town – and this rep hasn't slowed down over nine months later. A New York style speakeasy that was brought to us by award-winning mixologist and entrepreneur, Shah Dillon, this pumping watering hole packs in the punters 'til late almost every night of the week. It's all about craft cocktails, artisanal spirits and genuine [maybe a little flamboyant] hospitality to provide a true cocktail experience for the island. Just don't be surprised if you spot someone on the bartop before the night's through.
40 Thieves, Jl. Petitenget No.7 Seminyak. p. (+62) 0878 6226 7657. Open daily from 8pm-3am
Best New Japanese: TYGR
It seemed EVERYONE was talking about TYGR when the industrial-style doors to Canggu's hottest new sushi bar opened. And now, months later, you can count us in when it comes to waxing lyrical about the made-to-order, rolled-right-in-front-of-your-very-eyes hand rolls that use still-warm, fresh-from-the-cooker rice, shatteringly crisp nori, and oh-so fresh fillings. Try one of the combination sets to get a taste of everything [our fave is the spicy shrimp and the jackfruit katsu] or make a bowl and pair with some scrummy sides, like karaage chicken, edamame or agedashi tofu. And it goes without saying, a Sake or Sapporo tops it all off.
TYGR, Jl Pantai Berawa, p. +62 813 5331 7389 e. [email protected] Open daily 4pm – 10pm.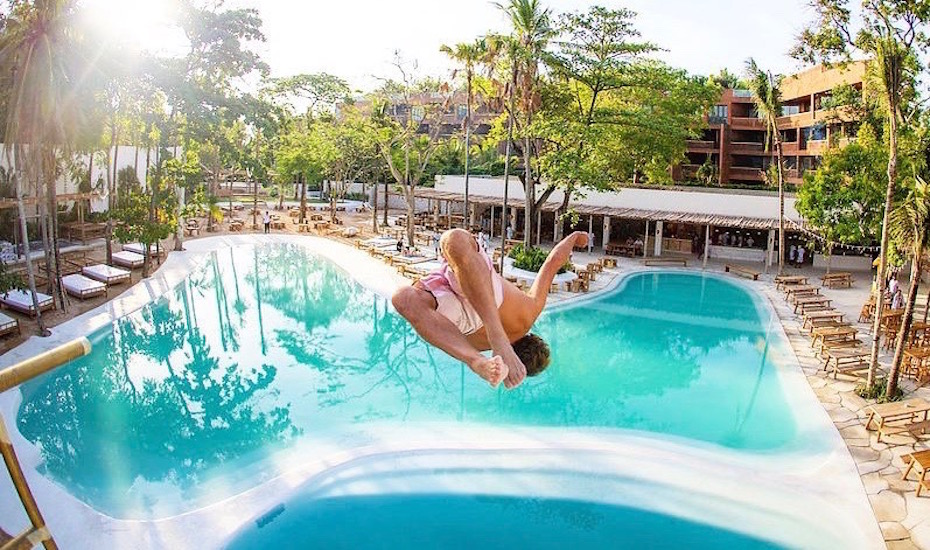 Best New Pool Bar: Mrs Sippy
Possibly one of the most anticipated openings of 2017, Mrs Sippy finally opened this year in Seminyak and quickly became the island's ultra-cool new pool club – originally from one of Sydney's hottest suburbs. In just six month of opening, Mrs Sippy Bali has become everything that the Sydney spot became loved for – and more. Think tropical LA with a party Miami vibe and cool Grecian touches. Then add in an insanely big pool with diving boards, a swanky bar, concept store selling boutique island brands and an open-air restaurant serving some of Seminyak's best summer bites to-date. 
Mrs Sippy, Jl Petitenget, Gang Gagak 8, Seminyak, e. [email protected] Open daily 10am – 9pm.
Best New Indonesian: Restaurant Nusantara
Already following in the award-winning footsteps of Restaurant Locavore [officially Indonesia's best restaurant as voted by the Asia's 50 Best Restaurants Awards] Restaurant Nusantara is a "spin off" from the Locavore mothership, and the second restaurant from the unstoppable kitchen duo, Eelke Plasmeijer and Ray Adriansyah. While Locavore is more about uber-gourmet, modern European cooking using hyper-local ingredients, Restaurant Nusantara is all about its namesake, which means "archipelago" in Indonesian. Going totally authentic by offering upscale versions of the country's rich culinary signatures, the menu uses original flavours from across the archipelago. And much like the Locavore philosophy, the kitchen sources only fresh, seasonal Indonesian ingredients.
Restaurant Nusantara by Locavore, Jl Dewisita, Ubud, +62 361 972 973, e. [email protected] Open Mon – Sat 6pm – 10pm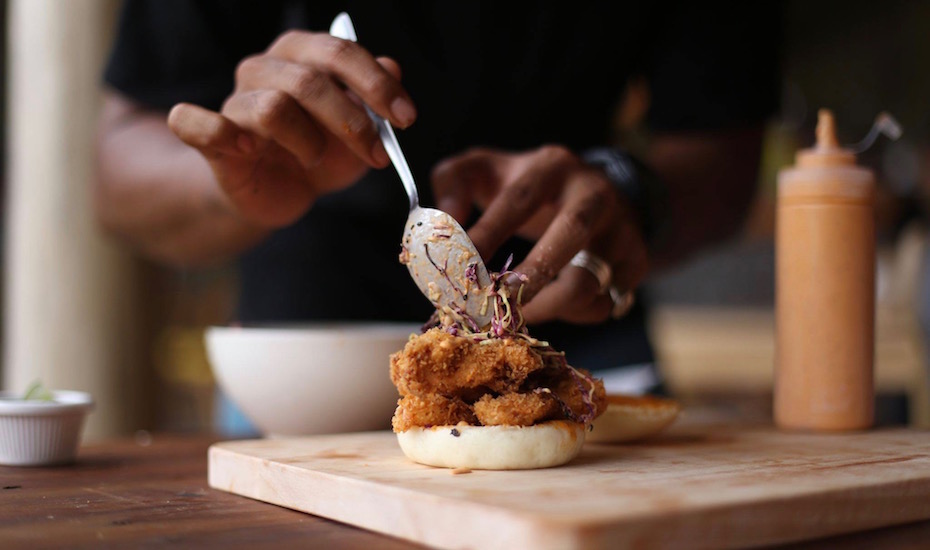 Best New Baos: Street Boi
Home to the best steamed buns and homemade sodas in Seminyak, Street Boi was the newest kid on the block this year to kick our cravings to the kerb. Their signature bao buns and killer fillers include the crispy fried chicken with spicy kimchi mayo, and the beef & wasabi bao with grilled onions, leeks and cabbage. This humble little hole-in-the-wall style eatery might be small in size but it's seriously big in flavour, bringing slow cooked meats and deep Asian flavours to the Seminyak streets. Bao down to Street Boi!
Street Boi, Jl Petitenget No 18AA, Seminyak, p. +62 858 5737 3308 e. [email protected] Open daily 12pm – 12am.
Best New Italian: Luigi's Hot Pizza
Less than a year after opening Da Maria, the unstoppable duo behind this Italian icon were at it again in 2017. Yup, Australian restaurateurs Maurice Terzini and Adrian Reed joined forces once again, this time in the epicentre of Canggu and with a more affordable, low-fi and non-pretentious twist. Don't get us wrong, the food and drinks at Luigi's Hot Pizza are still as addictive as the flagship [the pizzas are traditionally cooked in a custom-made oven direct from Naples, and the drinks use the same numbered concept as Da Maria], these creations are just served in pizza boxes and paper cups to keep things more casual and at home in bohemian Canggu. Try the sashimi tuna pizza with red onions, tomato and basil, and stick around for the after-party – it's always a good'un.
Luigi's Hot Pizza, Jl Batu Mejan No.2, p. +62 361 9077900. Open daily from 5pm 'til late.
Best New Grill: KILN on Petitenget
What was once the beloved and longstanding Petitenget Cafe, this year turned into one of the most fiery new restaurants on the Seminyak dining scene. With a name like KILN, it brought us smoke, spice, plenty of seasoning and yet simple but oh-so satisfying cooking techniques alongside creative cocktails from Albie Barratt of Oxwell & Co in Singapore. And just in time for Christmas, this carnivorous new name has just launched a regular Sunday roast with all the trimmings too – cocktails on tap included.
KILN on Petitenget, Jl Petitenget No. 40X, Seminyak, p. +62 361 4733054. Open daily 7am – 11pm.
Best New Meat Joint: Boy'N'Cow
Carnivores, dig out your best steak knives and set aside that salad dressing [you ain't gunna need that here] because Boy'N'Cow is Bali's latest and most exciting new meat-focussed restaurant since sliced bread met a juicy ribeye. This industrial-style, dry-aged meat boutique and cocktail lounge swung open its predatory doors late this year to serve quality produce – from scratch – to the island's cavemen. Founder & fellow Beef Whisperer for Boy'N'Cow, Danny Chaney, believes in staying true to great ingredients [quite simply, he LOVES meat] and specialises in dry-ageing all of the beef on site to create a share-style menu alongside handcrafted cocktails. Got beef? You betcha.
Boy'N'Cow, Jl Raya Kerobokan No 138, p. +62 361 9348468, e. [email protected] Open daily 12pm – 1am.
Best New Infinity Pool: Oneeighty at The edge
If you're like us and obsessed with infinity pools, then the 500ft high, glass-bottom lagoon at the brand new Oneeighty clifftop club will be your new dipping crush. It was the latest aerial destination to blow us away this year with its epic vistas, scrumptious cuisine and designer cocktails that make us as dizzy as the club's elevated perch, and it's located within the glamorous grounds of The edge, Bali's ultra luxe "super villa". Built alongside a series of cascading ponds that spill into the jaw-dropping pool [which extends 5 metres over the edge – gulp!] there's a VIP deck for sun soaking, a string of sunbeds in the sandy lounge, as well as an enclosed bar all overlooking the most breathtaking 180° panorama imaginable. By day, the summery menu reads like a playful ode to classic beachside fare [think giant Papuan prawns drenched in kemangi butter and a zesty squirt of lime] whilst by night, it's fire pits and uplit coconut palms igniting the twilight vibes. 
Oneeighty at The edge, Jl Pura Goa Lempeh Banjar Dinas Kangin, Pecatu – Uluwatu, p. +62 361 8470 700, e. [email protected]
Best New Date Night Spot: Salazón
Ever since Salazón swung open its industrial-chic doors to reveal a restaurant and bar that could quite easily fit into New York, Paris or Sydney, Seminyak's socialites have been sipping on made-to-order craft Negronis [shaken, stirred and burned at your tableside] alongside the world's foodies who're hungry for cured, smoked, wood-fired and house-aged delicacies, made on-site within the dazzling dining room. Try the Chopped Tuna that's cut from dry-aged loin, cheek and belly, then smoked and served with tattie scone and sea urchin. Everything from starters through to desserts can be shared with company or enjoyed solo, whilst the after-dinner party is best enjoyed with the on-site wine cellar, beside what is one of Indonesia's longest bar tops. Cheers!
Salazón, Jl Kayu Aya Oberoi, Seminyak, +62 361 9342100. Open daily 6pm-12pm
Best New Cafe: The Loft
Joining the multitude of imported brands from Bondi to Bali, The Loft on Batu Bolong this year added to our healthy brekkie and brunch options with the added bonus of a baby pink backdrop. Their famous Bondi matcha burger went vegan for Canggu's health-conscious bunch, with roasted jackfruit, rocket, red onion and coconut matcha sauce, whilst the much-loved poke bowl [which was voted as the best in Sydney by Timeout Magazine] came to Bali in all its glory, complete with chunky Ahi tuna, red cabbage, a sprinkling of quinoa, edamame and heaps of veggies. Instagram feeds at the ready!
The Loft, Jl Batu Bolong No. 50, Canggu, p. +62 361 973 310, e. [email protected]
Best New Address: Bottega Italiana
Right in the nick of time at the very end of 2017, one of Bali's fave Italian names – Bottega Italiana – added a third address to its ever-growing list of lip-smacking locations, this time on the pumping Petitenget "Eat Street". Each of the three Bottega Italiana's are named after herbs found in Italian cooking, and Timo (thyme) is the moniker for this new address, after Basilico (basil) in Seminyak and Rosmarina (rosemary) in Canggu. Expect all of Bottega Italiana's best bites that use all-homemade and premium, organic ingredients, and be sure to stop by for a glass of vino between 4pm – 6pm any day of the week for the classic, Italian-style aperitivo… Salute!
Bottega Italiana Bali, ‭Petitenget: Jl. Petitenget No.777,  Seminyak, p. +62 812 36552505,‬ e. [email protected]
Here's to more deliciousness in 2018, Honeys!
Like what you've read? Then sign up to our newsletter for more Bali bucket list ideas!